Balloons everywhere, sugar overload, hilarious selfies, jam sessions — yeah, it's a safe assumption that Kaley Cuoco had a really good time at her bachelorette party this weekend.
the most gorgeous bride-to-be ??♥️… and Jamie
A post shared by Daniela Viviana Romero (@daniela_viviana) on
? #kcsquared ?
A post shared by @ normancook on
The 32-year-old Big Bang Theory star wore a studded white mini dress as she celebrated her engagement to professional equestrian Karl Cook with a party that was straight up oozing in pink.
The festivities included belting out early 2000s hits – like "Hollaback Girl," "I'm a Slave 4 U," and "Crazy in Love" — and an epic dance party where the bride-to-be absolutely destroyed it on the floor.
Oh, and celebrity stylist Brad Goreski was right there with her, tearing it up.
@normancook brought out all of her dance moves last night for her #bacheloretteparty. Did I mention she's engaged? ? #werkbitch #britneyspears. ? @daniela_viviana
A post shared by Brad Goreski (@bradgoreski) on
Besides Brad, the guest list included her sister Briana Cuoco and mom Layne Cuoco, who both seemed ready to cut loose.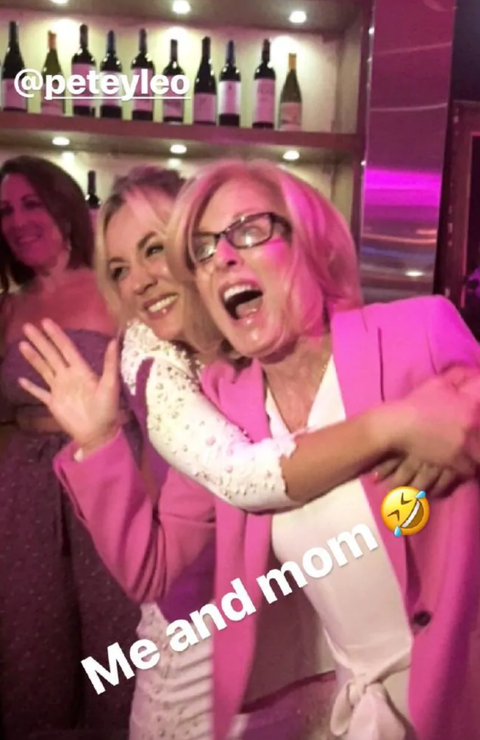 Instagram
loved is not a strong enough word for how loved you are @normancook ????

A post shared by briana cuoco (@bricuoco) on

This video of the three Cuocos swaying to Bruce Springsteen's "Glory Days" is especially adorable:

All @peteyleo wanted to hear last night was Glory Days! ? thank you for capturing this fun moment @thereallacey ?? #kcsquared ? DeeJayyyy @joshuaevangreenberg ? nailed it

A post shared by @ normancook on

"The most magical night ever," the actress wrote on Instagram after the event. "Thank you to my amazing friends and family for celebrating my future as Mrs. Cook! I have never felt more loved."

While Kaley's not spilling the date and location of her impending nuptials, if her hen party has revealed anything, it's that her big day will definitely be an affair to remember … with lots of pink.

Follow Delish on Instagram.

From: Good Housekeeping US

Source: Read Full Article