The daughter of one powerful momager might've gotten romantic with the son of another powerful momager this week, and the Twitterverse is feeling some feelings. On Tuesday, June 5, TMZ reported that Kendall Jenner and Anwar Hadid were apparently spotted kissing at a CFDA Awards afterparty at New York City club Socialista during the wee hours of Tuesday morning. The entertainment new site's sources claimed Kendall was "kissing, cuddling, and drinking" with Anwar. (Bustle has reached out to reps for both Kendall and Anwar about the rumor, but has not heard back.)
TMZ also obtained a blurry photo of a guy with bleached hair who may or may not be Anwar kissing a gal with dark hair who may or may not be Kendall. Whether that is actually Kendall and Anwar in that pic or not, it does look like they definitely hung out last night. As Cosmopolitan pointed out, Kendall shared a photo of Anwar's hands on Instagram Stories that evening.
Yes, Kendall is good buddies with fellow models Gigi and Bella Hadid. And yes, Anwar is Gigi and Bella's little brother. If TMZ's sources' tales are true, that would mean Kendall was making out with her friends' little brother.
Hey, people kiss their friends' siblings. That is a thing that happens. It can be weird, and yeah, it can create tension between the friends, but it isn't going to be the most remarkable or unique situation of all time.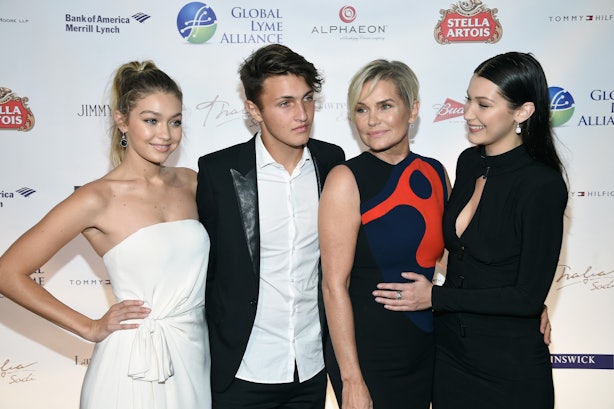 You want an example of a particularly remarkable and unique situation? Ask and you shall receive: Anwar's mother was married to the man who was married to the woman who was married to Kendall's father before Kendall's father married Kendall's mother.
Like any good pop culture mathematician, I shall show you my work. From 1991 to 2005, Caitlyn Jenner was married to Kris Jenner. Before Kendall's parents were an item, Caitlyn was with actor and songwriter Linda Thompson. Caitlyn and Thompson married in 1981 and split up five years later. In 1991, Thompson married music producer David Foster. Foster and Thompson's marriage ended in 2005. Anwar's parents, Yolanda and Mohamed Hadid, were married from 1994 to 2000. Yolanda married Foster in 2011. They divorced in 2017. And so, Anwar's mother was married to the man who was married to the woman who was married to Kendall's father before Kendall's father married Kendall's mother.
A year and a half before TMZ claimed they spent two hours kissing in an NYC club, Kendall and Anwar took this not-blurry picture together.
Anwar and Kendall are not blood relatives. They are not step-siblings. If anything, they are… step-siblings once removed? Third step-siblings? Ex-step-step-siblings? Step-it's-a-small-world-after-all-ings? Whatever, it's fine.
You know what might not be fine? Their current relationship statuses with other people. Over the last week, there's been a bunch of gossip about Kendall's love life, but the other pieces of tittle-tattle did not make any mention of Anwar. On Tuesday, May 29, Page Six reported an insider claimed Kendall has been dating Philadelphia 76ers point guard Ben Simmons "for a few weeks." And on Sunday, TMZ reported that the two were apparently photographed riding bikes together just this weekend.
Anwar's current relationship status is a bit hazy, too. He and actor Nicola Peltz started dating in 2016, but as Marie Claire noted, it's been a month since the two were last seen together.
Which brings us back to this TMZ report about Anwar and Kendall possibly visiting Tonsil Town together this week. If that was them in that TMZ picture, what does it all mean?
That about sums it up.
Source: Read Full Article