Remember when Astrid and Kevin broke up on Bachelor in Paradise? The couple appears to have come a long way since that heartbreaking bump in the road. One of BIP Season 5's most solid pairs may have hit a snag in the season finale when Kevin couldn't 100 percent commit, but the Canadian fireman is ready now. He and Astrid are taking things to the next level and they're more adorable than ever. Kevin and Astrid's current relationship post-Paradise is what reality TV dating show dreams are made of.
Kevin and Astrid were seemingly inseparable thoughout their Paradise journeys. Pretty much every shot of them looked like they were either laughing joyfully, cuddling on a day bed, making out in a pool, or looking longingly into one another's eyes. Astrid, who hailed from Nick Viall's Bachelor season, seemed willing to embark on the next chapter by the season's end. Kevin? Not quite. Having been burned from Bachelor experiences past, the guy had last-minute reservations about moving forward so quickly. Prior to getting the option to hit up the Fantasy Suite, Kev broke things off with Astrid, leaving her rightfully stunned.
Here's the good news: Astrid and Kevin found a way back into each other's hearts. The couple reunited at the reunion (which was filmed back on Aug. 28) to explain that they're making things work.
"We care about each other but the trust is broken. It's weird — we've been in limbo in a sense," Astrid noted.
Since that conversation, it seems that limbo stage has evolved into something solid and long-lasting.
"As bad as the breakup was, it might have actually made our relationship even better," Kevin recently revealed to People. "I feel a lot less pressure and I'm excited about our future together. Everything seems lighter."
If you've been glued to Kevin and Astrid's social media, you may have noticed that they've been spending a lot of time together in Toronto. They snapped a cute pic at the town's famed film festival and shared pics of themselves doing everyday couple things like shopping for groceries and cooking dinner. They are currently vacationing in Indonesia.
So, what other changes are in the works?
"Astrid is definitely falling in love with Toronto," Kevin also explained while weighing in on their future. "That would be the place where we would live together. And we're not going to just date for fun. I'm 34, she's 28. We're at the no BS stage."
"I could get used to this place, eh," Astrid captioned a Sept. 12 Instagram of the duo.
"I'm originally from Germany so I've moved countries before. I would be the one to move for sure," Astrid remarked on the Sept. 10 episode of The Domenick Nati Show.
"I think we're going to kind of finish out this year and get through the holidays and then kind of start looking at when I'd be moving," she told Canada's CP24 on the status of her move.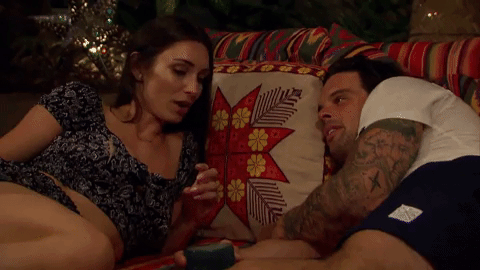 If Kevin and Astrid can get through the awkward scenarios and isolated bubble of Paradise, they can probably get through a lot. Bachelor Nation is rooting for them.
Source: Read Full Article