Kevin Spacey's brother is opening up about the A-list star's actions referring to him as a monster. Randall "Randy" Fowler has been waiting a long time for the public to realize his famous brother's true colors. Now that it is all out in the open, Fowler is not holding back when it comes to what he really thinks about Spacey.
Fowler recently gave a very candid interview to The Sun about the controversy that his sibling has caused on the set of House of Cards, as well as giving insight to what kind of man the Hollywood star really is. He dished all about Spacey's dark side, including admitting that the actor preferred the more sinister roles because it was the true him.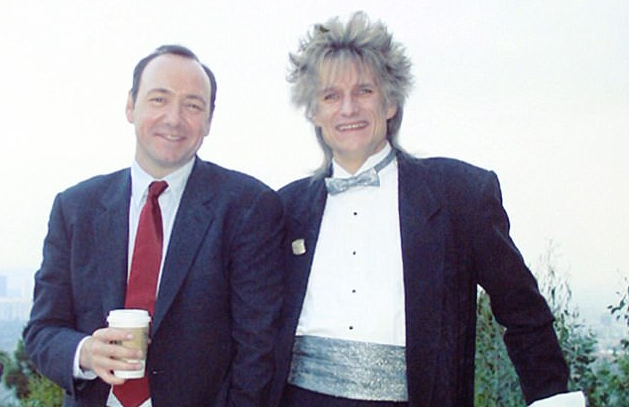 "His fans love the sinister characters he plays, but he's not acting, that's really him. He hid behind his acting career to maintain a secret sordid life and in reality, he was a monster. I've long suspected there was a dark side to him. I just hope he gets the help he needs so nobody else is harmed by him." Fowler told The Sun.
Spacy's brother also admitted that the Hollywood star got into acting to deal with the abuse the boys were suffering at home, as well as coming to terms with his sexuality. Fowler, who is two years older than the Baby Driver actor, shared last month that their father physically and sexually abused them throughout their entire childhood. The abuse was so bad, that when the actor decided to drop Fowler from his name when he started in showbiz. Apparently, acting allowed the star to become someone else, however, it appears that someone else might not be a very nice person.
"We grew up with abuse and neglect in a house of horrors. Our violent dad whipped me with a riding crop. I've never had children in case that evil personality could be passed on. Now it sadly seems one of us may carry those twisted genes and that person might be Kevin," Fowler shared.
Randy Fowler recently called his famous sibling a monster but he has not lost all hope for Spacey. He has made it clear that he is hoping is brother can get the help that he finally gets the help he needs.
What do you think about all the information that Fowler has shared about Kevin Spacey?
Source: Read Full Article