Fellow fried chicken stans, every time I think KFC is going to settle down for a little bit after breaking the internet, I am proven gloriously wrong. And while in the past those shenanigans have stayed primarily on Twitter and social media, this particular shenanigan is coming directly to the KFC menu: KFC is debuting Pickle Fried Chicken that will debut in its restaurants starting Monday, June 25 for a limited time.
On June 20, KFC tweeted about a "mystery flavor," including a GIF with some, uh … less-than-subtle hints. And by that, I mean it was a GIF of a rotating image of pickles. So if you correctly guessed the mystery flavor, congratulations! We all could use a win, no matter how small. And isn't the advent of this new flavor truly a win for all of us? (And for Colonel Sanders, who now appears to be wearing pickle sunglasses in his new Twitter bio pic. Rock on.)
Bustle had an opportunity to try the Pickle Fried Chicken from KFC, and can confirm that it does, in fact, taste very much like pickles. As someone who is a longtime fan of fried chicken and a newcomer to the pickle fandom, I was delightfully surprised by the sauce, which is just the right amount of sour and salty and somehow manages to make me even more inclined to keep eating fried chicken (a thing that fried chicken usually does a good job of just on its own). It's not at all overpowering, and tastes like concentrated residue from actual pickles, like your chicken took a pickle bath and still stayed crispy.
But what exactly is the Pickle Fried Chicken? According to KFC, it starts with a base of their famous Extra Crispy Chicken which is then "coated it in pickle sauce". You'll get the pucker of dill and vinegar right when it hits your tongue, and the sauce also "features onion and garlic notes, buttermilk and a white and black pepper blend — a combination that is sure to satisfy even the ultimate foodie's palate," according to KFC. In other words, there may be plenty of pool parties to head to this summer, but the real party is the pickle party about to happen in all of our collective mouths.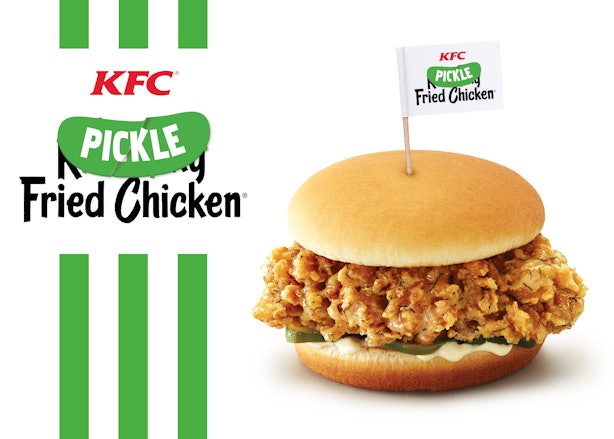 According to KFC, inspiration for the new offering came from people's requests for more pickles on their Crispy Colonel Sandwiches. And to be fair both to the people, pickles, and fried chicken, it's a combo ratio worth trying to get ~just right~.
"People are crazy about pickles, and pickle-flavored products are becoming today's trendiest menu item," said Andrea Zahumensky, KFC U.S. CMO, in a press release. "Pickles and fried chicken are a match made in heaven, with tastemakers everywhere pairing these flavors. Our guests have been clamoring for more pickles – especially since we launched the Crispy Colonel Sandwich™ — so we're giving them what they want by coating our Extra Crispy™ Chicken with a mouthwatering pickle sauce that delivers a craveable punch of pickle in every bite!"
KFC notes that it's the first fast food restaurant to offer pickle-flavored fried chicken, and truly, it doesn't seem like it's happening a second too soon. After all, pickles are clearly having a moment this year. We've got pickle-flavored everything going viral, from pickle popcorn at Trader Joe's, to pickle-flavored gummies that actually taste like pickles, to pickle juice that you can buy in cans. If you're feeling particularly freaky, you can even lounge around on a pickle pool float. And now, pickles are finally getting the full spotlight they deserve, by getting incorporated into one of the most iconic fast food offerings the good ole US of A has to offer.
If pickle-flavored chicken isn't up your alley, KFC has other flavoring offerings lined up for the summer, including Smoky Mountain BBQ, Nashville Hot, and Georgia Gold honey mustard BBQ. But if you're up to the challenge, pickle fans will be able to purchase the new offering as a Crispy Colonel Sandwich, Extra Crispy Tenders, Chicken Littles and Extra Crispy Chicken starting on Monday, June 25 — but KFC warns that it only have enough pickle sauce to last for several weeks in participating locations, so you and Peter Piper might want to pick a peck of pickled fried chicken fast.
Source: Read Full Article