Over the course of of Unbreakable Kimmy Schmidt, Kimmy has gone from escaping a 15-year bunker imprisonment to being a full-fledged New Yorker with a career. The first half of Season 4 of Unbreakable Kimmy Schmidt premieres May 30, following the irrepressible main character and her friends through another series of adventures. The hopelessly optimistic and resilient protagonist is still coming to terms with her past, and earlier seasons have seen her visiting her hometown and have several run-ins with her former Indiana "sisters" and family. Kimmy's hometown of Durnsville, Indiana is not real, but the show's creators could have been inspired by a couple of different locations.
In the Season 1 finale episode "Kimmy Makes Waffles," Kimmy finds herself trapped in her original bunker after returning to Durnsville to testify against her kidnapper Reverend Richard Wayne Gary Wayne (Jon Hamm). Meanwhile, her quirky landlord Lillian and spoiled boss Jaqueline are on their way to Durnsville to support her. Reddit user (and Indiana native) megagnome5000 pointed out a road sign that says Lillian and Jacqueline are on U.S. Route 30 West with 34 miles to Fort Wayne, Indiana (a real place) and 63 miles to Durnsville. So, this means Durnsville is about 29 miles outside of Fort Wayne.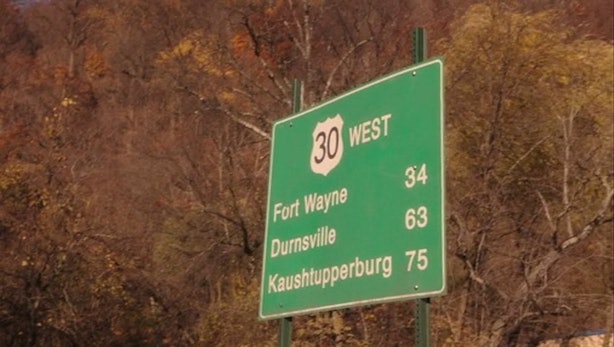 According to the same Reddit post, the town in this location is actually Larwill, Indiana. Larwill is located right off of U.S. 30 with an estimated population of 284 people, according to the U.S. Census, so it fits the small-town vibe of Durnsville. The street sign is very prominent, so the writers may have figured that fans would sleuth out the actual location. (And, per the show's logic, a town outside of Fort Wayne is the perfect place for a man with two Waynes in his name to have an apocalypse bunker.)
Durnsville may have Larwill's location, but the name of Kimmy's hometown sounds like another Indiana community. Burnsville, Indiana is approximately 151 miles south of Fort Wayne, Indiana, so the location doesn't line up but it still could have been a name inspiration. The debut episode of Unbreakable Kimmy Schmidt showed a swarm of vehicles outside of the remote bunker, covering the Indiana Mole rescue. Reporters from the fictional Indianapolis News and the real WLWT are on site; the Indianapolis area is only about an hour from Burnsville. This means Durnsville might be much closer to Indianapolis than the show lets on, even though the Durnsville scenes were filmed in Nyack, New York, according to the city's website.
Places like Larwill and Burnsville may represent the kind of small town that Kimmy was supposed to have grown up in, where the population consists of generations of locals and everyone knows each other.
It remains to be seen whether Kimmy will make her way back to Durnsville in Season 4, but according to Deadline, Season 4 will be Kimmy Schmidt's last. The season has been split into two parts, with the latter six episodes coming sometime later this year. But Kimmy's crew has enough drama going on outside of her hometown to keep fans laughing until the end. Titus has found some success from his latest original song "Boobs In California," so he's trying to ride that current wave with Jacqueline as his manager. Lillian has always raged against the gentrification machine but she's opening up to change in her own way. And, Titus and Kimmy are still the ultimate odd couple as they deal with each other's choices.
That said, Kimmy is still married to the Reverend, so that reality may somehow send her back home again. And while that town may not be on our maps, it's certainly put Kimmy Schmidt on one, as her coming-of-age story continues to unfold.
Source: Read Full Article