Kirk from Gilmore Girls would be so proud to hear this news. It's official: Sean Gunn is engaged to Natasha Halevi, according to Entertainment Tonight. And on Monday, he took to Instagram to fill his followers in on this exciting next chapter of his life. He shared a photo he'd taken with Halevi in Kyoto, where she's kissing him on the cheek and showing off her pretty ring. But who is Halevi? She seems like Gunn's perfect match.
"I asked @tashalitas to marry me and she said yes," he wrote as his caption. "Or to be more precise she said, 'a million times.'" How sweet is that?
It seems like their proposal couldn't possibly have been more perfect, considering the fact that it took place in such a beautiful location (and that Gunn and Halevi are so happy). As Gunn mentioned on Instagram earlier this year, he and Halevi met and started dating in 2017, so obviously, it didn't take them too long before they decided to spend the rest of their lives together. And now that they've made it official, it sounds like the wedding planning can begin.
And even though Kirk would probably say that Halevi is no Lulu (and honestly, who is?), it truly does seem like the Guardians of the Galaxy star has found his perfect match.
Halevi also shared a post of her own, writing, "Wrote a long thing, but, instead. . . WE'RE ENGAGED YOU GUYS!"
Kirk would most definitely approve of Gunn wearing a shirt with a lion's face on it to propose to the love of his life. That's a very Kirk thing to do, Gunn. Well done.
Halevi also shared a few details about their proposal in her Instagram story, which she said took place last week. As she tells it, she and Gunn had coffee and lunch, and they were checking out their good looking reflections in a window when the moment happened.
She wrote:
So adorable. Then, they celebrated with Japanese whiskey and lots of yummy meals, as you do when you get engaged in Japan.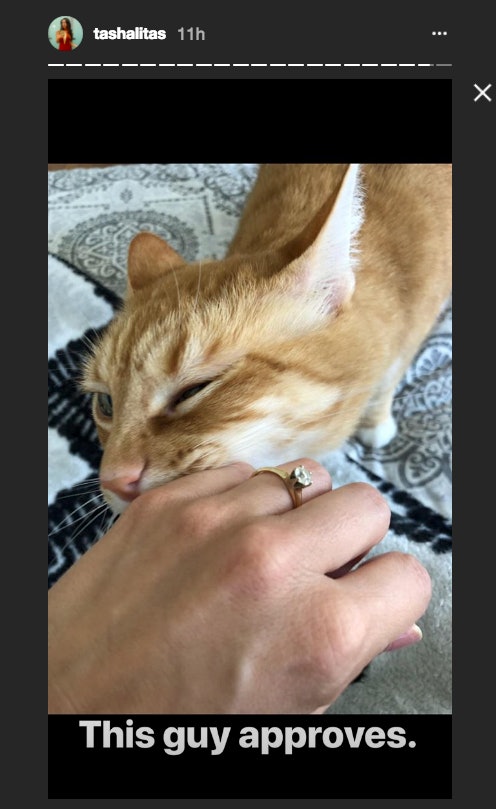 And although Gilmore Girls fans are more than aware of who the legendary Gunn is, you might be wondering who this lucky lady is who will be spending the rest of her life with him. As it turns out, Halevi is pretty impressive herself, and is also in the entertainment industry, just like her new fiancé. You may have seen her before in a TV series called Lunch Break Feminist Club, and she's also appeared in a slew of other shows, movies, and shorts.
And judging by her Instagram, it seems like she's a really fun person. "I like furniture, cats, cheese, recycling," she said in her bio. "I used to make science and sustainable buildings, now I make stories."
Just in case you thought the Kyoto trip was a one-off, it seems like she and Gunn are always having adventures together. Like when they visited Epcot at Disney World:
And when they got to visit Skywalker Ranch, which is enough to make any Star Wars fan jealous:
Gunn and Halevi even seem like they're having a blast when they're just at home, reading and hanging out with their cats.
All signs seem to point to these adorable lovebirds living happily ever after. Congrats, you two.
Source: Read Full Article