Kris Jenner is reportedly furious at both Kanye West and Travis Scott for abandoning her daughters right when they need them the most.
The Jenner/Kardashian matriarch is one mom you don't want to mess with, having built her media empire almost single-handedly while also managing the careers of her daughters as well. Which probably explains why Kanye West and Travis Scott are nowhere to be found with a rampaging power-mom on the loose.
"Kris is furious that both Travis and Kanye have seemingly disappeared lately," said a Jenner insider speaking with Hollywood Life. "Kris is fiercely protective of her daughters and at the same time, she has a reality show to produce too."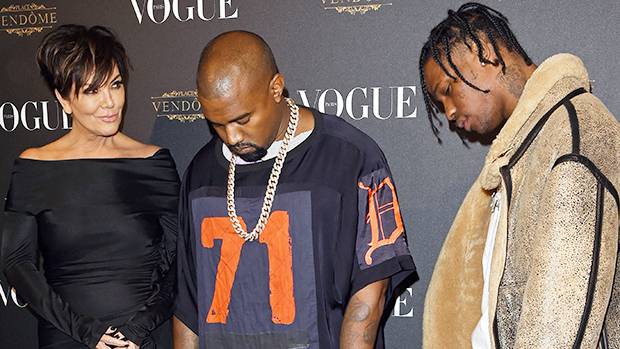 In case you've been living off the grid, Kim Kardashian West and Kanye West recently welcomed their third child into the family, Chicago West. Kylie is nearing the end of her pregnancy and is due any day now.
However, despite having a new baby for one daughter and about to have another with a second, Kanye and Travis are both nowhere to be found. And that's gotten momma Kris a little peeved.
OK, a lot peeved. And not just for not being by her daughter's sides, but also because they're not around to shoot footage for the upcoming season of Keeping Up With The Kardashians.
"Kris needs the men to be present to shoot scenes with the sisters but more importantly, Kris wants the guys to behave like adults and take care of her daughters. However, the guys are simply not around. With Kim and Kanye's newborn baby at home Kris can't understand why Kanye is spending so much time on the road. Kris wants him home, with Kim, helping out with the family right now."
The source goes on to say, "Kris is also angry that Travis has been completely out of the picture as Kylie is about to pop any day now. Kris has been screaming at both Travis and Kanye to get home to take care of the girls now. Kris feels like both guys have practically abandoned Kylie & Kim and she is not OK with their absence."
To be fair to Kanye, Kim had her baby by surrogate, so while there's still the challenge of midnight feedings and changing diapers, there isn't any recovery needed for Kim's labor. A family as wealthy as there's can probably afford a few nannies to help out.
Travis Scott, on the other hand, has no excuse. Beware a mother's wrath, Scott. It's not a good idea to get on Kris' bad side.
Source: Read Full Article