The Kardashian-Jenner family knows a lot about the births of babies, so Kris Jenner wanting to be Cardi B's midwife is not a huge surprise at all. On Monday, the rapper shared an Instagram video of herself dancing to her song "I Like It" and captioned it, "HAPPY! HAPPY! HAPPY!" According to People, the post caught Jenner's eye, who responded, "Wait can I be the midwife?? Just thinking this through…" It doesn't look like Cardi B has responded to Jenner yet.
As the grandmother of nine grandchildren (yes, nine!), the Keeping Up With the Kardashians star certainly has experience in the delivery room. Of course, Jenner's never performed the actual deliveries, she's just been in the room watching her children become parents. She definitely wouldn't be shocked at Cardi B giving birth to her baby girl, because she knows what to expect. The momager has also given birth to six children, so she also understands what it's like to be in labor.
Before anyone criticizes Jenner for not knowing the ins and outs of midwifery, it seems most likely the 62-year-old reality star was just joking around with Cardi B. Plus, if she is serious, Jenner could always learn and train to become a midwife. But, it appears the reality star is simply overjoyed for the "Bodak Yellow" artist and her new impending journey as a first-time mom.
In March, rumors first began swirling of Cardi B's pregnancy, but she didn't confirm the news until April during an episode of Saturday Night Live. After she came forward with the news, it seems she faced a lot negativity. E! News reported she wrote in a now-deleted Instagram story, "This is why I did not wanted to say nothing. People be so thirsty to scrutinize and try to destroy something that it suppose to be a blessing."
Cardi B doesn't feel the need to share certain details of her life. When or if she's ready to discuss her private life, she will. Since the 25-year-old first became famous, the rapper's made it clear her story is her own to tell.
Just like when she didn't announce her marriage to hip-hop star Offset until nine months after it happened. The Invasion of Privacy musician revealed the news on Twitter Monday and also explained why they didn't immediately tell the world. "This why I name my album 'Invasion of privacy' cause people will do the most to be nosey about your life. Welp f*ck it," she captioned the tweet.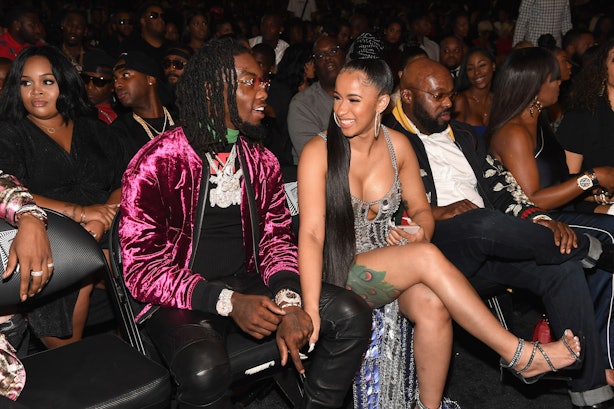 As for her attached message, she wrote,
She then explained they decided to take the marriage plunge in September. "We found someone to marry us, and she did, just the two of us and my cousin. I said I do with no dress no makeup and no ring!" Cardi B continued, "I appreciate and love my husband so much for still wanting for me have that special moment that every girl dreams of when he got down on his knee and put a ring on my finger and he did that for me!! Well now since you nosey lil f*cks know at least ya can stop saying i had a baby out of wedlock."
Jenner can totally relate to Cardi B's need for privacy. As open as the Kardashian-Jenners are, they protect their personal lives at all costs. Cardi B clearly knows what she's doing when it comes to keeping parts of her life secret, but if ever needs help, she could ask Jenner for tips. Hmm… maybe she should hire Jenner as her midwife.
Source: Read Full Article