American Woman, a new series spearheaded by Real Housewives of Beverly Hills star Kyle Richards, debuts June 7, and not without its share of drama surrounding it. The sitcom is loosely based on Kyle's childhood, and she's got real-life sisters to take into account when making it. So what does Kim Richards think about American Woman?
Right now, Kyle's sister has not publicly said anything about the show in an interview or on social media, but according to People magazine, Kyle claimed that Kim is allegedly supportive and "excited" about the show. Kyle told the Los Angeles Times that she sent a DVD screener of the show to Kim, but that she allegedly wasn't able to work the DVD player, and hasn't been concerned enough to figure it out. Kyle also added on a recent appearance on Watch What Happens Live With Andy Cohen that she and Kim are "fine."
As for Kyle's other sister, Kathy Hilton — according to the same People report, Kathy is reportedly concerned that the show will be too personal and shine too harsh of a light on their family. In American Woman, Alicia Silverstone plays Bonnie, who is raising her daughters on her own after leaving her husband, according to the LA Times report. The plot is inspired by Kyle's memories of childhood, which allegedly doesn't thrill Kathy. (Bustle reached out to a rep for Kathy and Kim for comment, but did not hear back.)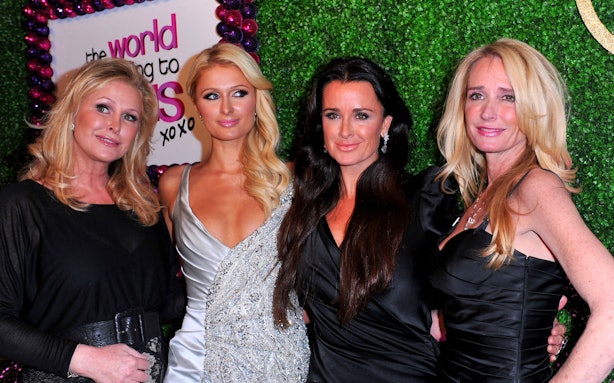 Kyle insists, though, that she only has good intentions. She said in the same interview that the show was based on her experiences, but isn't necessarily completely representative of her real life. "I love my sisters and I would never do anything to disrespect or embarrass them," Kyle told People. "I'm looking forward to the show coming out so Kathy can see it and realize. That's my hope."
"It's done with love, and the utmost respect for my mom who I love more than anything," Kyle continued in the Los Angeles Times piece. "It is a fictionalized version, it's inspired by childhood, but this is not autobiographical. The show has two sisters. It's not three. My dad's a jerk in the show; in my real life my dad was not."
Though no one really knows what's going on behind closed doors with this famous family, it seems like Kyle thinks any rift between her and Kathy is the result of a misunderstanding. "I am hopeful that after seeing it, [Kathy] will see that it's a fictionalized version and everything will be fine again — I mean, that's what I would like in an ideal world," Kyle told the LA Times in the same interview linked above.
Despite the alleged drama between Kathy and Kyle, Kim has yet to actually address the TV show or the drama itself publicly. Instead, it seems she's perfectly happy staying occupied with other things. Kim was formerly a regular on Real Housewives, but recently has taken a step back from life in front of the cameras.
Kyle told People magazine last year that after struggling with alcoholism, Kim has doing great being around her family without the show in her life. "She's with her grandchild almost every day," Kyle told the outlet. "I see her with him and I'm like, 'OK, you're good. You're so happy.'" Her social media lately has been filled with shots of her hanging with her grandson and her family, and she also posted a photo of her late mother for this past Mother's Day with no mention of the show. Despite her reality TV roots, Kim seems to have avoided the drama this time around.
Source: Read Full Article