Hang out for awhile in Malibu, California and you will probably see some famous people shopping at the local stores. Famous people do not need to go grocery shopping as there are plenty of maids, cooks, and personal assistants to do that stuff for them. However, when a person is famous, sometimes they want to do the things the "regular' people can do because they miss the simple experiences.
When you are a rich and famous person and try to go out in public, most of the time you will be swarmed by paparazzi. If you simply want to go out in sweatpants, with no makeup on, to chow down on a big hamburger from a fast food joint, famous people can expect to see a really unflattering photo of this event in the tabloids if anyone sees them doing it. With all the camera phones out there it is virtually impossible to go anywhere in public where someone does not have the ability to take a photo.
If you are Lady Gaga, not only may you want to go grocery shopping for yourself, you want to do it in style. One of our favorite pop culture websites, Pop Sugar, published some cool photos of how Lady Gaga went grocery shopping in Malibu.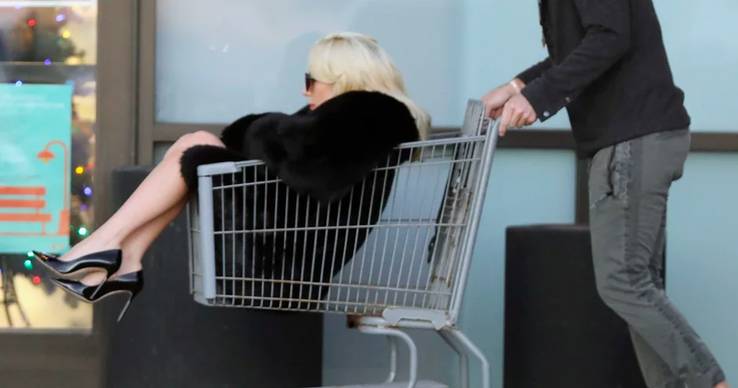 First, there is the ensemble of a black fur coat, black dress, and black high heels. Even though it is December, temperatures in the Los Angeles have been in the 80's, so we guess this visit to the store must have been on a rather cool morning when there was a brisk ocean breeze.
Lady Gaga went shopping with her boyfriend and fiancée', Christian Carino. They met early in 2017 and fell in love. During this past summer, they got engaged to get married, at an unannounced date in the future.
PREVIOUSLY: LADY GAGA UNDERGOES SURGERY
He was spotted pushing Lady Gaga around the grocery store while she rides in the shopping cart. It is something a little kid might want to do. Somehow, Lady Gaga makes it look both sexy and charming. This couple is obviously in love and does not mind being a bit silly about that fact.
The word "gaga" according to the Webster dictionary is a person who is crazy, foolish, and marked by wild enthusiasm. That accurately describes her, even when her real name is Joanne.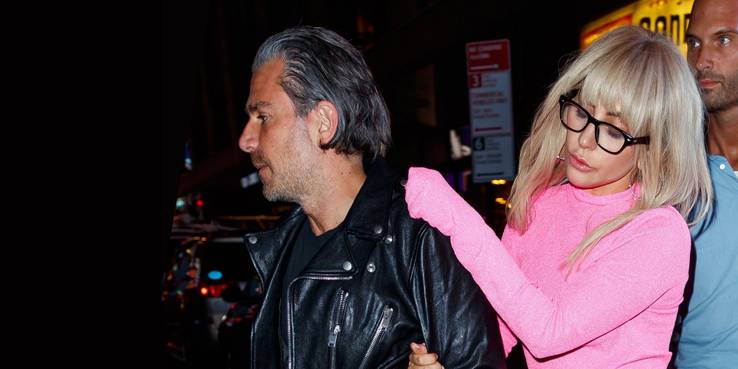 The Exceptional Lady Gaga
Nothing should surprise us about Lady Gaga. She has done amazing things such as dominate the pop music world with many hits promoted by outrageous music videos, wore a meat dress to the 2010 MTV music awards, and in a classic performance, she sang the music from the movie Sound of Music at the 2015 Oscars in tribute to Julie Andrews proving to all that her voice is truly exceptional. During 2017, she did a knock out performance, singing while flying around on wires, during the halftime show at the Super Bowl.
We like to see her happy and having fun with her beau. We hope it all works out for the best. We can only imagine what a gaga wedding might look like.
Source: Read Full Article