One of the actors from Riverdale is taking a major stand against those who have been more than negative on social media. As Page Six noted, Lili Reinhart opened up about body dysmorphia on Twitter after some dismissed her concerns. And her message is an incredibly important one to take note of.
After the actor discussed her body image issues in an interview with Harper's Bazaar, which was published on July 2, she was, unfortunately, met with some dismissal regarding her comments. So, she tweeted, "Feeling really disheartened by the fact that so many people are saying, 'you're skinny so shut up about embrscing your body." Reinhart continued to say that just because she may look a certain way does not mean that she still can't experience personal struggles relating to her image. "As if my body dysmorphia is irrelevant because of how I look to some people. I'm either not curvy enough or not skinny enough to feel insecure," she tweeted.
In a follow-up tweet, she continued to discuss the issue of criticizing someone over their insecurities: "Mental illness gets worse when people say that you don't have a right to feel the way you do. That's where we are dailing [failing]. Do not encourage this behavior. It is destructive. More destructive than you'll ever realize." Reinhart's statements highlighted what people should be focusing on instead of trying to critique someone else's insecurities: respect and empathy. It's such a simple message, but an important one nonetheless, "You may not understand someone's insecurity- but respect it."
It's not wholly surprising that the Riverdale star took such a strong stance in the light of all of this negativity because she has been very vocal about her own struggles in the past. As previously mentioned, Reinhart opened up to Harper's Bazaar about her body insecurities, which is what led to her Twitter response.
In her interview, she related that her struggles began when she was sixteen and Reinhart noticed that her metabolism slowed down. "It's like, 'Oh, I'm not going to be a little skinny teenager forever,'" she said. While she does still feel slightly insecure from time to time, she's vowed to accept the imperfections, adding, "I'm not that flawless image person. I could never live up to that. I'm not going to make people think I'm this airbrushed version of myself."
Reinhart also opened up about her body dysmorphia in an April interview with Seventeen. The actor told the publication that she experienced an incredibly relatable issue while she was in middle school. She told Seventeen that she had "really bad acne" and that it seriously affected her self-esteem. "I developed slight body dysmorphia — when I would break out, I couldn't look at myself in the mirror for a couple of months at a time," she said.
It's a problem that she still deals with to this day. When she does experience breakouts, she said, it takes her back to those teen years and causes her to feel "so self-conscious—like the whole world is looking at my bad skin." But, she's turning this issue into a positive. In her interview, Reinhart emphasized that she's dedicated to posting photos of herself that proudly display her acne on social media (such as she did in April, per Teen Vogue) in the hopes that it will make others feel less alone in their own struggle with it.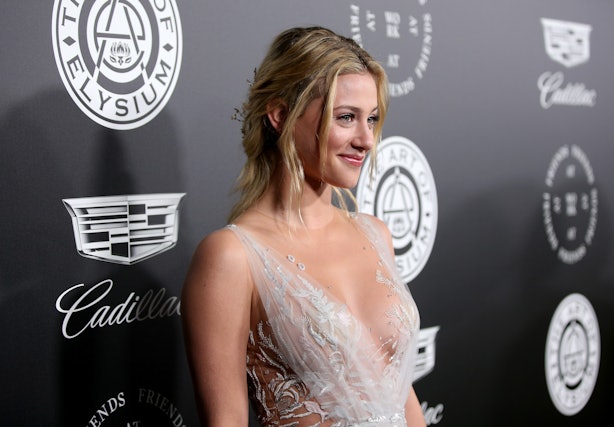 It's brave for Reinhart to continue to discuss the issues that she faces so openly, whether in interviews or on social media. And she shouldn't be criticized for expressing her own insecurities. Just because she's an actor doesn't mean she loves her body all the time — she's only human, after all — and the sooner fans and commenters understand that, the better off everyone will be.
Source: Read Full Article