After fighting her way back into the competition on "The Masked Singer," Medusa squares off against California Roll, Macaw, and UFO — with the panel absolutely clueless as to the identity of this week's unmasked marvel, who falls just short of next week's semifinals.
And then there were four as "The Masked Singer" reaches its semifinals. Actually, there were three before Medusa fought her way back into the competition.
Tonight, she was joined by California Roll for a rematch, as well as Macaw and UFO. Now that we're in the final run to the finale, only one will get unmasked, which allows for a little more time to get to know who these artists are inside these elaborate costumes.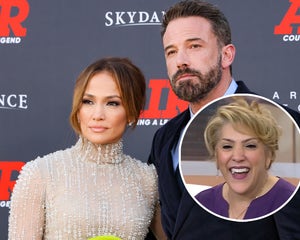 Jennifer Lopez's Mother 'Prayed' Her Daughter and Ben Affleck Would Reunite For '20 Years'
The stakes have never been higher for all four quarter-finalists, and it was evident in that we got some absolutely incredible performances tonight. One mask showed a side of themselves we'd never seen before, another showed so many different facets to their talent, we were blown away.
But it wasn't all sunshine and roses on the stage, as one quarter-finalist seemed to get overwhelmed by the moment, or something else went wrong because they kind of fell flat on their face. It's even more glaring because they were up against stellar talent — and in some cases, talent rising higher than they ever had before.
So who brought more to the stage? And who brought way less? And was it bad enough they actually got the boot? They're all front-runners and fan-favorites, so it'll be controversial no matter what happens, right? There's only one way to find out!
Let's jump right in with this week's masks. And don't worry, before we get to the shocking unmasking(s), we're going to make you power through the terrible (and occasionally good) guesses made by our illustrious panel of Robin Thicke, Jenny McCarthy, Ken Jeong and Nicole Scherzinger first. We do this because we love … to torture you.
Along with the panel's guesses, we'll be sharing some internet speculation, too, so if you don't want to be potentially spoiled (because they are very good at this), you may want to skip past the guesses sections.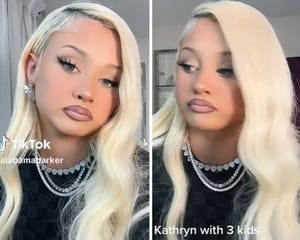 Alabama Barker Slams Critics Shaming Her Makeup Choices
MACAW
Unable to render YouTube Video.
("Your Song," Elton John) Macaw has always performed with a lot of heart, but this was next level for him in this competition. The arrangement was tweaked perfectly to suit his particular sound and style and he brought so many different pieces of himself into the performance. We loved the falsetto he slipped in at the end like a punctuation mark after caressing us with a heartfelt tenderness through most of the song. He's a consummate pro who knows exactly what he's doing with his voice.
Unable to render YouTube Video.
Guesses: Tonight, Macaw talked about how much it has meant to him the feeling that he's being accepted for who he is on this stage, from behind his mask. Acceptance is something, he said, he's struggled with both in his career and in his personal life.
His newest "Super Clue" was the word "Leader." Macaw explained, "Whether in the studio, on the stage, or on TV, I know how to lead." Ken outdid himself on this one, ignoring all the clues to announce, "The Macaw is Macaw-ley Culkin," but Jenny called it a "Macaw-ful" guest. He tried to defend it with Culkin having starred in "The Good Son," a previous clue, but no one was buying it.
Robin is convinced it's a professional recording artist with the whole panel thinking Robin Cabrera is a good guess — or at least in the right world. Nicole, though, had a much stronger guess with Darren Criss (there was a "Glee" hint), who's a multi-hyphenate talent, too. The "silver medal," though, pushed her away from Criss — because he won a lot of awards — to "American Idol" runner-up David Archuleta.
Macaw interrupted at this point to say that while he feared he wouldn't be able to handle the pressure of a big stage like this again, "I've had such a fun time after going through a lot of life transitions; I feel like I'm able to spread my wings and show my true colors," and be his true self. Confirmation, perhaps?!
In previous clue packages, Macaw revealed that he's been performing since he was really young, saying that his father used to bribe him into it with quesadillas. He was pushed into performing at a local Mexican restaurant, with his parents a big part of what got him into entertainment.
That said, though, the pressure of trying to please them and "be the good son" left him overwhelmed and having panic attacks. Ultimately, though, Macaw said what started as a way to make them happy ultimately brought him "glee," with an emphasis on that word.
He also talked about melted cheese, had images including dolphins, a telescope (telenovela?), arrows, and a jar of salsa, while talking about how he learned to finally take breaks and reset when needed. He also said that this is the year he's decided to be brave both on stage and in his life, with this show a big part of that.
One on-stage clue was a silver medal that looks kind of like a sun. To explain, Macaw said, "It wasn't until I left the nest that I struck gold." We've seen guesses ranging from Shawn Mendes, Ed Sheeran, Nick Jonas, Charlie Puth, Zayn Malik and even Elijah wood, but we're feeling more and more confident that this is definitely "American Idol" runner-up, David Archuleta.
He's spoken before about the tremendous stress he endured going on that show at 17 years old; and that silver medal could represent his second-place finish. He "struck gold" after that with a gold record. And all of that came after he won "Star Search" five years earlier, encouraged by his father and even promised Mexican food for his efforts.
His talk about being brave in his personal life and on stage could be a reference to the fact that he's only recently come out as gay, which has created challenges in his relationships with several family members. That also connects with tonight's clue about acceptance. As for the "glee" nod, it could refer to his collaboration with Kevin McHale for his "Faith in Me" music video last year.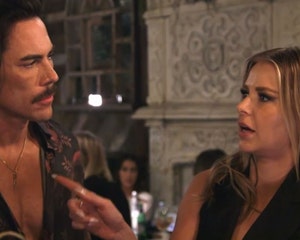 Tom Sandoval Caught In Two Lies on Vanderpump Rules, as Costars Suspect Raquel Hookup
CALIFORNIA ROLL
Unable to render YouTube Video.
("Creep," Radiohead) California Roll part their artistry front and center by completely transforming the arrangement of this extremely well-known track into something that was at times soothing, haunting and aggressively over-the-top. Each segment of the performance felt completely distinct, and each moment showcased their brilliance in arranging a track to suit their unique skills and sound. It was a tour de force of creative drive.
Unable to render YouTube Video.
Guesses: In their latest package, the group talked about how this whole experience was so outside what they've usually done, pushing themselves in whole new directions. They said they can't use the foundation they know, which could be as simple as being able to watch one another as they perform for cues.
Their latest on-stage clue was "White House." They explained by saying, "We had such a good time performing at the White House, they even gave us a standing O." Jenny got a great audience response with her Pentatonix guess, who did perform at the White House.
Nicole said that she's a huge PTX fan, but doesn't think this is them. Instead, she was thinking about the cast of "Hamilton," who also performed at the White House. Then, Ken wasted everyone's time by guessing Miami Sound Machine (with Gloria Estefan), which is ridiculous … obviously.
The group's previous clue package included soy sauce, a rack of "cool shades," and revealed that they'd been on Broadway. We also saw a "group project" and "spicy may cones," while at least one of them shared that they moonlighted as a DJ and another got married.
All of the clues were in the first person, so it was a confusing hybrid of wondering if the clues were specific to the member saying them or just one member of the group (or maybe more). They did reveal they'd had the chance to work with the likes of Dolly Parton and Snoop Dogg.
Their first on-stage clue was "5 Billion." "Five billion and growing," said one of the rolls. "But who's counting?" Well, we were, and Twitter was right there with us, as all the clues pointed to one iconic a cappella group that Jenny already guess tonight.
After watching them tonight, it was even easier to identify who was who among the members of Pentatonix as they performed. Everything from vocal range in the solo parts to height on strengthened our resolve. On top of that, they fit the clues perfectly.
PTX has 5.9 billion views on their YouTue channel (more now, though). They've worked with Dolly Parton and Snoop Dogg and their whole existence was a "group project" that broke into the mainstream after they won "The Sing Off" in 2011. The tiger in the package could refer to their winning performance of "Eye of the Tiger." They've won three Grammys, scored their silver screen mention from the clues with a "Pitch Perfect 2" cameo.
The solo members even got clue shout-outs. "Gleeful rays" isn't a reference to a "Glee" star, but rather Scott Hoying entering a contest to meet the cast. Kirstin Moldonado starred on Broadway, Kevin Olusola's Yale degree is their Ivy League pedigree, while the DJ refers to Mitch Grassi's moonlighting gig. The one who got married is Matt Sallee.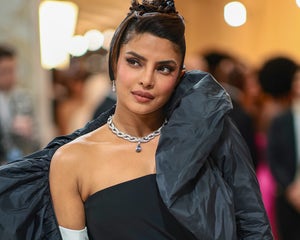 Priyanka Chopra on Why Father Put Bars on Her Windows, Surgery That Almost Ended Her Career
UFO
Unable to render YouTube Video.
("Tears Dry on Their Own," Amy Winehouse) UFO made an odd choice vocally, and even with her physicality on this one. It immediately mde it clear that this was a non-singer amidst a group of professional performers. It was competent enough, but there was no real dynamism. We hate to say it, but this might have been her weakest performance yet in every way. It was just okay.
Unable to render YouTube Video.
Guesses: The panel tried to give her some enthusiasm, but it seemed pretty clear that this moment wasn't as dynamic as her previous performances. In her latest clue package, she talked about getting older so needing something else (she was half joking), but this wasn't a great way to sell herself as a singer.
As the camera leeringly panned her body over and over again, she talked about how her career is based on her physical appearance, lending more weight to the notion that she's a model. She also said that doing this show put her way out of her comfort zone, as she was being more vulnerable than ever before.
For this on-stage clue, Gerard the butler brought out a red landline phone. When Nick picked up the receiver, it sounded like a sped-up tape recording. Production clued him in that the clue was saying, "Red, white and blue." UFO added context, "I'm beyond proud to represent and come from the USA," said UFO.
Nicole wondered if perhaps this is someone with dual-citizenship (because somehow tonight's theme is relevant?), guessing it could be Lilly Collins "from Emily in Paris." To that, UFO crowed, "I love Paris!" The show also has connections to the fashion industry, which has dominated clues and guesses for UFO so far.
Ken was definitely still in the modeling world, landing on Rebecca Romijn — with Nicole helping him tie "blue" to her character Mystique from the original "X-Men" films. Molly Sims, though, was Robin's guess, tying the tiara to the fact she once judges Miss America.
Nick got a little more scoop by asking her how this stage has compared to others she's appeared on. "This is really great for me because my usual career is very rigid and I feel like you have to be perfect — it's all about your appearance, for example — and, it's kind of strange, but i feel like this is the most authentic I've ever been able to be."
Interrupting a broadcast of "Moose on the Loose," UFO's first clue package talked about a "New York runway" before culminating in a shot of her and her "several sister ships" flying over the Golden Gate Bridge in San Francisco. She talked tonight about how "beauty can sometimes be in the eye of the beholder."
We also saw the message "I [Heart] It" on a flag, another one reading, "GG! Time to Sing!," and a headstone reading "R.I.P. Queen Victoria." There was also a shot of her making a scarf on a sewing machine, which could just reference her connections to the fashion world. While one of the Men in Black wore that scarf, the other was adorned with a sparkly tiara. Her on-stage clue was a space helmet with the message, "Planet Wide."
"I don't like to brag, but I'm not just known in America, but the whole galaxy," UFO explained then, which would seem to indicate this is a Miss Universe winner. The "represent" America clue could easily point to this competition, and we think it does. In fact, we've landed on 2012 winner Olivia Culpo, who went on to a huge modeling career.
The New England references could be Olivia's Rhode Island roots or her New York runway work, while that trip out west would tie in to Culpo relocating to California. She's now married to San Franscisco 49er Christian McCaffrey, which could explain that Golden Gate Bridge image. And perhaps the "I [Heart] It" is actually "IT" and a reference to her Italian heritage.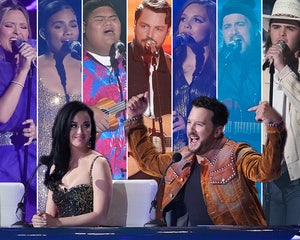 American Idol 5th Judge: Katy Perry Gets Lost, Luke Bryan Worries About HR After Off-Color Comment
MEDUSA
Unable to render YouTube Video.
("Someone Like You," Adele) Medusa turned out something completely different than her usual sound, though she did manage to drop that grit in the chorus, and it was absolutely stunning. She really showed off the fullness of her range and sound, along with perfect pitch control. Her tone was so lovely from the top to the bottom of her range; she may have reached a new peak for herself in the competition with this one.
Unable to render YouTube Video.
Guesses: For her clue package, Medusa was ecstatic about the fact she's back in the competition and battling it out with the Champions. In particular, she said she was excited for a rematch with California Roll. If she keeps up with performances like this, both of them could wind up in the finale together!
She also talked about trying to manifest this result for herself, lighting a candle, rehearsing and even talking with her therapist. The new onstage clue was the word "Mom." She explained, "Being an artist is my greatest passion, but being a mom is my favorite job."
Robin was completely thrown because his favorite guess, Kesha, has no children, so he went back to Ellie Goulding briefly, but ultimately said he has no idea. Nicole was thrown as well, as her favorite guess, Lorde, also doesn't have a child, so she scrambled and came up with Imogen Heap, Regina Spektor, Bishop Briggs, and Amy Lee — one of which is our favorite guess.
Jenny was happy that Halsey could still be a contender, but was actually leaning more toward Ashlee Simpson. When Nicole made a face, Jenny asked her if she liked Halsey better. "I don't like either, sorry," Nicole said, looking confused at the stage.
Nick asked her how she's able to tap into such deep emotions for her performances, and Medua replied, "I have experienced devastating loss in my life and I think my goal as an artist was for people to feel less alone. That's what music has always done to me, so just the fact you guys are feeling what I'm trying to portray, it means more than you'll ever know."
During her wild card round, Medusa talked about how she's always felt like an underdog and how she had to prove herself often in her career. New images included a record with the "Masked Singer" logo on it and one of the Men in Black wearing LeeAnn Rimes' Sun mask.
Before that, she described herself as a "dancer in the dark" who grew up far away from the spotlight. There were images of a giant chess board, a heart tattoo with the words "True Love," a picture of Buckingham Palace on balancing scales, and hints of the Super Bowl.
She said she learned to embrace her oddities, and the weirdness of this stage is what drew her to the show. But the most tantalizing clue was when she said she'd "technically" been here before, only now she was here to compete. Her "swag bag" clue was a DVD of a fake movie, "Medusa: Snakes on the Astral Plane." It also touted $340 million sold! "Sometimes success comes in the grayest of places," Medusa responded to this clue. Last week's clues threw in "Piano" and "Dragon" and "Prize."
Another onstage was the word "Alias." Medusa explained, "Here, I'm known as Medusa and at home known by name, but to the world, I go by something completely different." In other words, she has a famous stage name different from her real one.
Fergie continues to be a popular guess online, and she certainly has pipes similar to what Medusa has displayed, but the strongest guess remains Bishop Briggs, which Nicole threw away in her list of random names tonight. Bishop was born Sarah Grace McLaughlin, so the alias clue works (though Fergie is Stacy Ann Ferguson, so it fits her, too).
For Bishop, the chess pieces could be as obvious as the bishop piece, while "the grayest of places" could refer to her song that featured on "Fifty Shades Freed," which grossed … you guessed it, $340 million. As for ties to the big game, Bishop's "Wild Horses" (another chess piece) was used in a 2016 ad.
Later clues included a shot of Coldplay's Chris Martin, who Bishop has toured with, and a ticket to Tokyo, which could refer to her family moving there. Her mention of ties to this stage could refer to when Queen of Hearts (Jewel) sang her song "River" back in Season 6 on her way to winning the crown. Oh and Bishop is a new mom, announcing the birth of her first child last August.
Poor Medusa. Social media spends as much time (or more) complaining about her being on the show, how she sings, everything, than trying to guess who she is. Nobody else is getting it as bad as she is. And they still aren't as confident as we are that we know — as Ken would put it — exactly who this is.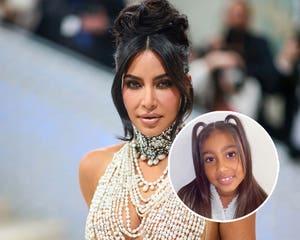 Kim Kardashian Reveals What North West Was Up To During The 2023 Met Gala
UNMASKING 18
We thought this was going to be a lot tougher at this point, but after what happened tonight, it feels pretty cut and dry for us. Medusa had her strongest performance yet while California Roll left us breathless with how many pieces of themselves were on display. Macaw was vulnerable and so raw, while UFO was just … meh.
We love her charm and personality, and we've enjoyed her performances a lot more before tonight, but this wasn't enough for us among such consummate and stellar singers. The studio audience and panel agreed with us, spelling the last flight of UFO.
Robin Thicke: Molly Sims
Jenny McCarthy: Gigi Hadid
Ken Jeong: Rebecca Romijn
Nicole Scherzinger: Lily Collins
Unable to render YouTube Video.
Jenny probably had the strongest guess of the bunch, based on all the clues before, but we weren't really feeling that any of the panel was completely on the right path. All those clues pointing to Miss Universe were undeniable to us, making us really feel that this was Olivia Culpo … and it was!
It was an adorably awkward reveal for Nicole, because she and Olivia are friends. "I know that you're the most gorgeous human ever, I mean look at that face, but I didn't know you could sing," Nicole gushed.
"I mean, I'm no Nicole Scherzinger," Olivia replied. "I like to sing in the shower."
When Nick asked if she might consider making a career out of singing, she said she was just going to make her shower singing "a little more professional … just bump it up a notch in there."
It's the semifinals on "The Masked Singer," next Wednesday at 8 p.m. ET on Fox.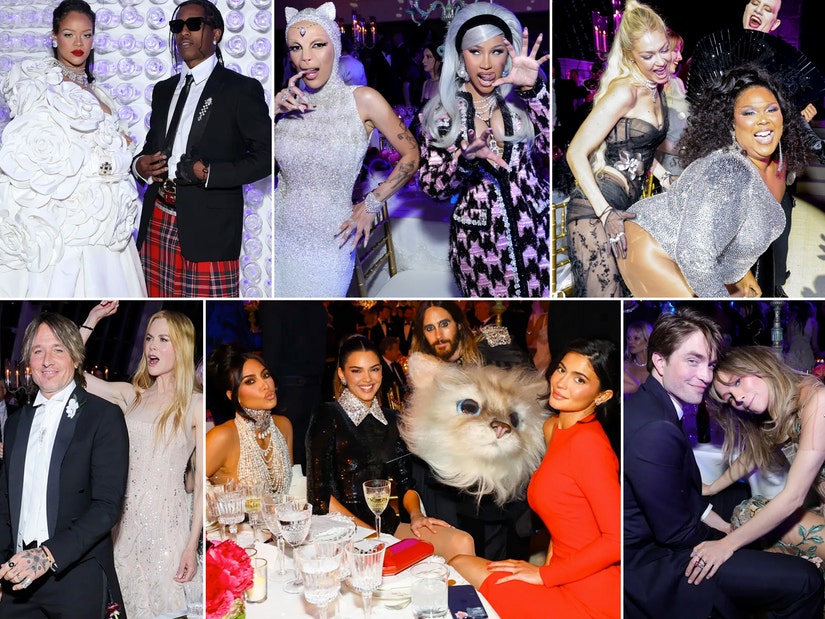 Source: Read Full Article