The first time audiences saw George Michael Bluth (Michael Cera) in Arrested Development Season 1, he was introduced as "Frozen Banana Salesman/Child." But the young fruit slinger grew up in front of viewers' eyes, and what was once your average schoolboy in love with his cousin (totally normal stuff) is now a man wearing his muscle-y Adam costume by the pool to impress women. The new season of Arrested Development arrives five years after the last installment, so it may not be clear to you how old George Michael is supposed to be in Arrested Development Season 5.
Season 5 is controversial, due to the presence of Jeffrey Tambor, who was fired from Transparent after being accused of sexual harassment by two co-stars (he denies these claims); he also admitted in a recent New York Times piece to verbally harassing Jessica Walters on the Arrested Development set.
To recap, George Michael has always been an awkward yet sincere character in a show full of narcissists. While the other members of the Bluth family (his father included) can be conniving and manipulative, he was usually too preoccupied with his complicated, incestuous feelings for cousin Maeby (Alia Shawkat) or his role as Mr. Manager at the family banana stand to take part in their schemes.
And although George Michael had a few embarrassing moments along the way, like when his Star Wars YouTube video went viral or he only got 3 percent of the student vote for class president, his good grades and close relationship with his father, Michael (Jason Bateman) kept him afloat. And once he met Ann Veal (Mae Whitman) — and her uproarious, compelling personality — things really started looking up for him.
But Season 4 was the start of a transformative time for George Michael. He attended UC Irvine, where he experienced romance, betrayal, and the triumph of friendship. But things really turned up to 11 at the Human Sexuality Lab, where he was a test subject on the science of kissing between a man and a woman. "That always has fascinated me," he told one of the pretty facilitators, suavely. And once he returned from his study abroad in Spain, George Michael was "eager to unleash his new, overt sexuality on an unsuspecting campus," as the narrator (Ron Howard) said.
It wasn't until he rebranded himself as George Maharis that he began coming out of his shell. Although Fakeblock was really just a wood block app and not disruptive privacy software, the attention still galvanized him. And after he was deflowered by a young Spanish mother during his study abroad, George Mi— haris had his first grown-up relationship with Rebel Alley (Isla Fisher), although he lied to her about his true identity.
As for how old George Michael will be going into Season 5, it's fairly easy to figure out his birthday through context clues. Thanks to a post by Thor2000 on the Arrested Development wikia, viewers know that back in Season 3, Maeby and George Michael got fake-married to entertain Alzheimer's patients at a hospital. Except it wasn't a fake wedding at all, and in Episode 11, "Family Ties," audiences got a peek at the happy couple's birth dates on their wedding certificate. The youngest Bluth man's birthday was listed as November 2, 1990, which is confirmed in George Michael's wikia bio.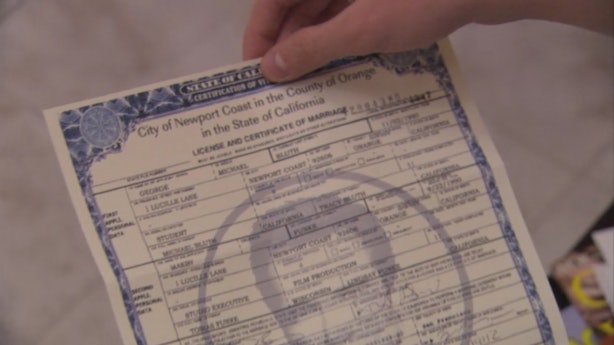 What's more, it's stated in Arrested Development Season 5 that the year is 2015. For one, Donald Trump has just risen to prominence, and he is shown on TV announcing that he's going to build a border wall. This, obviously, makes Lucille mad until she finds out he's going to make Mexico pay for it. And you know how Lucille feels about Mexico and their war on May 5.
However, George Michael specifically states the year in Season 5 when he thinks someone has died and curses 2015 (perhaps a reference to what everyone said on Twitter every time a celebrity died in 2016). And since Cinco de Cuatro — I mean Mayo — had already taken place and George Michael's birthday isn't until November, audiences can reasonably assume he is 24 when Season 5 starts.
That being said, Season 4 took place over the course of five years, so it remains to be seen how much time Season 5 will span and what new skills George Michael will have picked up by the time it ends. Will he continue wearing Tommy Bahama shirts and pleated khakis? Or will he break out those silky button-ups he wore in Spain and bring back the mustache? Whatever the case, hopefully George Michael won't forget his most important life lessons: that family and breakfast come first, and that there's always money in the banana stand.
Editor's note: Season 5 is controversial due to the presence of Jeffrey Tambor, who was fired from Transparent after being accused of sexual harassment by two co-stars (he denies these claims); he also admitted to and apologized for verbally harassing Jessica Walter on the Arrested Development set in a recent New York Times piece. Co-stars Jason Bateman, David Cross, Will Arnett and Tony Hale were criticized for seeming to defend Tambor and minimize Walter's experience, in the same interview. Bateman, Cross, and Hale have since apologized.
Source: Read Full Article