When it comes to military superiority, air power is a very important component. The United States and its allies have been able to maintain that superiority with the F-22 and F-35 fighter jets. But now it seems a new player has entered the fray.
The Russians debuted their newest, fifth-generation fighter jet over the skies of Syria: the SU-57. There aren't many of these babies flying around, so details on the plane are limited. Take a look at what information we were able to gather on them and why the Russians took such a risky move debuting it in a theater of war.
It's an international arms race
The Russians are focused in military aircraft and weaponry. | Adam Berry/Getty Images
The largest arms dealer in the world is the United States. It controls roughly 33% of the worlds weapons exports. Following closely behind are the Russians and Chinese. The other two competitors, Germany and France, are U.S. allies. The question is: Will the SU-57 be able to compete with the F-22 and F-35 on the global market?
Next: Let's take a look at some of the specifications of the SU-57.
The SU-57 is faster
The aircraft is very fast. | iStock.com
The speed of this bird is nothing to scoff at. It will be able to cruise at supersonic speed just like the F-22 and F-35. For now, the fighter jet uses an ungodly amount of fuel in its afterburners to reach those speeds. The reason being is the SU-57 is flying with the previous generations engine. The newest engine is said to be ready by 2025, but don't hold your breath. The SU-57 is also slightly faster than the F-22 at a top speed of 1,516 miles per hour.
Next: Here is another feature that used to be unique to the U.S. in fighter jets.
The SU-57 is stealth capable
They are often hard to detect. | Russian_soviet_aviation via Instagram
For a very long time, the F-22 was the only fighter jet in the world to have stealth shielding and design. The SU-57 now joins the fray of stealth fighter jets. That poses a serious risk to the U.S. and its allies.
However, it's important to note that only the front half of the Russian jet is focused on stealth. The aft section does have stealth features, but they are not as robust as the F-22. The F-22, for example, has a radar cross-section of a bumblebee. The SU-57 is a far more recognizable on a radar screen than that.
Next: You won't believe how deadly this aircraft could be.
The SU-57 has some big guns
These aircraft can launch strong missiles. | My_bio_has_the_info via Instagram
The SU-57 can cause some serious damage. It has all capabilities in air-to-air, air-to-ground, and dogfight situations. However, its two most powerful weapons — the Kh-35UEm anti-ship missile and the nuclear-capable BrahMos-A — can't fit inside its payload bay. That means it has to be housed on the exterior of the plane, which affects its stealth capabilities. One might consider that a backfire.
Next: Those shortcomings don't matter because of this one thing.
The SU-57 costs way less
They aren't the most expensive aircraft. | Sky_fighters_club via Instagram
When it comes to waging war, your bottom line can sink your ship pretty quick. That's where the SU-57 really takes flight as a competitor to the F-22 and F-35. U.S. stealth fighters can costs upward of $339 million per aircraft. The SU-57 costs a mere $50 million to $100 million. If you're looking for a stealth-capable fighter on a budget, this is the fighter for you.
Next: The Russians could have lost everything in Syria.
Russia took a huge risk deploying them in Syria
They are being tested. | Russian.military.aircraft via Instagram
The Russians almost lost all of their SU-57 planes after deploying them in Syria. In January 2018, makeshift drones attacked the Russian air base that is housing the new stealth fighters. All 13 drones were intercepted before they could cause any damage. If they had succeeded, Russia would have lost big because there are only 12 of these aircraft in existence.
Next: Here's why Russia took such a huge risk.
Real-world training is extremely valuable
They are quite impressive. | Russian.military.aircraft via Instagram
A big part of research and development is about figuring out how your product will perform in the real world. Syria is a perfect proving ground for military weapons. Russia loves to showcase its newest weapons in that war. By having pilots train in real-world combat situations, it gives Russia the ability to train more effectively when new pilots are needed.
Next: Russia is also up to something a little more sneaky.
Russian planes are spying on the U.S.
It's a time for experimentation and improvements. | Russian.military.aircraft via Instagram
Lt. Gen. Veralinn Jamieson said in a briefing about maintaining air superiority, "The skies over Iraq, and specifically Syria, have really just been a treasure trove for them to see how we operate." By operating in a theater of war, the Russians get the opportunity to see how the U.S. would fight them in an armed conflict. It also affords them the opportunity to test their own advanced radar systems.
Next: This is why seeing them in battle is so dangerous.
It's all one big marketing ploy
Russia owns 12 aircraft of this type. | Sir.maxim_pilot7 via Instagram
In the end, this all just a marketing ploy. These fighter jets need to be purchased by other countries for it to become a viable weapons platform. Currently, the Russian government owns 12, but there is no proof it will buy anymore. It needs India to make a large order, but it was wary of purchasing them. That is because of past issues in the development process between India and Russia.
Next: Meet the most powerful U.S. Navy ships.
The U.S. Navy is the most powerful in the world. It has a collection of vessels that would make Poseidon blush and stop a kraken in its tracks. Both new and old, some of these weapons systems are the gold standard for naval ships. Here are the Navy's most powerful vessels. Only a wise person would know what the most powerful ship is on the last page.
Littoral combat ships
The U.S. Navy's USS Coronado (LCS 4) | Roslan Rahman/AFP/Getty Images
Littoral combat ships are designed for warfare close to the shores. These are fast and deadly ships that can travel up to 40 knots. For a vessel of that size, that is some serious speed. These are used for fast assaults and generally carry a hefty armament for destroying other small vessels. They also have the ability to deploy small tactical teams to take over other vessels.
Next: The LCS's big brother
The Arleigh Burke-class destroyer
USS Stethem (DDG 63) | VCG/VCG via Getty Images
The Arleigh Burke-class destroyers are a serious force in the Navy. They compose about 20% of all of U.S. naval vessels. The U.S. Navy has been so impressed with their performance that it isn't even phasing them out for a better destroyer (something it typically does all the time). It's actually building them at the same time. Each class of destroyer has its own distinct advantages, and the Arleigh Burke-class ship is designed for multi-surface warfare. It can attack vessels under, on, or above the sea.
Next: Probably the coolest looking ship in the water
The Zumwalt-class destroyer
USS Zumwalt (DDG 1000) | U.S. Navy/General Dynamics Bath Iron Works via Getty Images
Looking like something out of a science-fiction movie, the USS Zumwalt is the largest destroyer in the world. Its sleek design provides it with a stealth profile that registers on the enemy radar as a small fishing vessel. Ever looking to the future, the Zumwalt can be retrofitted for electromagnetic rail guns or laser weapons when they become available.
Next: You would never see this ship coming. 
The Virginia-class submarine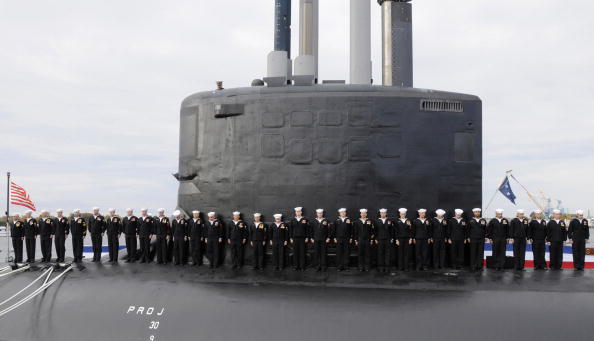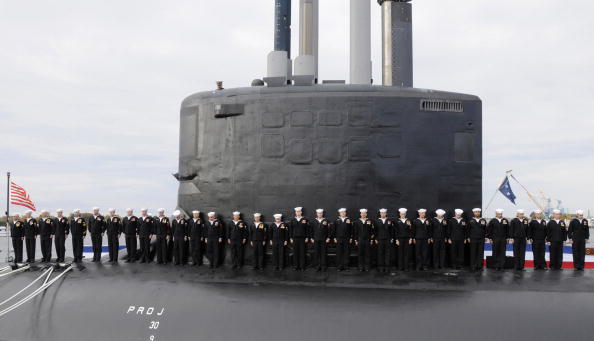 USS New Hampshire (SSN 778) | Jeremy Lambert/U.S. Navy via Getty Images
The Virginia-class submarines are the U.S. Navy's most powerful attack submarine. In fact, they are so efficient and advanced, the U.S. is building two a year. These puppies can do anything, from deploying a SEAL team from below the surface of the water to launching cruise missiles. They are considered some of the most deadly weapons systems the U.S. has.
Next: A ship that is rightfully known as a "boomer"
The Ohio-class submarine
USS Florida (SSGN 728) | David Nagle/U.S. Navy/Getty Images
The Ohio-class submarines are U.S. intercontinental ballistic missile launch platforms. They are designed for stealth and are a strategic deterrent to other countries wanting to launch nuclear arms against the U.S. Even though these submarines have the capability of destroying entire countries, they are being tamed a bit. Due to international treaties, some of the Ohio-class subs are being converted into guided missile launch platforms, such as the USS Florida pictured above.
Next: Something like this would likely be used in a D-Day type of scenario.
Wasp-class amphibious assault ship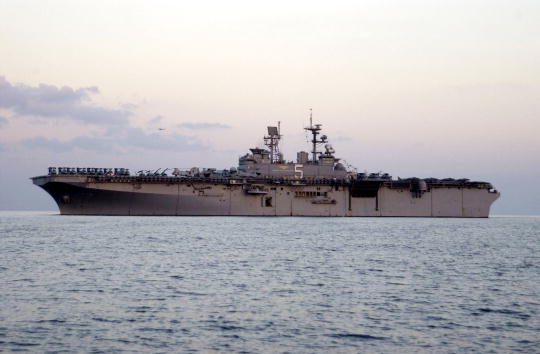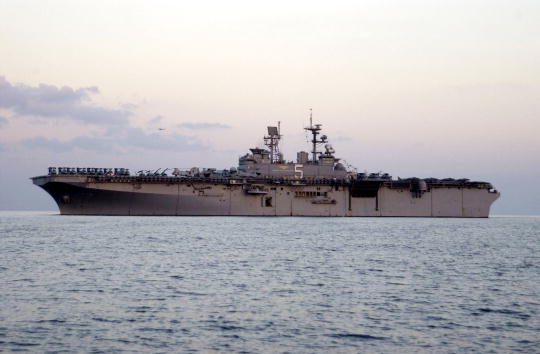 USS Bataan (LHD 5) | David C. Mercil/US Navy/Getty Images
The Bataan looks like an aircraft carrier, but it is technically a ship in the Wasp-class. They are amphibious assault ships. Every vehicle on the ship is designed to assist in assault missions. There are Harrier jets, Ospreys, Chinooks, and pretty much every other vertical takeoff and landing vehicle you can think of. And if you need a vehicle to get your armor to the beach, they also have hovercraft to transport heavy assault and support vehicles. The Wasp-class will be replaced with the newer America-class amphibious assault ships soon. But for now, they remain the king of their class.
Next: This ship brings new meaning to a cannon. 
The battleship
USS Wisconsin (BB-64) | Naval History and Heritage Command
It is true that the era of battleships in the Navy has come to an end, but that doesn't change the fact that these were the most powerful ships in the sea for almost two centuries. The Iowa-class battleship had a battery of 16-inch guns that were capable of launching nuclear warheads. During the 19th and 20th centuries, if a country wanted superiority on the sea, they needed an accompaniment of these legendary ships.
Next: The most advanced carriers in the world
The Ford-class aircraft carrier
USS Gerald Ford (CVN 78) | Mass Communication Specialist 2nd Class Ridge Leoni/U.S. Navy via Getty Images
The USS Gerald Ford is the newest aircraft carrier to join the U.S. Navy. It is the largest aircraft carrier in the world and has some very serious power behind it. This ship can hold over 75 assault aircraft and lay some serious waste to any conflict zone it's sent to. You can check out the longer version of what this ship is capable of here.
Next: The most powerful ship in the Navy
Navy hospital ships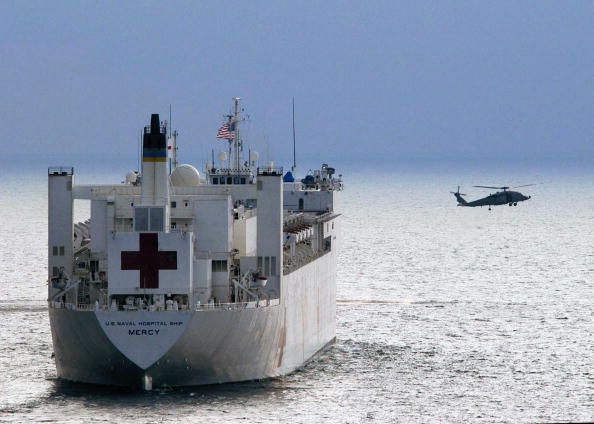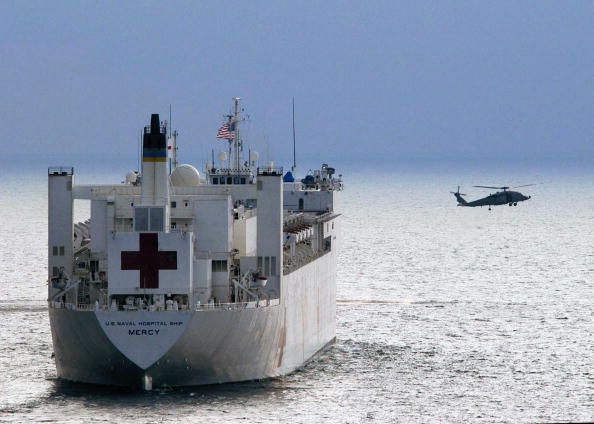 The Military Sealift Command hospital ship USNS Mercy (T-AH-19) | Gabriel R. Piper/U.S. Navy via Getty Images
The USNS Mercy and USNS Comfort are the military's two hospital ships. These massive ships stand 10 stories tall and are the length of three football fields. Hospital ships can be deployed anywhere in the world to treat soldiers and assist in humanitarian crises.
More powerful than any missile, shell, or bullet, is the power of compassion. These ships emulate that kind of compassion.
Check out The Cheat Sheet on Facebook!
Source: Read Full Article