Between wowing everyone at their royal engagements, Prince Harry and Meghan Markle are busy trying to get Frogmore Cottage in order and their baby's nursery decorated. There's already been talk of a classy and gender-neutral color scheme and a smart phone-controlled monitoring system, but they also have far more extra decor ideas on deck.
According to Vanity Fair's royal correspondent Katie Nicholl, the expecting parents are making space for a playroom, bedroom, and guest room for Meghan's mom, Doria Ragland, which is legit the sweetest thing ever.
View this post on Instagram
Their Royal Highnesses The Duke and Duchess of Sussex are very pleased to announce that The Duchess of Sussex is expecting a baby in the Spring of 2019. Their Royal Highnesses have appreciated all of the support they have received from people around the world since their wedding in May and are delighted to be able to share this happy news with the public. 📷PA
A post shared by Kensington Palace (@kensingtonroyal) on
Meghan and Harry reportedly plan to shun regular degular wall paint and go for a vegan option instead. According to Vanity Fair and The Sun, the paint will also be infused with eucalyptus oil for a certain je ne sais quoi.
If you're wondering why they need vegan paint, it's definitely not for snacking, and it's not (entirely) because Harry and Meghan are super bougie. Vegan paint is actually great for the environment because it doesn't use animals and crushed bugs to create the shades or give the paint a desired texture. Like, apparently dried gall bladder extracts from oxes are used in some paints. Yuck.
All in all, the renovations are reportedly adding up to about $4 million—the majority of which will be paid by taxpayers—but the cost of having Doria around all the time in an eco-friendly home is priceless.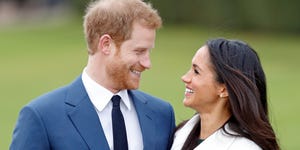 Source: Read Full Article