To sell or not to sell: That is the question for struggling MLB teams in midsummer. Even when the decision is clear, see clubs hesitate to make moves. We saw that with the New York Yankees of the last several years — when management finally did venture into rebuilding, the club looked fully overhauled within months.
The Boston Red Sox pulled off a similar coup following 2015, when management turned a last-place club into a playoff team the next year. Not every organization has the resources of these teams, but you get the idea. In order to contend in the near future, you have to sacrifice wins in sunny afternoons in the present. It hurts, but fans will thank management for it later.
Here are 10 MLB teams who should give up on 2017 and start building for a better future.
1. Oakland A's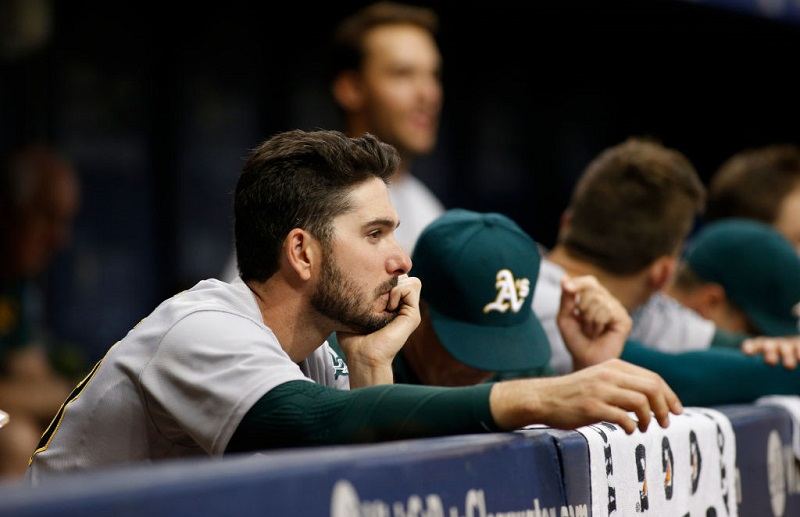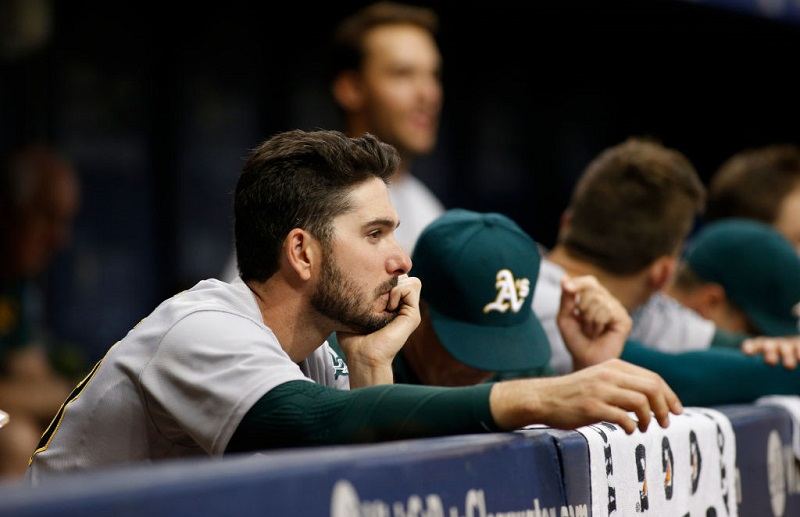 Oakland sported MLB's worst record through the first 65 games of 2017. | Brian Blanco/Getty Images
We'll start with an easy one. Through 65 games, Oakland (27-38) sat 17 games out of first in the AL West and 10 losses behind the Wild Card leader. In the pitching department, Oakland's staff ranked 21st in WAR, mostly due to an awful bullpen. If you go by ERA, the numbers are uglier: A's pitchers ranked 25th with 4.83 runs allowed per game.
While you might like the slugging of Yonder Alonso and Ryon Healy, Oakland's MLB-worst defense neutralizes that advantage, too. Compared to the average club, A's fielders allowed 36 extra runs, which is more than one free run every two games. With Sonny Gray (2-2, 4.44 ERA in 9 G) looking average following his return from injury, we can't find a simple exit strategy here. We just know it's time to sell.
2. San Francisco Giants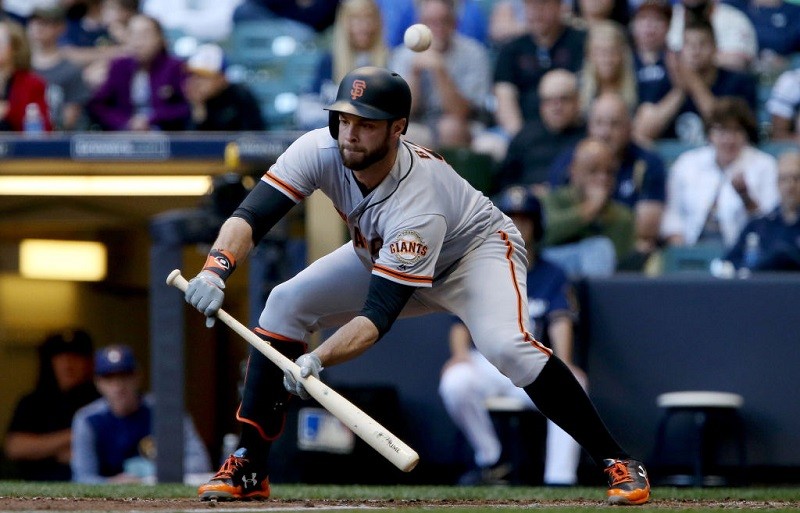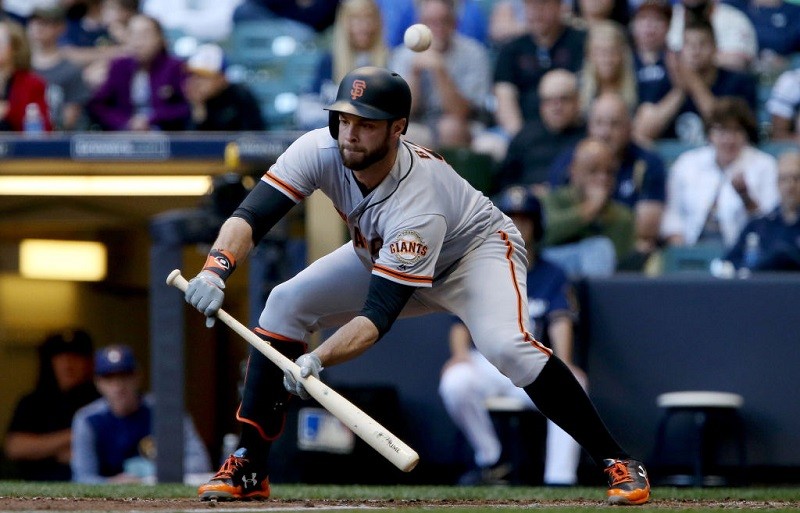 The Giants cannot overcome the drag of MLB's worst offense in 2017. | Dylan Buell/Getty Images
While no one expected much from the A's in 2017, the same cannot be said for the Giants. Entering the season with major bullpen upgrades and a $188 million payroll (third in MLB), San Francisco was a unanimous Wild Card pick and a dark horse for NL West pennant. Two and a half months in, the Giants (26-41) stood 16 GB out in the standings and should be planning to give up on 2017.
This disaster involves the rotation (16-33, 4.59 ERA) and bullpen (3.77 ERA), but the offense is by far the worst thing going. Through 67 games, Giants batters were hitting .236 with 49 HR — exactly half the number Washington had (98) on the same date. Madison Bumgarner's injury hurt, but no one can win with such miserable run production. Time to see what Jeff Samardzija and other expendable parts might bring in trades.
3. Kansas City Royals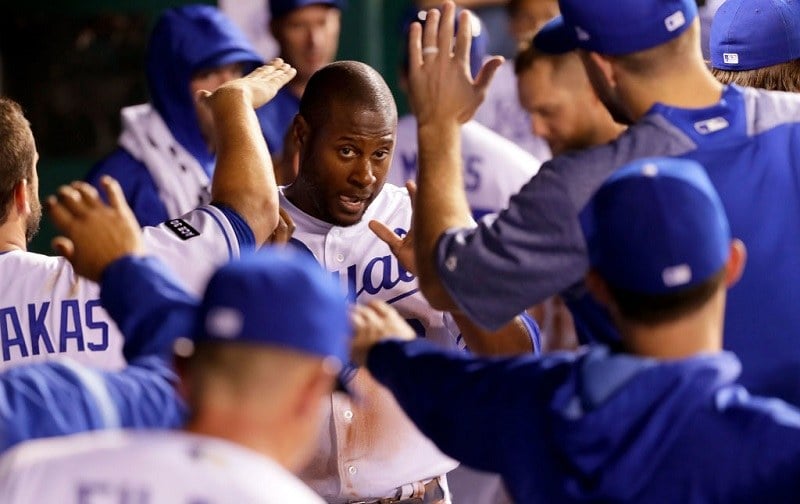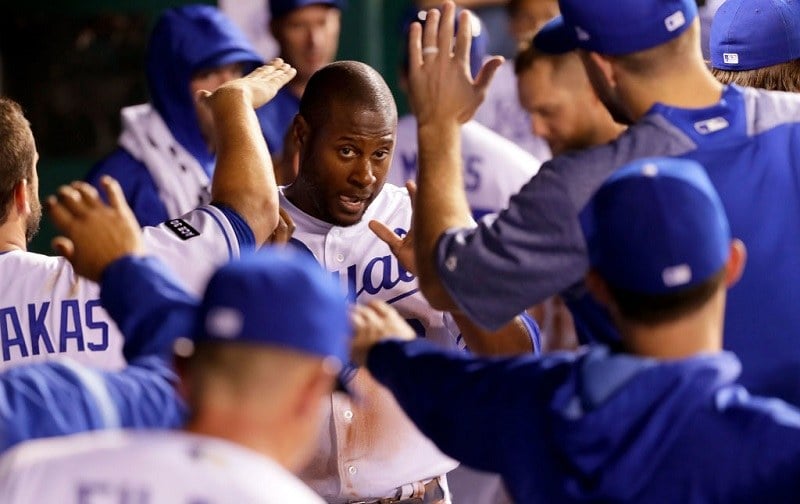 Lorenzo Cain and four other key Royals players head to free agency after 2017. | Getty Images
This season was do-or-die for Kansas City, and by mid-June the club looked dead. Even after four straight wins against the Giants and Padres, the Royals stood four games below .500 (30-34) and had been outscored by 35 runs. Jason Vargas, the club's best starter, seemed way over his head with a 9-3 record and 2.10 ERA through 13 G. Altogether, the rotation (10-9, 4.87) ranked 19th and showed little chance of improvement.
Offensively, the club ranked 29th in MLB with a .243/.299/.400 line. Fortunately for management, two impending free agents (Mike Moustakas and Lorenzo Cain) were leading the offense, making the club's trade prospects bright. Eric Hosmer, Vargas, and Joakim Soria are three more movable parts for an organization that should act now for a better future.
4. Pittsburgh Pirates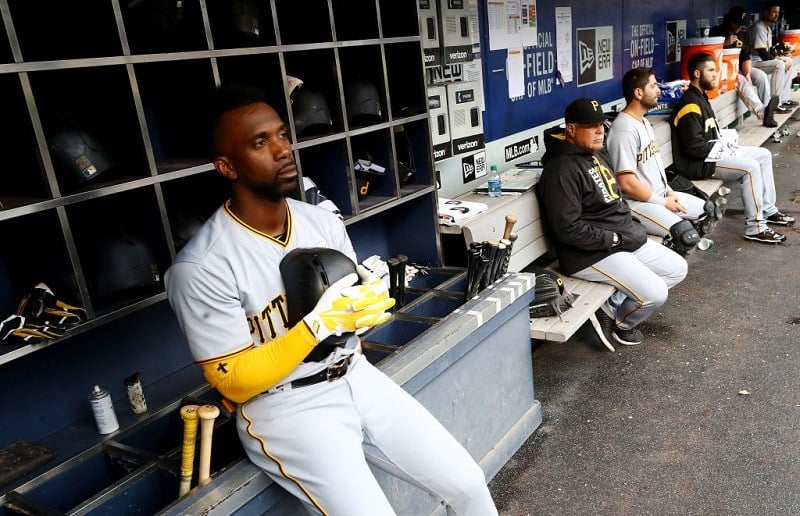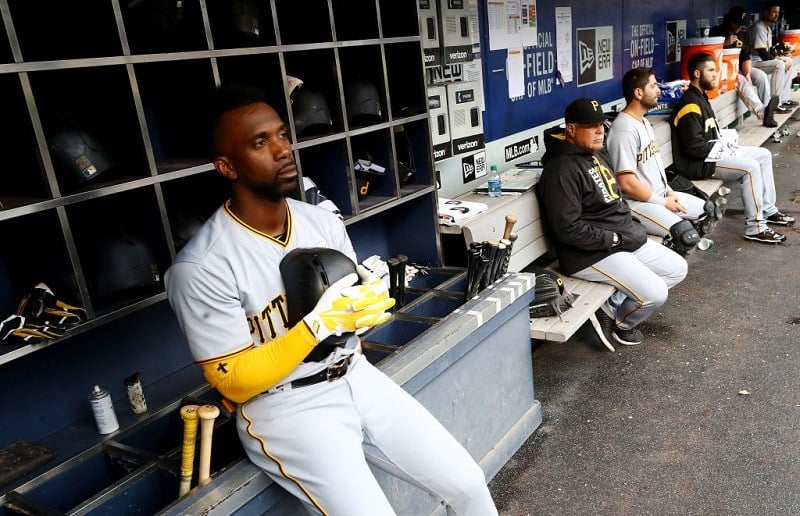 Andrew McCutchen and the Pirates may come to the end of their relationship in 2017. | Getty Images
With the Cubs mired in mediocrity and the 35-32 Brewers leading the pack in mid-June, you could argue the NL Central was up for grabs. Nonetheless, the 30-36 Pirates had already been outscored by 33 runs and showed few signs of righting the ship in 2017. Andrew McCutchen, now in the final year of his contract at age 30, was having a repeat of 2016, the worst year of his career.
It's difficult to project the future of a small-market team like Pittsburgh, but if management were ready for ambitious overhaul you could see both McCutchen and Gerrit Cole wearing a new uniform by August. Cole, who struggled through his first 14 starts of 2017 (4-6, 4.54 ERA), is the Pirates' most valuable trade chip when he returns to form.
5. Texas Rangers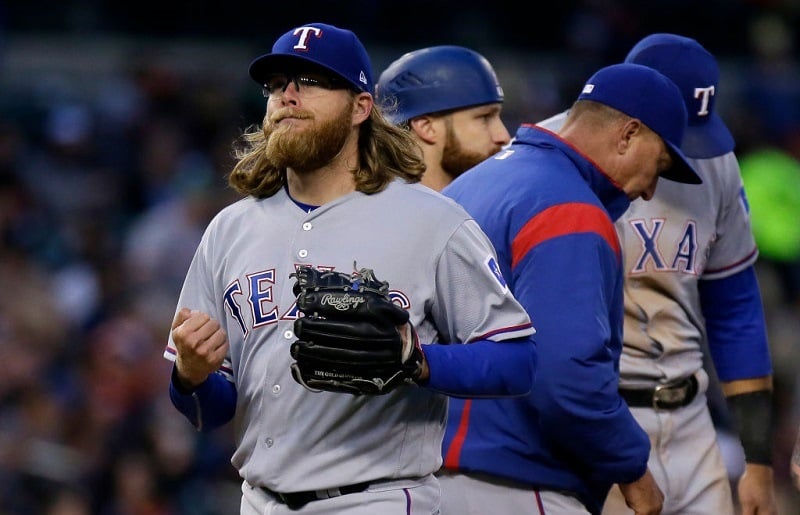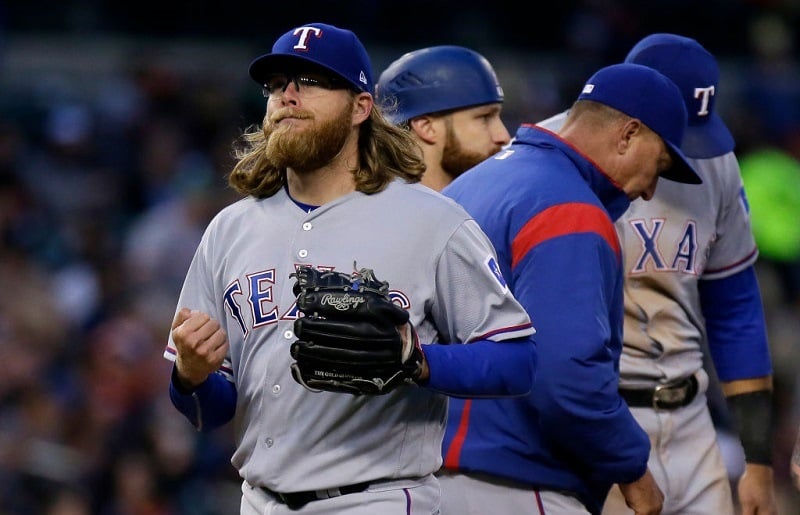 Pitching trouble and a huge AL West deficit doomed the Rangers season. | Duane Burleson/Getty Images
Do the Rangers (32-33, 12 GB) have a shot in 2017? Even following an impressive June win streak, the answer appears to be no. However, the club does have a core of solid position players locked up for the long term, so it's time to rebuild the pitching staff. By all indications, Yu Darvish is not part of the team's future, and management should get the most promising young pitcher(s) it can for Texas's ace in his final year.
Meanwhile, clubs in the hunt for a back-end rotation arm will inquire about Andrew Cashner (another free agent to-be). Trade him. Given the fact Cole Hamels is signed through 2018, the lefty would be the starter to keep if this club hopes to make a run in 2018. Ownership could add a free agent starter in the winter and start anew. With such a terrible bullpen (4.80 ERA, 12 BS in 23 chances), we can't find a path to the postseason for Texas.
6. Miami Marlins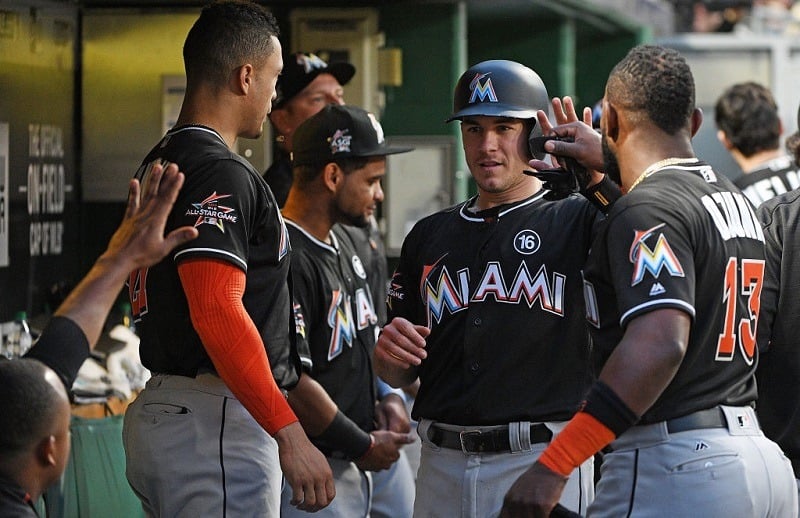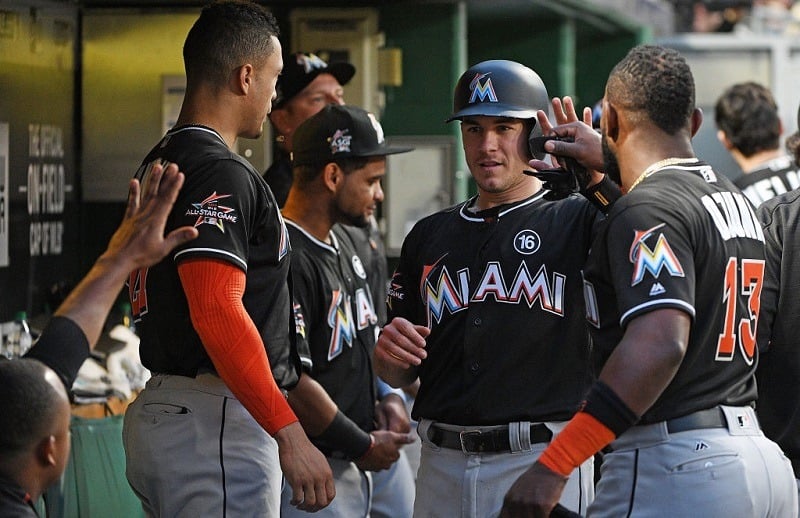 The Marlins' hope is fading fast in 2017. | Justin Berl/Getty Images
Like many young teams, the Marlins have wildly inconsistent swings. When the pitching is on, the athletic defense and power-packed lineup wins games. Then everything seems to go wrong at once, and a bad start will be followed by a worse bullpen outing. Some 65 games into the season, this club was nowhere near a .500 record and 9.5 GB out of first place.
In the Marlins' case, we won't make the case for trading players because there is no excess on a club ranked 20th in payroll. We just wanted to say fans should not expect anything this season and leave it there.
7. Detroit Tigers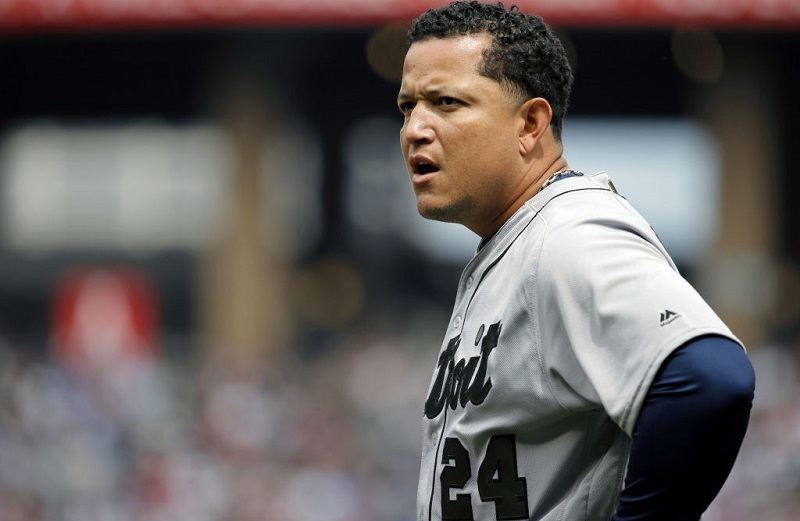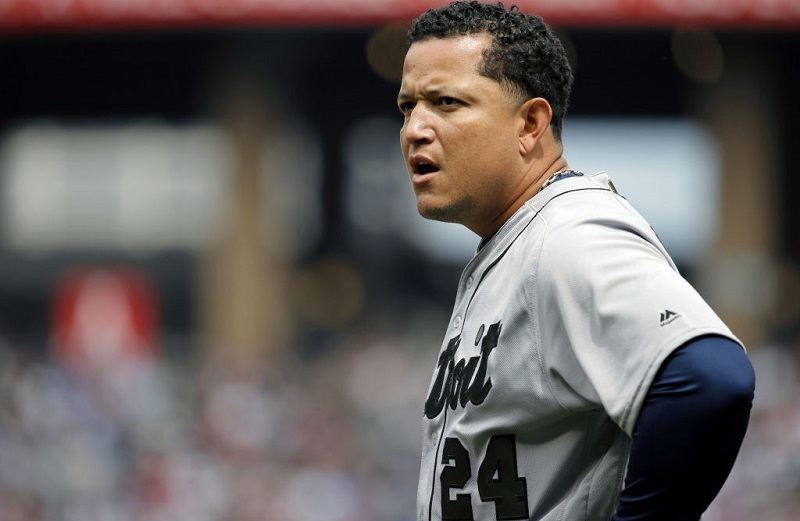 Miguel Cabrera only managed 5 HR through the first 65 games of 2017. | Getty Images
It always seems to be "one step forward, one step back" with the Tigers. This year, fans got a complete turnaround from Justin Upton , the club's most hideously overpaid performer of 2016. Yet Justin Verlander (4-4, 4.68 ERA), Miguel Cabrera (.277, 5 HR), and Victor Martinez (.257, 5 HR) are miles from being worth the $74 million they'll earn collectively in 2017.
Unlike teams with younger or less expensive players, the Tigers are stuck with most of the team's big contracts. The only hope here is for a trade of J.D. Martinez, who will head to free agency after the season, and possibly Ian Kinsler, who is signed cheaply through 2018. We'll leave you with the eternal question: Will a Tigers bullpen (8-12, 4.99 ERA) ever be good?
8. Chicago White Sox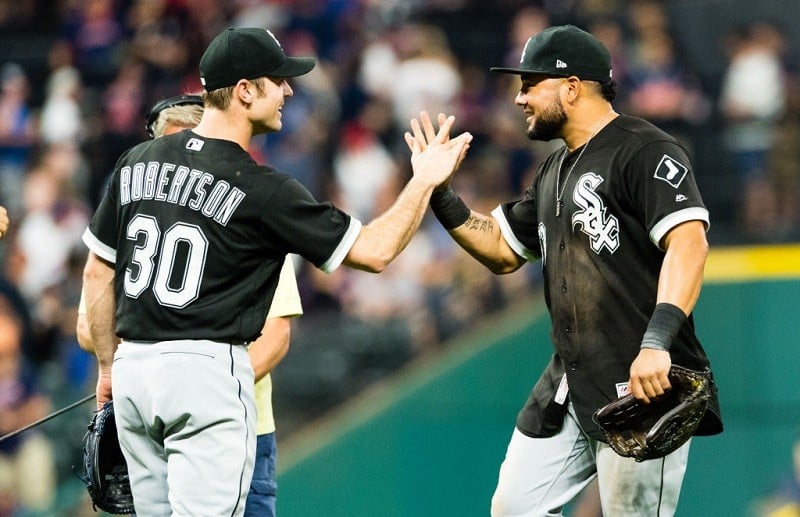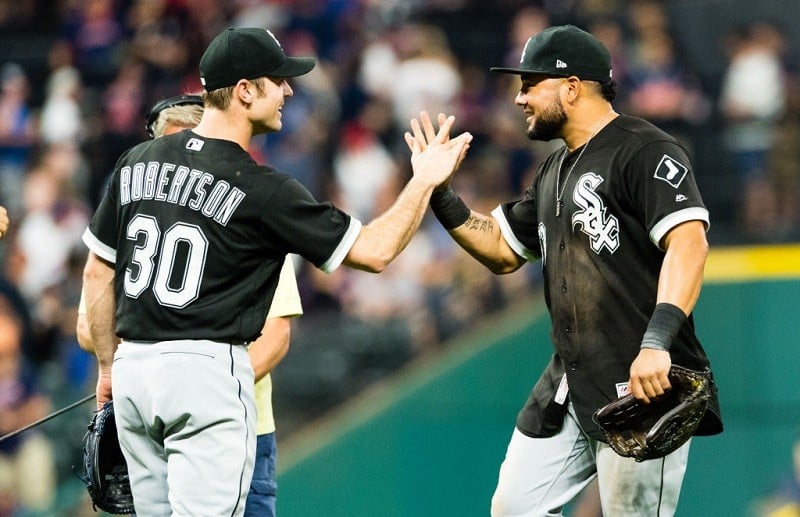 David Robertson is a prime trade candidate in 2017. | Getty Images
With Adam Eaton and Chris Sale long since departed, the White Sox are well into their rebuild. Management should continue running with this approach in 2017. Todd Frazier, who struggled mightily early in the season, would be a candidate to trade once he starts producing. David Robertson, the team's effective closer, also has plenty of value on a relief-hungry trade market. A tougher decision looms on Jose Quintana, the club's best starter. If the lefty can turn around his poor season, he'll once again become top-tier trade bait.
9. Minnesota Twins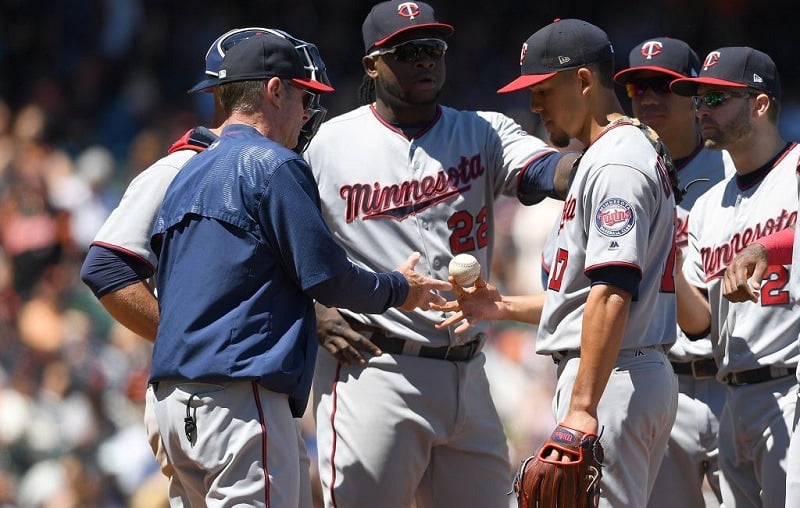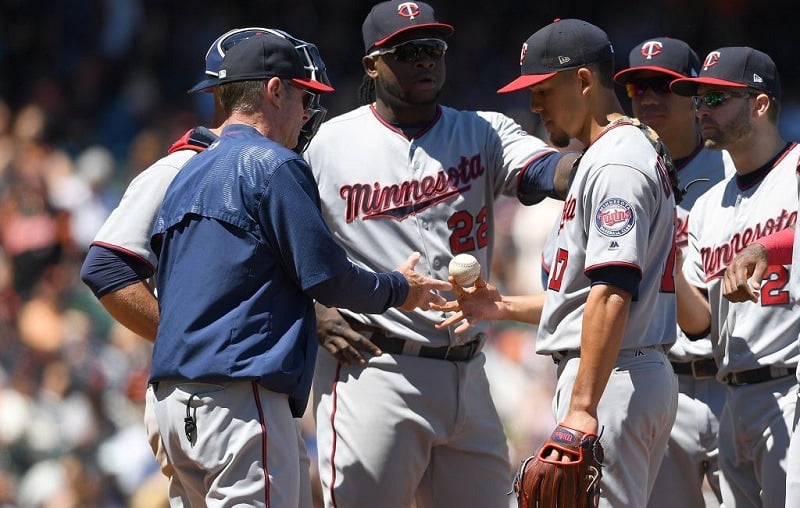 Everything went right for Minnesota early in the season. | Getty Images
Though it may sound crazy for a first-place team to punt on the season, imagine what it would take Minnesota to nab an AL Central title. For starters, the club would have to outscore opponents more frequently. (It carried a -24 run differential into play on June 15). But it would also likely require:
20 wins from Ervin Santana
45 HR from Miguel Sano
Cleveland refusing to add at the trade deadline
Considering none of these are likely, let's take a closer look. Against the Rockies, Astros, Red Sox, and Indians, Minnesota went 4-11. Against everyone else (at or below .500), the Twins went 29-18 to get where they are. You can't choose who you play, but we also can't ignore Minny's tough upcoming schedule. We also can't ignore the fact this almost identical team was in first place (30-19) on June 1, 2015. The Twins ended that season 83-79 (12 GB).
10. Baltimore Orioles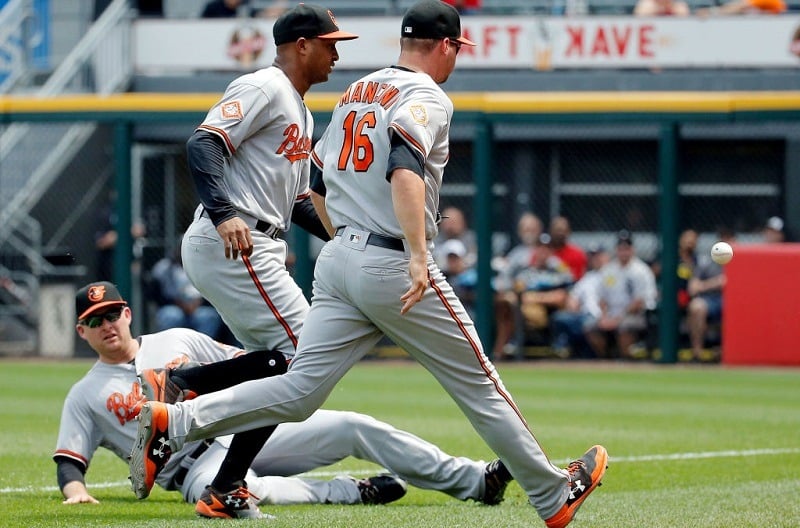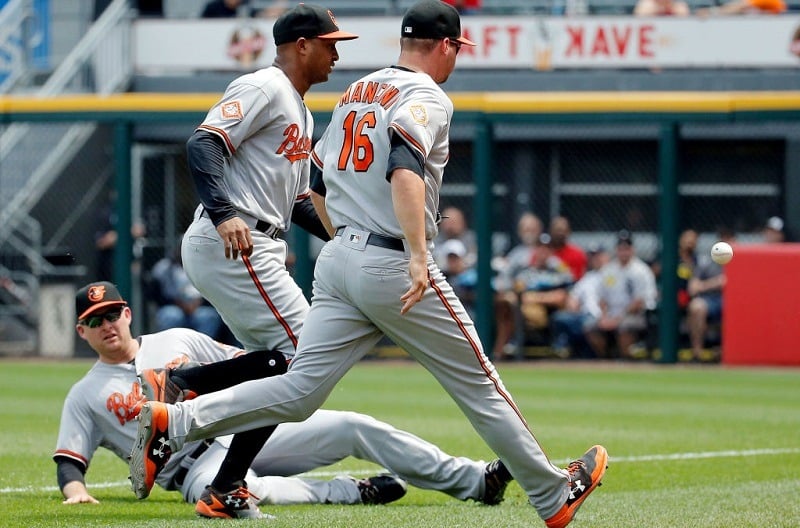 2017 has become a lost season for Baltimore. | Getty Images
Like the Royals, the Baltimore Orioles managed to defy the odds and exceed expectations with a mix of clutch hitting, adequate starting pitching, and sterling relief. In 2017, the rotation completely fell apart (17-25, 5.43 ERA). Chris Tillman is no longer a serviceable option, let alone the staff leader, and the loss of Zach Britton in the bullpen has left this team without a chance.
Meanwhile, the vaunted Orioles offense is nowhere near the force it was in the past. They still slug home runs, but the .309 OBP (25th) and 23.3% strikeout rate (25th) reveal a team without a balanced offensive attack. If we were running thisclub, we'd see what we can get for Mark Trumbo and Wade Miley before planning ahead for 2018. Even when Chris Davis and Britton return, they won't be enough to win an AL playoff spot.
Statistics courtesy of Fangraphs and Baseball-Reference.
Source: Read Full Article