Prime Minister Malcolm Turnbull and Opposition Leader Bill Shorten attend a candlelight vigil for Eurydice Dixon, at Parliament House in Canberra.
When Melburnians woke up on Monday morning, it was to the news that vandals had desecrated a memorial placed at the Princes Park location where Eurydice Dixon's body was found last week. Fire-fighters spent the morning working to remove the white paint that had been used to paint 'offensive' slurs.
On Twitter, journalist Jane Gilmore was blunt in her summary:
"Premeditated vandalisation of #EurydiceDixon memorial. This is how much some men hate women. Any #NOTALLMEN types who've made those "jokes" or sat silent as others did, you're part of the problem and you're responsible for fixing it."
Perfectly true, of course. Desecrating a memorial site for a murder victim is unconscionable, particularly when the violence perpetrated there has been so specifically brutal in nature.
It's difficult to imagine why someone would do that, but less tricky to see how living in a culture that embraces casual sexism while ridiculing feminist objectives and the dismissal of men's violence might provide them with some level of justification.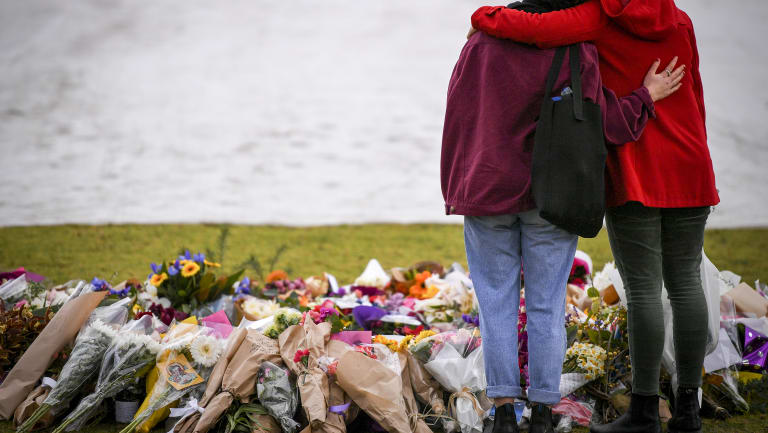 Mourners at the make shift memorial where Eurydice Dixon's body was found at the Princes Park, North Carlton.
It's up to everyone to challenge those attitudes and behaviours, especially the men who consider themselves "good blokes" who don't deserve to be lumped in with the baddies.
But suggesting men might bear even the slightest responsibility for challenging violence perpetrated against women is like waving a red rag at a bull, if the bull had zero self-awareness, raging insecurity over a failed political career and the name "Mark Latham".
His butt symbol must have streamed into the sky the moment Jane tweeted, because only 9 minutes later, Australia's foremost authority on frothing misogyny dropped in to her mentions like one of the snowflakes he routinely labels anyone with a moral conscience.
"No man could possibly hate women as much as you hate men. Totally obsessive, totally sick."
Yes, the man who has devoted his life to trolling women on Twitter continues to characterise as "obsessive" the efforts of some of them to speak out against rape and murder. Remember the vicious campaign he led against Rosie Batty, that "obsessive" woman who radically challenged Australia's conversations on family violence after she watched her abusive ex partner murder their son in front of her? And to think, we missed out on electing such a visionary leader.
Latham might be styling himself as Australia's Trump(eter), but his is not a solo #NotAllMen band. In the past week, these troubabores have all been out in force as they attempt to derail and discredit conversations about the violence perpetrated not just against Eurydice Dixon, but also 28-year-old Qi Yu in Sydney, missing and presumed dead with her male housemate charged with her murder.
They have also made themselves heard in discussions about the 11-year-old girl who was kidnapped and sexually assaulted for hours in Newcastle before being dumped (thankfully alive) at a train station just over a kilometre from her house. A 44-year-old man is in police custody.
Hey, nice guy. What do you actually do to be this famed #notallman? Do you speak out against your friends and colleagues when they harass or abuse women? Do you challenge sexist comments in your peer groups? Do you raise your boys to do the same things? Do you call out your mates' misogynist views? Do you listen when women talk about our experiences with gendered violence and resist the urge to explain them back to us or tell us we're wrong?
Do you insist on carrying 50 percent of the domestic workload at home, and track whether or not this is actually happening? Do you do your equal share of the parenting? Do you talk to your sons about consent and respect? If you do all these things, committedly and daily, congratulations.
You are a basically okay human.
Women are dying and men keep making it about their feelings. So it is a mark of either immense compassion or immense foolishness that women continue to partner with men despite amassing a lifetime of experiences that tell us how dangerous this decision can be for us.
I am increasingly disagreeing with the view that not all men are part of the problem, and it's because I truly think most of them don't understand that the problem is theirs to solve.
I have a male partner whom I love, and I'm the mother of a son I would die for a million times over, but the gap between where we live in the world is treacherously cavernous. Still, I and billions of women like me try to create safe passage between those two spaces every day. We are building the bridge, while they mostly just watch.
Under his eye, indeed.
This is perhaps #notallmen's greatest insult. Women don't need to be told to look for the goodness in men, because we try our damnedest to find it every day. We work hard to nurture it, even as we're told to be grateful for it. For our own survival, women must believe that not all men are the enemy.
We search for the humanity in men only to have them turn away from the reality of our pain. It can be pouring out of us, but they'll only consent to look at it if we promise not to hold them accountable.
Brutality is not always about physical strength. As Twitter user @thetrudz once powerfully observed, "Not all men are actual rapists. Some are rape apologists. Some tell rape jokes. Some are victim blamers. Some are silent."
Yes, Not All Men are bad people. But Not All Men are good either.
Isn't it time you learned the difference?
Source: Read Full Article