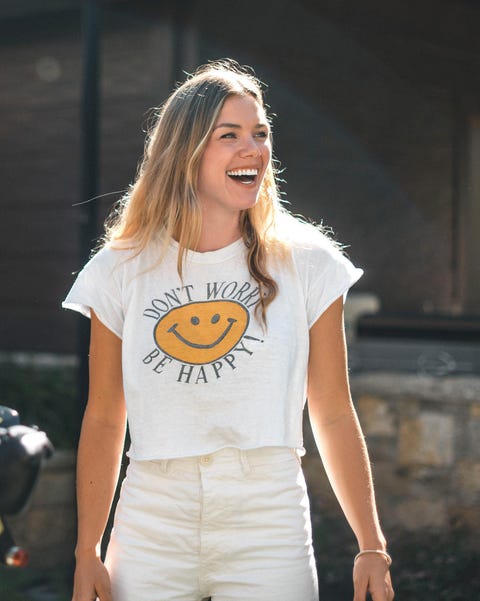 Ty Haney founded cool-girl activewear brand Outdoor Voices in Austin, Texas, with the mission of making fitness more about fun and inclusivity than intensity and competition. Her a.m. routine jump-starts a day of living that vision for herself, focusing on habits that feel good so her motivation never wanes.
6:50 a.m.: First thing in the morning, it's all about savoring little moments.
View this post on Instagram
?
A post shared by Ty Haney (@ty_haney) on
"My alarm goes off at 6:50 a.m. I give myself a minute and a half micro-snooze, which feels like the most glorious 90 seconds of my life. Once I'm up, I take 30 deep breaths, thinking about something I'm grateful for, like my cute pup, Bowie, with each inhale. My boyfriend got me into this thankful thinking. It puts me in a positive mood right away."
7:15 a.m.: I like to wake up my body with a workout.
View this post on Instagram
Bop it ?Bend it ? Stretch it ? Flex it ??‍?
A post shared by Ty Haney (@ty_haney) on
"I lace up my HOKA One One running shoes—so cushy!—and hit Lady Bird Lake trail for a 3.1-mile jog, or I'll go for a dip in Barton Springs natural pool. It's the fountain of youth. If, for some reason, I can't exercise, I'll take a cold shower to prime myself for the day. I used to want to get into the office super early, but I realized protecting my morning hours for a workout makes me feel like the Energizer Bunny for the rest of the day. I get more out of it when it feels fun too—sometimes that's as simple as smiling before I take off on my run."
8:15 a.m.: Post-workout, I hit my favorite café, Jo's.
View this post on Instagram
Da freak
A post shared by Ty Haney (@ty_haney) on
"I grab a gluten-free muffin and a cold brew with nut milk to help me refuel. When I get home, I listen to my country playlist while I get ready. I like no-makeup makeup—my staple is Charlotte Tilbury tinted moisturizer for a bronzed look without the heaviness. I also love having a uniform—right now, it's a classic OV dress."
9:00 a.m.: I pack Bowie in my Jeep and we head to the office.
View this post on Instagram
Happy birthday OV shop no.1 – you and your Austin hunnies, mighty fine ?? ??✌?️
A post shared by Ty Haney (@ty_haney) on
"It's decorated with my favorite artists, like Monica Kim Garza, who uses bold color that inspires and energizes me. Work starts with a meeting I love, the Creationalist, where we aim to solve a tricky problem. I'm most innovative in the morning, and tackling something big off the bat gives me momentum."
This article originally appeared in the October 2018 issue of Women's Health. For more great advice, pick up a copy of the issue on newsstands now.
Source: Read Full Article