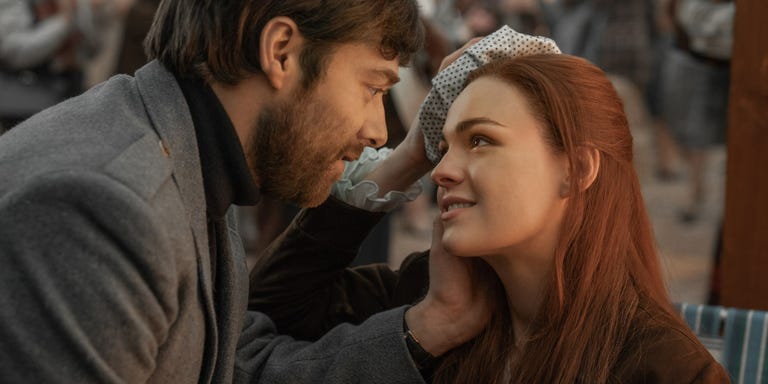 No one said #Droughtlander would be easy. Now that we know Season 4 of Outlander won't air until November, we're craving every little bit of information we can get about the new season. Thankfully, we're not totally ignorant of details of the Frasers' future (and if you read Drums of Autumn, you already know what happens), so to pass the time until the show returns, we're breaking down all the hints shared by its producers and cast below.
WARNING: Spoilers for Season 4 of Outlander below. Proceed with caution! ?
1) The 13-episode season will air in November 2018.
Starz confirmed the news in a press release today.
2) Season 4 is based on Diana Gabaldon's book Drums of Autumn.
It's the fourth book in the Outlander series and was published December 30, 1996. You can read a spoiler-y preview of the story over at dianagabaldon.com.
3) It's currently shooting in Scotland.
Stars Caitriona Balfe and Sam Heughan have been sharing hilarious dispatches from set on their Instagram and Twitter accounts:
4) Jamie and Claire are headed for America.
The Frasers will build a homestead called "Fraser's Ridge" in North Carolina, at that point a colony. Moore explained to Deadline that the Season 3 finale "shifts the whole foundation of the show to the American colonies." He continued, "That will be sort of the primary story going forward for the rest of the show because that's where the rest of the books took place."
Moore teased the sort of drama Claire and Jamie will have to deal with in an interview with The Hollywood Reporter: "There's elements of Little House on the Prairie with elements of the frontier and wilderness. We're there at a time of tumult in the American colonies, there's slavery in the South, there are American Indians on the frontier, there's a rebellion that will blossom into the American Revolution, and they land smack-dab in the middle of all of this."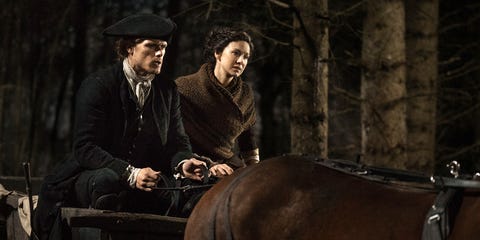 Moore also promised the series will call back to Scotland: "It's not going to completely abandon like Lallybroch and Inverness and some of the stories back there, but you know the balance of the story and the weight of the story is definitely going to be in America from now on." Caitriona Balfe told ELLE.com she's interested in exploring Jamie and Claire through a new lens: "I think what Scotland meant to Jamie and Claire was such an integral part of the storyline, and so it's really interesting to see these people as immigrants, and how they meet their native American neighbors and the relationships they forge with them."
The show will not shoot in the U.S., though—Moore told EW Eastern Europe will stand in for the North Carolina landscape.
5) SPOILER ALERT: Jamie will meet his daughter, Brianna.
Yep, Bree's a time-traveler like her mom. At that Television Academy FYC panel, Heughan revealed that he's about to shoot his big meeting with Brianna in the 18th century. "This season, it's a huge moment and will be the catalyst to a lot of the drama that unfolds," Heughan said, according to Variety.
"The path that [Brianna] takes to make that journey is very different than the path that Claire took," Moore told ELLE.com. "They're on very different tracks. She goes for a different purpose, and in a different way than Claire did, and once she arrives there, she has a different set of problems than what Claire dealt with."
6) But don't worry—Roger's not going anywhere.
Davis confirmed on Twitter that we'll see Roger and Bree together in Season 4, and EW reports that part of the new season will be set in 20th-century Boston and Scotland (Inverness, to be exact).
7) Jamie and Claire become grandparents.
Yes, you heard that right."Season 4 is about settling down: finding a home, building a home, new families, grandchildren, larger settlements… it's sort of a progression in the life of these people," Moore revealed on the official Outlander Twitter account. It's unclear whethe he's referring to Marsali and Fergus (which seems more likely) or Brianna and Roger. Perhaps Bree pregnant when she travels to the 18th century?
Heughan also let slip that Jamie will become a grandfather this season: "He's grown up more and he's now trying to provide for his family, to understand that more, what it's like to be a father or grandfather," he told ELLE.com.
8) Jamie's Aunt Jocasta has a huge role this season.
Season 4 is "all about Jocasta," co-executive producer Maril Davis told EW. Described as "strong-willed," she's the younger sister of Jamie's late mother and uncles Colum and Dougal Mackenzie, which means political machinations are her specialty. Maria Doyle Kennedy, of Orphan Black, Downton Abbey and The Tudors fame, will portray the character.
Production designer Jon Gary Steele revealed that Jocasta's plantation is his favorite setting for Season 4: "It's heavily detailed—even more than the Parisian sets, believe it or not. I think it's more beautiful, even, than some of the Parisian sets."
9) And we'll meet a new villain.
Ed Speleers is set to play Stephen Bonnet, a pirate, smuggler and all-around antagonist to Jamie and Claire. The shows producers promise he's worse than Black Jack Randall: "Stephen Bonnet is a pure psychopath and a narcissist whose day-to-day is, 'What's going to pleasure me?'" executive producer Matt B. Roberts told THR.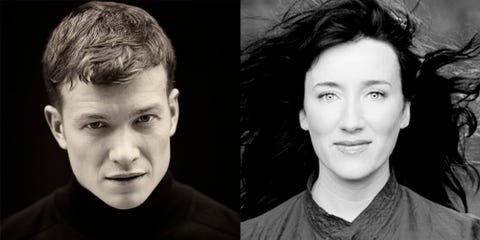 10) Rollo is the cutest new addition to the show's cast.
Young Ian adopts a canine companion in the coming season named Rollo. He'll be played by two Northern Inuit dogs. "Rollo and Young Ian met on the docks in North Carolina, when Young Ian won the dog in a card game, and a life-long bond was formed between them, meaning that Rollo became a member of the ever-growing Fraser family," Diana Gabaldon told EW.
11) You haven't seen the last of Tobias Menzies.
Both of Menzies' characters, Black Jack Randall and Frank Randall, died in Season 3, but Menzies would gladly reprise the roles at some point in the future. "Who knows, they may have me back," he told BAZAAR.com in September. "I have no news of that, but I suppose with a show that can travel anywhere in time, you never know."
Moore told ELLE.com, "You won't really be seeing Black Jack again [in Season 4], but there's a chance you might see Frank again. It'll be interesting to see your reaction to how we play him, if we get to do it, how we play him this season, because it's a slightly different flavor." Executive producer Maril Davis said if Frank appears, it will likely be through flashbacks. Though Menzies will be hard at work playing Prince Philip in The Crown, we hope he'll find time to head to the set of Outlander for a cameo.
12) Laoghaire might be back, too.
We probably haven't seen the last of Jamie's ex-wife, Moore revealed at the FYC event, according to Variety: "The fans love to hate her. That just means you want to see her more."
13) Production designer Jon Gary Steele called this season "the best looking year of all."
Steele famously brought such magical locations as Master Raymond's apothecary and the print shop to life on the show, but apparently, they pale in comparison to Season 4's sets. In March, he told TVGuide.com, "Normally, halfway through [the current season] we start researching and prepping [for the next season]. But we're so busy this year, it's really a big year." He continued, "It's my biggest build so far. It's huge. It might be the best looking year of all." We can't wait to see.
Buy Drums of Autumn by Diana Gabaldon, $15, amazon.com. Shop
Source: Read Full Article