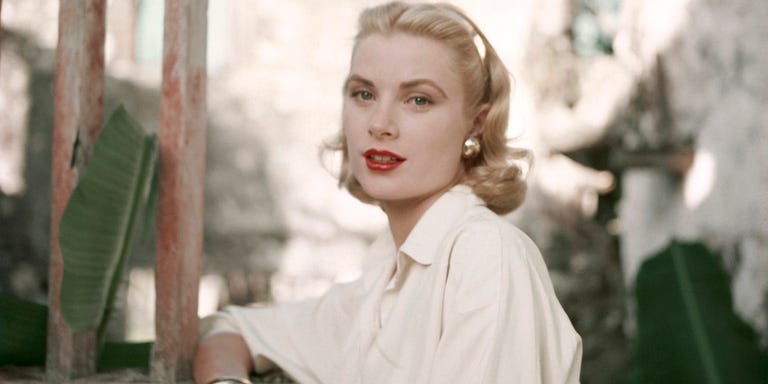 Grace Kelly's beauty is the stuff of legend, but she had the talent to back it up and enjoyed a stellar film career before dedicated her life to the monarchy, becoming the Princess of Monaco. See 35 glamorous photos of Grace Kelly.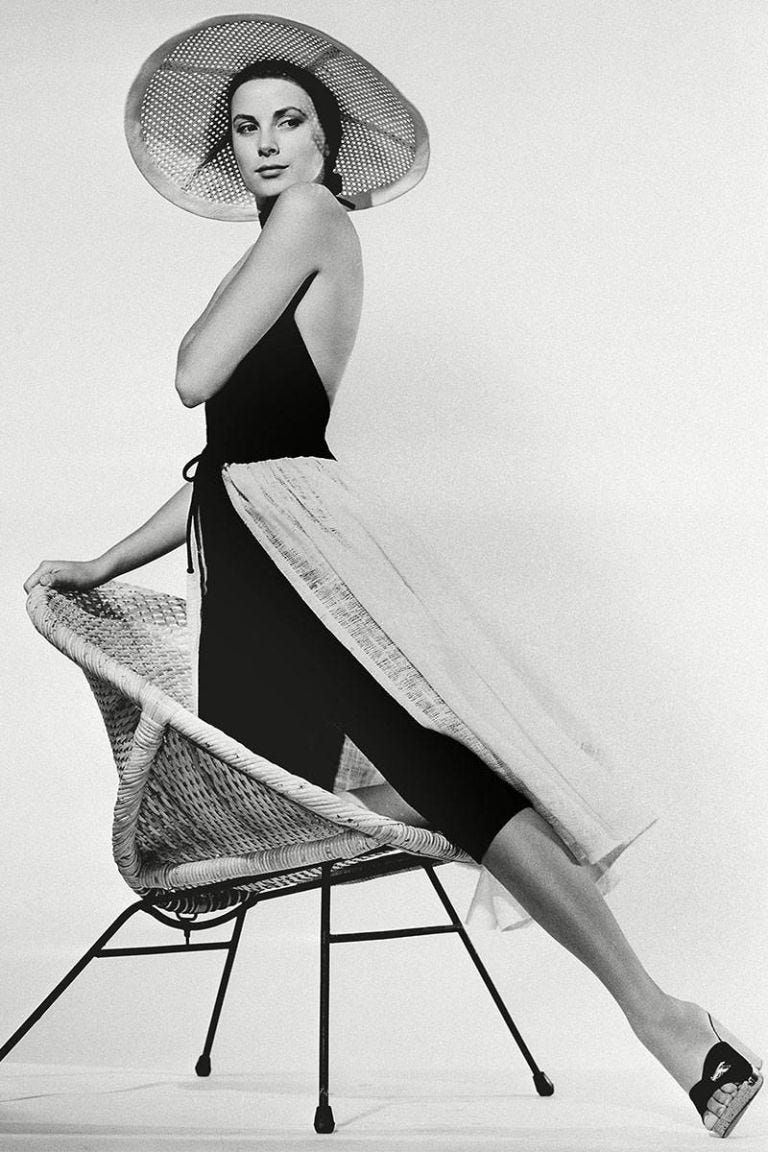 Grace Kelly was born in 1929 to John B. Kelly, Sr. and Margaret Katherine Majer, in Philadelphia, Pennsylvania.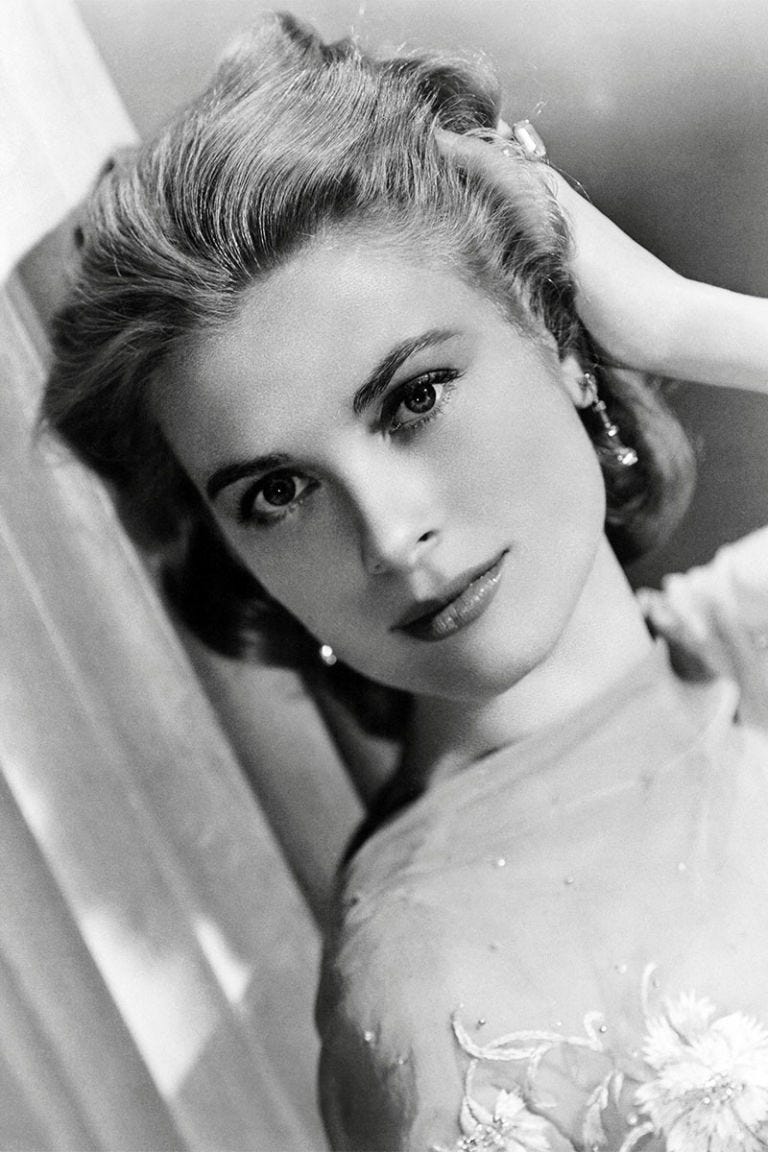 Her father was an Olympic gold medalist for rowing and her mother taught physical-education at the University of Pennsylvania. Later, her father became a self-made millionaire in the brick business.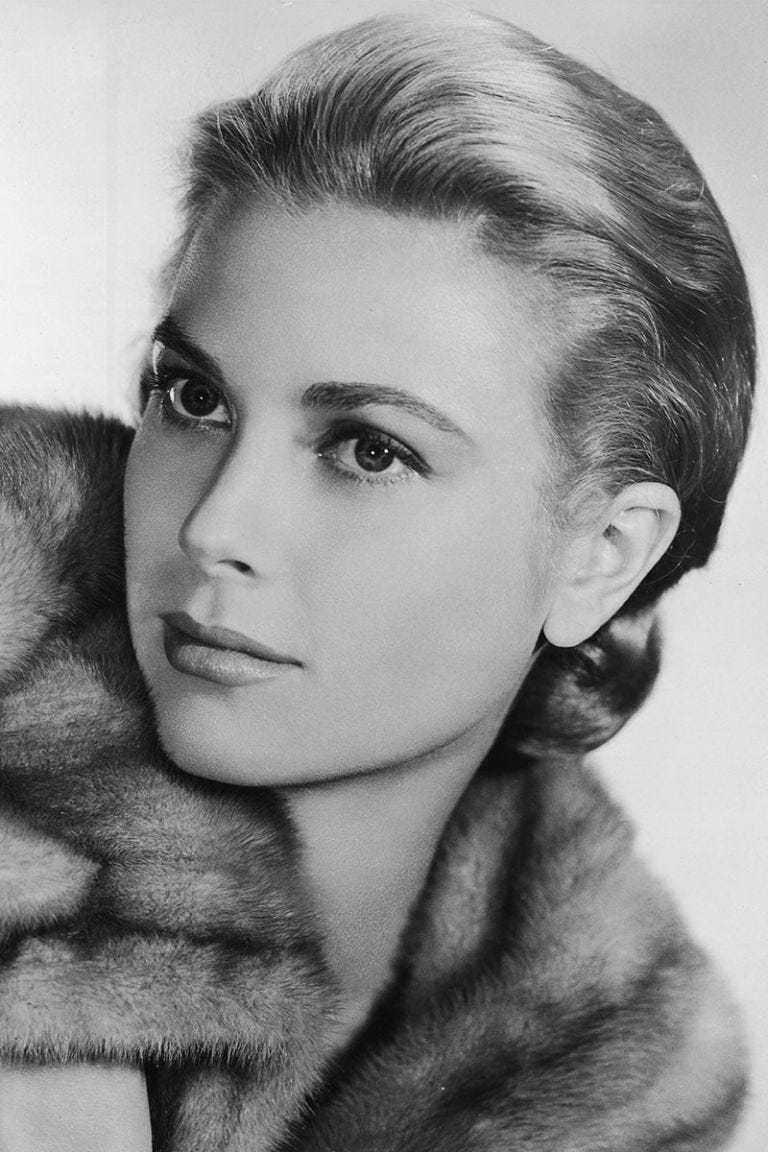 The names of Grace's three siblings are the equally classic Margaret, John, and Elizabeth. Grace Kelly's nickname amongst family and close friends was "Graciebird."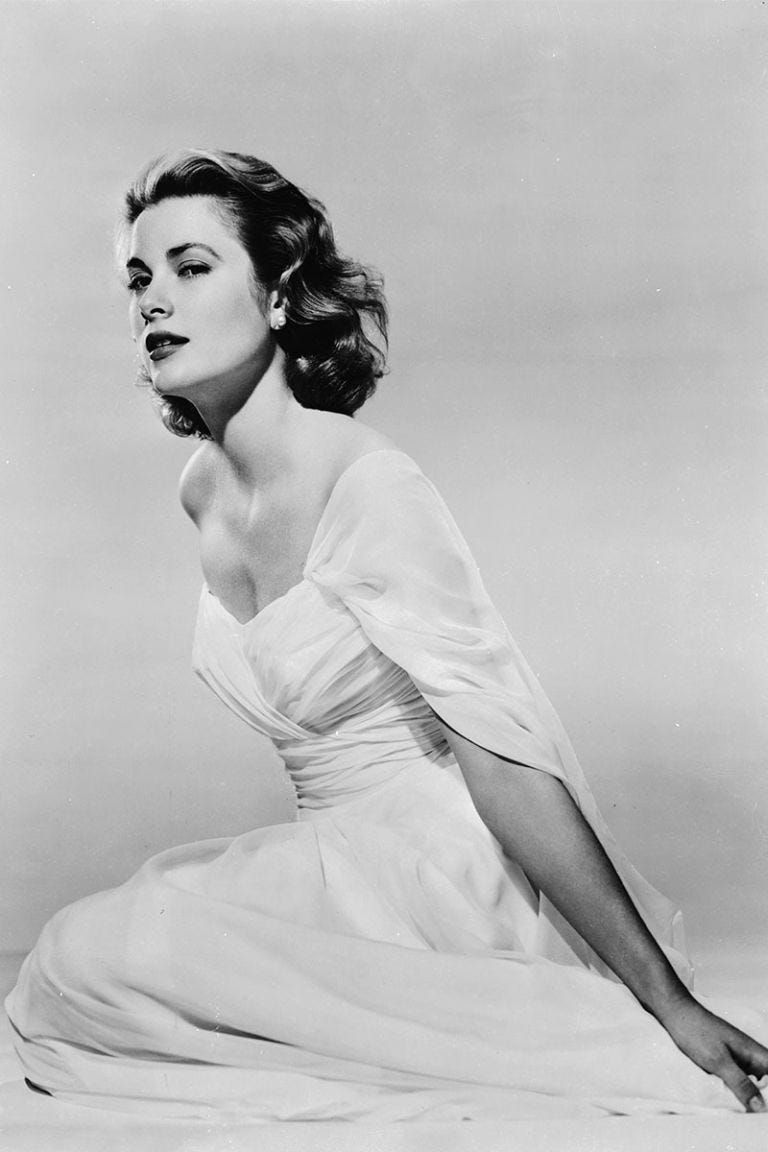 Grace began her acting career in plays and participated in fashion events while attending Ravenhill Academy and Stevens School as a young girl.
In 1947, Kelly made the fateful trek from Philadelphia to New York City, a move not common for upper class girls like herself, expected to graduate and find husbands.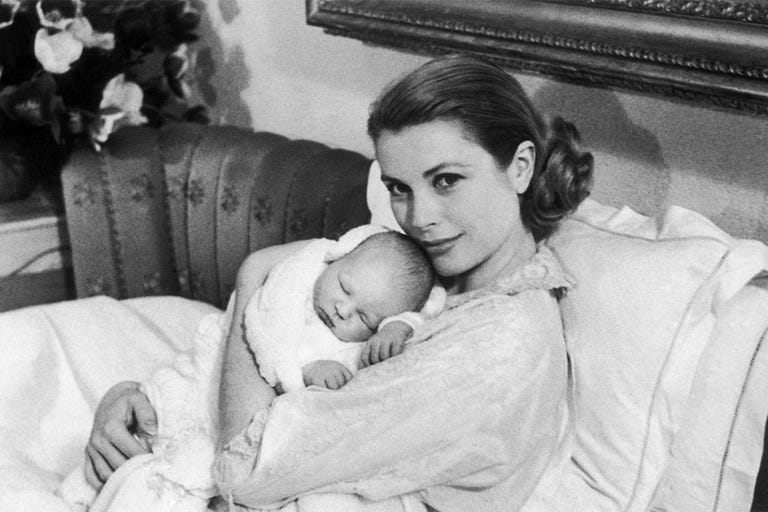 There, she enrolled at the prestigious American Academy of Dramatic Arts. Fellow students include Spencer Tracy and Kirk Douglas.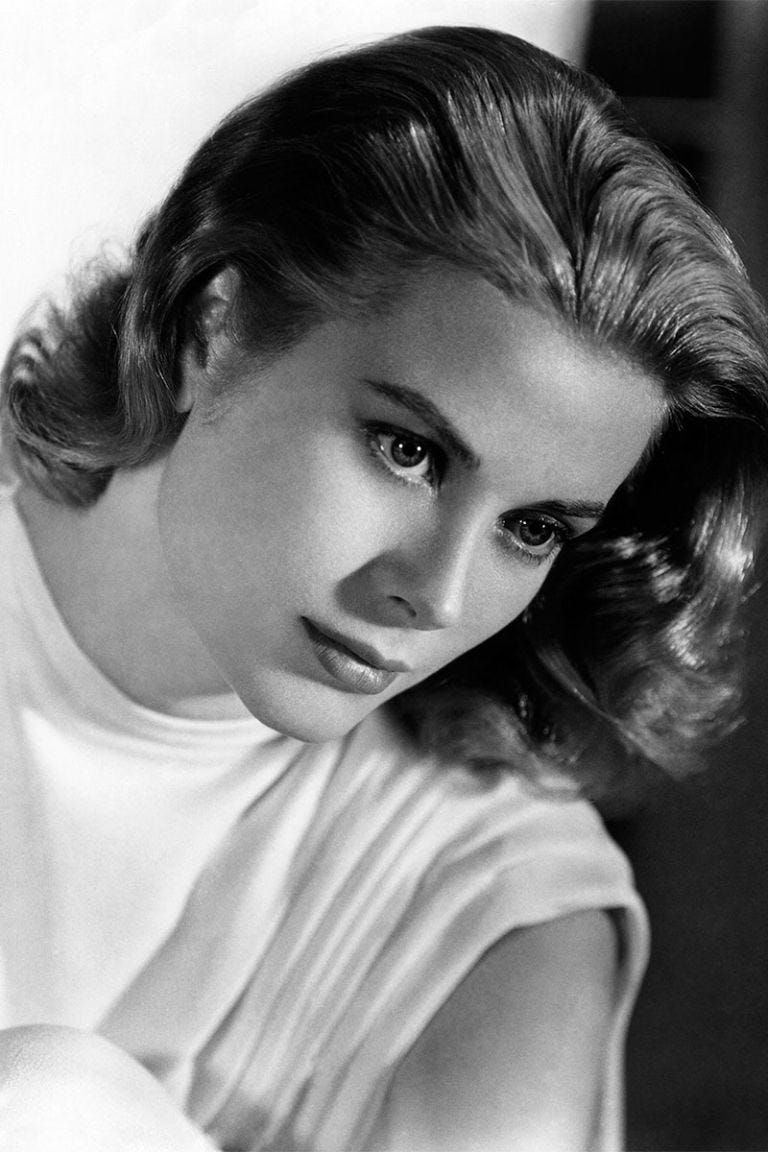 For her final performance at the Academy, Kelly took on the role of Tracy Lord in The Philadelphia Story. She would later play this role once again in the 1956 film adaptation, High Society.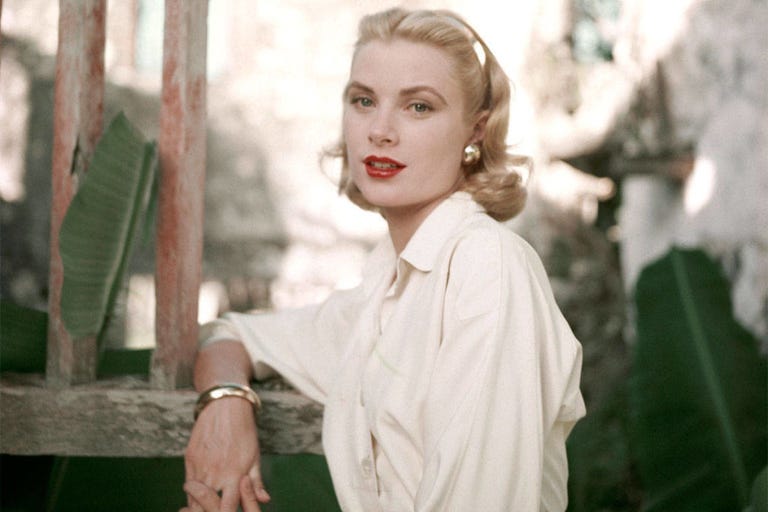 While in school, Kelly worked as a model, booking work for Old Gold cigarettes and appearing on magazine covers including Cosmopolitan and Redbook.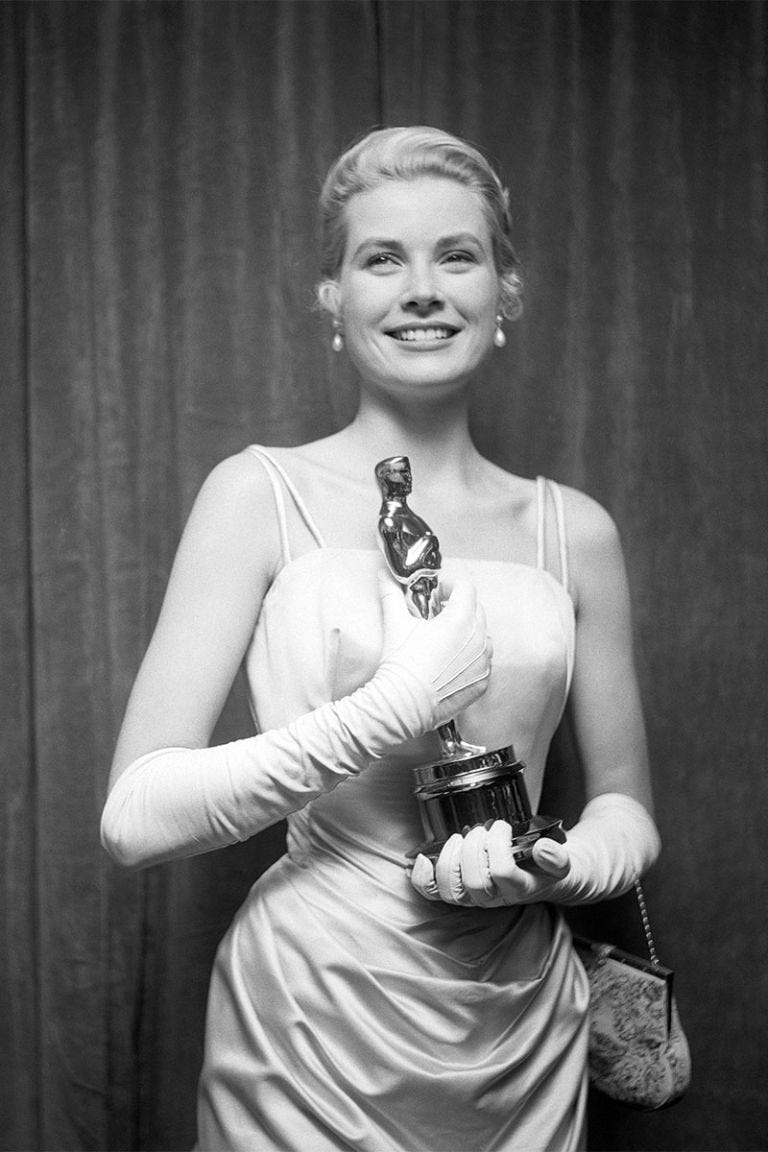 Grace Kelly earned an Academy Award for Best Actress in a Leading Role for her role in The Country Girl, a decidedly unglamorous role for the beautiful actress. She beat out Judy Garland for her role in A Star is Born.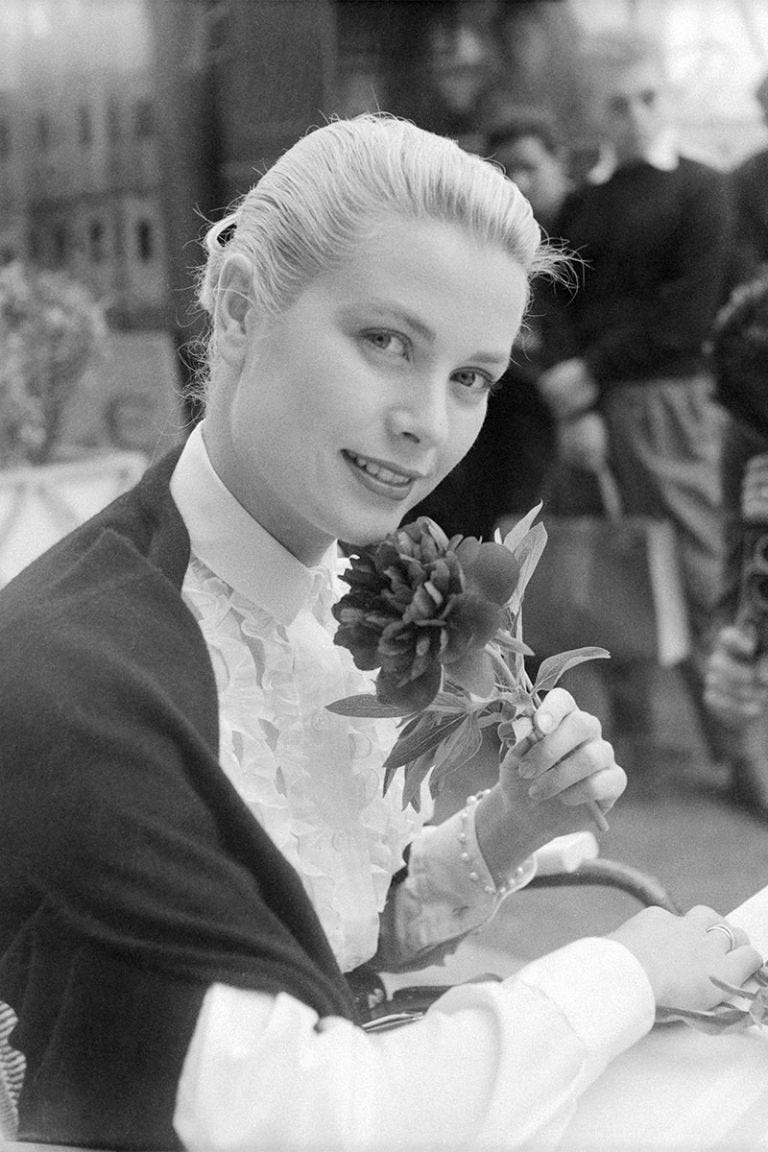 Prior to her win, Grace Kelly was nominated for Best Actress in a Supporting Role in the 1953 film Mogambo. That year, she lost to Donna Reed in From Here to Eternity.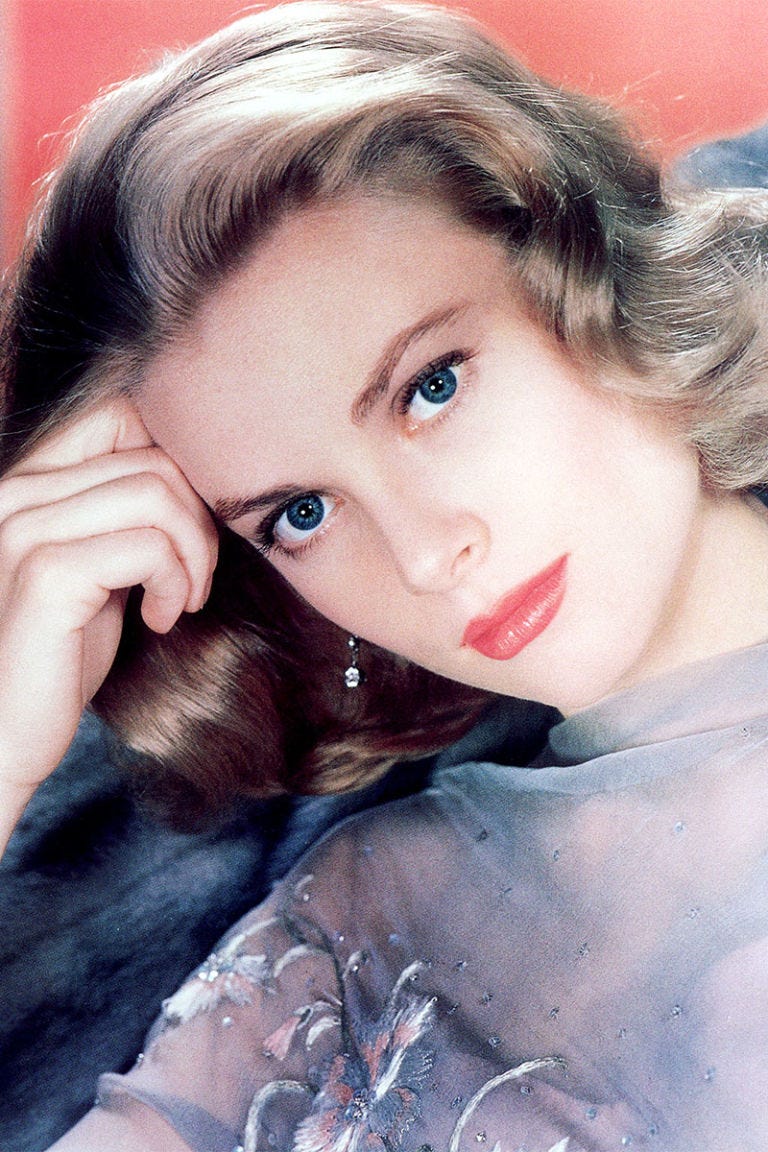 Before any Academy Awards, Kelly tried her hand at stage acting on Broadway before turning her sites on Hollywood. In 1952, she starred with Gary Cooper in High Noon, a seminal moment that helped land her a seven-year contract with Metro-Goldwyn-Mayer.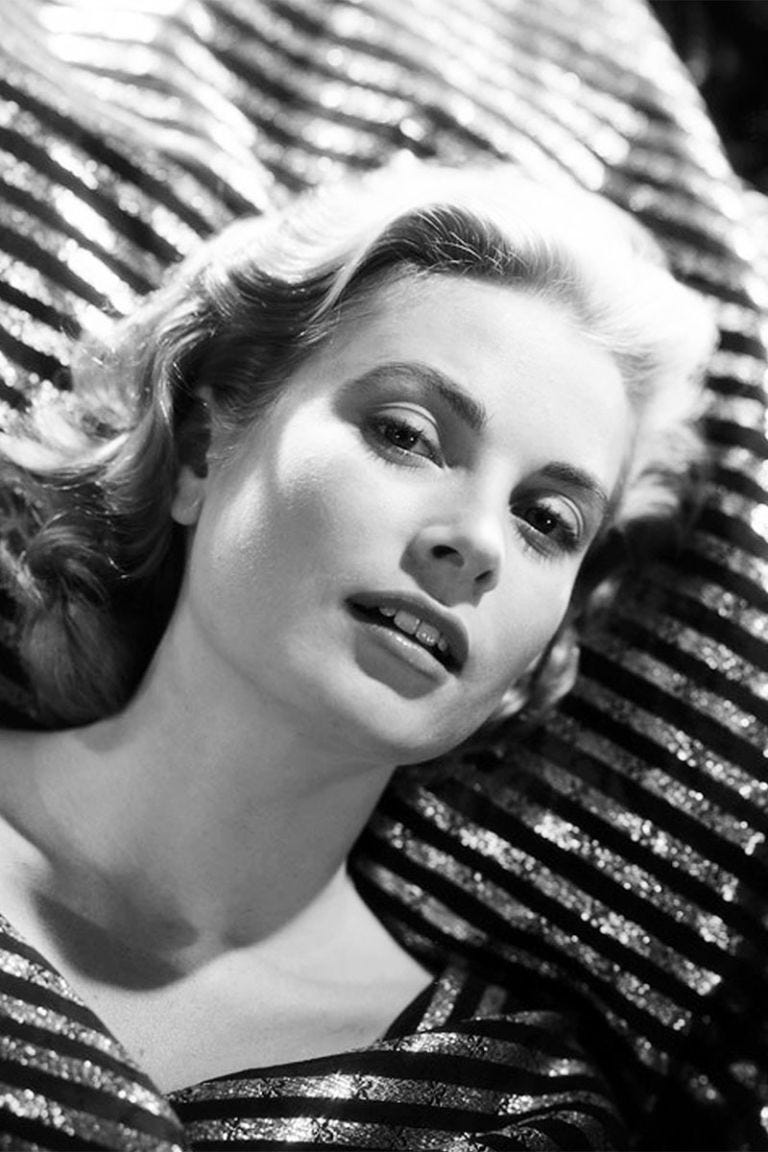 In the total of her acting career, Grace Kelly would appear in 11 films and star in over forty television broadcasts—a relatively small number in light of her immense and enduring fame.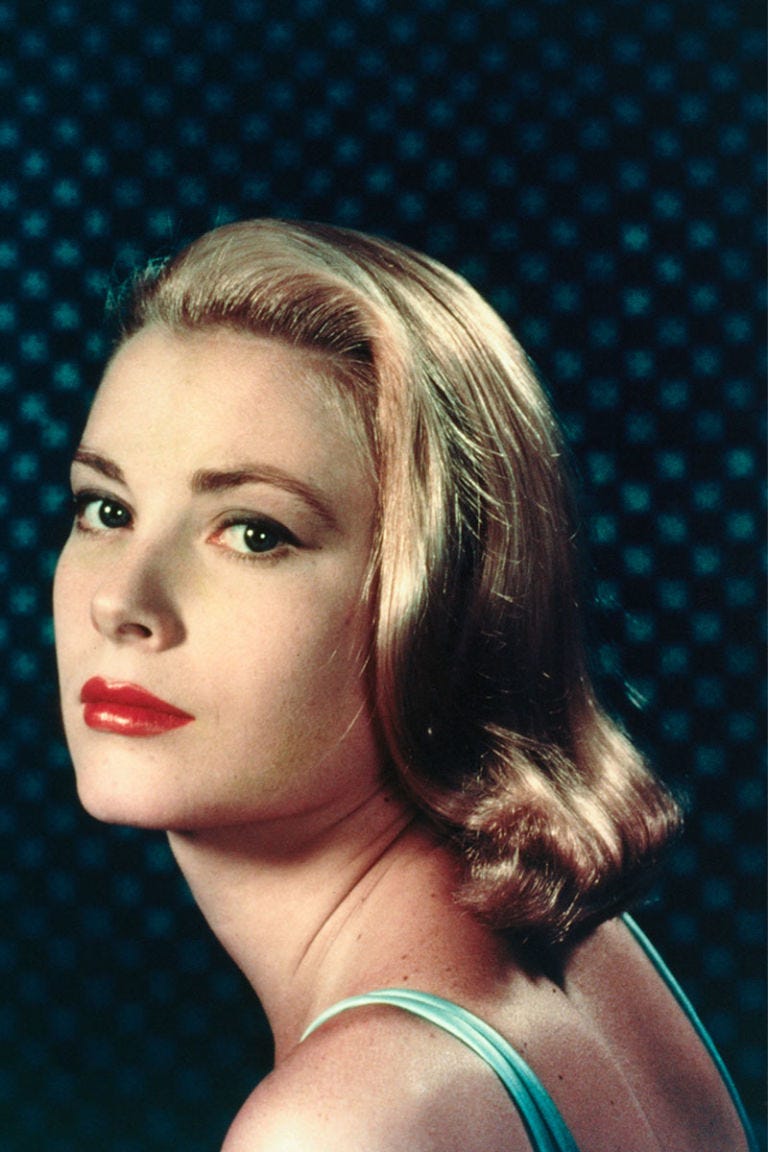 Inarguably, her most successful and famed film relationship was with director Alfred Hitchcock.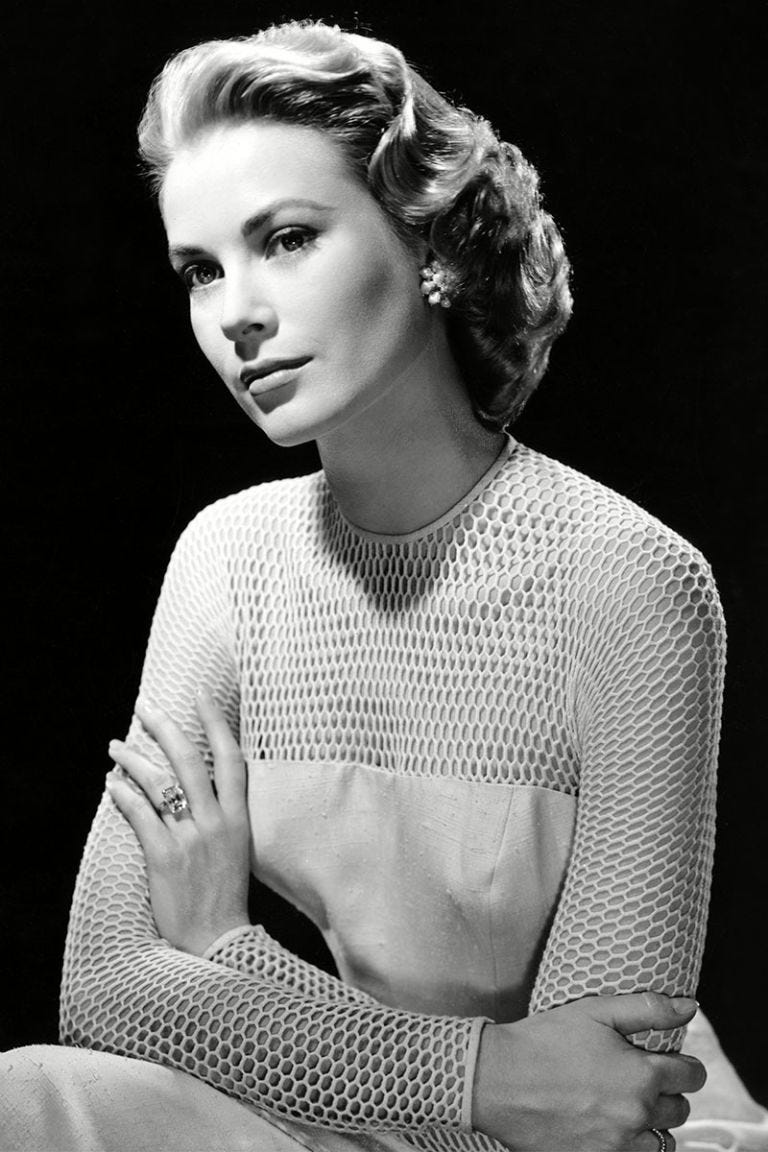 In a fateful decision, Kelly said no to the the role of Edie Doyle in the award-winning On the Waterfront in favor of working with the famed auteur.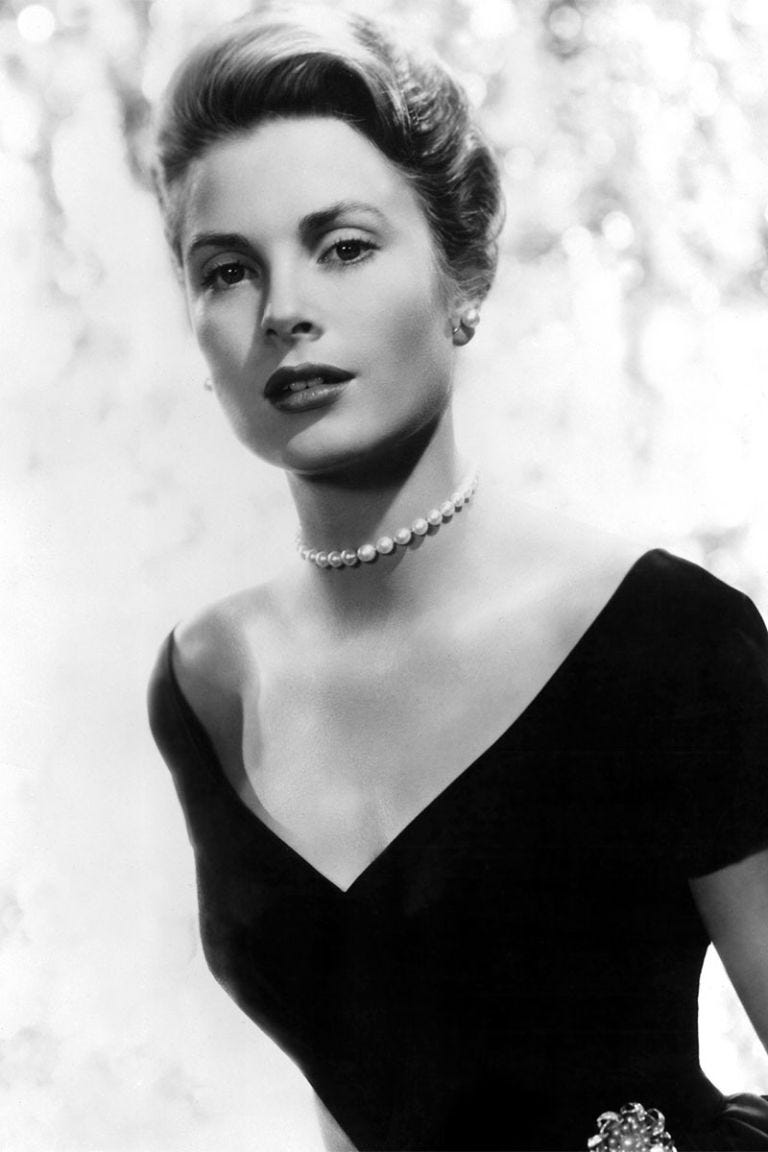 In total, Kelly appeared in three suspenseful films for Hitchcock, Rear Window, Dial M for Murder, and her final, in 1955, To Catch a Thief.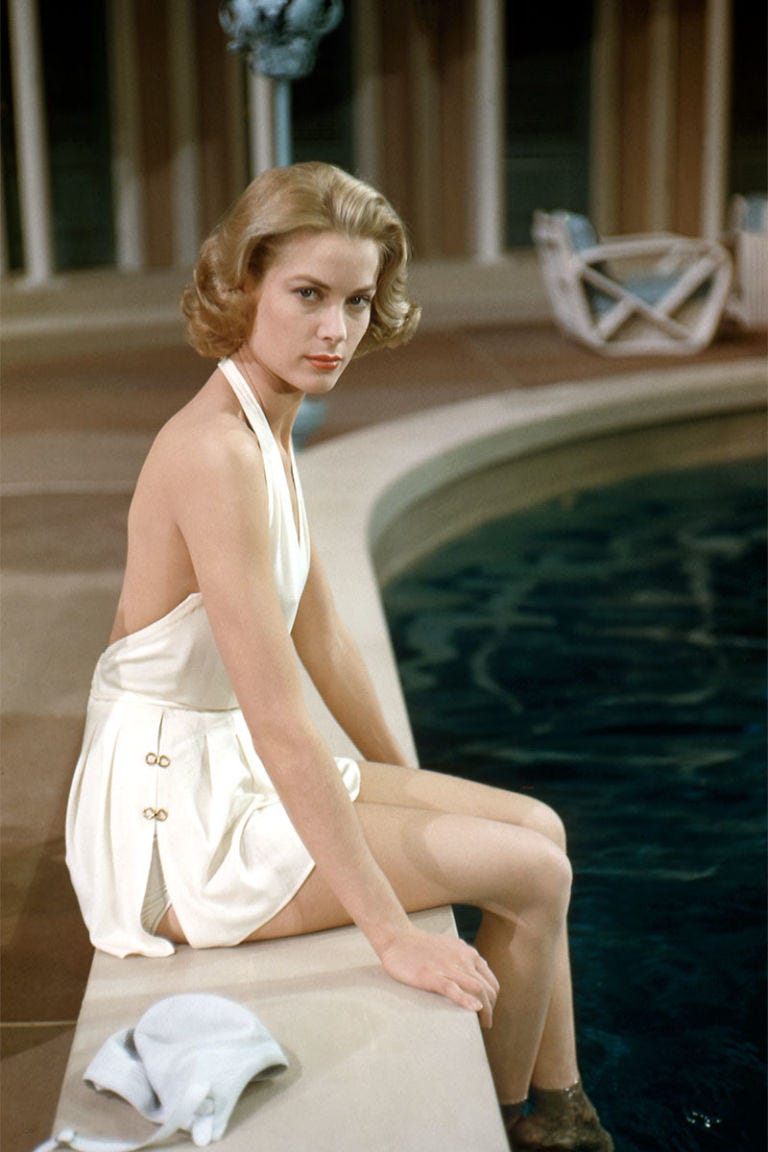 Kelly embodied what would come to be known as a "Hitchcock Blonde," with her icy beauty and patrician features.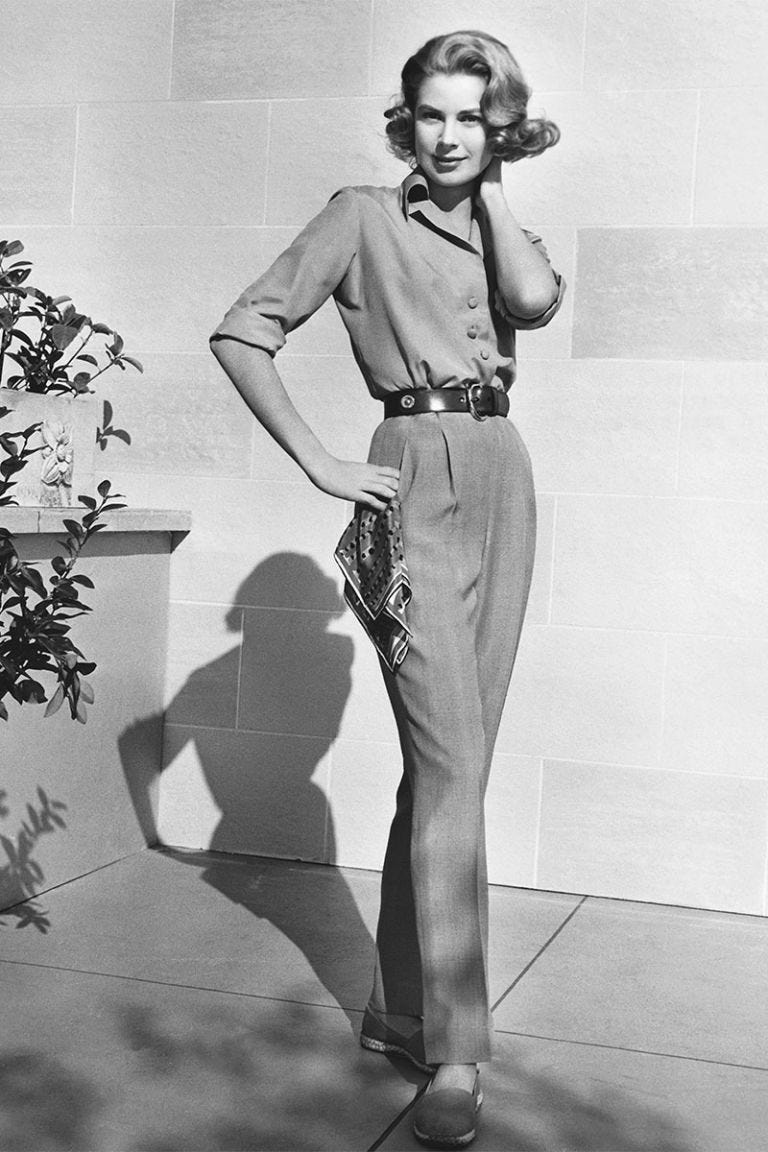 A certain 1950s fashion style of tailored separates, pearls, pencil skirts and kitten heels also became synonymous with Kelly thanks to her wardrobe in those three films.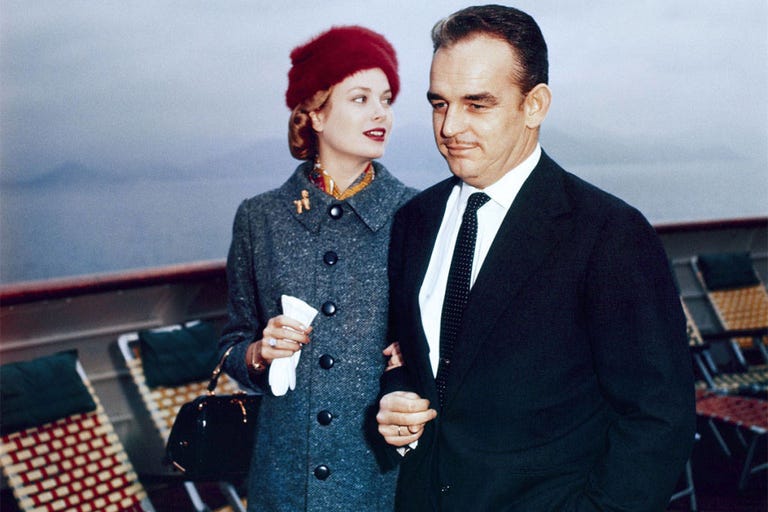 At the height of her fame and respect as an actress, Kelly took a fateful trip to France in 1955. She was invited to join the United States Delegation Committee at the Cannes Film Festival in France.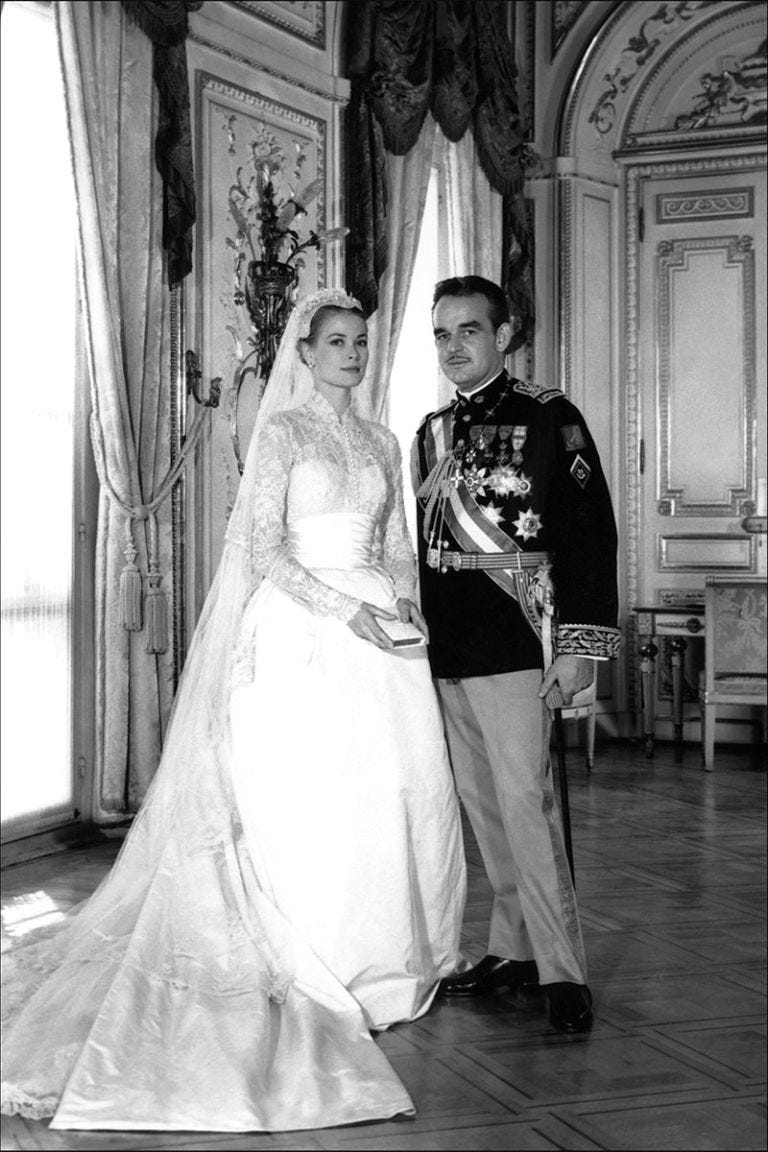 While doing a photoshoot in the seaside town, Kelly met Prince Rainier III of Monaco. The fairy-tale romance romance culminated in a highly publicized wedding ceremony on April 19, 1956. Kelly was 26 years-old.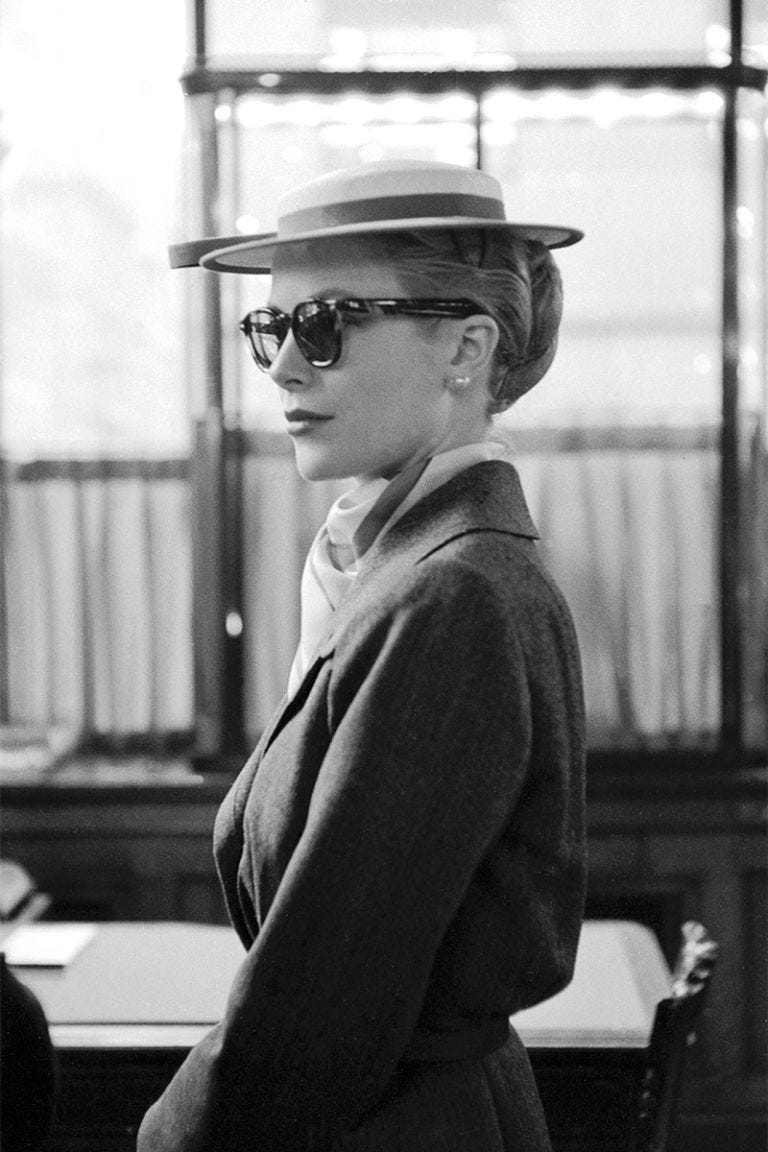 Almost overnight, Kelly's lauded acting career came to a halt. She become "princess consort of Monaco," gave up her US citizenship and, in a shocking development, her monarch husband banned her films in Monaco.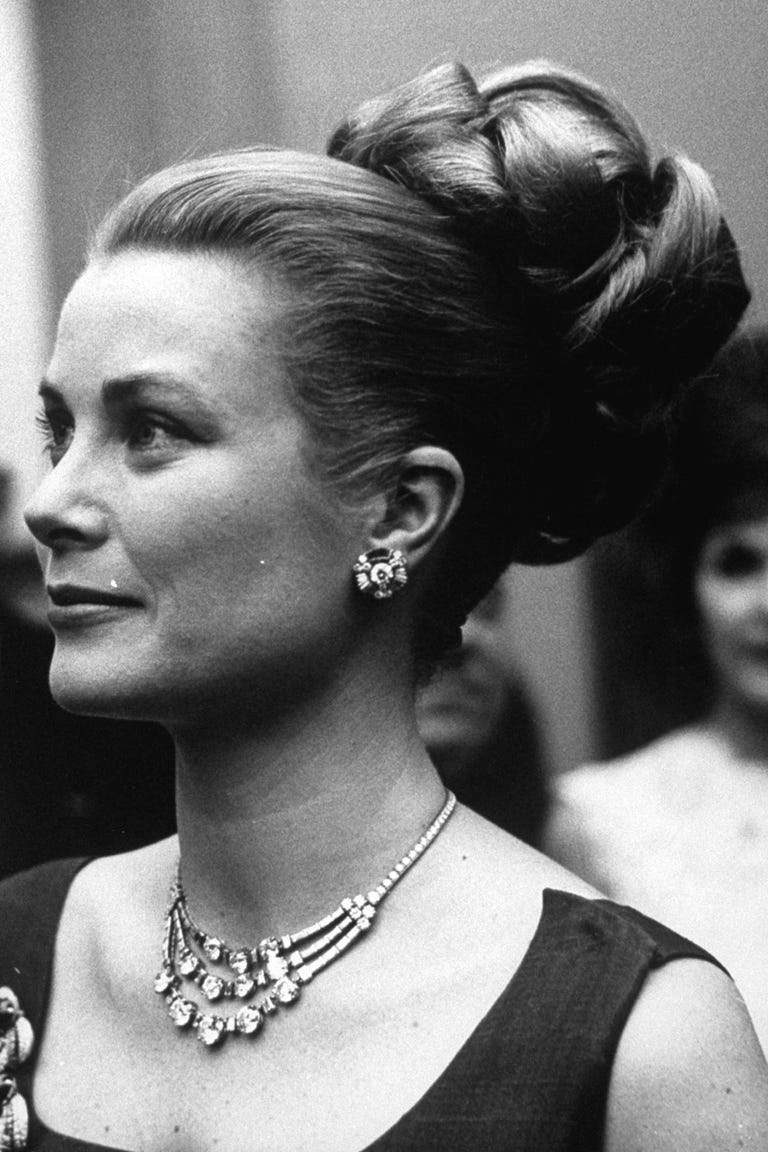 Prior to marrying Prince Rainier III of Monaco, Kelly was rumored to have dated designer Oleg Cassini. While by all accounts a true love affair, Kelly's Catholic parents disapproved of the union because Cassini had been married before. Ultimately, her parents persuaded her and she broke off the relationship amidst rumors that the two would ultimately become engaged.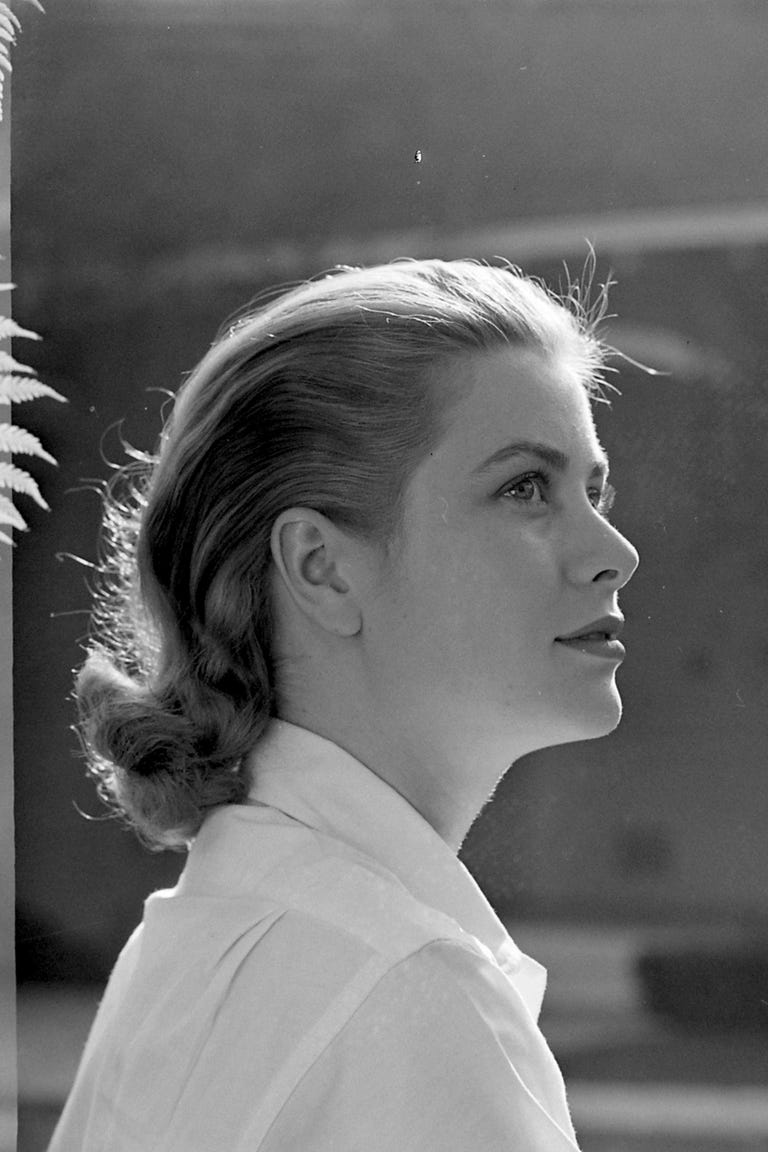 Cassini is rumored to have shaped Kelly's style beyond the typical "Hitchcock Blonde" wardrobe, urging her to add a bit of sultry-appeal to her buttoned-up wardrobe.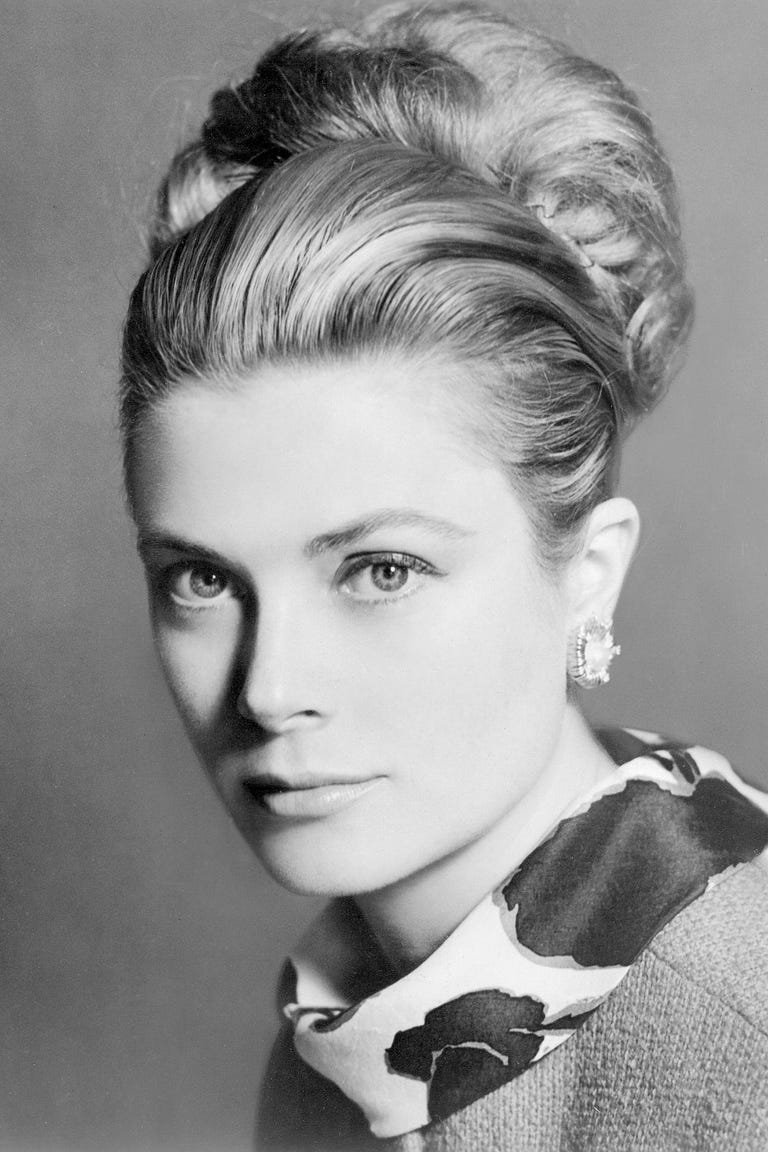 While reports exist of Kelly lamenting "how her life might have turned out," and the roles "she would have played" had she chosen the designer over the prince, no one can know for sure if she ever held any regrets.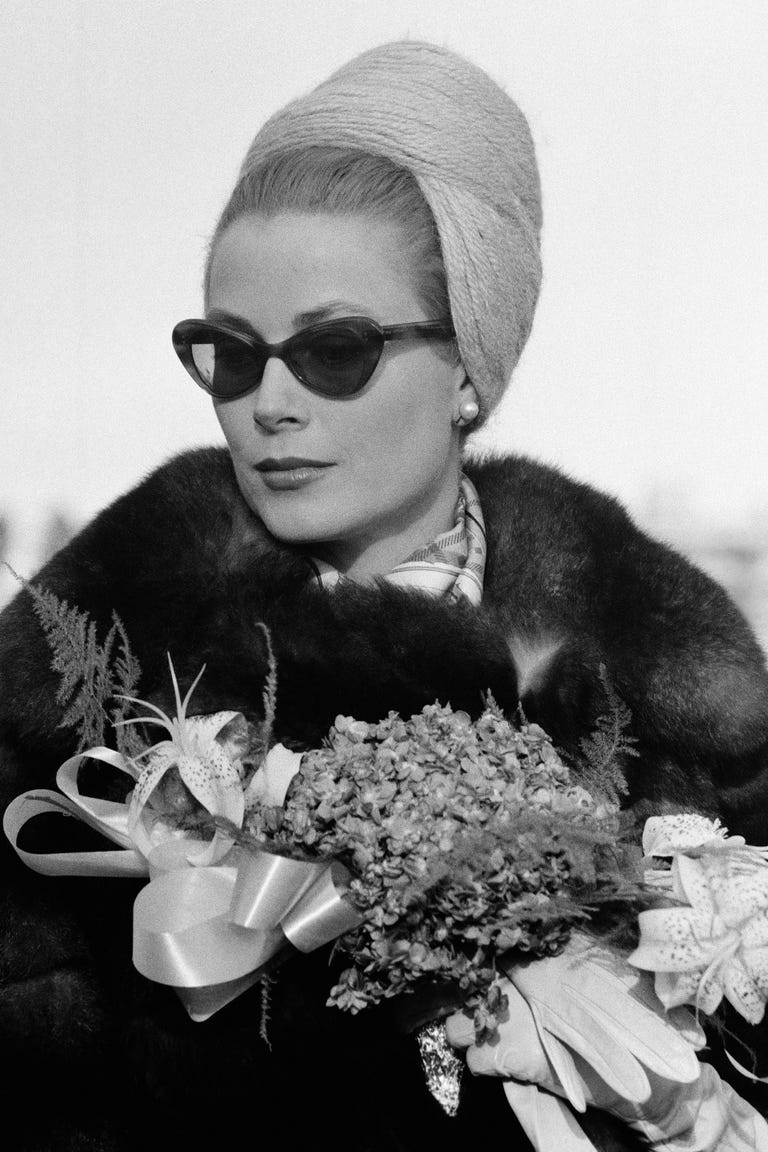 Princess Grace of Monaco did not continue her film career but she did give birth to three children: Princess Caroline, Prince Albert and Princess Stéphanie.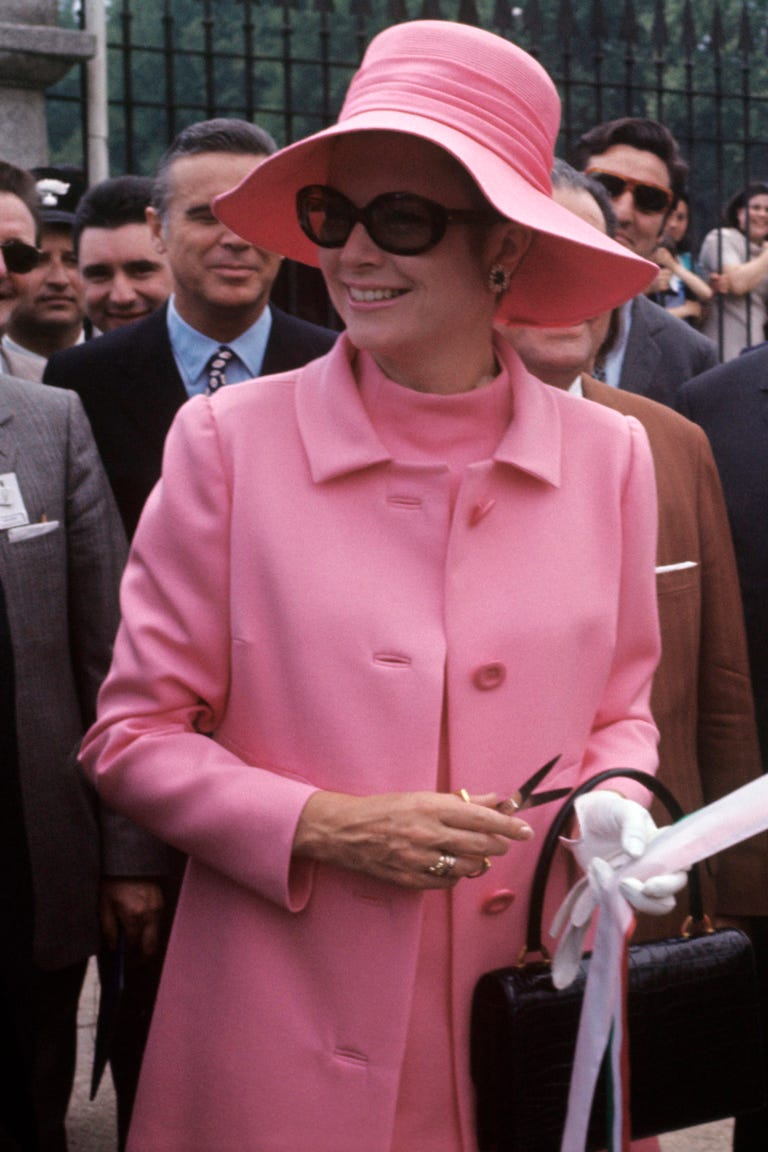 Kelly worked with many charitable organizations in Monaco and embraced her life as a mother and royal in the idyllic European country.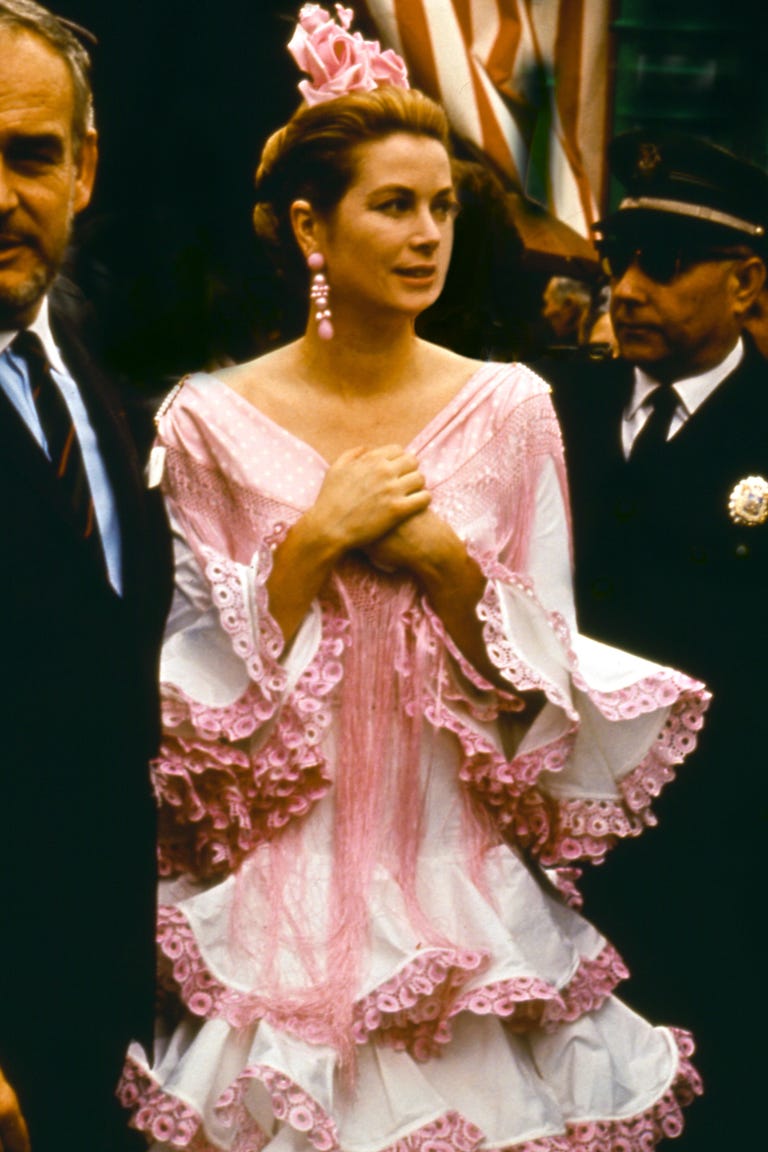 Kelly was quoted as having some ill feelings toward her time in the film industry, saying "Hollywood amuses me. Holier-than-thou for the public and unholier-than-the-devil in reality." Words that ring all too true in the modern "#MeToo" era.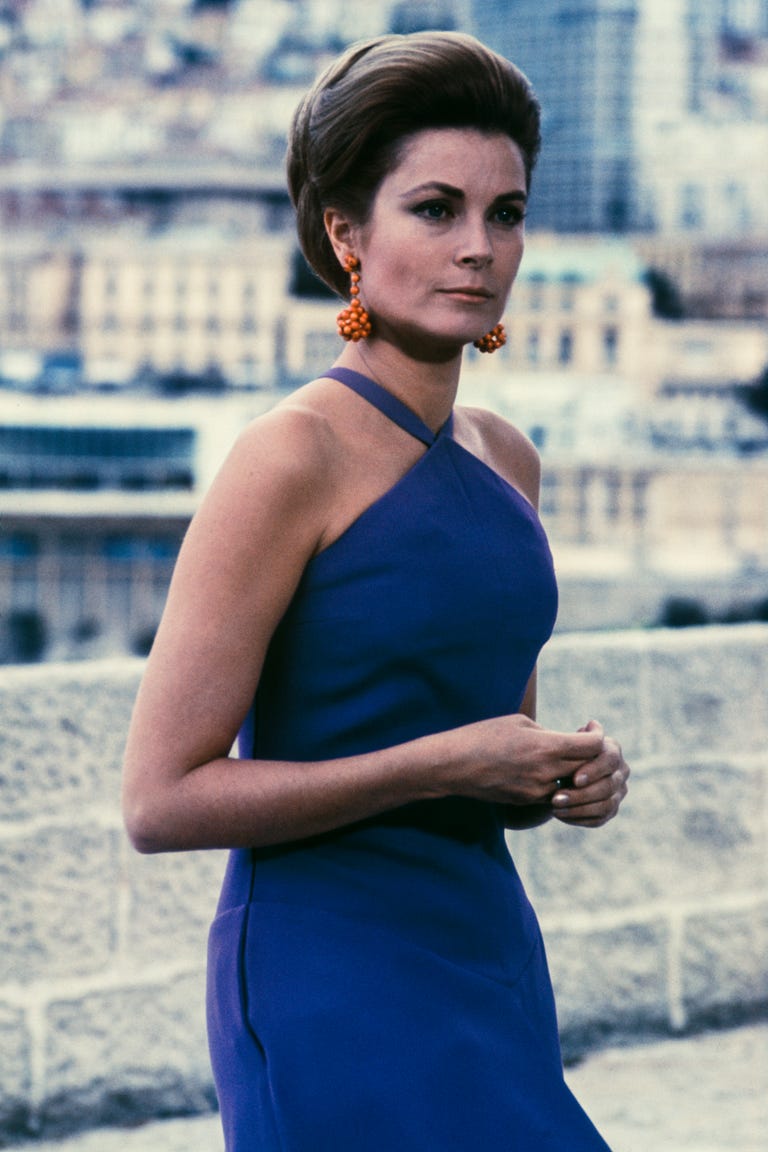 Sadly, Kelly's life was tragically cut short. On September 13, 1982, Princess Grace and her daughter Princess Stephanie were driving back to Monaco from their farm in Rocagel, France.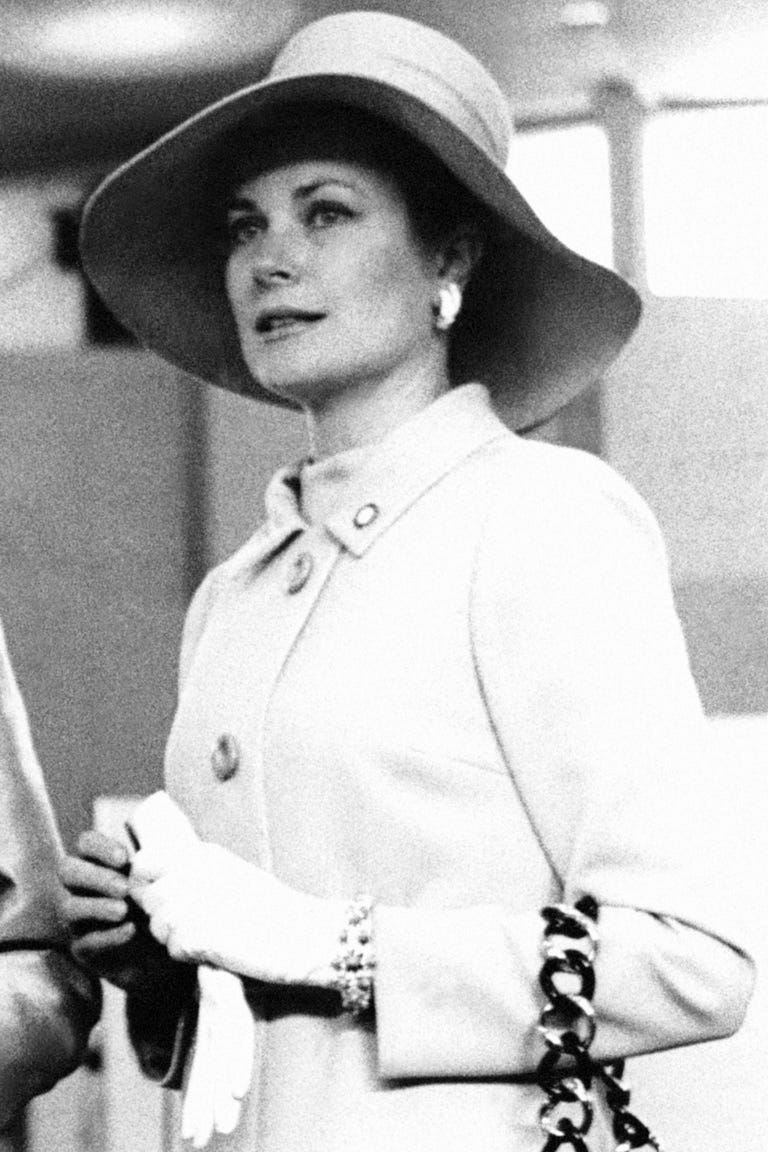 Kelly is said to have had a stroke while driving, causing the vehicle to plunge off of the edge of a cliff down a nearly 50-foot embankment.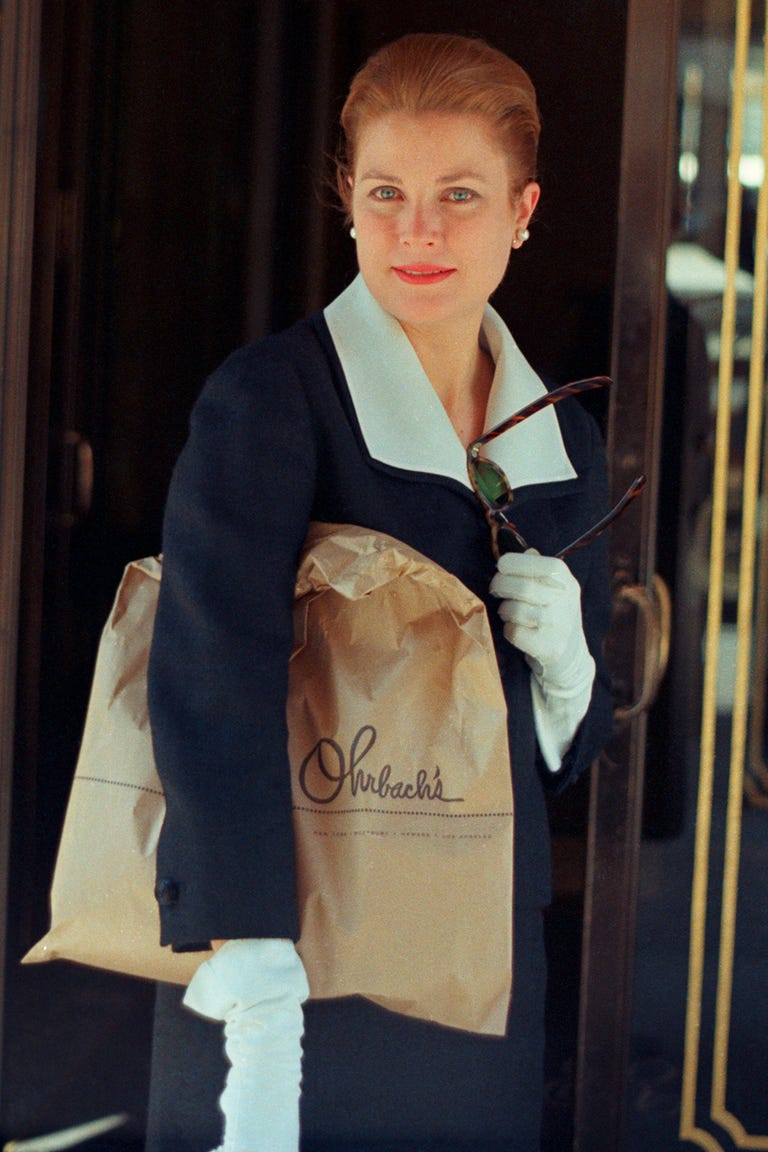 Grace and Stephanie were taken to a nearby hospital where Princess Grace spent 24 hours in a coma before being taken off life support. She was only 52-years old when she died.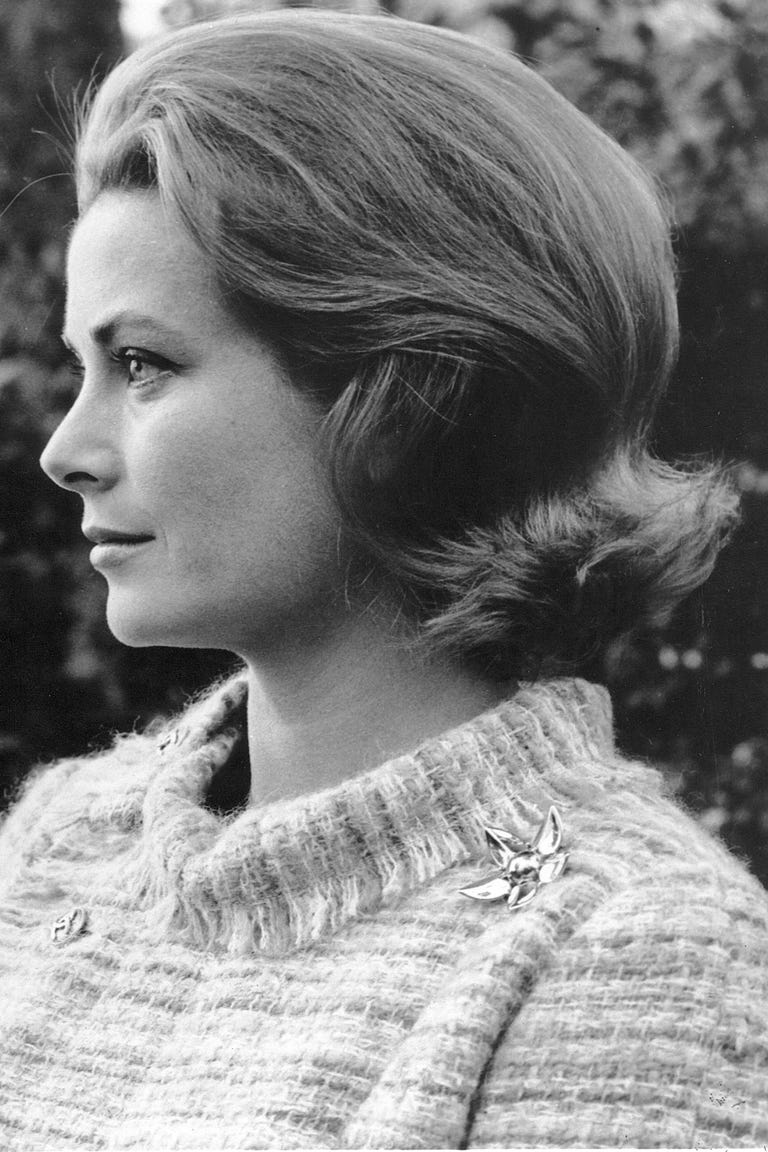 Princess Stéphanie survived the crash. The then 17-year old did not discuss the accident until 1989. Later, in 2002, the young royal is quoted to have said, "Not only did I go through the horrible trauma of losing my mother at a very young age, but I was beside her at the moment of the accident. Nobody can imagine how much I've suffered, and still suffer."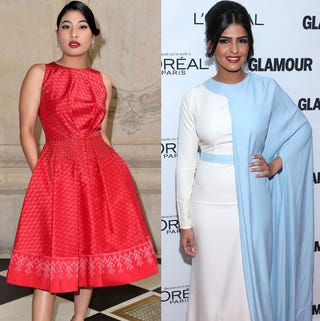 Source: Read Full Article