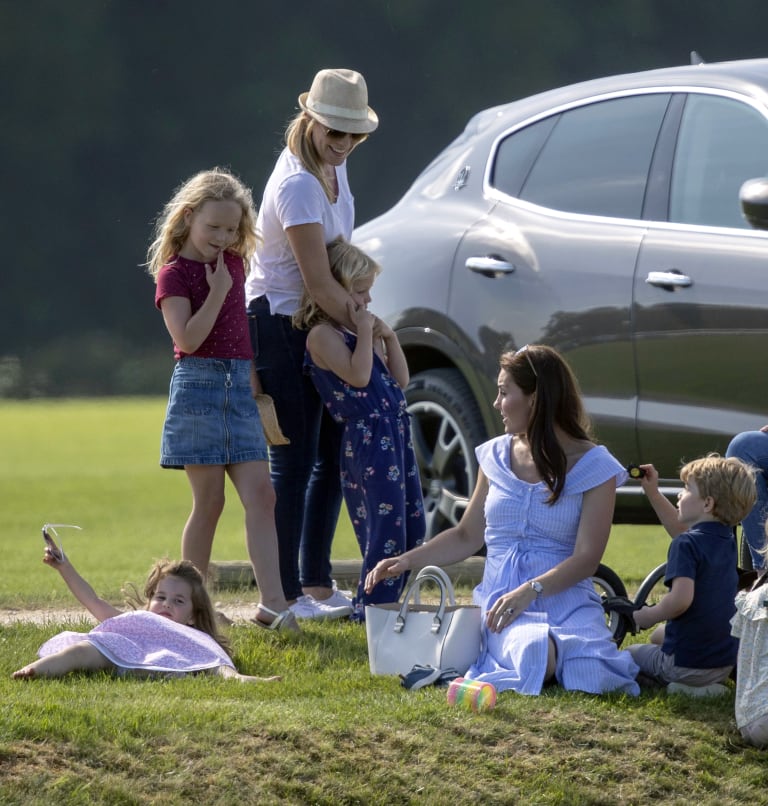 The Duchess of Cambridge, second right, sits with Prince George and Princess Charlotte as she talks to Autumn Phillips and her children, Savannah and Isla, as they watch Prince William take part in a charity polo event on Sunday.
After all the pompousness and fuss of the Trooping the Colour, the royals put on a more relaxed display at the polo on Sunday, with the Duchess of Cambridge bringing her two children to watch their father, Prince William, take part in the Maserati Royal charity polo game.
Princess Charlotte, 3, was spotted tumbling in the grass at the event, which was also attended by Princess Anne's grandchildren, Savannah and Isla Phillips, who – with their animated facial expressions – somewhat stole the show at Saturday's Trooping the Colour.
However, there was one element of the Sunday summer scene which seemed out of place: Prince George, 4, was spotted wielding a rather realistic toy gun.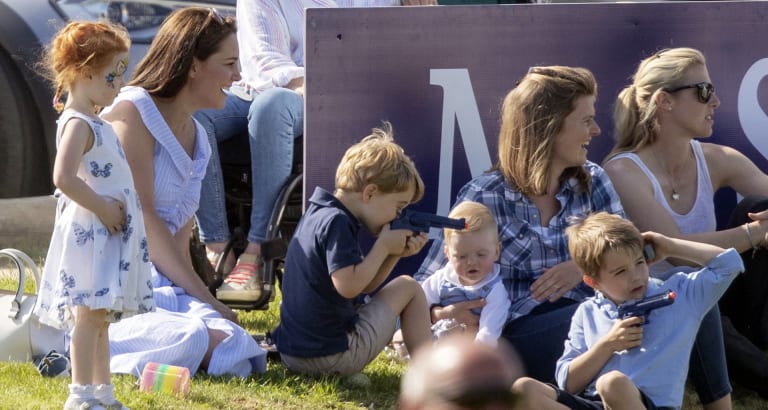 The Duchess of Cambridge, left, sits as Prince George plays with other unidentified spectators at a charity polo event.
The third-in-line to the throne was photographed playing with the gun with a friend in the grass. The pictures appear to show the boys pointing the guns at other members of the party.
The images attracted attention on social media.
Toy guns are a hot topic for parents, with some questioning whether toys designed to imitate violence are appropriate.
Security questions regarding the toys have also been raised. In 2015 the NSW police union called for a ban on realistic toy guns after a picture of a child carrying a very realistic fake AK-47 through Sydney's Martin Place was published by the Daily Telegraph.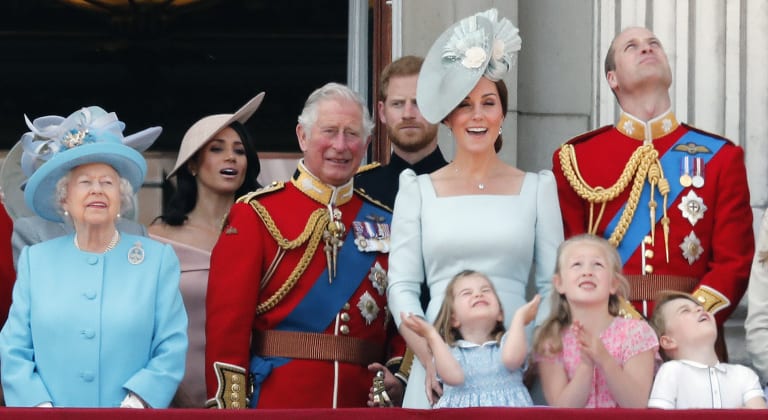 Britain's Queen Elizabeth, Meghan Duchess of Sussex, Prince Charles, Prince Harry, Kate Duchess of Cambridge and Prince William attend the annual Trooping the Colour Ceremony in London on Saturday.
It has been a big few weeks for Prince George, with his double-event Queen's Birthday weekend coming less than a month after he was in the public eye as a member of the bridal party for his uncle Prince Harry's wedding to Suits actress Meghan Markle, the Duchess of Sussex.
For now it is back to school for the young royal: he will finish his first year of primary school in July.
Source: Read Full Article