Prince Harry and Meghan Markle's wedding weekend is finally here. And, naturally, fans want to know everything there is to know about the couple. While plenty of details about the May 19 wedding have already been revealed, what about the financial side of things? Prince Harry's net worth is hardly as much as the Queen of the United Kingdom's net worth, but he and Markle still have plenty of wealth between them.
While it's impossible to say exactly how much Prince Harry is worth, experts have made educated guesses about just how much money he has to his name. Prince Harry may be worth anywhere between $25 million and $40 million, according to what global wealth insights firm Wealth-X told TIME's Money magazine.
So, where do those millions come from? As Money explains, an estate called The Duchy of Cornwall is responsible for funding Charles, Prince of Wales, and his family's expenses. The estate pays for Prince Harry's activities, as well as those of Prince William, Duke of Cambridge, and Catherine, Duchess of Cambridge. The Duchy of Cornwall was originally established in 1337 to fund the expenses of Prince Edward, the estate's website notes, and it's been a source of funding for royals ever since.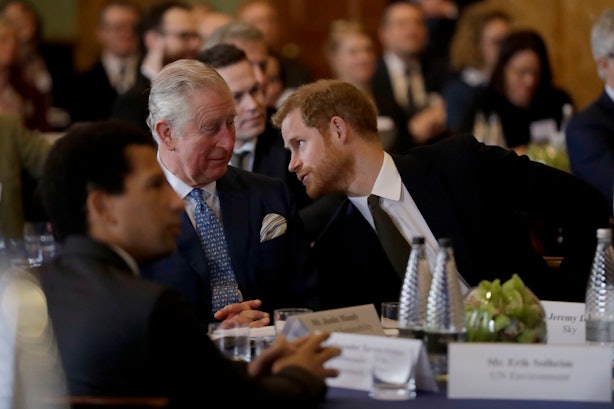 And if you're wondering how Prince Harry's net worth stacks up to his brother's, they're about the same, according to Money's estimates. Prince William and Prince Harry both inherited money from their mother, and they both have their expenses paid through the Duchy of Cornwall. Like Prince Harry's, Prince William's net worth is estimated to be between $25 million and $40 million. Meanwhile, Kate Middleton's net worth is estimated to be around $10 million, Money explains. Her parents reportedly have a net worth between $30 and $50 million on their own, thanks to their successful business Party Pieces, and they may have trusts set up for their children, including Middleton.
Still, while Harry and Markle clearly have plenty of money to work with, their estimated net worths still pale in comparison to that of Queen Elizabeth II. According to Fortune, the Queen's net worth is around $425 million. And that may be a conservative estimate, too — Forbes estimated the Queen's net worth as being closer to $530 million. Prince Harry and Prince William aren't at that level of wealth, but they're still worth quite a significant chunk of change.
Source: Read Full Article