The beloved 1955 animated Disney classic "Lady and the Tramp" is getting a live-action update for a new generation on Disney+, launching Nov. 12.
Interested in
Food?
Actors Tessa Thompson and Justin Theroux are the voice leads for the new spin on the timeless tale. Theroux voices the character of Tramp, the street dog in the live-action film, and Thompson voices Lady, a pampered Cocker Spaniel.
"I think it's one of the greatest love stories that's ever been told," Thompson told "GMA." "It was the first time I thought about romantic love and the spaghetti scene, it occupies a big space in my heart."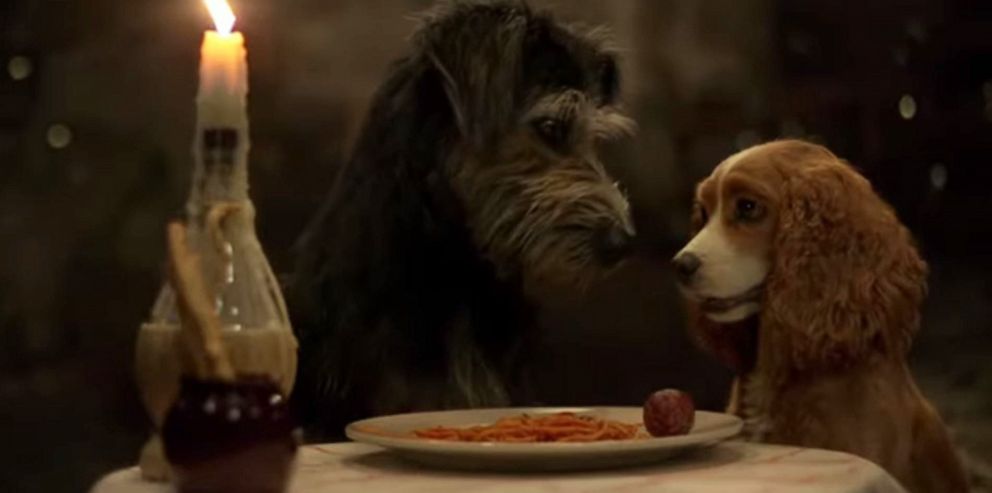 Fans can never forget the iconic spaghetti scene where the two dogs, while on a romantic date, share a plate of spaghetti and meatballs — and a kiss. The scene has been recreated over and over, including by Theroux with his dog Kuma, a rescue, who made a small cameo in the movie.
In celebration of the live-action film on Disney+, there's no better reason to make a plate of spaghetti and recreate the scene yourself at home. It's definitely the most fun way to eat spaghetti we can think of.
Rachael Ray, the bestselling author and celebrity chef (and dog owner!), shared her recipe with "GMA" for an authentic Italian pasta called pici, which is slightly thicker than the classic spaghetti. It'll make the perfect photo opp. PS: you can also use bucatini or spaghetti.
Enjoy!
Recipe for Pici or Spahgetti all'Aglione
Serves 4-6
Ingredients
3-4 tablespoons EVOO, extra virgin olive oil
2 tablespoons good quality salted butter
1 bulb garlic, about 7-8 cloves, thinly sliced by hand or using a shaver
1/2 red finger chili pepper, halved and seeds removed, optional for a spicy sauce
About 8 cups, 2 quarts, cherry tomatoes, halved
Salt, such as fine sea salt or Kosher salt
A few leaves of basil, torn
500 gr. pici or 1 pound bucatini or spaghetti
Pecorino and/or Parmigiano-Reggiano cheese
Optional garnishes:
Finely chopped fresh mint and/or parsley
Chopped pistachios, Rach prefers Sicilian pistachios
Equipment Essentials:
Large pot to cook pasta
Colander to strain
Large skillet with lid
Mug or ladle
Directions:
Place a large pot of water on the stove and bring to a boil. If you are using pici, it will take about 20 minutes to cook at a rolling boil.
Heat a large saucepot or deep skillet over low heat with EVOO, 3 turns of the pan. Melt the butter into the oil, add garlic and stir for about 2 minutes. If using, add the chili pepper half to the garlic and then add tomatoes to the pan. Season with salt, stir and cover the pan to cook, about 25-30 minutes, to collapse tomatoes. Once the tomatoes are broken down, after about 15 minutes, add the torn basil.
Salt the pasta water liberally and cook 1 minute less than package directions. Toward the end of cooking, reserve about 1 cup of starchy cooking water, drain pasta and add to the pot of sauce. [Alternatively, strain pasta and add back to the pot it was cooked in. Pour the pot of sauce over and add some of the starchy cooking water.] Add a couple of handfuls of cheese while tossing pasta with tongs to emulsify. Transfer the pasta to serving bowls and top with additional toppings of choice.
Cook along with Rachel with step-by-step audio here.
You can watch Disney's live-action film, "Lady and the Tramp," on Nov. 12 when Disney+ premieres.
You can preorder the streaming service at DisneyPlus.com.
Disney is the parent company of ABC News and "Good Morning America."
Source: Read Full Article