Reese Witherspoon might be pulling an Oprah, and no one should be mad about that. Reese Witherspoon is launching her own interview show where she'll interview some of her favorite women. It's called Shine On Reese and the hope is that it will also shine a spotlight on creative women that the world needs to know. It's all part of Witherspoon's new VOD channel Hello Sunshine — named after her production company — spotlighting female creators, which has become her Hollywood mission.
Shine On Reese will let Witherspoon sit down with "extraordinary women who have created their own unique paths to success," according to a press release obtained by Bustle. And hopefully, these successful women will be able to pass along a few tips for the rest of us. In a 30-second promo for Shine On Reese, she says she had an idea to "do a show about women I really love and admire." The show, which premieres on July 17, will feature interviews with some of Witherspoon's favorites like Dolly Parton, country singer Kacey Musgraves, former Teen Vogue editor Elaine Welteroth, poet Cleo Wade, and actor and activist America Ferrera, along with her Wrinkle In Time director (and one of Oprah's BFFs) Ava DuVernay, to figure out what drives them. Here's to hoping Witherspoon will add Oprah to that list sometime soon.
In the promo, Witherspoon promises the series will "be equal parts entertaining, inspiring, thought-provoking, and unabashedly real." In the trailer she's awe-struck by Parton's closet and flying through the air on one Pink's silk aerial ropes. The talk show will air on Hello Sunshine's new VOD channel available through DIRECTV, DIRECTV NOW and AT&T's U-Verse.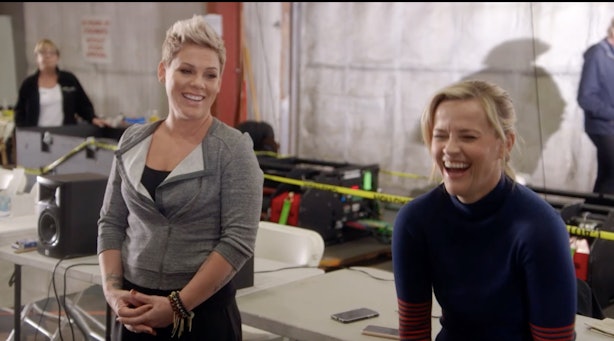 Source: Read Full Article