The royal wedding is right on the horizon, and on Friday, Kensington Palace released a wealth of details about the upcoming nuptials on May 19. Family will play a pivotal role in Prince Harry and Meghan Markle's ceremony, with both the bride and groom's parents deeply involved in the proceedings (including the late Princess Diana, who will be celebrated in many ways on the auspicious occasion). And now we know what Meghan Markle's mom's role will be in the wedding. Though it was rumored earlier this year that Markle wanted her mother to walk her down the aisle, the Palace revealed that it will be her father, Thomas Markle Sr., who will take that role, but Markle's mother, Doria Ragland, will ride with her by car to St. George's Chapel.
The official press release from the Royal Family states, "Ms. Ragland will travel with Ms. Markle by car to Windsor Castle." Both she and Markle's father, Thomas, will arrive in London the week of the wedding to spend time Harry's family, including his brother and best man, Prince William, his wife, Kate Middleton, and the Queen of England herself.
Ragland will be by her daughter's side as they cruise to Windsor Castle, although there were whispers in January that she would be the one to walk Markle down the aisle. A source told E! that Markle wanted her mother to take that role, as the two of them have a very close bond. Ragland and Markle will travel from the undisclosed location where Markle spends the night before the wedding up the Long Walk to the castle, so the public can see the beautiful bride-to-be and the beautiful mother of the bride.
Ragland and Markle's father, Thomas, are divorced, but they released a joint statement after Prince Harry and their daughter announced their engagement in November. Kensington Palace released their official statement on November 27, which said:
And although Prince Harry and Markle are bucking tradition in many ways in their public life and on their wedding day, there were some old-fashioned ones that they adhered to. According to Us Weekly, per a statement put out by Clarence House, Prince Harry "sought and received the blessing of Ms. Markle's parents" before the proposal. Archaic, but sweet! While she don't need parental permission, the gesture is nice.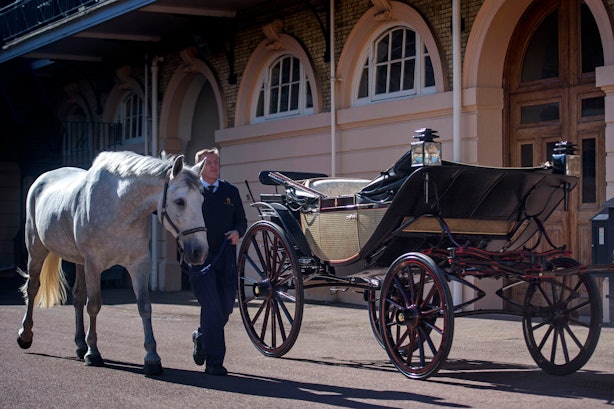 Kensington Palace tweeted on Wednesday morning that the bride and groom had chosen their very posh horse-drawn carriage for after the ceremony, and it's called an "Ascot Landau," the fanciest name possible. But what kind of car will take Markle and Ragland to the ceremony? Royal wedding cars have always been incredible and incredibly British. Kate Middleton chose to ride with her father, Michael Middleton, to Westminster Abbey in a stunning Rolls Royce Phantom VI, according to the Los Angeles Times, which belongs to the Queen and was a gift for her 25th year on the throne. After the ceremony Prince William and Middleton rode off in his father's vintage Aston Martin, which Prince Harry decked out in ribbons, balloons and a "JU5T WED" license plate (no tin cans to bounce along the road, though).
No matter what kind of whip will escort Markle and her mother to the wedding ceremony, it's bound to be beautiful — fit for two queens.
Source: Read Full Article