Weddings should be a joyous time on every level. However, most weddings are kind of like Thanksgiving where the good and the bad seem to go hand in hand. Quality time with loved ones? Yes! Family issues that have been festering away for years suddenly come to a head? Yes! Fun times? Yes! Stressful times? Also, and unfortunately, yes! Royal weddings are sort of like regular weddings—sort of. Only a thousand times more stressful.
Prince Harry's lovely bride, Meghan Markle seems to have about a thousand times more family issues suddenly arising than the average bride. You've likely heard a lot of different things about Markle's father, her half-brother, and half-sister. There are so many different stories going around, it can be hard to keep up with it all! Sources at CNN got the lowdown on the Markle drama and we're here to condense it for you, just in time to celebrate the American former actress officially joining the British royal family.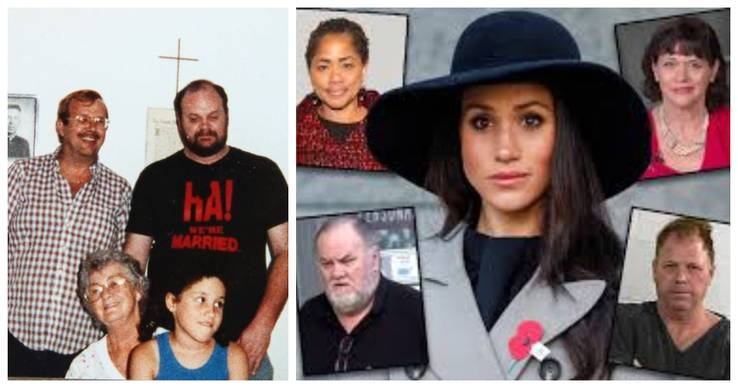 Let's start with dear old Dad, the father of the bride, Thomas Markle, Sr. He was set to walk his 36-year-old daughter down the aisle of St. George's Chapel in Windsor Castle, but a tornado of strange twists and turns on his part has made it so that Markle was reported to have asked her Los Angeles-based mother, Doria Ragland as well as her groom's father, Prince Charles to walk her down the aisle instead. What, you ask, could make a daughter seek others to "give her away" on her royal wedding day rather than her father?
First of all, there was talk about Thomas Sr. having health problems so severe that he was not able to travel abroad. Then, there was ongoing drama with Meghan's two older half-siblings, Thomas Jr. and Samantha. Samantha was apparently very upset at not being invited to the royal wedding and made her (angry) feelings clear (and public) via Twitter. Thomas Jr. wasn't staying quiet either though he chose a more direct yet private approach to get his message across—literally with a yellow legal pad and the international mail system. Thomas Jr. sent a two-page handwritten letter to Prince Harry urging him to call off the wedding to his younger sister. Meghan's older brother told the prince that Meghan would ruin the royal family's heritage, saying it would be the biggest mistake in British Royal Family history and called his sister a terrible actress regarding the publicity in the days after her engagement to Prince Harry. That's enough to cause a whole reception room full of stress.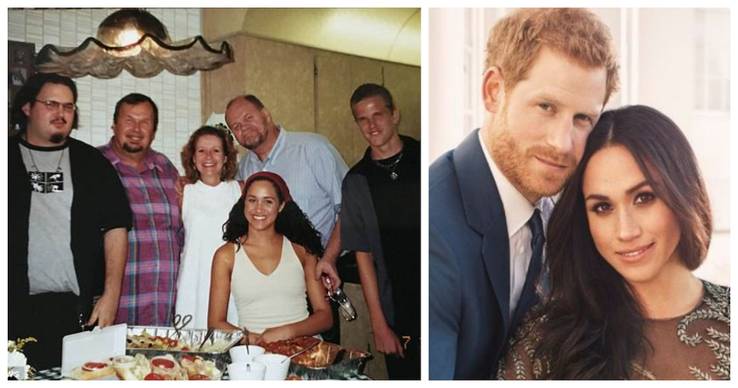 Now, back to Dad. As if that wasn't enough to cause any bride to break out into cold sweats, photos showing Thomas Sr. studying a book entitled Images of Britain and looking at photos of Meghan and Prince Harry on a public computer, apparently taken by the paparazzi, were circulating around online in April which are not bad things on their own.
However, it recently came to light that these seemingly sweet photos of a seemingly supportive father are laced with fraud and greed. On Mother's Day, Britain's Daily Mail publication came forward to claim that proof exists that the paparazzi photos were staged by Thomas Sr. in exchange for big bucks. They claim to have security footage of Thomas Sr. showing up at the site at one of the allegedly staged photos in the company of a known paparazzi photographer.
One day after this revelation, Meghan's half-sister Samantha Markle made an appearance via webcam on ITV's Loose Women show to talk about her father's staged photos and claimed that she is "entirely the culprit" and wanted to make sure that people saw her father as a good guy before the wedding.
The same day, Thomas Sr.decided not to attend the wedding after all, claiming that he had a heart attack six days earlier. He also admitted that the staged photo controversy played a part in him not wanting to attend the wedding.
Kensington Palace released a statement the same day which said "This is a deeply personal moment for Ms. Markle in the days before her wedding. She and Prince Harry ask again for understanding and respect to be extended to Mr. Markle in this difficult situation."
Get ready for another dramatic event. That evening, Thomas Sr. was preparing to check himself into a local hospital because he was experiencing chest pains.
The following day, Samantha appeared remotely on Good Morning Britain to say that her father suffered a heart attack but would not elaborate on when exactly the heart attack occurred. She also said that her father was under great stress due to the "events involving the media."
The same day, Thomas Sr. said he spoke with his daughter and now wants to attend the wedding so he can walk her down the aisle.
The next day, Wednesday, Thomas Sr. said that he was scheduled to have heart surgery the same day which left little doubt that he would be unable to attend the wedding after all.
On Thursday morning, Meghan confirmed to the media that her father will not be attending her wedding after all and issued the following short statement, "I have always cared for my father and hope he can be given the space he needs to focus on his health."
Quite a week to handle before a wedding! Whew! We're exhausted!
Prince Charles walked his daughter-in-law, Meghan down the aisle. From everyone at TheRichest, we wish Prince Harry and Meghan Markle the happiest of times at their wedding. After all of this family drama, they certainly deserve it! Congratulations!
Source: Read Full Article