Cardi B may be making money moves, but are mommy moves in the works?
There has been some pregnancy speculation surrounding the "Bodak Yellow" rapper on whether or not she's expecting. The star shut that down real quick during an exchange with a fan on Instagram while insisting she's "just getting fat".
Although there is not a single thing wrong with that, her team may have just told us otherwise. A new wave of claims that she's with child developed this Wednesday, February 14, 2018, with TMZ, reporting that members of the rapper's team made a slip during her appearance at a Super Bowl party in Minneapolis, Minnesota a few weeks ago.
According to DailyMail, the rapper performed at Maxim's bash, and claimed to not want to be in the "party atmosphere" of the VIP room reserved for Cardi and her entourage, as she is "three to four months' pregnant.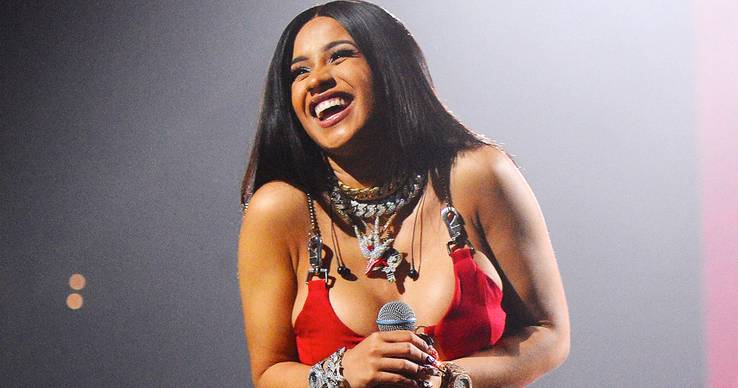 The Bronx native, who recently got engaged to Migos member Offset, demanded to stay in a safe area by the stage sipping nothing but Fiji water. Hm, definitely doesn't help the rumors.
Fans were wondering if there was a "Kylie Jenner secret that we need to know about…just asking" one fan wrote on Instagram, but Cardi, real name Belcalis Almanzar, shut that down real fast.
The 25-year-old rapper asked her fans to just "let me fat in peace", claiming the alleged extra weight is from nothing but eating. The rumors didn't just stay on Instagram; Cardi B denied the alleged pregnancy during a red carpet interview with E! News at the Grammy Awards, saying she has to deal with the pregnancy talk "every two weeks".
In addition, Cardi B revealed her wedding would be pushed back due to the couple's busy careers. Although the date is to be delayed, Cardi B is aiming for a fall wedding. "I really want to get married around fall time, I love the fall time," she said.
Cardi B, who has just been announced as the special guest on Bruno Mars' '24K Finale Tour', has a lot going on for her. With a wedding to play, touring upon touring and the stress of pregnancy rumors, we can only commend Cardi for keeping so calm during the chaos.
Source: Read Full Article