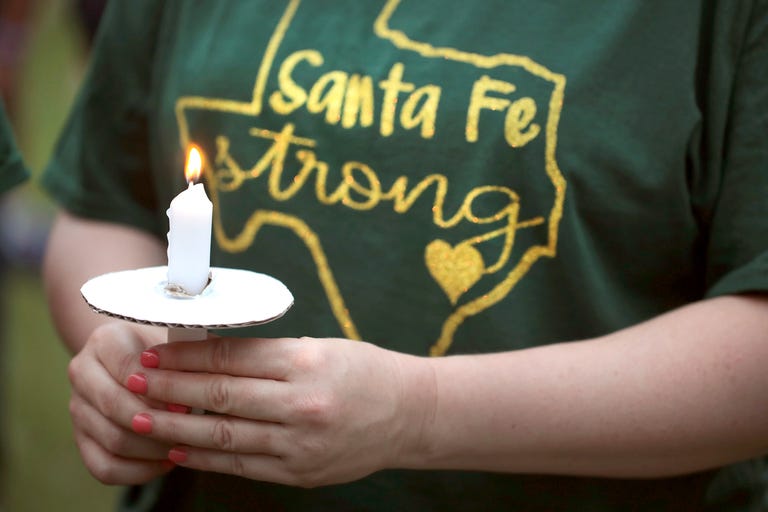 Over the weekend, more details about the mass shooting that left 10 people dead and 13 more wounded at Santa Fe High School in Texas emerged. According to a report from the New York Times, Dimitrios Pagourtzis, a 17-year-old student at Santa Fe High, confessed to the shooting and said he spared students he liked so "he could have his story told."
Pagourtzis has yet to reveal the motivation for his rampage. But in a private Facebook message with reporters from the Los Angeles Times, a mother to one of the students Pagourtzis killed revealed an all-too-common motive behind at least one of Pagourtzis's murders.
Sadie Rodriguez, mom to Shana Fisher, said her daughter "had 4 months of problems" with Pagourtzis. "He kept making advances on her and she repeatedly told him no," Rodriguez said. She said Pagourtzis continued to get more aggressive until Fisher stood up to him in class.
"A week later he opens fire on everyone he didn't like," Rodriguez said. "Shana being the first one." The LA Times reports Rodriguez couldn't say how she knew her daughter was the first victim, and Matt Pierce, a reporter for the Times has since tweeted that he's awaiting corroboration for Rodriguez's statements about her daughter's behavior.
Nonetheless, it's not immediately unbelievable or even surprising that a 17-year-old boy could be motivated toward mass murder after public rejection from a female classmate. The massacre at Santa Fe High would be far from the first to be inspired by a false masculine belief that women can't say no.
Just this year, Alek Minassian drove a car through a crowded Toronto street, killing 10 people, after revealing an allegiance to "incels" — an often violent group of men who feel they're wrongfully denied sex by women. And, as politics writer Amanda Marcotte points out in a Twitter thread, Texas specifically has seen several of these murders in recent months.
So in the past 9 months, Texas has been witness to three horrific mass shootings perpetrated by a young man who believed that a woman he fixated on had no right to reject him. https://t.co/mzTiNMAm37
Texas obviously and unfortunately isn't unique in harboring mass killings inspired by disregard for women. But, as Marcotte notes, Texas provides a clear lens through which to view how women are routinely dehumanized by public policy.
Lawmakers in Texas (and in Iowa and in Mississippi) have been on a crusade against abortion and reproductive healthcare for decades. With each piece of legislation that attempts to further limit what women are allowed to do with their own bodies, lawmakers reiterate the idea that women aren't people, so much as they are receptacles.
Combined with essentially unfettered access to guns and a largely male legislature that thinks guns rule, Texas facilitates an atmosphere that makes it extremely easy for men who feel scorned by women to take action in the form of violence.
The state's leaders have been desperately trying to end legal access to abortion and cut off affordable reproductive care. That sends a powerful message, that women have no right to bodily autonomy, and that their sexualities can be commandeered for the interests of others.
The solution is easy in theory and seemingly impossible in practice: Treat women like sentient beings and keep guns out of people's hands. Instead, Dan Patrick, the lieutenant governor of Texas, stood in Santa Fe hours after yet another tragedy in his state and proposed a different solution: Limit the number of doors in Texas schools.
Follow Hannah on Twitter.
Source: Read Full Article