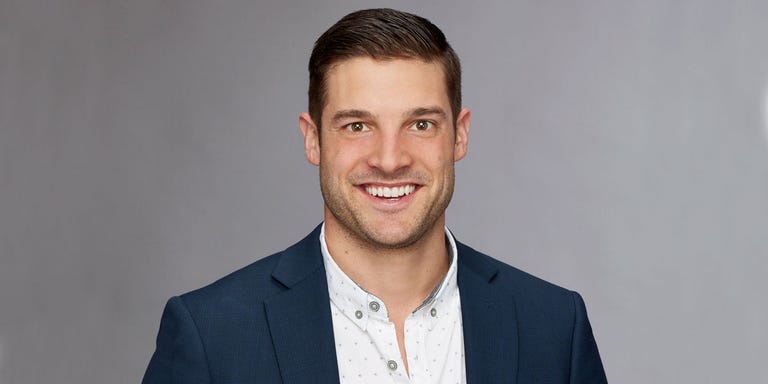 Despite his best attempts to cover it up, Becca Kufrin's favorite man from The Bachelorette premiere seems to have ~engaged in~ some incredibly problematic social media activity.
According to a new HuffPost report, Garrett Yrigoyen, who was blessed last night with Becca's first impression rose, has a history of liking posts on Instagram that mock transgender people, undocumented immigrants, left-wing women, and David Hogg, one of the survivors of the Parkland high school shooting. Yrigoyen's original Instagram account was made private last week, on May 24, and has since been deleted (Reality Steve says Yrigoyen now has a new account, on which he's claiming his old Insta was hacked?). But Bachelor Nation had plenty of time to gather receipts.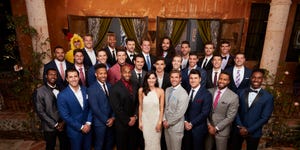 A seemingly deleted account @imwatchingyuuo was reportedly the first to notice Yrigoyoen's sketchy activity. According to screenshots that have since been circulated around the internet, Yrigogyen appears to have liked a lot of posts from conservative Instagram accounts. Among them: posts from conservative bobblehead Tomi Lahren, a meme accusing David Hogg of being a crisis actor (a popular conspiracy among conservatives online), a meme that makes fun of trans men, a meme making fun of undocumented children, and a (racist) meme criticizing Colin Kaepernick for taking a knee.
Former Bachelor contestant Ashely Spivey posted screenshots of Yrigoyen's like activity in a thread on Twitter. The likes were all made from his now-deleted account, @garrett_yrigs12.
pic.twitter.com/aDWbtDr4Yp
pic.twitter.com/sPyjZBbJcy
pic.twitter.com/WtlST1MNUZ
pic.twitter.com/YsNe3k3waZ
pic.twitter.com/vrw6u0Nf0z
This isn't the first time a Bachelorette man has been caught up in his own internet activity. As Spivey mentions in her Twitter thread of screenshots, Lee Garrett was found out for racist tweets while on Rachel Lindsay's season of The Bachelorette. He was later forced to publicly reckon with those tweets in an uncomfortable episode of Men Tell All at the end of Rachel's season.
Of course, at the time the premiere was taped, there's really no way sweet Midwestern Becca could've known about Yrigoyen's abhorrent social media activity (and it seems like they snuck past whoever conducted the background checks Bachelorette contestants go through — check that were supposed to have been shored up following Garrett's messiness). So while she may look like a clueless idiot handing off her first impression rose to him, and waxing on about how great he seems to the camera, she was simply unaware of the fiasco that is Yrigoyen's Instagram presence.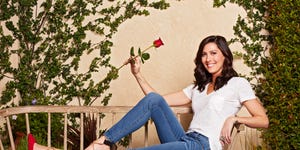 Neither ABC nor Becca have yet to publicly address Yrigoyen's Instagram unearthed activity. So far, it seems like he's one of Becca's favorites — and per HUGE, VERY HUGE SPOILERS (stop reading now if you don't want to know about them), he's believed to win her final rose. So given all the unpleasantness and outright bigotry she's presumably now aware of, maybe we'll be seeing Becca film her own post-show breakup for air on After The Final Rose?
Follow Hannah on Twitter.
Source: Read Full Article