Need a ride? WE Day is just around the corner, and Martin Sheen is driving the WE Day shuttle! Before the special airs Aug. 17 on ABC, E! News has an exclusive video clip of the actor picking up Selena Gomez, who has supported the organization's initiative since it began four years ago.
"Before we begin, what are your WE Day Top 3?" Sheen asks Gomez.
"I love that we celebrate young people doing good, of course," the 26-year-old producer of 13 Reasons Why tells him. "And I love that you'll laugh, you'll cry and you'll leave feeling inspired."
"And?" Sheen asks, playfully baiting his famous friend.
"And you, Martin!" Gomez says with a laugh. "You're a WE VIP, if I say so myself."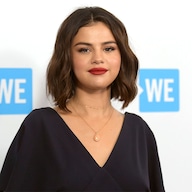 Read
Selena Gomez Bonds With Young Fan on WE Day
Of course, Gomez and Sheen aren't the only stars participating in the telecast.
John Stamos is hosting the special, featuring appearances by Jennifer Aniston, Dierks Bentley, The Chainsmokers, Will Ferrell, Whoopi Goldberg, Cyndi Lauper, JD McCrary, Dr. Phil, Lilly Singh, the founders of the #NeverAgain movement and the organizers of March for Our Lives. ABC says WE Day "celebrates an extraordinary community of difference-makers who are shaping America's future by making a real impact in their communities and around the world."
"I am honored to be a part of a movement that brings Americans together to do good," Stamos tells E! News in a statement. "These kids are bringing the passion and belief that they can create change, and that's exactly what they are doing. It is inspiring to see this generation celebrated at WE Day for using their voice to make positive impact and motivating us all to keep the momentum of real change alive." In a separate statement, WE co-founder Craig Kielburger adds, "Now, more than ever, young people across America are at the forefront of a movement to create meaningful impact on issues they are passionate about. The WE Movement is all about empowering the voices of young people and their families to create the change they want to see in their communities and beyond. All WE asks is that they bring the belief that they can change the world, and WE will provide the tools to help them do it."
ABC's WE Day special will feature comedic interludes, documentary-style videos, motivational speeches and moving performances, all of which highlight "remarkable young Americans who are making a difference" and shows how WE gives Americans "the tools to change the world."
WE Day premieres Friday, Aug. 17, at 8 p.m. ET on ABC.
Source: Read Full Article