When it was announced last December that HBO's Big Little Lies would have a second season, fans across the globe were divided. For many people, adding on more episodes to the acclaimed show felt like a risky move, a potential way to ruin a story that had ended on a perfect note. But any reservations they had were gone when, a month later, HBO revealed that none other than Meryl Streep joined Big Little Lies Season 2. Upon hearing the news, fans, well, totally flipped out — and apparently, so did Streep's new co-stars. As BLL's Shailene Woodley tells it, she managed to keep her cool upon hearing about Streep's casting, but when it comes to actually working with the legend? That was a whole other story.
Normally, Woodley explains over the phone in May, she tries not to freak out over the celebrities she gets to work with on set; "I try to remove myself from the fangirl state of mind of being so enamored by them that I don't actually see them as the human that they are," says the actor, who stars in the June film Adrift. "And with Meryl, the same story goes. It is, quite shocking though, I can say, to do a scene with her and to actually witness her brilliance take after take after take."
"It sounds naive to say, but there's a reason why Meryl Streep is Meryl Streep. She shows up and she knows her sh*t," continues Woodley, with a big laugh. "And she's humble about it. I think every day for her is an opportunity to learn and to grow as an actor. And she approaches every project like that, and I think that's why she's as good as she is."
Although little is known so far about Streep's arc on Big Little Lies Season 2, it was announced back in January that she'll be playing the mother-in-law of Celeste (Nicole Kidman), who presumably steps in after Perry (Alexander Skarsgard)'s death leaves Celeste a single mother of two. Whether Streep's Mary Louise is in town to get vengeance or simply to help Celeste cope is unknown, but according to Woodley, who plays Jane Chapman on BLL, the character will be interacting with more than just the Wright family.
"I do work with Meryl, but I can't tell you any more than that," the actor hints. That's still pretty major; after all, Season 1 of Big Little Lies revealed that it was Perry who had assaulted Jane and fathered her son Ziggy. A meeting between Jane and her rapist's mother-in-law is bound to be an emotional event.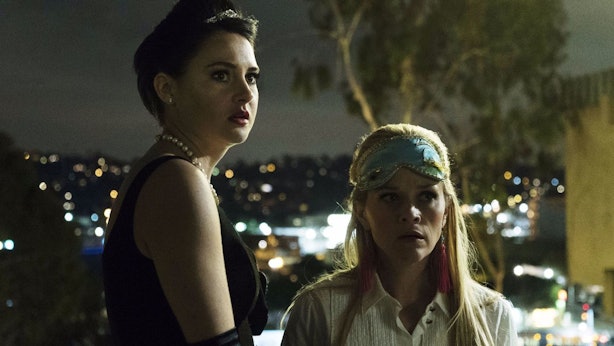 Season 2 of BLL won't premiere until sometime in 2019 (the exact date hasn't yet been announced), so fans unfortunately have a long time to wait to see exactly what Streep's character has in store for the Monterey ladies. But there's plenty of info about the upcoming episodes to get audiences excited in the meantime, including the fact that, due in large part to star Reese Witherspoon's mission to fix HBO's pay inequality across the board, the show's leading ladies are receiving higher salaries than they did in the past. Woodley, for one, says she takes "major inspiration" from her co-star's efforts.
"Reese, in many ways, is a trailblazer for not only our industry, but other women as well," says the actor. "She's shown the courage to utilize her voice and her language as a means to communicate where her integrity lies, and what her standards are for the progression of this planet."
Leave it to the women of Big Little Lies to not only inspire each other on set (ahem, Meryl) but through their work behind-the-scenes, too.
Source: Read Full Article