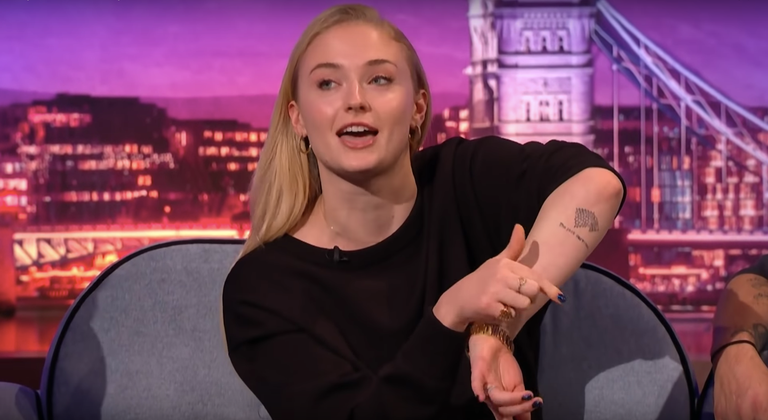 WARNING: Possible (maybe, sort of) spoilers for Game of Thrones Season 8 ahead.
Update, 6/22: Last week, Game of Thrones fans freaked out over Sophie Turner's new tattoo, which features a direwolf and the Ned Stark quote, "The pack survives." Did she just give away how the show ends? No, the actress explained on The Late Late Show last night.
"When I was getting it done, people advised me not to because it looked like I was giving it away. But I wasn't!" Turner said. "It's just a quote from last season, but everyone figures that the pack really does survive."
She added, "It's just a moral I like to live by."
The news comes somewhat as a relief; thankfully the finale remains a secret. But at the same time, it means House Stark isn't safe after all.
Original story, 6/15: It's been a while since we've freaked out over Game of Thrones plot clues, but with Season 8 only 10 months away (?), we might as well get a head start. Sophie Turner's new tattoo is the latest subject of speculation. The Sansa Stark actress recently got her house sigil inked onto her arm with the words, "The pack survives," according to Australian tattoo artist Lauren Winzer's Instagram.
The body art really is gorgeous and the detail is spot-on, but some fans are more concerned with its hidden meaning. Does this mean the Starks make it out alive the next and final season? It's also interesting to note that "The pack survives" isn't the Starks' house words, it's "Winter is coming."
However, the phrase is part of a longer quote by Ned Stark, which Sansa quoted in the Season 7 finale: "When the snows fall and the white winds blow, the lone wolf dies but the pack survives." Was the phrase swap intentional?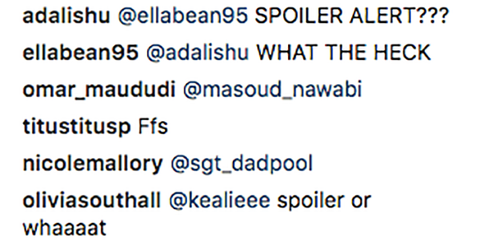 Whether the tattoo was a spoiler or not, the commemorative ink got GoT fans emotional.
This isn't even Turner's first Game of Thrones tattoo. She previously got matching ink with her costar and onscreen sister Maisie Williams (AKA Arya Stark), which featured the dates they landed their GoT roles. The tat, placed on Turner's upper forearm, reads "07.08.09" in light pink. She debuted the body art on the Emmys red carpet in 2016.
Turner, who is now 22, has been playing Sansa since she was 13. Of the show finally ending, she told Marie Claire, "It's like the carpet is being taken away underneath you. It's also exciting because there's such freedom."
Source: Read Full Article