Listen up, folks — this is not a drill: Taco Bell is testing frose. Repeat: Taco Bell is testing frosé. Officially called the Berry Frose Twisted Freeze, the drink combines the taste of a strawberry slushy with a much-loved rosé, making up what sounds like the perfect summer treat. There's just one catch: You can only get it at two very specific locations — and they're not your standard, run-of-the-mill Taco Bell locations, either. You've got to go to the Taco Bell Cantinas in Newport Beach, Calif. or the Dearborn Park area of Chicago, Ill. if you want to give it a try.
The Taco Bell Cantina concept was first announced in 2015 as a sort of souped-up Taco Bell: The idea was that you'd be able to get all the things you love about Taco Bell at it, but with an expanded menu and — perhaps most importantly — alcoholic beverage options, a prospect which sort of broke the internet when the news first arrived. The first one opened in Chicago's Wicker Park, with a number of other locations spread out across the country following over the next few years. They're still scarce, though; the O.C. Register estimates that only about 12 of the chain's 7,000 total locations are Taco Bell Cantinas.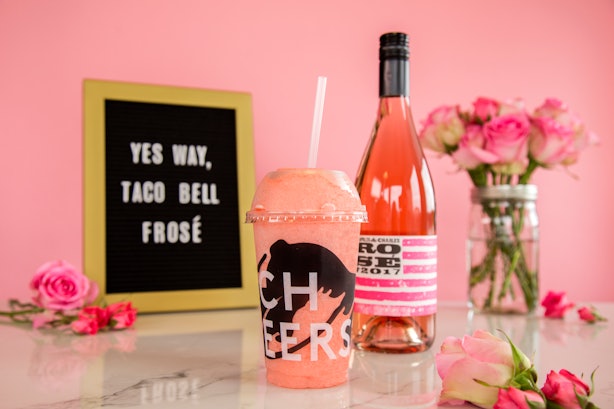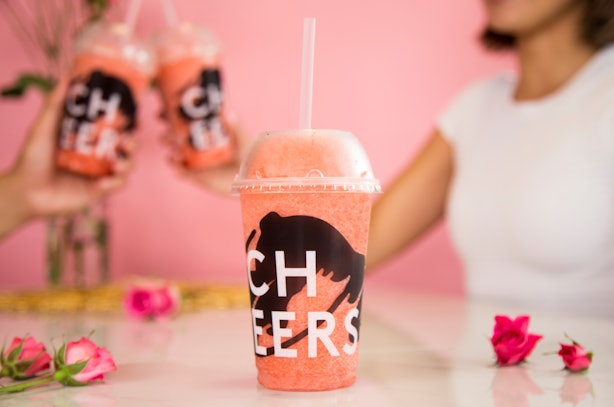 And hey, that information might be useful for everyone who wants to try the drink, but isn't anywhere near either of the testing locations: Now that we know exactly what brand of wine and how much of it is in each frosé, we can mock up something similar on our own. Regular Taco Bells do typically have a strawberry-flavored Freeze on the menu — the Strawberry Skittles Freeze. I can't promise that the Strawberry Skittles Freeze tastes the same as the Beach Berry Freeze (and, in all probability, it likely tastes quite different), but if you're feeling ambitious, you might try an experiment: Go get yourself a Strawberry Skittles Freeze, acquire a bottle of Charles & Charles rosé (Target carries it! Typically, it's around $10 a bottle, according to Total Wine), and add two ounces of the wine to the frozen drink. It's… kind of similar, right?
Or, just make yourself a strawberry slushy from scratch and add the wine to it. That works, too — and will probably taste closer to the actual Berry Frosé Twisted Freeze.
The cost of the Berry Frosé Twisted Freeze caries by location; according to a press release provided to Bustle, it's $7.99 in Newport Beach and $5.49 in Dearborn. The fan-run site Living Mas notes that the Newport Beach Taco Bell Cantina is located at 212 W. Balboa Blvd., while the Dearborn one is at 407 S. Dearborn St. Thrillist suggests trying it with a chicken Crunchwrap Supreme, so, y'know, if you're in the neighborhood, give that pairing a shot — and let us all know how it is!
Source: Read Full Article