Tre spoke about her relationship with her niece and nephews, and opened up about reconnecting with Jacqueline Laurita
Teresa Giudice is sharing her thoughts on the ongoing rift between her and her brother, Joe Gorga.
During an appearance on "Watch What Happens Live with Andy Cohen" following Tuesday's episode of "Real Housewives of New Jersey," Teresa appeared to get emotional as she discussed her strained relationship with her brother, describing the years-long conflict as "very sad."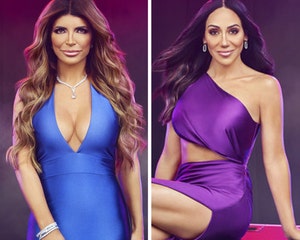 Teresa Giudice Slams Melissa Gorga Over RHONJ Texting Drama: 'Are You Kidding Me?'
"I watched tonight's episode, like my heart was hurting. We were on the plane watching it, coming back from LA, … I was in disbelief," said Teresa, who appeared on "WWHL" alongside her husband Luis Ruelas. "I really was. I'm not even angry or anything, I'm just like, … that's not my brother. That's how I feel. It's just like, 'Who is that person?'"
"I don't want to fight with him. I don't," she said, seemingly choking up. "I'm just like, 'Wow.' I just don't know what to say. That's how I really feel. And I got sad on the plane, I thought I was going to cry. My heart was racing. … Unfortunately."
After host Andy Cohen pointed out how "that's sad," Teresa, 50, replied, "That's the thing. I am not angry. I am just like, you know, it is just very sad. It is."
Unable to render YouTube Video.
While Teresa and Joe and her sister-in-law, Melissa Gorga, have had issues with each other for years, they really exploded during last season and subsequent reunion. Things between them got so bad, Teresa didn't even include Melissa in her wedding party — and the Gorgas wound up skipping her wedding to Luis altogether.
And after the first two episodes of "RHONJ," it doesn't seem that the rift between Teresa and her brother and sister-in-law will end anytime soon.
During Tuesday's episode, Teresa and Melissa got into a heated spat while at a mozzarella-making party, with the latter bringing up her issues with the seating arrangements at the former's engagement party.
At one point during the episode, Dolores Catania suggested that Teresa should maybe "separate from Joe and Melissa."
When Andy Cohen brought that up on "WWHL" on Tuesday, via a viewer's question, Teresa said, "'It's what's happening. Unfortunately."
Unable to render YouTube Video.
Meanwhile, at another point during the episode, the reality star spoke about her current relationship with her niece and nephews amid her strained relationship with Joe and Melissa, who are parents to Antonia, 17, Gino, 15, and Joey, 12.
Responding to a caller, Teresa — who shares daughters Gia, 22, Gabriella, 19, Milania, 17, and Audriana, 14, with ex-husband Joe Giudice — said she believes her daughters communicate with their cousins via text and social media.
The Bravo star said she texts her niece and nephews "for their birthdays," but "that's it." Teresa noted that she sent Joey a gift for his birthday last April. However, she pointed out that she hopes her daughters and Joe and Melissa's kids can spend more time together.
"I would love for Antonia to come over. She has her driver's license. Milania told her to come over," Teresa told Andy. "Listen, they could see each other anytime they want. I would love that."
"My girls see Joe's family all the time," she added, appearing to refer to her ex-husband's family. "They come over. We take them on vacation with us. My other nieces, everything."
Unable to render YouTube Video.
Elsewhere on Tuesday's episode of the Bravo talk show, Luis played a game titled, "Let's Talk About The Husbands!" in which Andy asked a question, and Luis had to answer by naming one of the "RHONJ" husbands, including Joe Gorga.
When asked who is the "most whipped by his wife," Luis said, "Joe." The 47-year-old chose Joe again for the next question of who was the "least welcoming" to him.
Later in the game, he named Joe for a third time, choosing him as the "RHONJ" husband who has the "biggest ego."
Also during their "WWHL" appearance, Teresa opened up about recently reconnecting with her former "RHONJ" co-star, Jacqueline Laurita, over a "five-hour lunch."
"'How did that happen?" Andy asked, to which Teresa replied, "I've been thinking about her a lot. Because we both have Nicholases, my stepson is Nicholas, and they both have autism."
"So she's been on my mind a lot, and I was going to Vegas to see Bruno Mars," she said. "So I was like, 'Let me reach out to her.'"
After Andy noted that Teresa and Jacqueline "hated each other's guts," the former said, "I know, but time heals all wounds. It really does."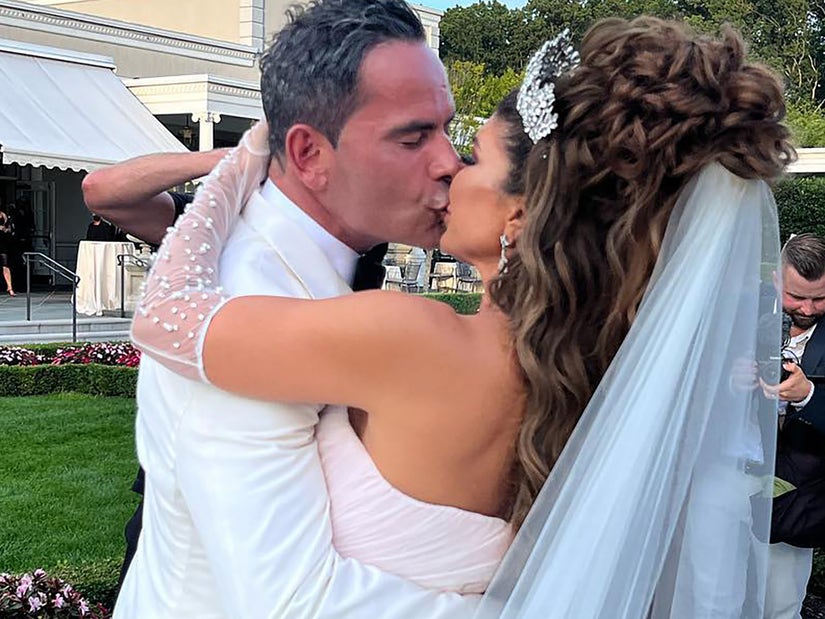 Source: Read Full Article