When you were a kid, you might've dreamed of one day finding a golden ticket that opened the doorway to the magical chocolate factory of Willy Wonka. (But alas, that dream was crushed the minute you found out it was just a movie.) From there, you likely never thought you'd one day play in a candy fantasyland — that is, until you heard about the Candytopia pop-up in NYC. If you've ever dreamed of being surrounded by a sugarcoated rainbow of colors, now is finally your chance.
Candytopia, which recently opened on Aug. 15, is an adventure much like other pop-ups you've seen before. Though, Candytopia is a unique experience that takes you to a place that is a magical mix of Candyland, Willy Wonka, and Lisa Frank — all things I personally love. It comes from the mind of world-renowned candy artist, Jackie Sorkin, who is one of the co-founders of Candytopia. She's brought her sweet artwork to life, just for you. You'll definitely want to bring your camera along, because there are many rooms that have something worthy for the 'Gram.
If you dream of diving into marshmallows and gazing up at colorful chandeliers, you need to stop by the pop-up (which is located at Penn Plaza while it's open). Get your tickets soon, because Candytopia is only open for a limited time, and tickets are expected to sell out soon.
After being such a success on the West Coast, Candytopia brought its magic to The Big Apple…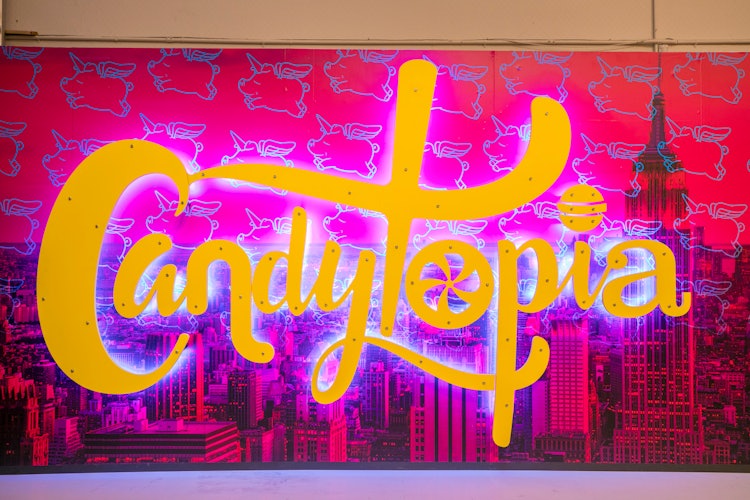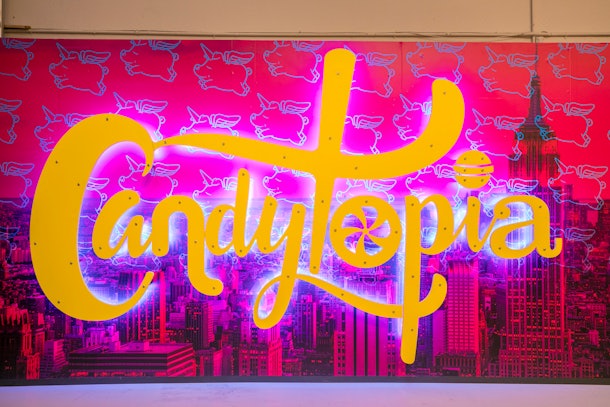 For you to feast your eyes on many sweets.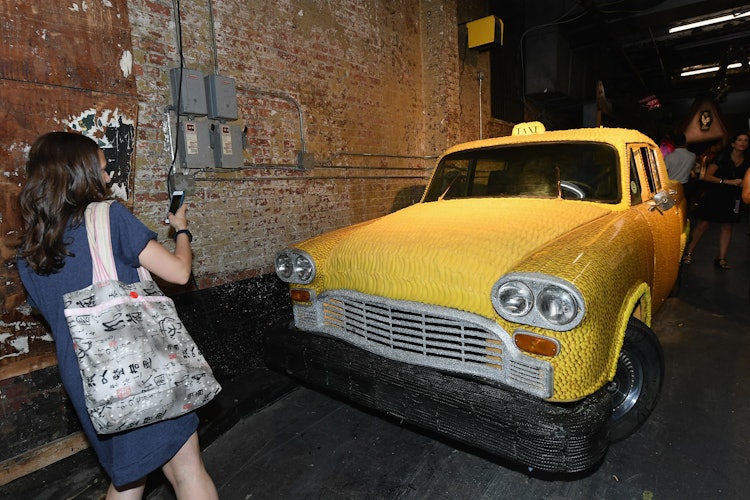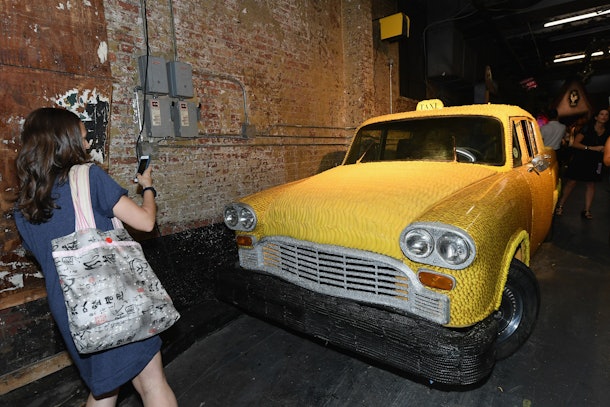 If you've been to Candytopia in California, the NYC pop-up is a little different, and includes some New York-inspired elements. Take a pic in front of the candy-covered taxi cab, or the colorful mural by local artist Jason Naylor. You'll really want to see the Cardi B portrait that's hung among other celebrities in the candy art gallery. This is a fan-favorite area of the pop-up, and like Cardi B's song, you'll say, "I like it."
Dive into a pit of marshmallows for the sweetest Boomerang.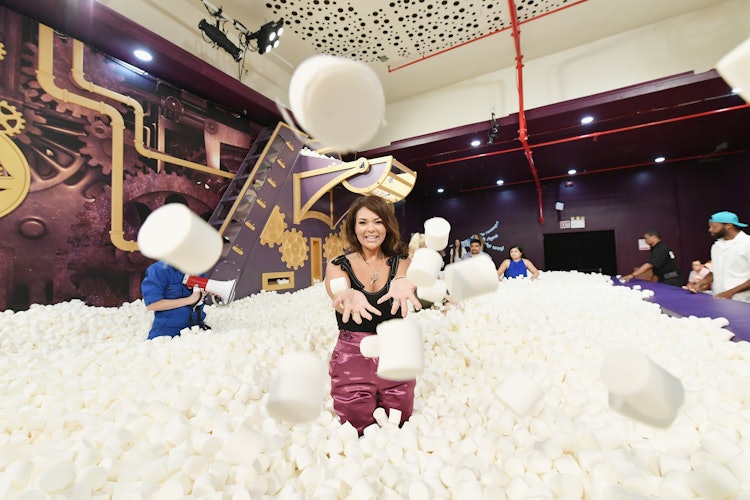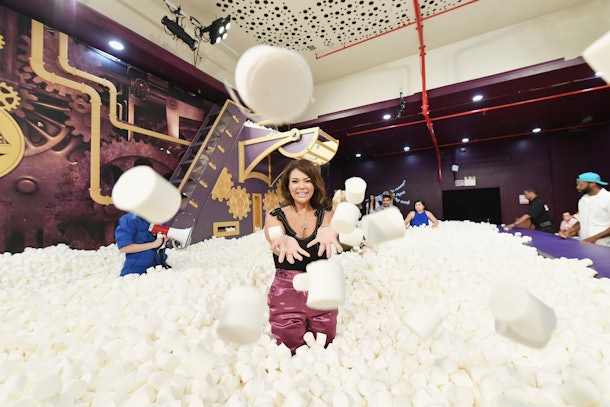 It just wouldn't be an immersive exhibit without a pool of something fun to dive into, am I right? At Candytopia, you'll be able to swim in a pool of squishy marshmallows. Take a pic with your friends, and caption it with, "I like to be mallow with you." (Now, if only there were some chocolate and graham crackers, you could have s'more fun!)
You'll be on sugar overload with everything there is to see.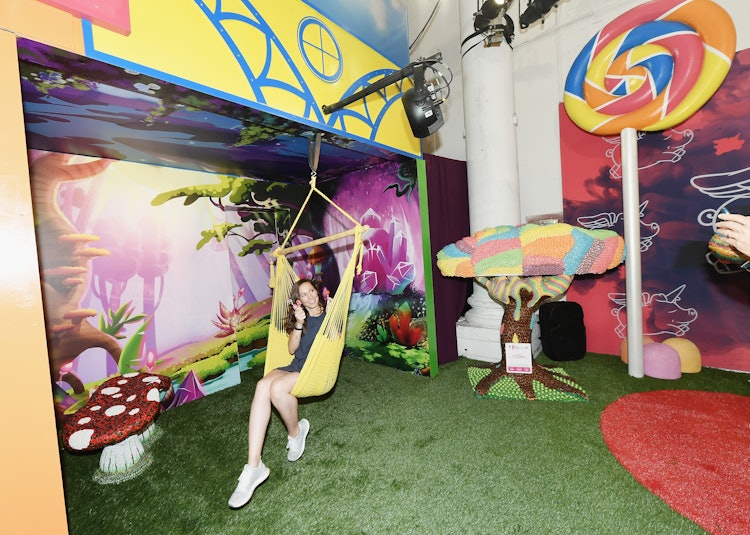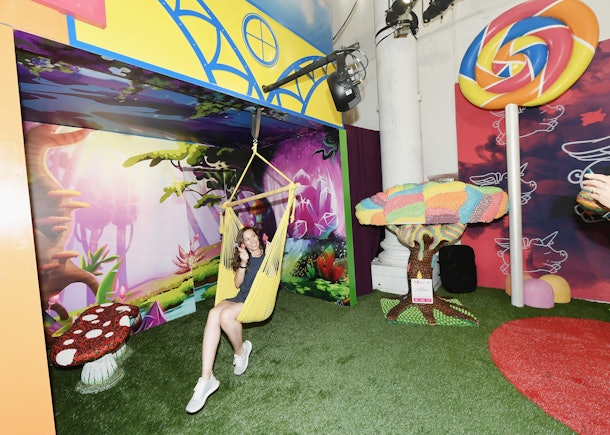 Along with the pool of marshmallows and celebrity candy portraits, there are also tons of other Instagram-worthy spots to check out. Make sure to get a pic with either the candy-covered Statue of Liberty, shark, or flying pig. You and your bestie will also want to take a pic with the giant Candytopia balls surrounded by blue skies. For a fun selfie, visit the confetti room for an epic action shot of the colorful fun falling around you.
There really is so much to see. If you have a sweet tooth as big as mine, what are you waiting for? Get your tickets for Candytopia now, and see what living in a real-life candy fantasy would be like.
Source: Read Full Article