Yesterday, Cardi B announced the shocking news that she and her husband Offset were splitting up after just a year of marriage. And despite a super mature statement talking about how they simply grew out of love and remain close friends, the internet is being super internet-y.
Meaning, everyone thinks ~another person~ came between the couple. Specifically, the model Summer Bunni.
View this post on Instagram
According to sources the girl who's was on FaceTime with #Offset is allegedly #CubanDoll's ex friend Summer 👀 [ Swipe ] to see how this started !
A post shared by The Shade Room Teens (@theshaderoomteens) on
Summer has since hit up Instagram with a note to fans, apologizing for any role she may have played in the unraveling of Cardi and Offset's relationship.
"Goodmorning, a quick letter to the fans, followers and social media outlets," she said. "During the last 48 hours, I haven't enjoyed the social media frenzy. Not only is it draining but humbling. I will always be woman enough to admit when I'm wrong, and in this situation I was. Seeing another woman's pain does not bring me joy, nor do I think it's funny. I've always been for women supporting each other but in this situation not only myself but others have failed."
View this post on Instagram
To whom it may concern.
A post shared by Summer 🐰❄️💙 (@thesummerbunni) on
She continued, "I separated myself from certain situations and people for a reason. This is not a letter for sympathy but acknowledgement to everyone whom has questions. Going into 2019 focused and dedicated to becoming a better me. Thank y'all – Summer."
The model also gave a tearful statement to TMZ, saying she has not "messed" with Offset since he had his baby, that she feels "ashamed," and that she "didn't know how serious his marriage was."
Cardi B and Offset haven't responded to Summer's comments, probably because they're too busy sharing adorable photos of their baby daughter Kulture.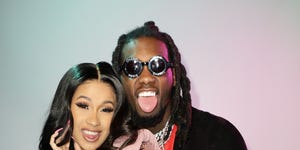 Source: Read Full Article