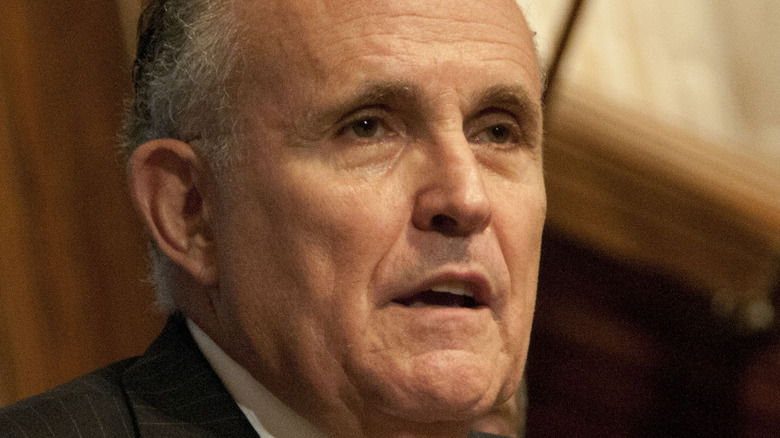 Al Teich/Shutterstock
By Cassidy Anthony/Sept. 12, 2021 4:35 pm EDT
Long before Donald Trump was President of the United States and before Rudy Giuliani was his attorney, these two political figures weren't exactly friends. Back in 1986, Giuliani was working as a prosecutor at a federal courthouse in New Haven, Connecticut. The case in question followed Stanley Friedman, a former deputy mayor of New York, who was accused, along with various others, of taking illegal kickbacks. While Trump wasn't technically on trial, Giuliani named him as having allegedly benefitted from Friedman's sketchy actions and gaining extravagant tax breaks (via Politico). Fast-forward to today and you'll see Giuliani and Trump have quite a different relationship.
During Trump's time as president, Giuliani served as his personal attorney and biggest fan. The two New York savvy, bigwig businessmen and politically-aligned one-percenters eventually realized they had a lot in common, which made Giuliani want to represent the former president as his lawyer. While Giuliani claims that he isn't representing Trump regarding any legal matters these days, that doesn't mean the two aren't still BFFs (via CNN).
Donald Trump congratulated Rudy Giuliani on September 11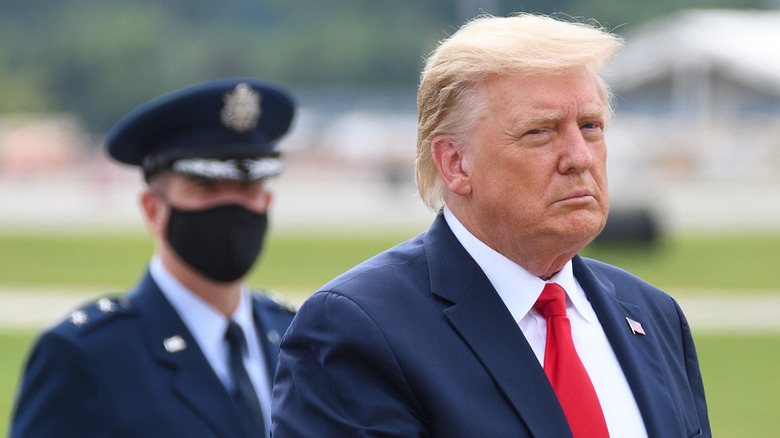 Before he ever represented Donald Trump, Rudy Giuliani was perhaps best known for his leadership during the September 11 terrorist attacks due to his role as mayor of New York during the time. He was even named Time Magazine Person of the Year in 2001, which New York Times managing editor Jim Kelly said was "because of his courage on September 11 and afterwards, because a very human man showed superhuman strengths at a time when the entire country was being tested" (via CNN).
Former President Donald Trump congratulated Guiliani in a recent statement in regards to his actions at the time (via HuffPost). "Congratulations to Rudy Giuliani (for the 20th time!), the greatest Mayor in the history of New York City, for having shown such leadership and doing such an incredible job during and after the attack on our Nation," Trump said in a statement per Twitter.
On Saturday, September 11, 2021, Guiliani took to Twitter to share his own sentiments regarding the 20th anniversary, sharing a series of tweets. "It is very difficult to be here but We Must Remain Together. It's not over. God Bless our Heroes," he wrote in one of them.
Source: Read Full Article