When most people think of Western movies, they probably imagine old-timey saloons, shootouts at high noon, and grizzled men with leathery skin. Yet a new Western by first-time filmmaker Nia DaCosta, Little Woods, is a gritty drama about sisters (Tessa Thompson and Lily James) surviving through harrowing circumstances in North Dakota. Produced primarily by women with DaCosta as the writer and director, Little Woods is a mesmerizing movie about complicated women, told by women, that changes the image of the traditional Western film.
"It just felt really inspiring and empowering," says James about her experience on set, speaking to Bustle during the film's Tribeca Film Festival premiere in April. "There was this sense of solidarity and bravery and the roles were so good, and it was so exciting to be doing it."
For James, best known for films like Baby Driver and Darkest Hour, the movie marked her first time working on an American indie with women leading the production. And working with other women, particularly those of the same generation as her, was a freeing experience. "We could just talk about the characters in a way that was so open, and especially because we were all of a similar age, inducing the producers," explains James. "There was just this real honesty, and a sense that we share the same sort of perspective and experience. it just felt really easy and refreshing."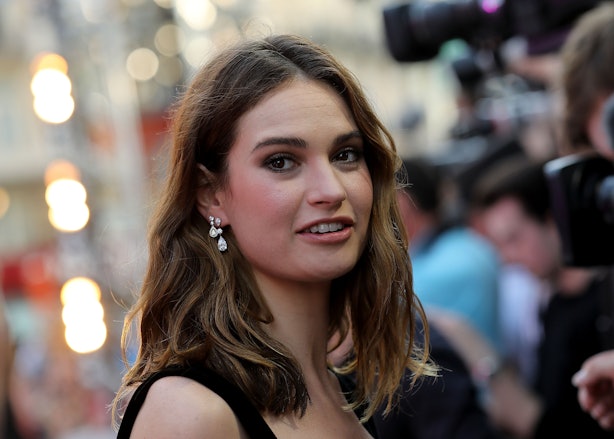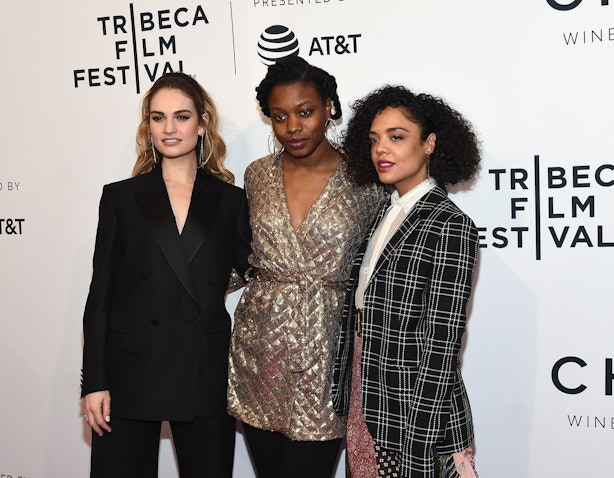 The subject matter of Little Woods is a lot darker than what many audience may expect from James, who rose to fame on Downton Abbey as the Crawley family's free-spirited cousin Lady Rose. "I wanted to do something different and I had been kind of waiting to do something a bit rawer and more totally modern," she explains. "I read the script, and thought it was so beautiful and poignant and about things that really matter."
In addition to learning about the struggles of a culture different from her own, James also experienced a new style of filmmaking with Little Woods. As an actor who mostly made her name appearing in period dramas and comedies, she looked to her co-lead, Thompson, for support. "I think she's such a brilliant actor," James says of the Westworld star. "For me to be entering into a genre I hadn't really done… I felt so lucky to have her opposite of me."
While James has some big budget studio films in the works — including her upcoming part as a young Meryl Streep in Mamma Mia 2 — she's still hoping to do more movies like Little Woods, i.e. smaller women-led projects. "I can see how amazing it is to do something that feels really collaborative, and everyone was really on the same page," the actor says. "It was such a passion project, I think, for everyone involved."
James adds that she was inspired by seeing Thompson executive produce the movie as well as star in it; she hopes to one day also produce some of her own projects. Perhaps in the future, Westerns, and other genre movies, starring two women as talented as Thompson and James will be a common occurrence — especially if more women get behind the camera and high-profile actors join the cause.
Source: Read Full Article