My two favorite things about summer are ice cream trucks and making s'mores at campfires, both of which provide you with foods you could theoretically obtain during the winter months, but are so much better when paired with hot weather and mosquito bites. Now, there's a way to make the latter all the more tasty, with the advent of "snackable" marshmallows that come in a bevy of flavors, and are whipped up using natural, NON GMO, and gluten-free ingredients. Best of all, they'll be riding around the country in a SmashMallow's s'mores food truck this summer, which is how I like all my food.
According to an alert from PR Newswire, these tiny marshmallows come courtesy of California-based company SmashMallow, a premium snackable marshmallow company that puts teensy square marshmallows in plastic bags and sells them to you at grocery stores, so you can surreptitiously pop marshmallows in your mouth in the aisles or on the street. SmashMallow also makes little Rice Krispie-esque treats, combining their signature small marshmallows with crunchies and mint chocolate chips, "strawberries and cream," or cinnamon churros. Basically, if you were the kind of kid who bought Rice Krispie Treat Cereal just to eat all the crumbled Rice Krispie Treats out of the box while marathoning Scooby Doo (WHOMST AMONG US), SmashMallow is your totem.
SmashMallow's marshmallow wares come in eight flavors, which is a far cry from the regular "white" flavor marshmallows usually come in, though I suppose sometimes you can buy strawberry marshmallows too. There's Root Beer Float, which one can only assume tastes like a night at the soda fountain; and there's Cookie Dough, which is advertised as "sweet, salty, chocolatey" with chocolate chips. There's Meyer Lemon Poppy Seed, made with both natural Meyer lemon flavor and real poppy seeds; and there's Mint Chocolate Chip, made with, obviously, real chocolate chips. There's Cinnamon Churro, which comes doused in cinnamon and sugar, as befits the name; and there's Coconut Pineapple, which is made with real coconut and pineapple flavor and comes rolled in mounds of toasted coconut (if, like me, you despise coconut, stay away from this one). There's Mocha Chip, which contains semi-sweet chocolate chips; and last but not least, there's Strawberries and Cream, made with freshly picked strawberries and, I can only assume, freshly picked cream.
So that's what you get with SmashMallows — but what's more important, in my humble opinion, is how you get SmashMallows, because it appears the answer is in a truck. Though the company says you can purchase its wares on their website, at Target, and at specialty markets and health food stores (there's a store locator on its website), it appears that soon, SmashMallow will come to you, which is a blessing indeed. According to a press release, SmashMallow will launch its SmashMallow S'more More initiative starting on June 8, in which they will embark on a "mobile tour" through the continental United States. The SmashMallow truck, assuredly laden with gelatin-laced treats and goodness, plans to hold stops at various retail establishments and in neighborhoods across the country, where they'll be doling out complimentary SmashMallows and (hopefully) Smash Treats to sweet-toothed fans.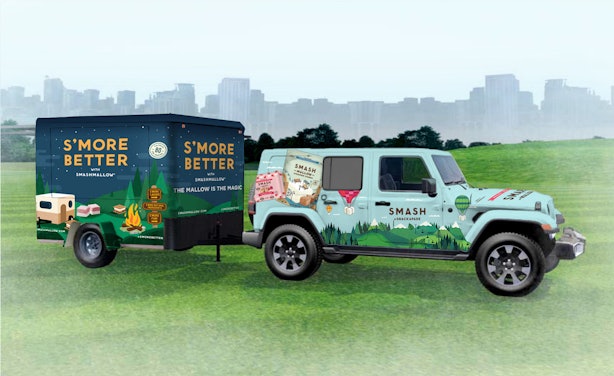 "We're thrilled to be hitting the road this summer, bringing the 'S'MORE BETTER experience to fans around the country," David Lacy, SmashMallow's CEO, said in a statement. "S'mores are such a nostalgic summertime favorite and we feel our mallows are the magic ingredient that provide consumers a fun, flavorful and creative way to enjoy this classic treat in a more mindful manner than ever before."
Of course, if you don't manage to get your hands on free SmashMallows, you can still make s'mores at a campfire or using your oven burners, though be warned: marshmallows DRIP.
Source: Read Full Article