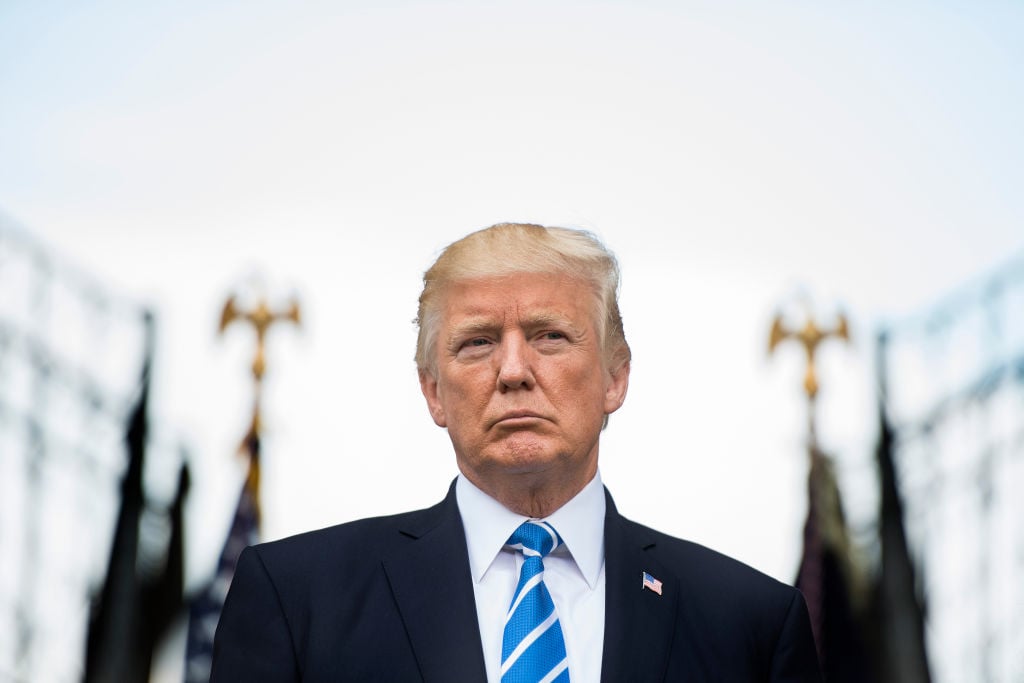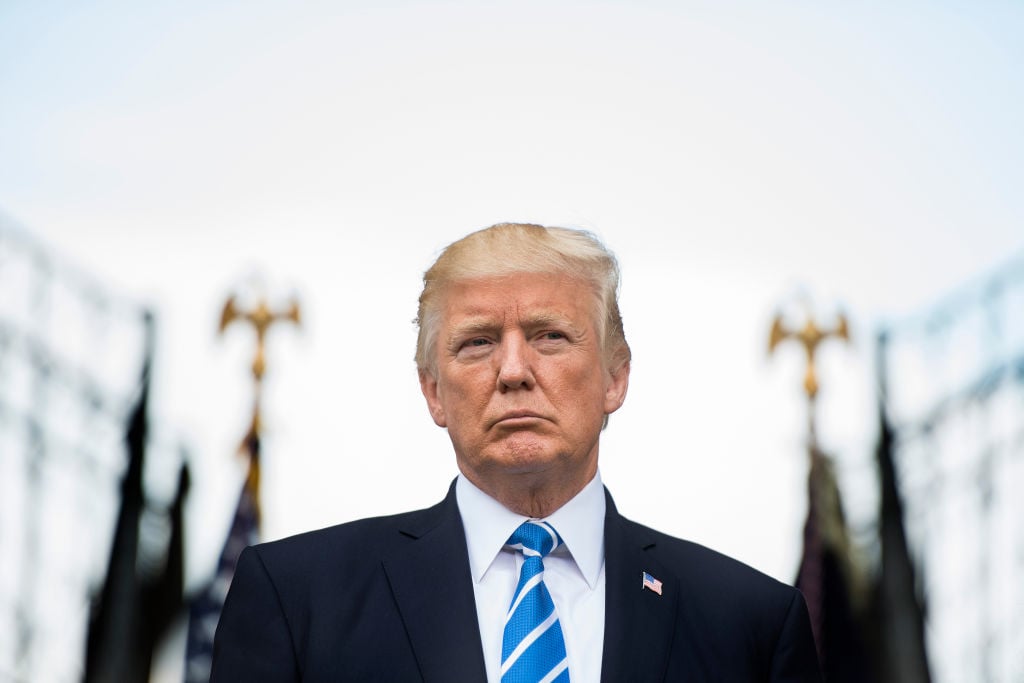 Donald Trump | Jim Watson/AFP/Getty Images
There are more than 200 immigrant detention centers and jails in the United States, and it's costing taxpayers a lot of money. Some are protesting these costly detention centers as well as the treatment of immigrants — particularly children who have seperated from their parents — calling for immigration reform.
Here's the truth behind Donald Trump's budget for immigration detention camps.
States with the most detainees
Number of people detained annually: 359,520
According to Freedom for Immigrants, an organization focused on ending immigration detention, as of fiscal year 2016, Texas, California, Arizona, Georgia, and Louisiana have the most people each day in United States detention centers. Texas has 15,852 detainees, California has 6,527, Arizona 3,869, Georgia 3,717, and Louisiana 3,143.
The horrible things some say are going on inside these detention centers
Number of people who died during immigration custody since 2003: 181
In a recent class-action lawsuit, the Southern Poverty Law Center claims CoreCivic (formerly Corrections Corporation of America) is attempting to make more money at the expense of detainees. For example, SPLC claims those held at Stewart Detention Center, a private prison in Lumpkin, Georgia, are being forced to cook, clean, and maintain the detention center's facilities in exchange for payment of $1 a day.
The SPLC alleges CoreCivic is trying to save money by making immigrants engage in forced labor for barely any compensation. Said Meredith Stewart, senior attorney for the SPLC in a statement, "CoreCivic is placing profits above people by forcing detained immigrants to perform manual labor for next to nothing, saving millions of dollars that would otherwise provide jobs and stimulate the local economy. CoreCivic is padding its pockets by violating anti-trafficking laws."
How private prisons keep money coming in
Detainees can be held indefinitely. There is no time limit for their stay, reports The Nation. The corporations running these prisons and detention centers make more money by having a full house. States are penalized unless they provide a certain number of occupants.
"[CoreCivic] and other prison companies have written 'occupancy guarantees' into their contracts, requiring states to pay a fee if they cannot provide a certain number of inmates. Winn Correctional Center was guaranteed to be 96% full," reports Mother Jones.
Longer stays
You would think there would be a push to discharge detainees sooner because of the daily cost, but that's not the case. Under the Trump administration, immigrants are being detained longer, reports Freedom for Immigrants. According to the organization's report, detainees currently stay 12 days longer than they would under the Obama administration.
Federal government data obtained by the ILRC indicate that, on average, immigrant prisons and jails are holding people for longer periods of time under the Trump administration than under the Obama administration.  In FY 2017, the average length of stay at any one immigrant prison or jail was 34 days, compared to 22 days in FY 2016 and 21 days in FY 2015.
This is how much immigrant detention costs
Estimated annual cost of immigrant detention: $ 2.6 billion
An alarming amount of money is spent on immigrant detention centers. More than $2 billion is spent by Immigration and Customs Enforcement annually to detain immigrants in private jails, according to an NPR report. Furthermore, ICE and the U.S. Marshals Service pay GEO Group, one of the country's largest private prison companies, $32 million a year to provide food shelter, and medical care to detainees.
A booming business
Amount CoreCivic received in 2017 for services: $135 million
Private companies are making big bucks from operating detention centers and private jails. Most of these centers are managed by CoreCivic and the GEO Group, reports Americas Society/Council of the Americas.
Freedom for Immigrants reports GEO Group receives more taxpayer money for the detention of immigrants than any other ICE contractor.  During fiscal year 2017, GEO Group received $184 million. CoreCivic received $135 million for services related to immigration detention.
States where immigrant detention costs the most
Daily Cost to detain one person in California: $144.35
The taxpayer cost to detain immigrants is highest in the states of Washington and California, according to Freedom for Immigrants. Each day it costs $145.19 per person per day to detain someone in Washington. The cost to detain someone in California is slightly lower at $144.35 per person each day. This total includes the cost of guards, healthcare, and any other direct costs.
The 2019 budget
For fiscal year 2019 the budget is slated to include an addition of $967 million for the U.S. Immigration and Customs Enforcement Agency. Furthermore, Donald Trump's budget proposal includes $8.3 billion in discretionary funding, and a $525.6 million in budget authority for mandatory fees, reports Newsweek. Consequently, the agency's total estimated spending authority will be roughly $8.8 billion.
Follow The Cheat Sheet on Facebook!
Source: Read Full Article