President Donald Trump | Nicolas Asfouri/AFP/Getty Images
When candidate Donald Trump said he was gong to "drain the swamp," most people thought it meant he would stop corruption in Washington D.C. That means limiting access of lobbyists, curbing deals with foreign governments, and refusing to profit off the White House.
Well, that never happened. In fact, since Trump got to D.C., America has seen an unprecedented attack on presidential ethics. We've witnessed Trump campaign donors get cushy White House jobs, Goldman Sachs bankers write the GOP tax plan, and a spokeswoman promote Ivanka brands on TV.
Call it Swamp 2.0, or "The D.C. Swamp on Steroids." But no one is profiting like Trump himself. Since the president continues profiting from his businesses, each of the 110 days Trump spent at his properties in 2017 was a marketing event. Likewise, every time someone stays at the Old Post Office in D.C., Trump gets paid.
But these are just a few examples of Trump and family monetizing the presidency.
The Center for Responsive Politics, which tracks campaign spending and politicians' finances, published Trump's financial disclosures in late 2017. From the public records and other reports, it's clear where and how Trump is making money off the office.
Here are the ways Trump is cashing in on the presidency.
1. Trump's hotels
Trump hotel income jumped from $33.8 million in 2016 to $60.5 million in 2017.
According to financial disclosures, Trump hotel revenue soared over the past few years. In 2015, records show just $16.7 million in hotel and resort revenues. However, that amount doubled to $33.8 million during the campaign and election year. Since Trump began occupying the White House, hotel income jumped about 80%, reaching $60.8 million in 2017.
These extraordinary numbers appear easy to explain. After all, Trump opened the Old Post Office hotel in D.C. late in 2016 despite the clear guideline that "No elected official of the Government of the United States…shall be admitted to any share or part of this Lease." Since then, it has become the go-to hotel for any foreign visitor looking to win favors from the Trumps. It's also become the headquarters of GOP activity in D.C.
2. Trump campaign events at Trump properties.
President Trump's motorcade arrives at Trump National Golf Club in Sterling, Virginia | Alex Edelman/AFP/Getty Images
Various Trump properties banked at least $720,000 from Trump's own campaign events.
The Center for Responsive Politics sorted the spending of political committees at Trump properties, and Trump's own campaign events topped the list. In 2017 alone, Trump's 2020 campaign spent $720,064 at buildings Trump owns. Right here is an example why U.S. presidents are expected to divest from their businesses. Since Trump still holds these properties, he and his family make bonus money every time he holds a fundraiser.
3. Golf club memberships
Trump's Mar-A-Lago resort in Palm Beach, Florida | Gerardo Mora/Getty Images
After Trump was elected, Mar-a-Lago doubled member fees to $200,000 before taxes.
This one was straightforward. After the election, Trump signaled he would spend a great deal of time at his Mar-a-Lago resort in Florida. So the club simply doubled its membership fees to $200,000 before taxes. USA Today found that executives from 50 government contractors and 21 lobbyists hold memberships at Trump clubs.
In the first eight months of 2017, two-thirds of those executives and lobbyists played golf on days Trump was there. The swamp was never so convenient for doing business, and the president was never so obvious about how to find him before.
4. Trump's own golf trips
Donald Trump visits his golf course in Aberdeen, Scotland, in 2016. | Jeff J Mitchell/Getty Images
Secret Service golf-cart rentals alone cost taxpayers $137,000 in nine months. The payments go to Trump's business.
Not only do Trump's frequent golf trips burn taxpayer dollars; they also make the Trumps lots of money. The system is rather simple and, once you see how it works, you can see why Trump spent over 25% of his first year in office at his own golf clubs.
Overall, the easiest mark is the U.S. Secret Service tasked with the job of protecting Trump. As the law stands, the agency cannot receive payments from presidents. This law exists to limit potential conflicts of interest (irony alert). So the Secret Service paid $137,000 to Trump's Florida and New Jersey properties for golf cart rentals in just the first nine months of 2017.
5. Republican fundraisers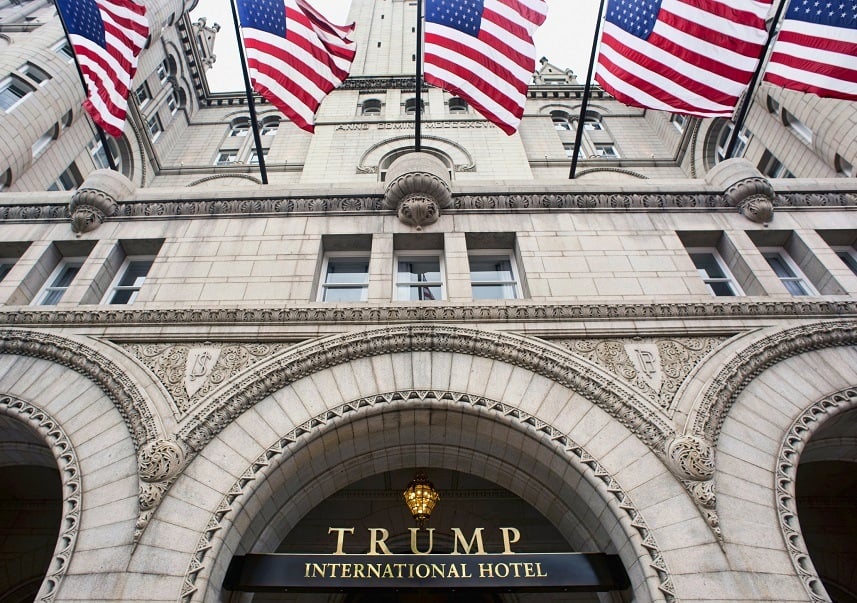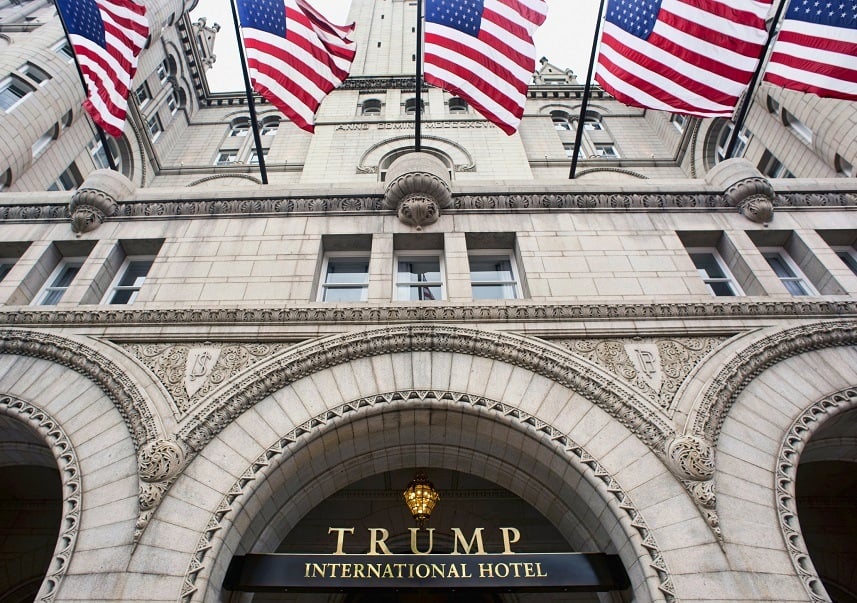 Trump held a fundraiser in 2017 at his Washington, D.C., hotel. | iStock.com/mj0007
The Republican National Committee (RNC) spent over $300,000 at Trump properties in 2016 and 2017.
Since the Trump D.C. hotel is a block from the U.S. Justice Department and close to the White House, anyone who wants to make a contribution to Trump's pockets simply books events there.  The same goes for Trump Tower in New York and Mar-a-Lago. In 2016, the RNC spent $146,521 at Trump properties. The RNC topped that figure in 2017, when it spent $173,416. Have a policy you want Trump to support? Hold a fundraiser.
6. New real estate investors
Trump Tower | Spencer Platt/Getty Images
Disclosures reveal 2017 real estate income at $168.5 million, the highest amount recorded of any listed year.
After Trump won the election, prices of real estate at Trump Tower in New York began to skyrocket. Demand cooled off as people got to know the new president, but that didn't stop Trump business from recording $168.5 million in revenue in 2017 — the best of any year disclosed. According to a report by USA Today, about 70% of Trump's buyers were LLCs, so we don't know the identity of them. Who'd want to hide such a thing?
7. The Trump online store
Trump wearing one of his signature "Make America Great Again" hats. | Win McNamee/Getty Images
The Trump Organization opened an online store in November 2017.
Want to show your #MAGA pride? Buy a made-somewhere-other-than-the-USA polo shirt that says "Trump" on the front. You can find one ($90) at Trumpstore.com site that launched in fall 2017. (It's proudly "decorated" in America, too.) We won't know until next year how much Trump makes off his own apparel site, but we list it here as an obvious money grab by the president and his family.
8. Holiday parties
Donald Trump arrives at a New Year's party at his Mar-a-Lago resort on December 31, 2017. | Nicholas Kamm/AFP/Getty Images
Mar-a-Lago's New Year's party tickets jumped to as much as $750 per person in 2017.
Want to rub shoulders with one of the most powerful men in the world? Any Mar-a-Lago member or guest can do so for $600 and $750 per person, respectively, at the Trump resort on New Year's Eve. According to Politico, thos prices represent as much as $175 more than the 2016 prices. The only difference between 2017 and the prior year is Trump sat as POTUS the second time around.
It's yet another cash grab in what was a year of monetization of the U.S. presidency. When they say America is in decline and becomes more like a Third World country every year, examples like this one don't help. Some day, historians may call the GOP of 2017 the part of "Banana Republicans." Actually, the conservative National Review already does.
Check out The Cheat Sheet on Facebook!
Source: Read Full Article