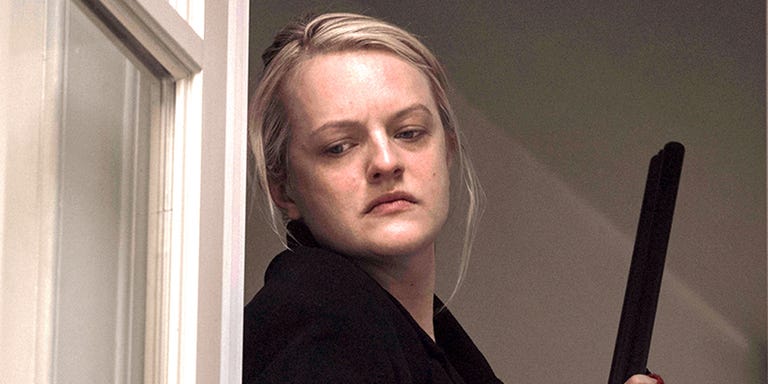 Spoilers for The Handmaid's Tale Season 2 Episode 11, "Holly," below.
Weekly viewers of The Handmaid's Tale are conditioned to seek out any flicker of hope they can glean through the monstrosities of Gilead. In this week's episode, just as all seems lost, Oprah herself delivers that message.
Ten minutes into "Holly," June finds herself behind the wheel of a car for the first time in years—sure, she's a pregnant, fugitive Handmaid holding the keys to a Commander's vehicle, but it's a start nonetheless. June knows her chances of a successful escape are slim, but as she tunes the radio, a soothing voice breaks through, and Oprah conveys exactly the message June needs to hear:
Bruce Springsteen's "Hungry Heart" closes the dispatch, and June sighs, smiling through relieved tears. For the first time, she realizes there are good people looking out for her somewhere—all she has to do is get to them. It's a startlingly emotional moment, particularly when viewed through the lens of this week's dismal real-world news cycle.
According to Bruce Miller, The Handmaid's Tale creator and showrunner, Oprah was game for a cameo. "We'd heard Oprah was a fan of the show, and had a story idea, and thought, wouldn't it be wonderful if… So we asked and she said yes, and it was a lovely, easy process," he told BAZAAR.com. He also revealed the inspiration behind the moving scene: "The radio segment she recorded was inspired by the free radio of the Allies from WW2. It was an absolute honor to have Oprah featured on the show, and especially thrilling as she was the one who presented us with the Emmy last year."
In case you forgot, Oprah essentially lost her sh*t when announcing The Handmaid's Tale for Outstanding Drama Series at the 2017 Emmys. Relive the moment below.
The Handmaid's Tale airs Wednesdays on Hulu. Catch up on all of BAZAAR.com's coverage right here.
Source: Read Full Article