As temperatures rise and summer arrives, there is no better way to enjoy the warm weather than hitting an outside oasis with city views for a well-deserved cocktail. From Cuban cantinas serving up passion fruit mojitos and pulled pork tacos, to elegant rooftop decks complete with blackberry margaritas and a pool to dip your toes, these are our 15 favorite rooftop bars across New York City.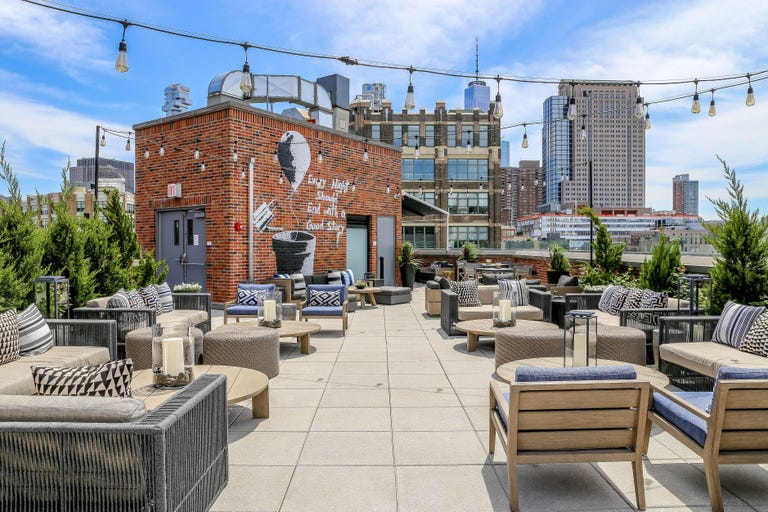 With sweeping views of the Hudson River and signature cocktails that put a twist on the classics, you can't help but feel relaxed in this urban oasis. Set up at sunset under the twinkle lights and toast the night away, whether you come post-work or for some weekend fun.
Arlo Rooftop, 231 Hudson St.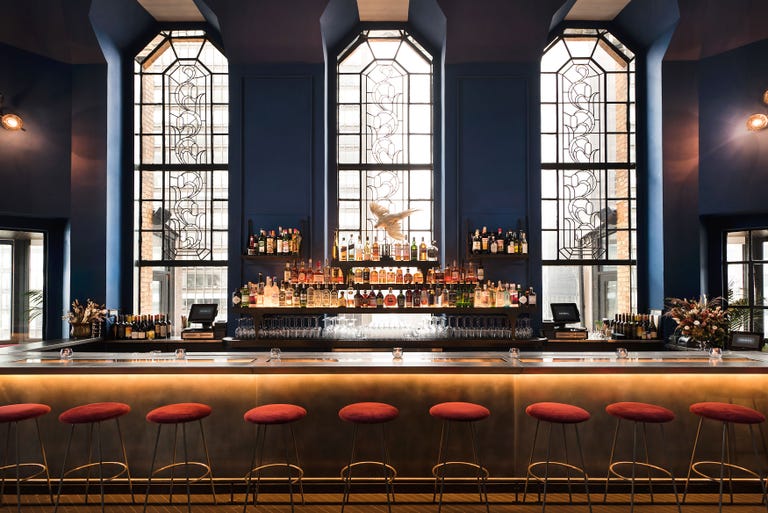 Located at the top of the Beekman Tower, this rooftop speakeasy setting will transport you right back to the 1920s. Built in 1928 as a residence for working women, the history of the space is palpable and gets a modern touch with an array of fresh cocktails.
Ophelia, The Grand Terrace at 3 Mitchel Plaza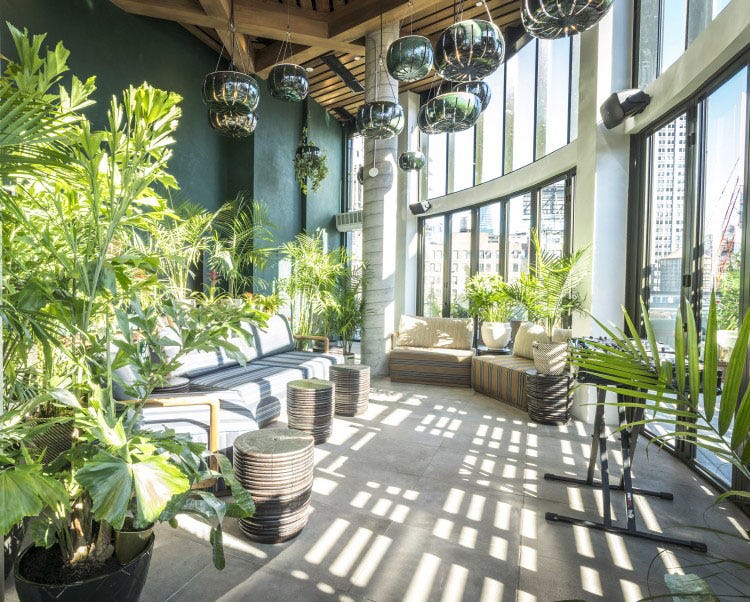 This 18th floor lounge within MADE Hotel offers stunning views alongside Tiki-inspired cocktails. The plush greenery and wood ceilings act as a warm retreat from the hustle and bustle, as you sip on rum drinks and dream of a beach.
Good Behavior at MADE Hotel, 44 W. 29th St.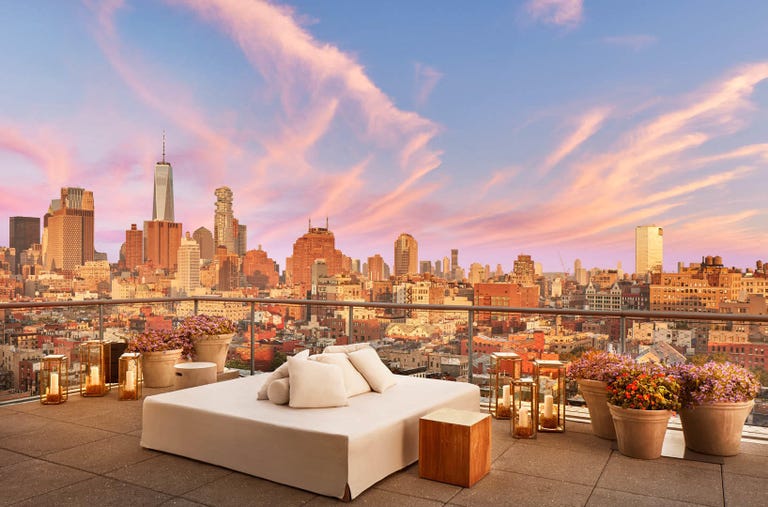 This rooftop bar set against the New York City skyline seamlessly goes from a vibrant terrace for sunset drinks, to a sleek late-night spot. The communal tables and lounge areas offer multiple ways to unwind, as you enjoy an evening out on the town.
The Roof at PUBLIC Hotel, 215 Chrystie St.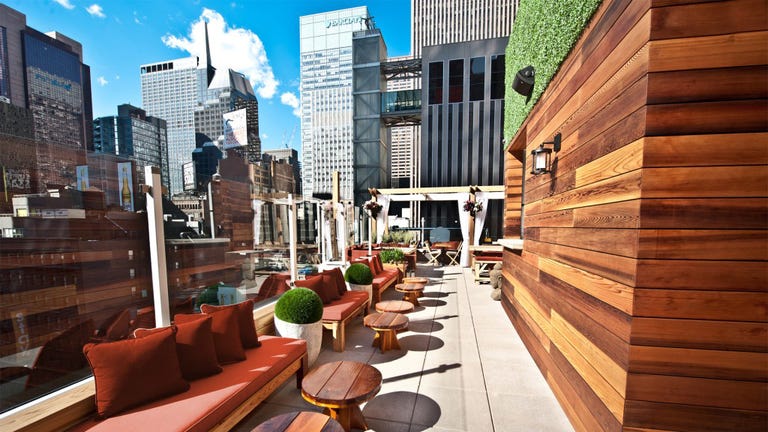 Cabanas and cocktails go hand-in-hand at this rooftop above the busy Theater District. Enjoy light music and its nautical-inspired decor as you test your palette on tuna tartare.
Haven Rooftop, 132 W. 47th St.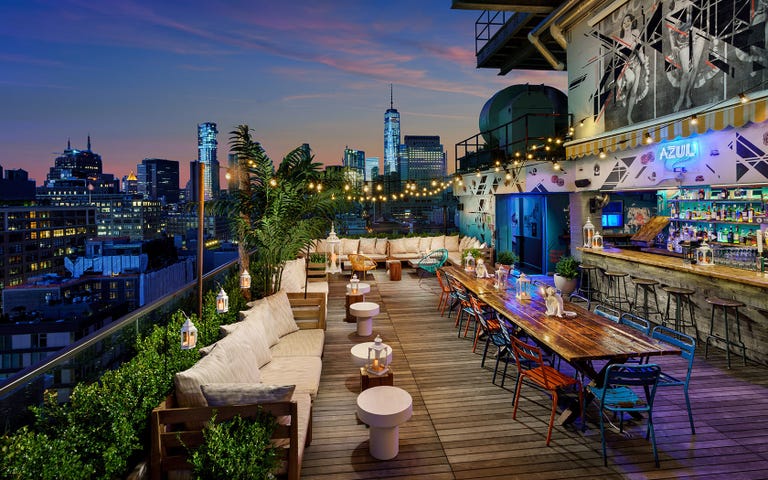 Bringing an Old Havana vibe to the city lights, this rooftop at the top of Hotel Hugo is a vibrant and colorful spot to sit and enjoy drinks as you take in views of Lower Manhattan. Sangria or a blood orange cosmopolitan pairs perfectly with pulled pork tacos.
Azul on the Rooftop, 525 Greenwich St.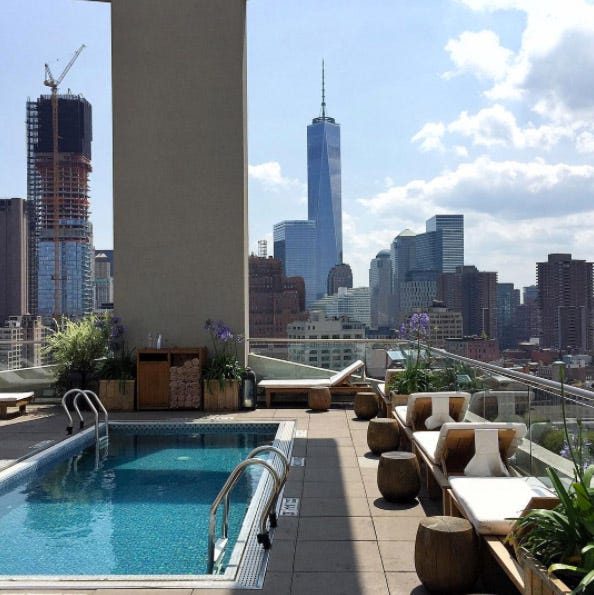 Part swanky bar, part stylish roof deck, you can sit on velvet couches amongst candlelit tables inside, or head outside to sit by the pool for grandiose views of Manhattan.
Jimmy at the James New York, 15 Thompson St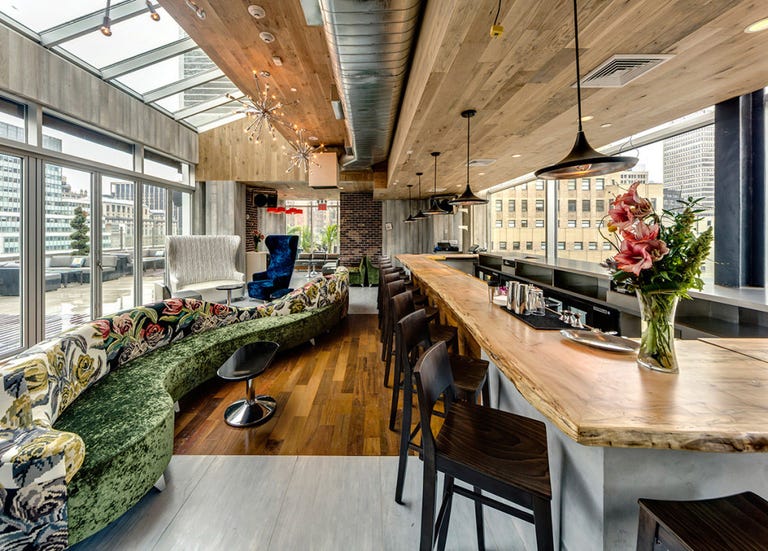 This 18th floor penthouse is home to an indoor/outdoor lounge, where Midtown worker bees can flock for drinks and views of the Empire State Building. The patio is covered (and heated) during winter months, making this a chic and cozy hangout spot year-round.
Monarch Rooftop, 71 W. 35th St.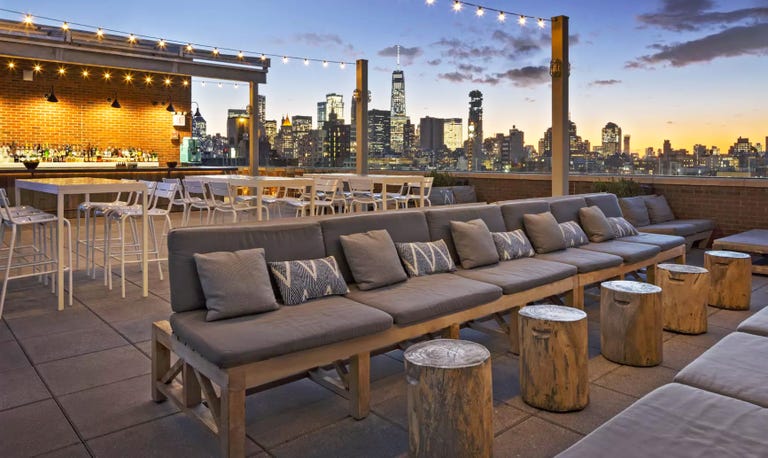 One of the city's ultimate hangouts, this rooftop in Hotel Indigo feels like an artist's eclectic loft and encapsulates the dynamic vibe of the Lower East Side. Post up at one of the various tables or corner couches for a dirty martini.
Mr. Purple, 180 Orchard St, 15th Floor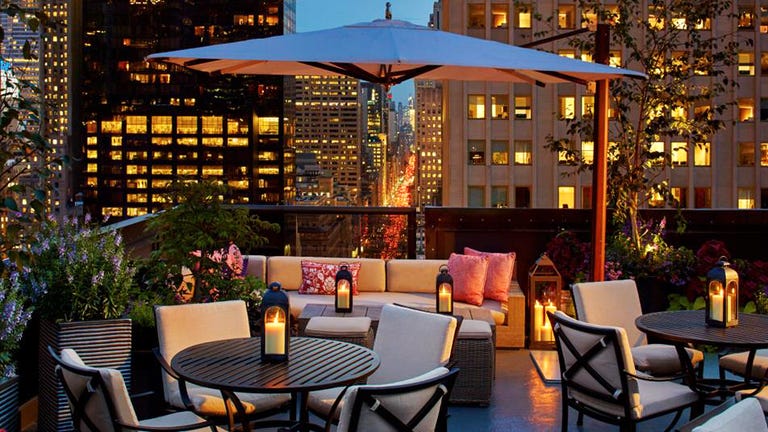 This enchanting terrace transports you to a more serene place as you sip on gin concoctions of mint, lychee & passion fruit, taking in spectacular views of 5th Avenue. While the city hums below, you can't help but enter a a resort state of mind as the glow of the lanterns welcomes the night.
Salon de Ning at the Peninsula, 700 5th Ave.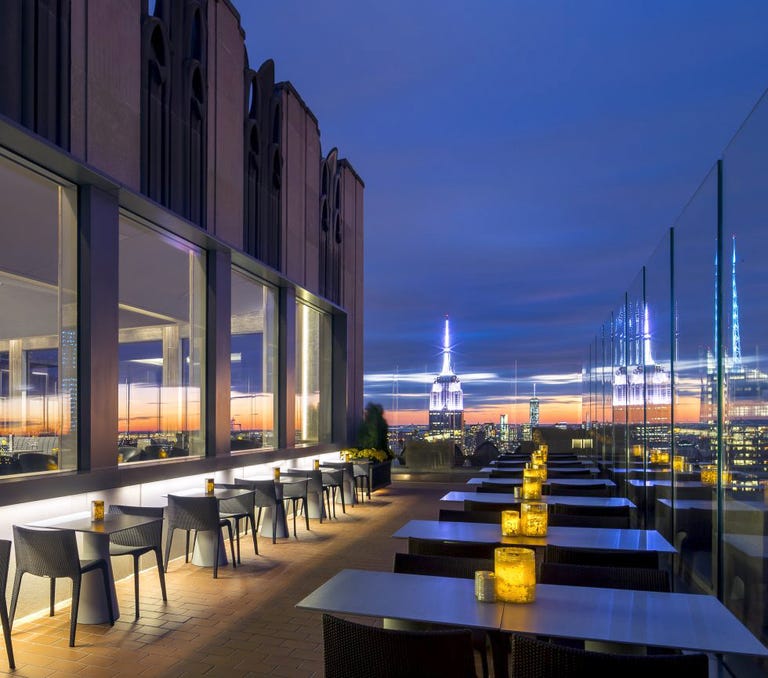 Bar SixtyFive is located on the 65th floor of Rockefeller Center giving its guests the ultimate NYC viewing experience. Opening its doors just one year after the prohibition, The Rainbow Room has some of the best cocktails including rare scotches and whiskey.
Bar SixtyFive at the Rainbow Room, 30 Rockefeller Plaza.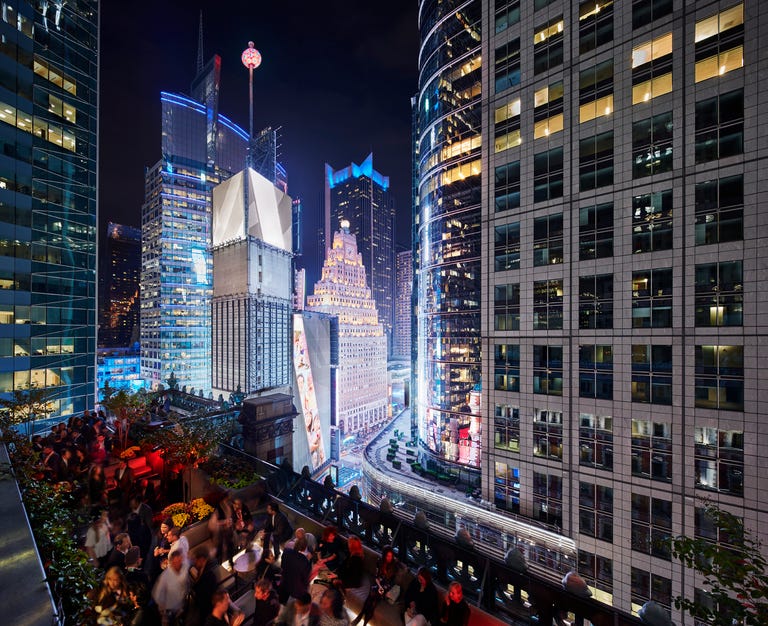 Escape the craziness of Times Square at St. Cloud Social, a glamorous retreat at the top of the Knickerbocker Hotel. Made up of a sophisticated biergarten setting, you have the option to mingle in the crowd, or head over to your own private sky pod, as you choose from one of their three decadently-flavored margaritas.
St. Cloud Social Rooftop, 6 Times Square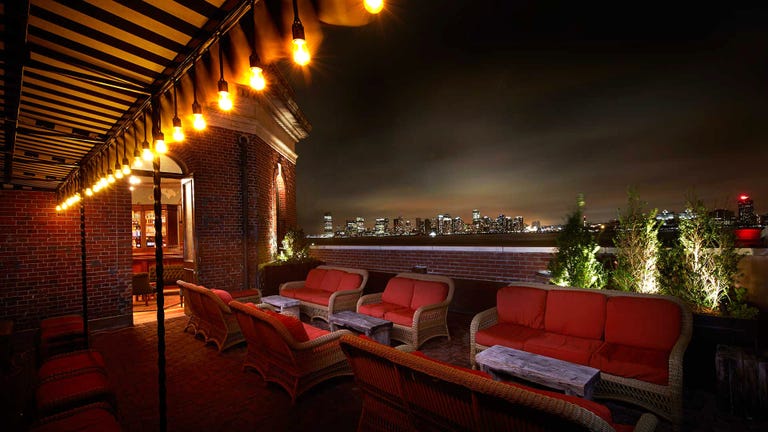 This West Village rooftop brings the vintage, deco atmosphere of the Jane Hotel outdoors. However, in order to have a place along the red brick walls as you take in sights of the Hudson River, you'll have to call and make a reservation first.
The Jane Hotel Rooftop, 113 Jane St.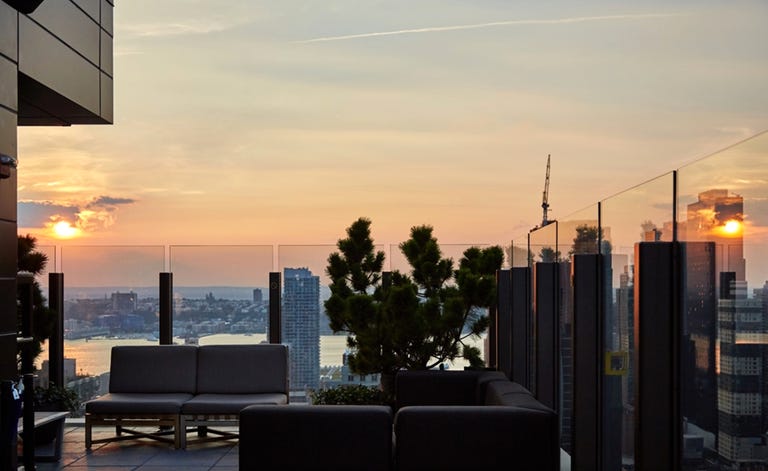 A classic cocktail lounge with a seamless indoor to outdoor flow, The Skylark is the ideal place to engage in elegantly-crafted libations and small plates. We recommend the 'Prince Harry' with vodka, pomegranate liquor, lime juice and ginger beer.
The Skylark, 200 W. 39th St, 30th Floor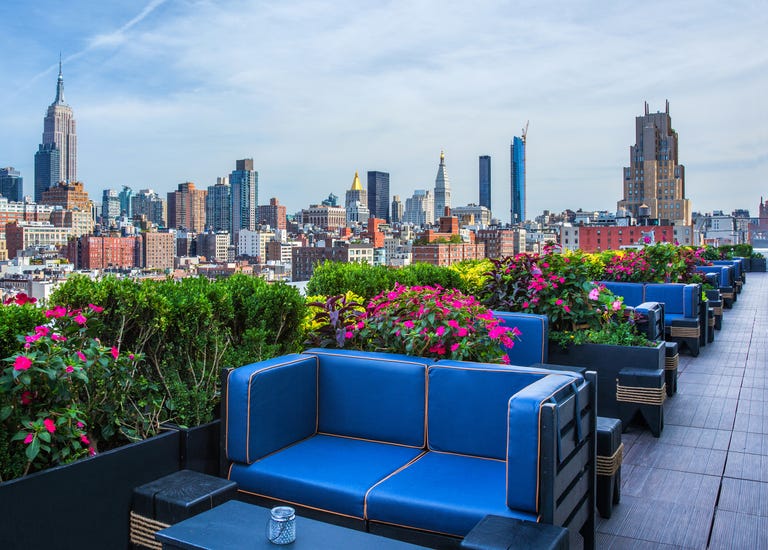 This posh rooftop with impeccable views of the Empire State Building is the ideal location for those wanting to sip on a cucumber smash as a DJ spins the latest tracks.
PH-D at The Dream Downtown, 355 W. 16th St.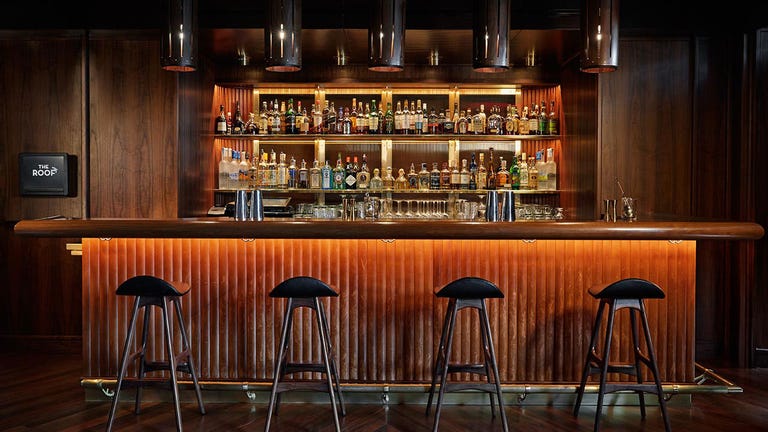 Sitting at the top of Viceroy Central Park, this intimate lounge featuring wood and brass details is the perfect place to cozy up with an Old Fashioned on a sauntering summer night.
The Roof, 120 W. 57th St.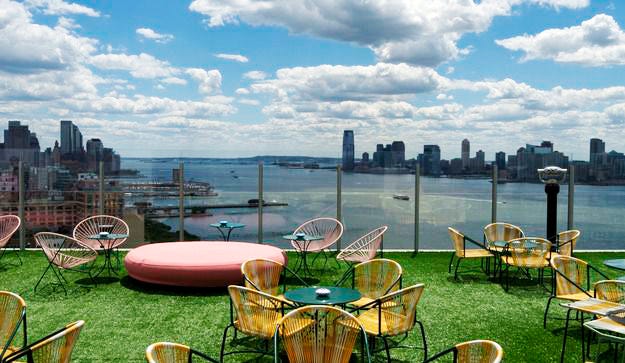 A grassy lawn complete with colorful coaches and chairs adds to the playful setting of Le Bain at the top of The Standard Hotel, where you can enjoy cocktails by the glass or in pitcher portions. We also recommend stopping by the crepe stand for a sweet or savory treat mid-booze.
Le Bain, 848 Washington St.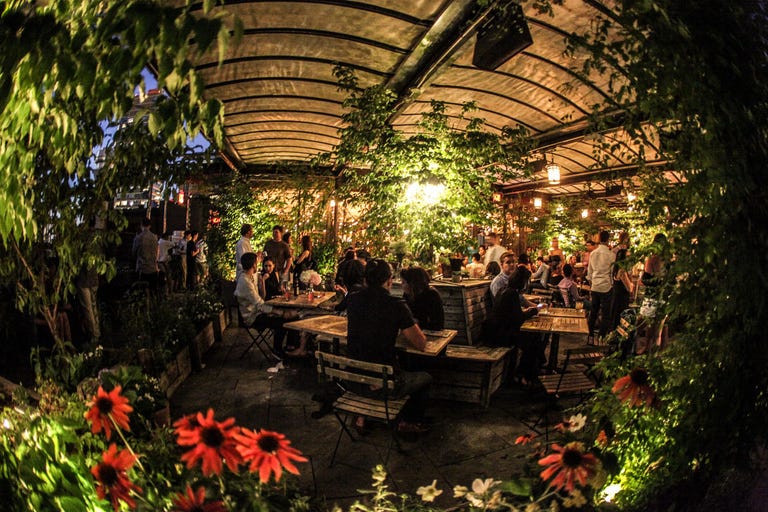 This garden-like setting is the breath of fresh air you need on a humid city night. Feast on tuna crudo or an artisanal cheese board, and pair it with a 'Honey Pot' made up of gin, cucumber, melon and honey soda.
Gallow Green, 542 W. 27th St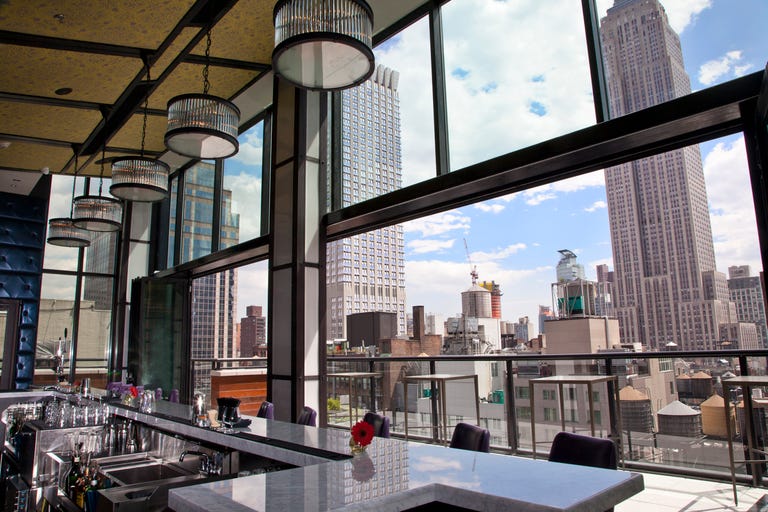 Twenty-two stories up in the Archer Hotel, this fashionable rooftop lounge gives a nod to the 1940s and '50s with its glamorous vibe. Take in some of Manhattan's most stunning views as you fittingly sip on a Manhattan under the silvery lights.
Spyglass Rooftop Bar, 47 W. 38th St.
Source: Read Full Article