When it comes to aging, we all just cringe a little inside when we think about it. No one wants the hands of time crawling all over their face and body. But unfortunately, it's nothing that any of us can control even with the help of Botox.
Aging can be tougher on women, especially when they have careers that depend on their face and body. That's the most tragic part of all. When it comes to actresses who reach their forties, they start to find they get fewer and fewer roles, and the roles that they do get are of the "mother" or worse, "grandmother." Hollywood will not allow them to be tough detectives, CIA agents or even women who are completely fulfilled without a husband or children. It's the hot, young girls that get all the cool roles and that's just not, well, cool. It's not just actresses either, it's women in broadcast or musicians, at a certain age they just seem to fall off the map.
Fashion is a whole other thing entirely. Usually, when you reach a certain age as a woman, you just stop wearing miniskirts. It doesn't mean that women can't be foxy in their 40s it just means we don't dress like we're going to a college club any longer. There are women who have embraced their age with class and elegance while others just can't let the 20s go. Check out these 10 female celebs in their 40s who still dress like college students 10 who embraced their age.
20

Embraces it: Gabrielle Union Knows How to work it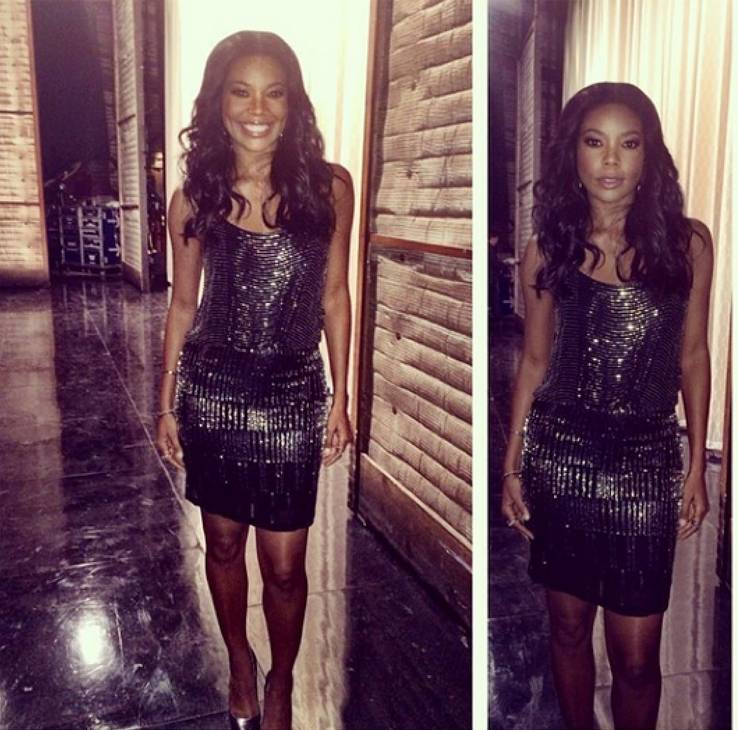 Gabrielle Union has not lost her fox appeal just because she's in her 40s. She knows how to dress steamy, but with class. She's 45 years old these days and we can't believe how time has flown since we saw her in 10 Things I Hate About You and Bring It On. These days she's on the TV Series Being Mary Jane, where she has been for the past five years. When it comes to the type of work she likes to do, Union prefers to be in comedies because they make her feel better at the end of the day.
"Drama can feel like therapy whereas comedy feels like there's been a pressure and a weight lifted off of you. You come to work and you laugh all day, you go home and you feel light and there's a certain feeling when you're sitting with the audience and they leave after 90 minutes and it's just pure escapism and they're happy."
If she had her choice, she would do romantic comedies all year long. "I love romantic comedies. They're for me the easiest thing to do and the most natural to do. There's nothing natural about holding an Uzi hanging out of a moving van shooting at people. That's not second nature to me, thank God."
19

Dresses Too Young: Jenny McCarthy's Blue Hair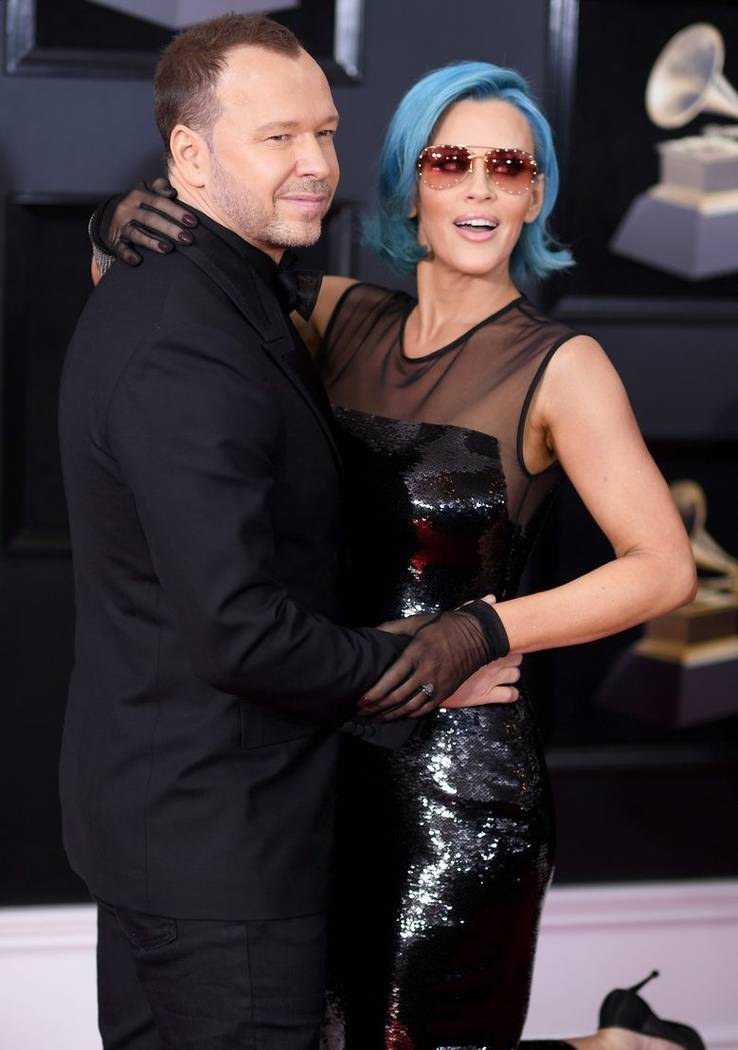 She may be 45 years old, but Jenny McCarthy still dresses like she is going to a college kegger. And it's not a great look for her. She disappointed everyone big time when she showed up to the Grammy's this year in what could have been a sparkly prom dress with little gloves. She topped the look off with light blue hair. She was definitely not one that made it to the best-dressed list that night and she rarely does. She's still living her 20s out for all the world to see but Donny Wahlberg doesn't seem to mind. She's had her own show with her husband called Donny Love Jenny that went on for three seasons and she was in the TV series Return of the Mac in 2017, but we're not sure what she's doing with herself these days.
She is still out trying to inform the world about autism and the dangers of vaccinations. "I know children regress after vaccination because it happened to my own son. Why aren't there any tests out there on the safety of how vaccines are administered in the real world, six at a time? Why have only two of the 36 shots our kids receive been looked at for their relationship to autism?"
18

Embraces it: Charlize Theron always impresses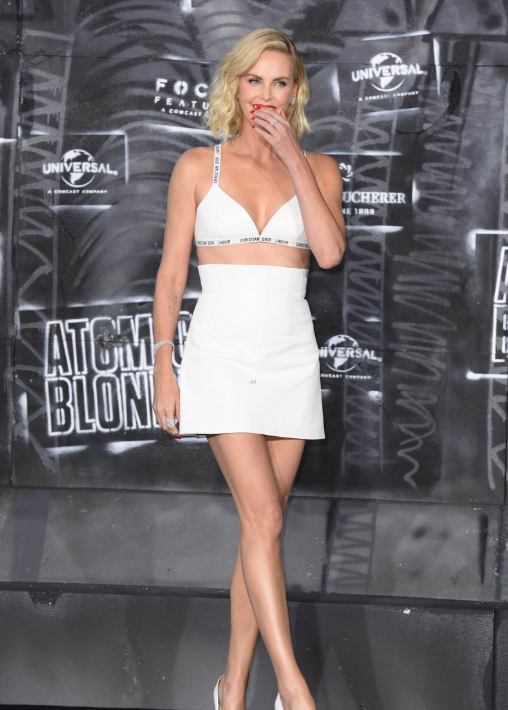 The fact that Charlize Theron can still play badass and powerful women in movies like Snow White and the Huntsman, Mad Max: Fury Road, Atomic Blonde, and The Fate of the Furious goes to show that she's not letting her age stop her from doing anything. This woman is 42 now and she is still playing great roles with strong female leads. She is still killing it in Hollywood and when it comes to fashion, she is always polished on the red carpet and never dresses inappropriately. She has projects in post-production including a sequel to Atomic Blonde. She is still balancing work and being a mother like so many actresses in Hollywood. She has struggled as a single mother and we don't think it's any easier for someone who is rich and famous.
"You know, I don't think any mother aims to be a single mom. I didn't wish for that, but it happened."
She's still looking for the perfect love. "I learned everything about love, watching Splash. That's why I'm still single, so thanks Tom Hanks and Daryl Hannah for that." She does have a point and there's no reason to settle, especially when you look like Charlize Theron.
17

Dresses Too Young: Kris Jenner Wishes She Was 20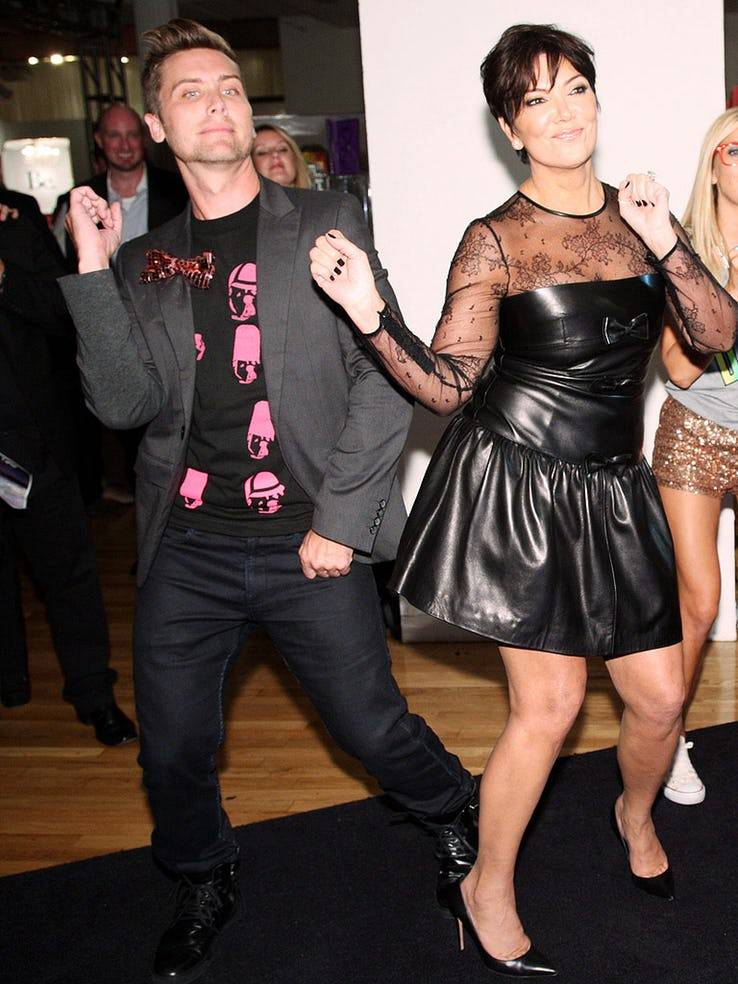 Sometimes, it seems as if Kris Jenner is still trying to be on her daughter's level instead of realizing she's supposed to be their mom. She dates young guys all the time and the way she dresses is definitely borderline too young. We often see Instagram pictures of her bleaching her hair blonde to match Kim and it makes it pretty obvious that she still wishes that she was in her 20s. Really who would she be at this point if she didn't have her kids fame surrounding her? Sure, she is the mastermind behind it all, but now that they are all famous, do they even need her on the show? Keeping Up With the Kardashians is on season 14 now, which is insanity especially since it only holds a 2-star rating on IMDb. She wouldn't trade working with her kids for anything.
"I am living my dream because I get to work with my kids and watch them find their happiness. It's so rewarding — we brainstorm around a conference table and have a really great time doing it."
She also worries about the dangers of the internet which is a little surprising. "I worry about my grandchildren because the Internet can be brutal."
16

Embraces it: Pamela Anderson Looks Polished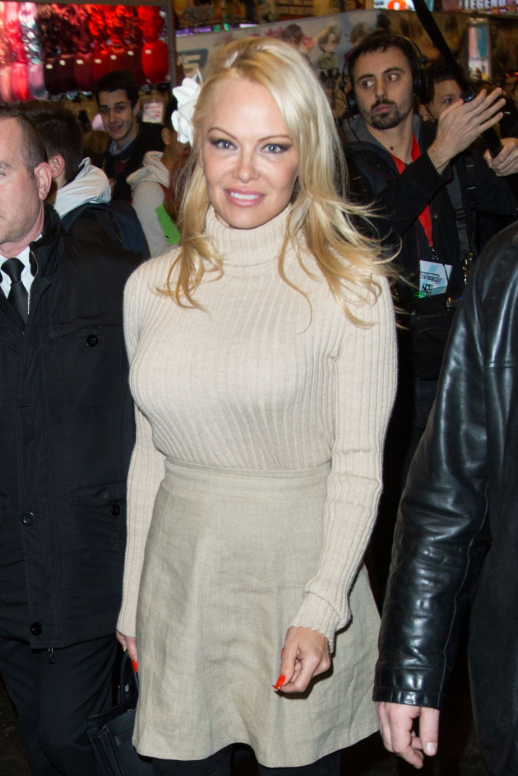 We never thought we would see the day that Pamela Anderson gave up the dark smoky makeup and the skintight leather dresses. We know that she breached into the 50s just last year, but we have to give credit where credit is due. She made a huge fashion turnaround where she is dressing more elegantly and all that greasy makeup is gone. It's actually hard to believe it's her. Without all that heavy makeup she actually looks younger now than she did in her 30s. It's actually remarkable just how amazing she looks with her "makeunder!" If you want to know her secret, it's all about the coconut oil.
"I'm a coconut oil fanatic and I love the coconut from SunLife. They get me all the gooey coconut out of it and I just eat it. I think it's really good for your skin, good for your hair, good for everything, from the inside out,"
she told Harper's Bazaar. "And I just use coconut oil that you buy at the store to cook with, and I leave it in the shower or I soak it when I'm in the bathtub so it melts and I'll use it all just as a moisturizer for my face, my body, my hair, everything. I don't think those really expensive products do anything better than household products." (Excuse me while I run to the grocery store.)
15

Dresses Too Young: Mariah Carey Is Over The Top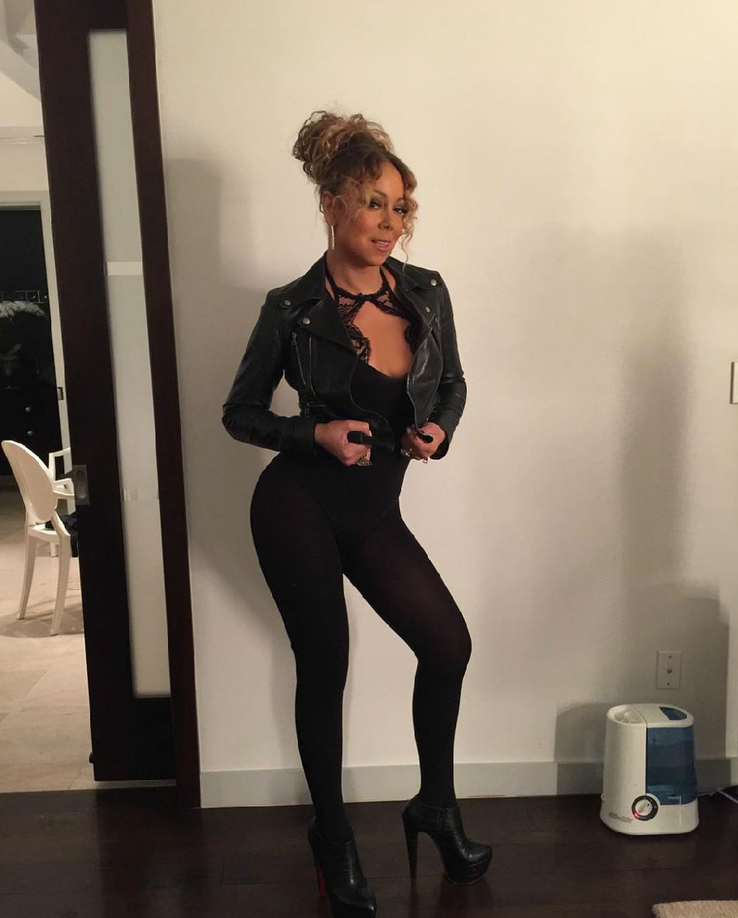 There really is no explanation for Mariah Carey at this point. She's always been over the top with her wardrobe and it hasn't changed even though she is 48 now. She's always had a nice body, she is a woman who embraces her curves, but at 48 she should not be rocking out some of the outfits that she does. She was even caught on an exercise ladder in heels. Carey is beyond wealthy so she basically knows that she can do whatever she wants.
"You really have to look inside yourself and find your own inner strength, and say, 'I'm proud of what I am and who I am, and I'm just going to be myself.'"
She's definitely been an icon in music, we just think that she should forget her 20s already! "Forget the image, forget the ensemble, forget the rumors, forget the short skirts, the big hair, whatever! I owe this to the fans and I will never forget you, so I want to accept this award on behalf of all of you." When it's all said and done Carey isn't apologizing to anyone so we might as well get used to her signature look.
14

Embraces It: Jada Pinkett Smith Is Rocking Her Age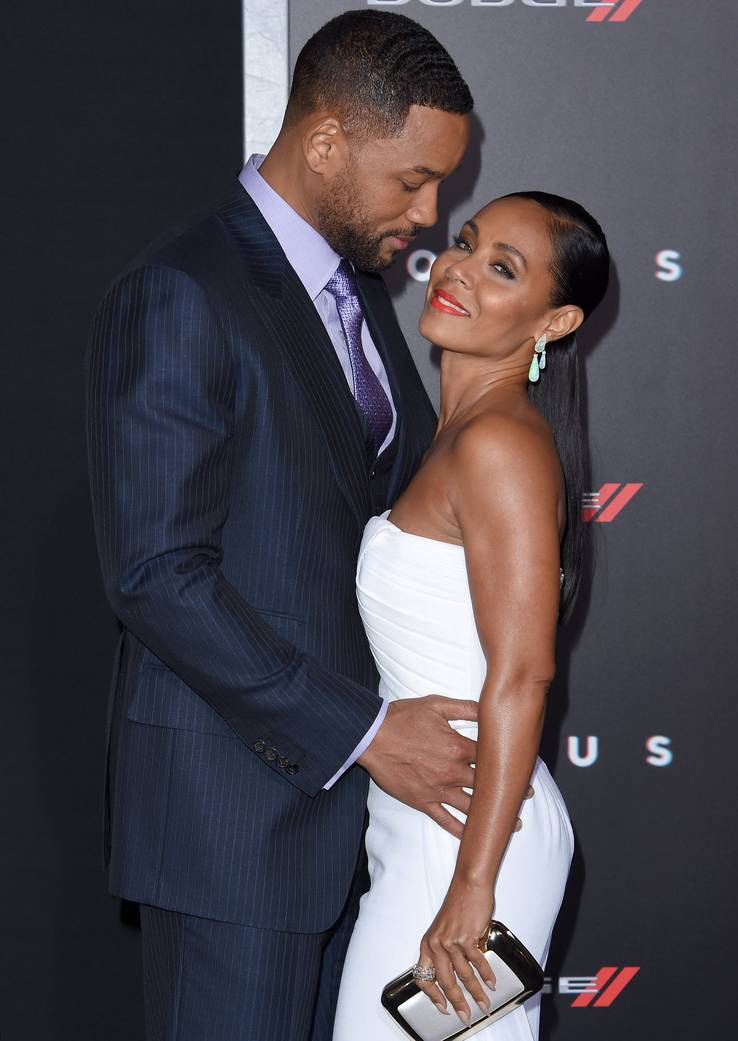 Jada Pinkett Smith has always been a classy lady. She is the wife of Will Smith and an actress in Hollywood. She demands respect and when it comes to her wardrobe choices, she knew when it was time to let go of the crop tops. She knows how to be foxy, but she keeps it classy as well. She's 46 years old now and she's still working in Hollywood. She was on the TV series Gotham for three years up until last year and the movie Girl Trip was released the same year as well. She's definitely been a strong woman to look up to and she wants to help other young girls be the same.
"We have to nurture our young women and understand the beauty and the strength of being a woman. It's kind of a Catch-22: Strength in women isn't appreciated, and vulnerability in women isn't appreciated. It's like, 'What the heck do you do?' What you do is, you don't allow anyone to dictate who you are."
She's the kind of girl that young girls want to grow up to be like. She doesn't take crap from anyone and she knows what she wants.
Featured Today
15 Reasons Why Hollywood And Jeremy Renner Don't Work Together Anymore

20 Bizarre Things About Donald Glover Fans Choose To Ignore (But Shouldn't)

15 Actors Who Would Have Been A Much Better Choice For Deadpool

13

Dresses Too Young: Coco Austin doesn't let age define her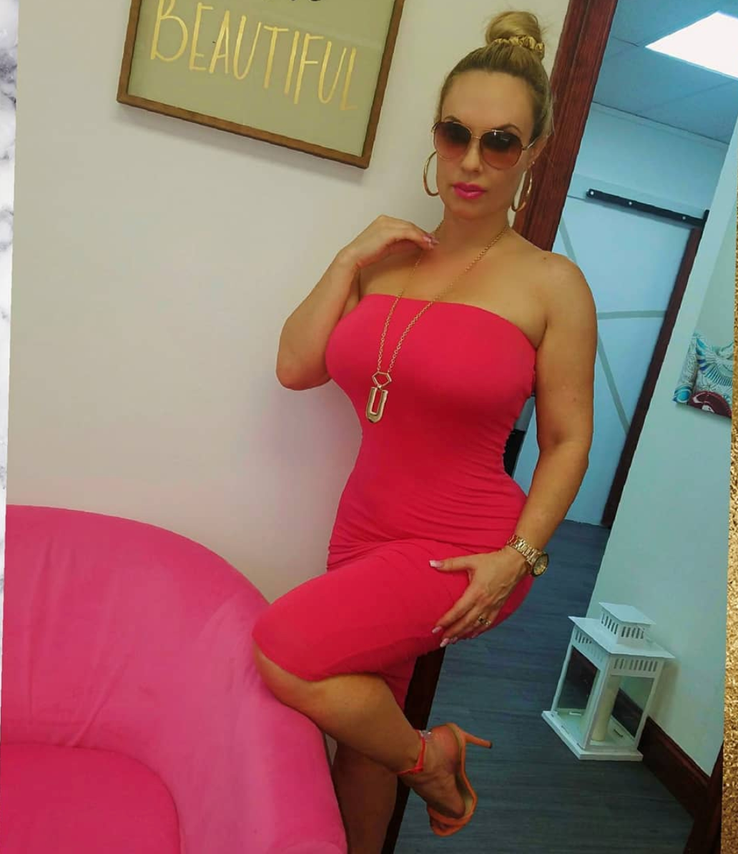 Coco Austin is one year away from her 40th birthday and she may want to start rethinking her wardrobe choices. She's going on the same lines as Pamela Anderson did with the tight dresses that show off her massive bust and a ton of makeup. She's married with a little girl now and she may want to give a better example for her daughter as she gets older. These days she is definitely dressing too young. She's a TV reality star and socialite who is married to Ice T. She loves fashion and matching her outfits with her daughter, but she is also the queen of dressing too young for her age. We are often caught off guard by the thongs that she shows off her booty with and the skintight dresses which make us wonder how she is able to breathe at all.
"I believe every woman's body is beautiful in its own way. I have never understood that just because a woman has thick thighs, she is considered fat. For so long, I've been around in the modelling world and have tried to break that barrier.
But I think now it's turning around."
12

Embraces It: Jennifer Aniston Is A Class Act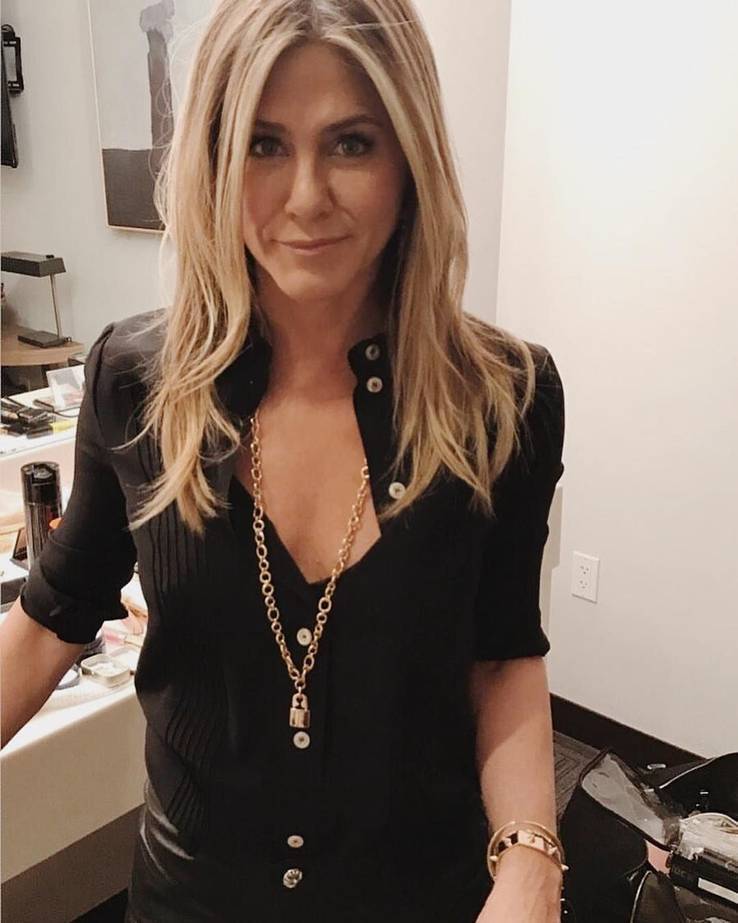 Jennifer Aniston always looks polished and put together. Anytime she is on the red carpet we see her in elegant gowns. But she still likes to show off her legs so she will often pull out a slit in her dress. She can never seem to do wrong in the fashion world and considering she's 49 now it is shocking that she still looks like she's in her 30s. She always has a new movie coming out and her most recent ones include Storks, Office Christmas Party, The Yellow Birds and Mother's Day. She has three movies and a TV series that she's working on with Reese Witherspoon in the works, so it doesn't look like she's slowing down anytime soon. She's embracing life as a single girl and spending time with friends.
"Where would you be without friends? The people to pick you up when you need lifting? We come from homes far from perfect, so you end up almost parent and sibling to your friends — your own chosen family. There's nothing like a really loyal, dependable, good friend. Nothing."
She's definitely never looked better and it seems that she is doing well despite the breakup.
11

Dresses Too Young: Jennifer Lopez can pull off anything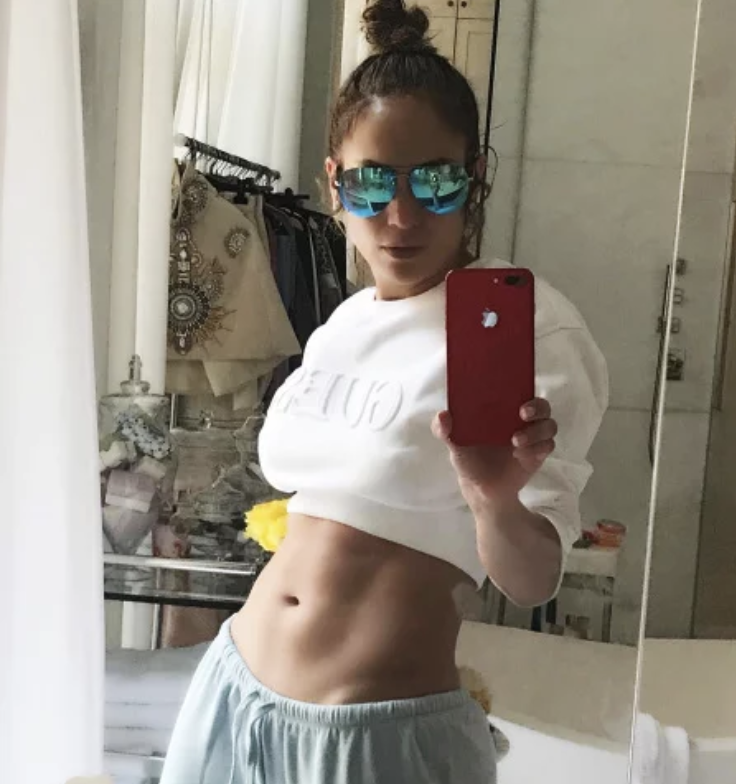 This woman is amazing because if the career that she has built for herself, not to mention she looks incredible for her age. But she's definitely one celebrity that dresses too young for her age. She is 48 now and she still dresses like she's hitting up the club, mainly because that's exactly what she's still doing. Some of her Instagram pictures are shockingly scandalous for a woman who is about to breach her 50s. But we can't blame her when she still has the kind of body that she has.
"I seriously feel like the best days are ahead, and I like the idea of getting to do everything I did before but with more knowledge, experience, and street smarts. There's a certain love, appreciation, and gratitude that you have at 40 that you don't have when you're younger, and it makes every accomplishment feel so much better."
She seems to be embracing her age in the best way possible. "There's no way in the world that just because women turn the number 40, they're anything less than amazing. That's crazy. If anything, you're even more amazing!" She couldn't be more right and no one should have to fear aging especially when it comes to their career.
10

Embraces it: Eva Mendes Has A Classic Look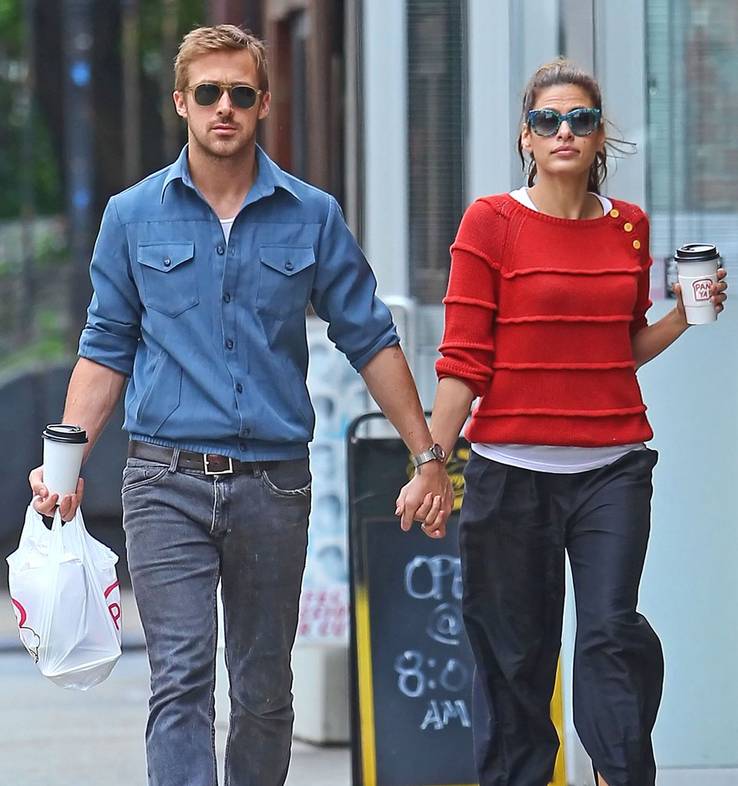 Eva Mendes has definitely given up on her bombshell days and these days she looks nothing less than polished on the red carpet. We don't see a lot of her on the red carpet these days but when she's keeping it casual. But she stays age appropriate with whatever she wears. She is often seen walking the streets with Ryan Gosling and she pairs jeans with a foxy top. The one thing that is important to Mendes is the idea that she should always take care of herself.
"I'm a modern woman in the sense of I take care of myself, I'm fiercely independent, and I'm really ambitious. Yet I have these old-school thoughts in my mind."
She's definitely a woman that doesn't want to be defined by her age or the way that she looks. "I'm definitely responsible for the image that I put out there. But it does become frustrating because I don't want 'sexy' to be my defining characteristic. I'd love for my ambition and will and intellect and sense of humor to define me as well." We're not sure if we will see any more of Mendes in Hollywood she seems to have disappeared for the time being.
9

Dresses Too Young: Kate Beckinsale looks like her daughter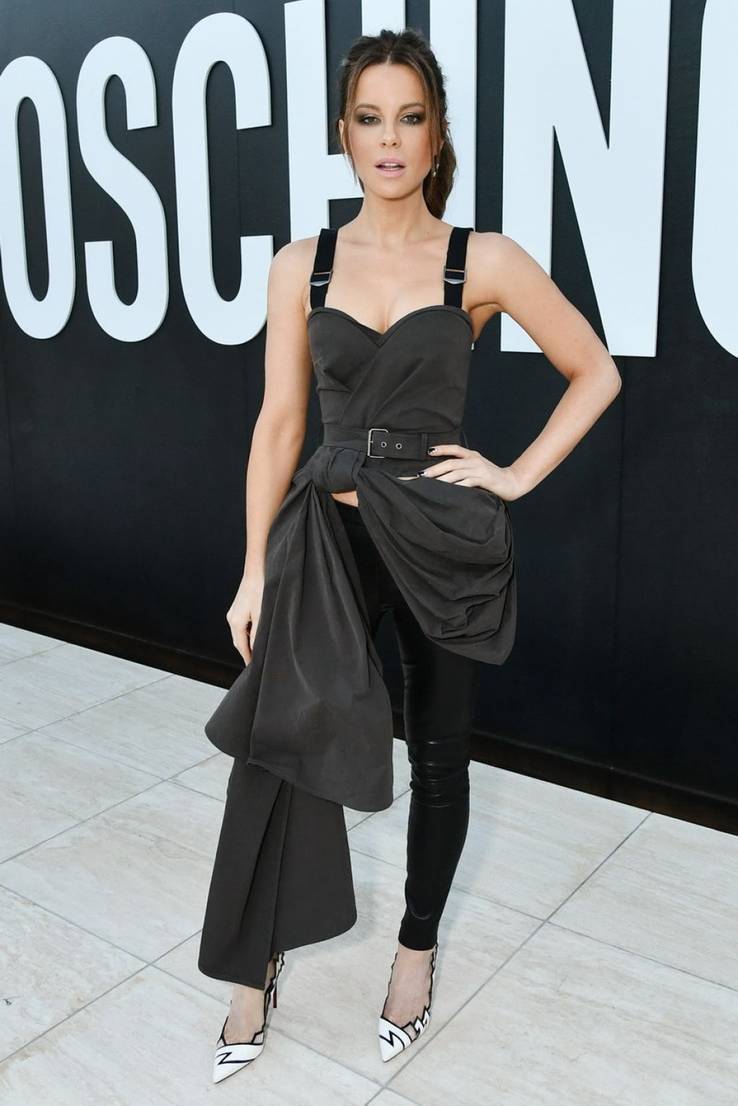 We love Kate Beckinsale and we appreciate the fact that she looks incredible for 44. She is a girl that generally dresses insanely foxy, we can't really blame her, she is a smoke show and doesn't seem to age. But she also has a teenage daughter and at times it's hard to tell their wardrobe apart. This year she is hitting up TV with the series The Widow. It's currently in pre-production, but she has started to film, so that's exciting. Beckinsale is the kind of woman that likes to dress up but not for very long.
"I can't tell you how many times I've gone to present at the Golden Globes, come home, whipped the dress off and read to my daughter wearing gazillion-dollar earrings. That's how it goes in my house, and I wouldn't have it any other way."
She credits her ageless face to taking vitamins and not drinking. "I try and take lots of vitamins and I don't drink. I do smoke, though, I'd be insufferable if I didn't smoke, you'd have to push me off a balcony I'd be so boring." We're not sure how she looks that way as a smoker, but she must be doing something right.
8

Embraces it: Jennifer Garner Is Super Classy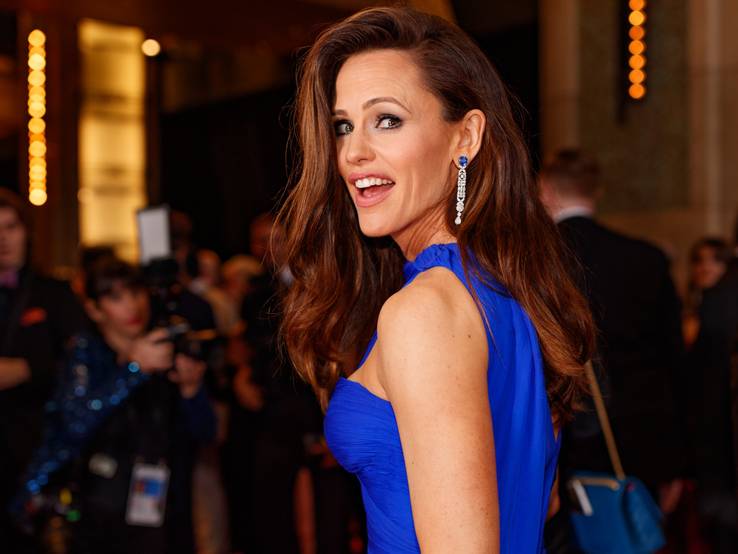 Jennifer Garner is definitely a favorite in Hollywood and she's never looked better since her breakup with Ben Affleck. She is 46 these days and she's juggling working and her family which isn't easy for anyone. Garner is currently filming the TV series Camping to be released in 2019. She has said that her ageless beauty is the result of staying out of the sun.
"The one thing I really lucked out on is that all through my teenage years, when my sister was a lifeguard and everyone I knew was out in the sun all day — I was in the theater. Everyone called me Casper because I never had a tan, and everyone else was tan all the time. I think that was the luckiest thing of my life."
She said that she has had more skin issues since she had her babies and not before. "I've had more acne as an adult than I had as a teenager. After weaning babies, my skin's gone totally bonkers. I didn't even know about dermatologists until I had weaned my first baby, and my skin was so damaged. It was just beyond. And then, I realized, there's a whole doctor who can help you with this."
7

Dresses Too Young: Gwen Stefani Is Bold
Gwen Stefani has always gone to the beat of her own drum when it comes to her fashion choices. Not only does she have her own line but she has no problem dressing like a young girl any time that she wants. We see it when she's on stage and when she's on The Voice. When it comes to Gwen, she loves fashion and makeup and it's part of how she represents herself.
"If I wasn't even famous or had any success, I would still wake up and put tons of make-up on, and put on a cool outfit. That's always been who I've been my whole life, so that's never going to change. I love fashion. I love getting dressed up. I love Halloween, too."
She keeps her body fit so that she could wear cute clothes. "I try not to be but I'm super-neurotic about diet. I'm neurotic about trying not to be neurotic! I'm like every other girl. I have to try really hard my whole life to try to be fit. And I'm super vain. And I want to wear cute clothes." She is one woman that doesn't worry about how old she is, she just wears whatever she wants to.
6

Embraces it: Reese Witherspoon Has Southern Values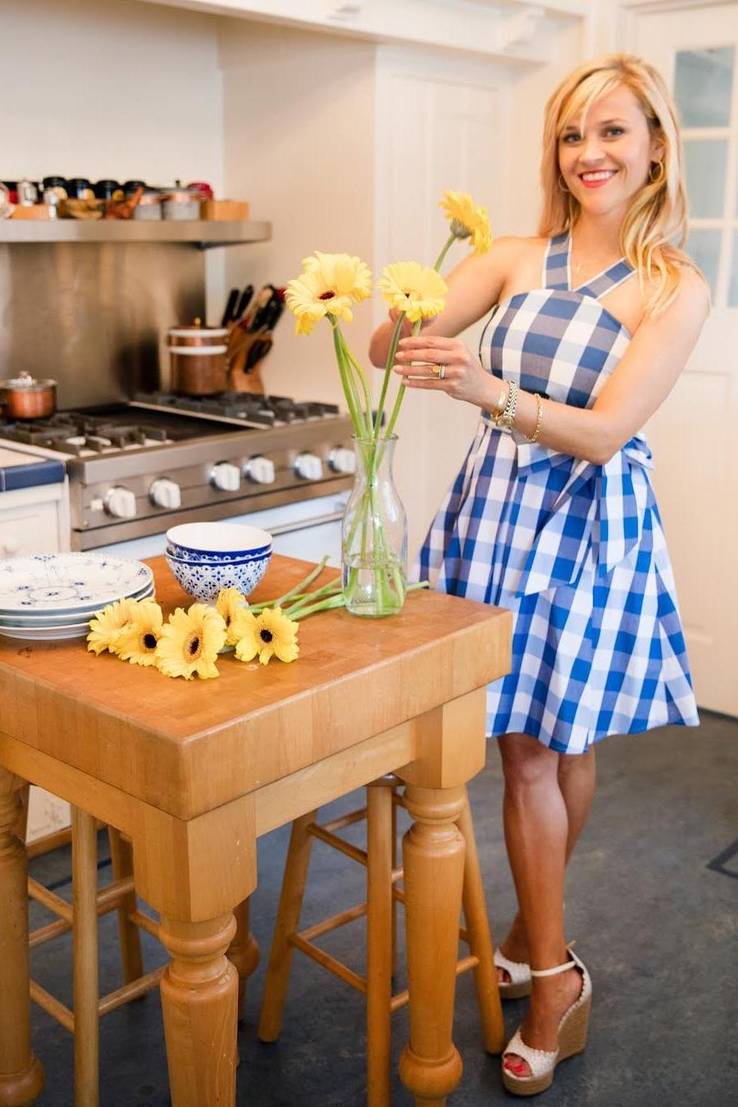 You would be hard-pressed to find any scandalous photos of Reese Witherspoon. She is a classy woman who has Southern values. She is often seen in dresses, but they are all about class. She is one actress that definitely dresses appropriately for her age. She also has her own clothing line called Draper James which has cool clothing that is polished with her Southern charm. She doesn't miss the irony when it comes to winning an Oscar. It's all about what you wear.
"It's funny that it all becomes about clothes. It's bizarre. You work your butt off and then you win an award and it's all about your dress. You can't get away from it."
We're all aware that clothing choices are super popular in Hollywood, everyone wants to be on the best-dressed list. The one thing that we appreciate about Reese is that she believes in herself. "It's funny that it all becomes about clothes. It's bizarre. You work your butt off and then you win an award and it's all about your dress. You can't get away from it."
5

Dresses Too Young: Heidi Klum Is Still A Top Model
Obviously, Heidi Klum knows fashion and it's all part of her lifestyle. But wearing trendy jeans and stuff is more appropriate than wearing one miniskirt dress after another. She looks incredible there's no doubt about it, but she looks like she's still out clubbing with her friends. At 44, she is dressing way too young for her age. Maybe she just doesn't want to give up the days when she was a top model going down the runway. She still takes really good care of herself when it comes to eating healthy and exercising and that's why she looks so good.
"The main thing is healthy eating, exercise, which I do for special events, like if it's Sports Illustrated, or the swimsuit catalogue for Victoria's Secret, or my own calendar that I did for the year 2000."
There's nothing wrong with wanting to stay young and to look like it. But Heidi Klum takes it to another level and sometimes those miniskirts can start to look a little cheap after a while. She has admitted that she is trying to shave off the years, "I'm trying to halve my age."
4

Embraces it: Cate Blanchett Is Iconic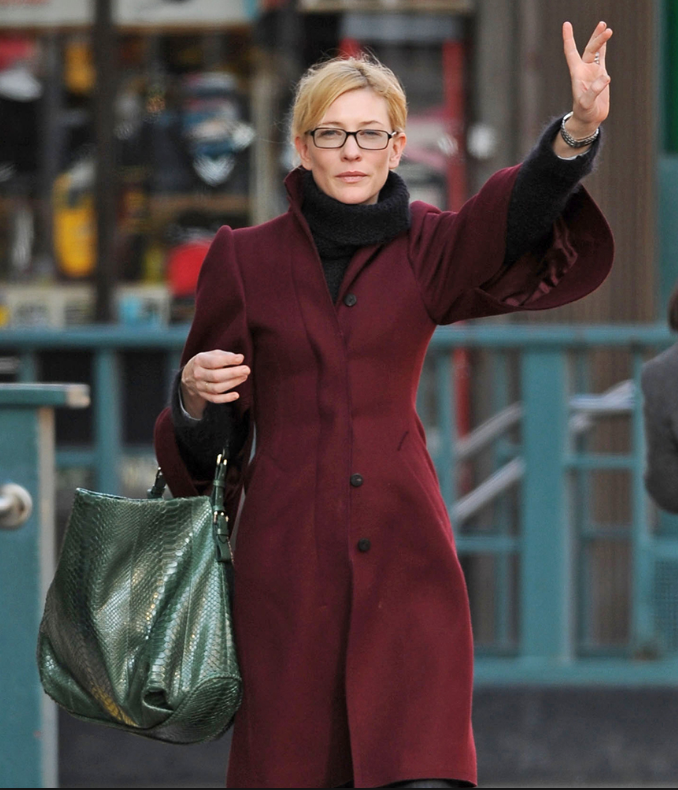 That's just the way that we see her. She truly has a look of royalty, she could be mistaken for it easily because she has natural grace and class about her. She has never been an actress that shows a lot of skin. She has an iconic beauty to her that just stands the test of time. She has had an amazing career in Hollywood and she hasn't slowed down one bit. She is one of the best actresses in the industry and she's certainly not someone who dresses too young for her age. She's 49 now and she has aged gracefully.
"If you age with somebody, you go through so many roles — you're lovers, friends, enemies, colleagues, strangers, you're brother and sister. That's what intimacy is, if you're with your soulmate."
We have to wonder if her classic fashion comes from her childhood. "I always dressed as a man when I was at school. I loved wearing a tie and a shirt, and I was always wearing suits. Annie Lennox was my hero. I was always playing men in high school." It's funny to think of her that way, but she does still wear a lot of pantsuits, so you never know.
3

Dresses Too Young: Tyra Banks Is Living The Top Model Life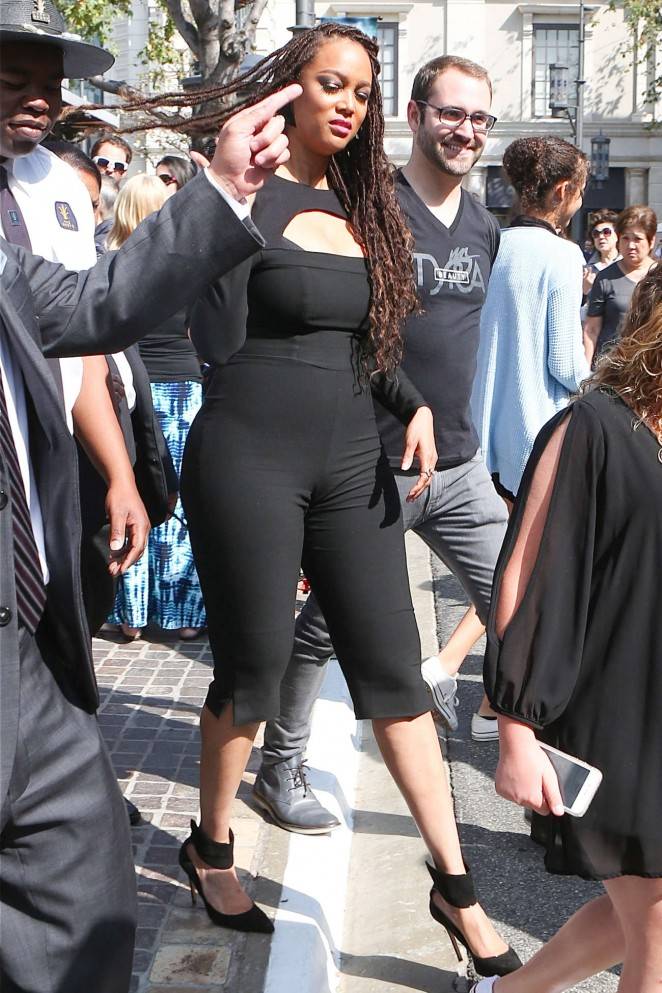 It's true she has her own show and she is still very much in the fashion world. Despite the fact that she is 44 years old, it didn't stop her from wearing a see-through dress to the Black Panther premier in New York. We thought it was a little overdone and she could have pulled off something much classier than the dress that she chose. She's definitely a good role model when it comes to teaching girls to feel beautiful about themselves, but her fashion choices sometimes are just a little suspect.
"It is important for women to feel beautiful when she looks in the mirror, and I tell women, 'If you don't feel beautiful, find one thing that you can look in that mirror and say, 'That is beautiful.'"
She has aged beautifully and still has one of the best smiles in the industry. "Smiles come naturally to me, but I started thinking of them as an art form at my command. I studied all the time. I looked at magazines, I'd practise in front of the mirror and I'd ask photographers about the best angles. I can now pull out a smile at will."
2

Embraces it: Kate Winslet is A Classic Beauty
Kate Winslet is another class act in Hollywood and she's only 42 years old. She has a strong career and we just wish that she and Leonardo DiCaprio would just get together already. They are definitely #friendgoals for sure. She is someone who does not believe in Botox, it's very important to her to age naturally.
"Plastic surgery and breast implants are fine for people who want that, if it makes them feel better about who they are. But, it makes these people, actors especially, fantasy figures for a fantasy world. Acting is about being real being honest."
We have to admit that she always looks great, but she doesn't put a lot of thought into fashion. "I often look at women who wear great jeans and high heels and nice little T-shirts wandering around the city, and I think, 'I should make more of an effort. I should look like that.' But then I think, 'They can't be happy in those heels.'" She couldn't be more right on that front. Heels look fantastic, but they aren't the most comfortable option. We don't think that she does half bad though and at least she's not walking around in a mini dress.
1

Dresses Too Young: Kate Moss is still a party girl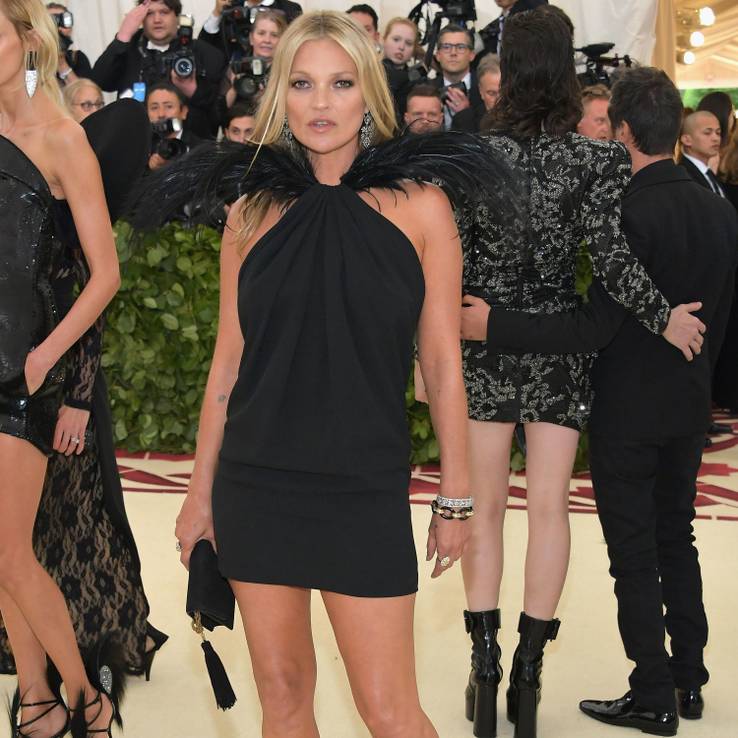 Maybe it's because they are in the fashion industry but models will hang on to their 20s far longer than anyone else will. Kate Moss is one of the most famous supermodels in the world and she certainly had her ups and her downs in the industry. These days she is a bag designer and still very much in the fashion world. She doesn't care the age, she believes as long as you have confidence, you can wear anything. "With confidence, I think anyone can get a dress and make it their own. I don't think you should have it off the runway and wear it like they want you to wear it. You know, with their hair and makeup – they're women. I just think it's boring.
You have to make it your own. That's what fashion is all about."
She has said that she is her most happiest when she is on the runway. "I'm happier on the runway than I am on the red carpet. Because then I am not being myself. I think, on the red carpet, it's a weird, like, 'Who am I? Am I me? Am I them?'"
References: ranker.com, starpulse.com
Source: Read Full Article