With celebrities having to be stoic and glammed-up pretty much 24/7, it's always a treat when we get to see them be goofy. It's even more fun when they're goofing off with each other, whether the stars even know each other or not.  While the "photobomb" – sneaking yourself into someone else's picture – is pretty common, not many people realize just how often celebs do it! It shouldn't really be a surprise though – after all, they get their picture taken constantly. Might as well have fun with it! Here are just ten examples of some of the most notable and hilarious celebrity photobombs.
RELATED: The 15 Funniest Celebrity Paparazzi Fails
10

Kelly Clarkson/Ellen & Portia – 2013 Grammy Awards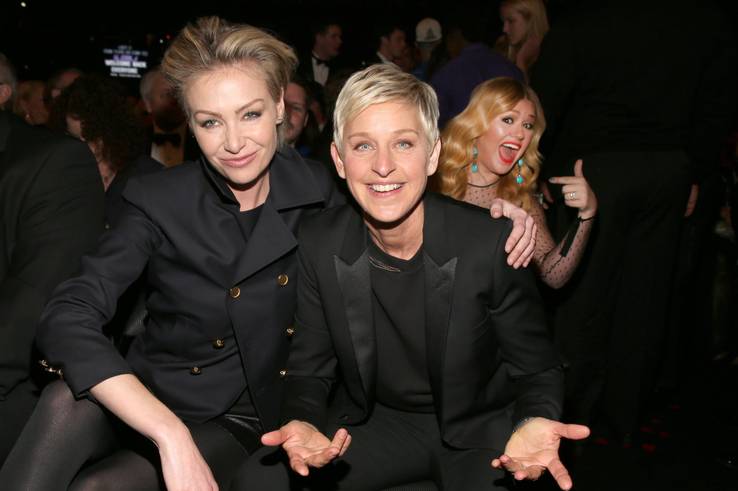 Comedian Ellen Degeneres and actress Portia de Rossi are ultimate couple goals. When singer Kelly Clarkson was seated behind them at the 2013 Grammy Awards, she had a fangirl moment just like anyone would! While Ellen and Portia posed for a sweet photo, Kelly couldn't help but show off that she was sitting behind THE Ellen and Portia! Something tells us that the couple was perfectly fine with her goofy antics. Kelly continued to show off her silliness on stage, where she repeatedly messed up people's names while accepting an award!
9

Susan Sarandon/"Straight Outta Compton" Cast – 2016 Screen Actors Guild Awards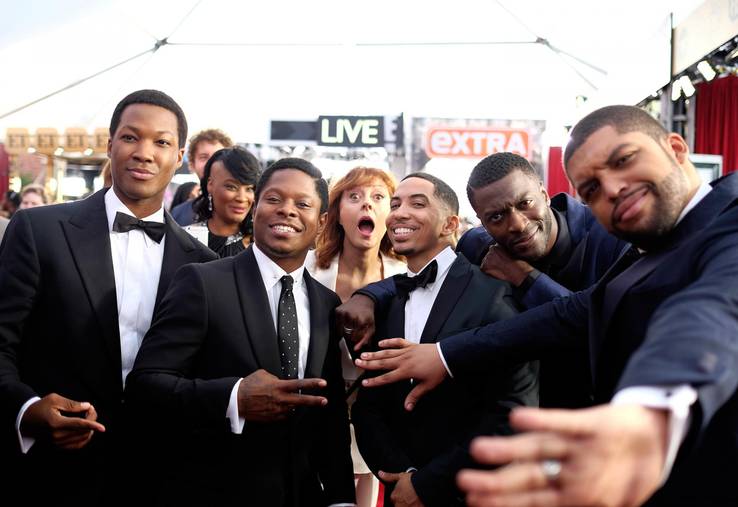 For the 2016 Screen Actors Guild Awards, the cast of the film Straight Outta Compton was nominated for Outstanding Performance by a Cast in a Motion Picture. Veteran actress Susan Sarandon was nominated for Outstanding Performance by a Female Actor in a Television Movie or Miniseries. While they all ended up losing in their categories, they at least came away from the awards show with a new viral photo. Susan seemingly popped into a cast photo on a whim, and no one knows if she had even interacted with the cast prior to this moment!
8

Jared Leto/James W. Skotchdopole – 2015 Vanity Fair Oscar Party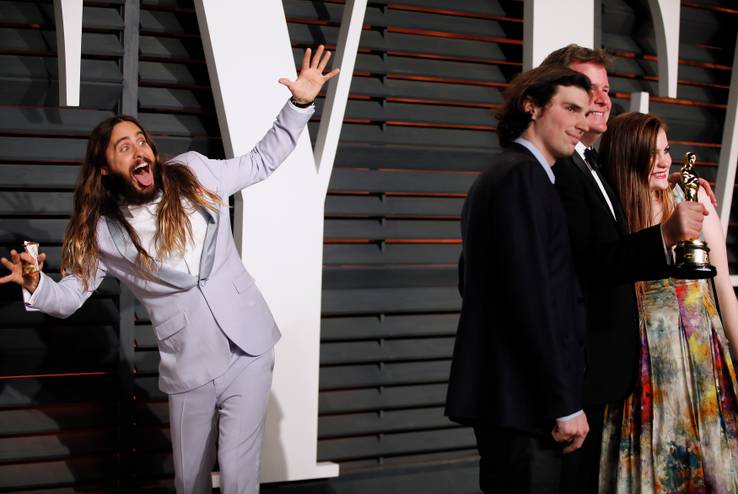 If you pay attention to Jared Leto while he attends award shows or movie premieres, you've probably already noticed the guy has a thing for photobombing. He's done it on numerous occasions to numerous stars. At the 2015 Vanity Fair Oscar Party, photographers actually managed to capture just how out-of-place Jared is in a photo that was intended for producer James W. Skotchdopole and his guests. If there's an artistry to the act of photobombing, Jared has clearly mastered it. Also, take note that this was just one of his multiple photobombs at the same event.
RELATED: 20 Pics Of A-List Celebs Trolling The Paparazzi After Being Caught In Public
7

Rihanna/Full House Cast – Good Morning America 2014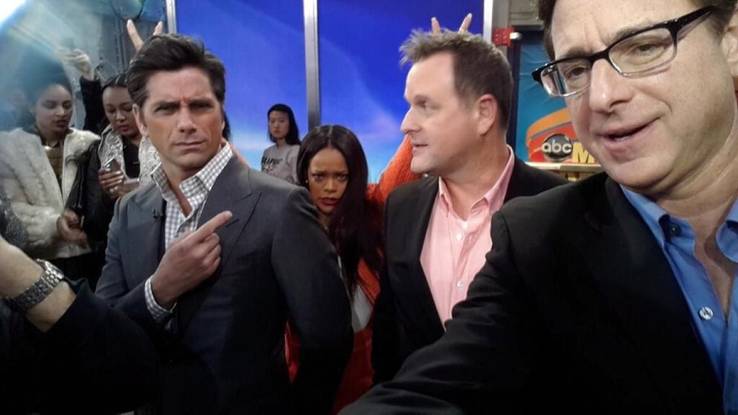 Think of the most random pairing of celebrities. Even then, the coupling of Rihanna with the cast of Full House probably would still not occur to you! Weirdly enough, in 2014 both Rihanna and some of the cast of the 1990's sitcom (Bob Saget, John Stamos, and Dave Coulier to be specific) appeared on the same episode of Good Morning America. And thanks to Good Morning America's Twitter account showing behind-the-scenes snaps, we were gifted this hilarious photo of Rihanna giving bunny ears to Uncle Jesse and Joey Gladstone while a confused Danny Tanner looks on.
6

Benedict Cumberbatch/U2 – 2014 Academy Awards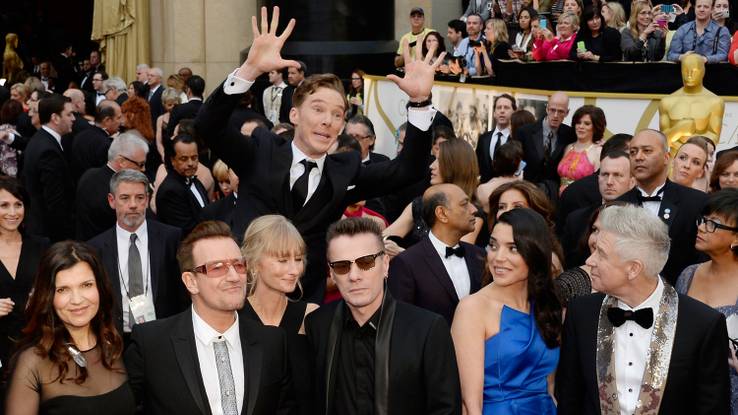 While the legendary band U2 posed for the paparazzi at the 2014 Academy Awards, esteemed British actor Benedict Cumberbatch decided to take a giant leap in the background in hopes of getting in the shot. "Yes, I photobombed U2! But that was all Ellen DeGeneres's fault because she plied everyone with vodka on the red carpet," he said of the situation. "Her team was handing out these miniatures. A friend really wanted me to get a photo with U2. So I just saw the opportunity and I've never felt an impulse like it. I spotted them all standing around and I thought, 'Perfect!' It wasn't preordained or anything. I just did it."
5

Jack Black & Dustin Hoffman/Angelina Jolie – 2008 Cannes Film Festival
Jack Black, Dustin Hoffman, and Angelina Jolie may seem like a random grouping of actors, but they actually all starred in the animated movies Kung Fu Panda and Kung Fu Panda 2. At the 2008 Cannes Film Festival, Jack and Dustin were goofing off for the cameras and making Angelina laugh all the while. Even when the gorgeous star thought she was posing for a serious photo of her by herself, Jack and Dustin managed to make their way into the picture. Angelina was pregnant with her twins at the time, so there are also a lot of sweet photos of Jack and Dustin showing off her pregnant belly.
RELATED: 15 Unflattering Photos Of Celebs That We Will Never Forget
4

Seth Green/ Tim Gunn – 2014 Emmy Awards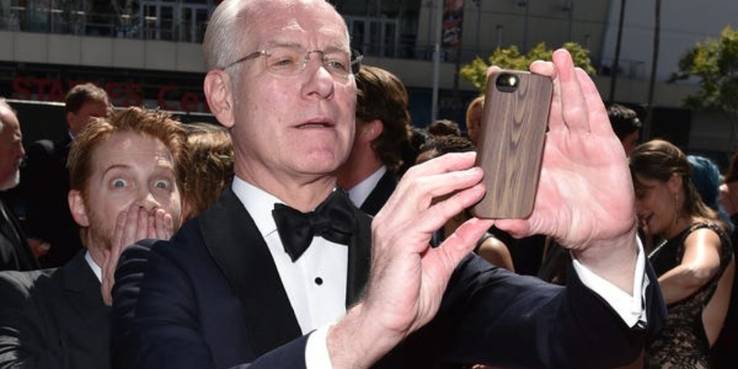 This photobomb is especially funny because there is no evidence that these two very different celebs have ever interacted with each other — ever. While Seth Green is an actor known for his comedic chops, Tim Gunn is a guru in the fashion world, rising to fame as a mentor for contestants on the reality television show Project Runway. Do the two even know each other? Perhaps not. But if this photobomb is anything to go by, it appears that Seth is at least a fan of the fashionista! Either that or he just took advantage of a funny opportunity.
3

Johnny Knoxville/ Jessica Alba – 2014 MTV Movie Awards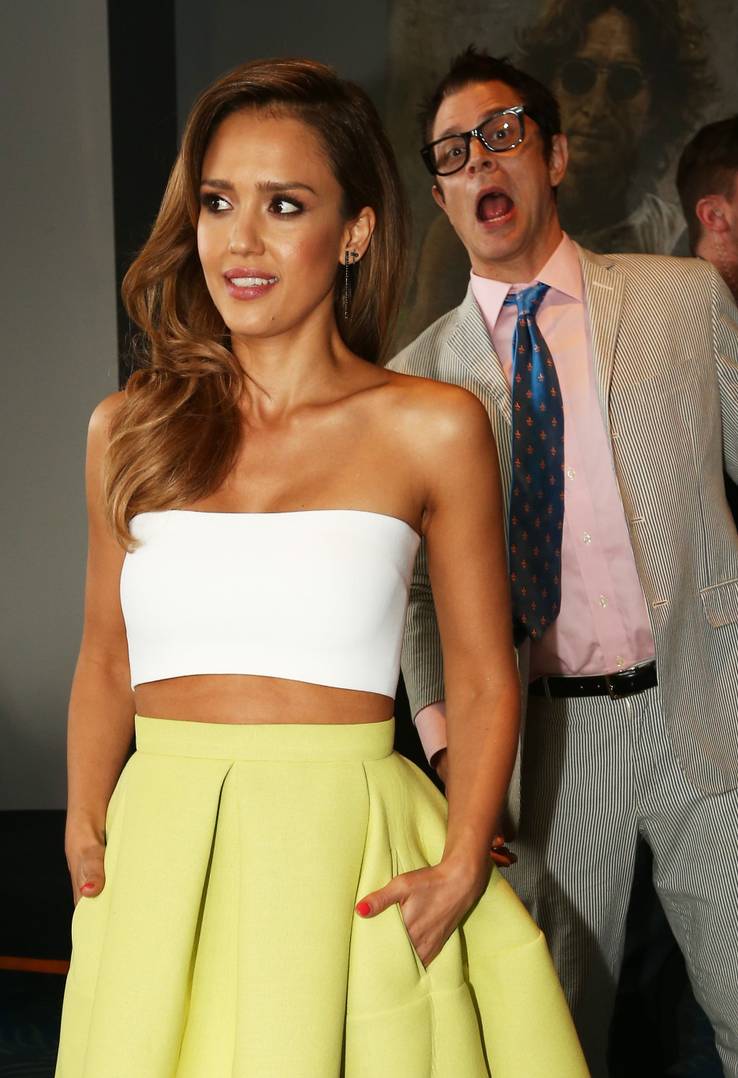 If there's anyone who can shift focus from the stunning actress Jessica Alba, it's daredevil Jackass star Johnny Knoxville. Jessica was said to take the silly photobomb at the 2014 MTV Movie Awards in stride. Funnily enough, Jessica was there that night to present Zac Efron the "Best Shirtless Performance" award for his work in the movie The Awkward Moment. Awkward indeed! Luckily for Johnny, Jessica has a sense of humor. In subsequent photos, she pretended to frown and scold him but was clearly giggling in others.
2

Zach Braff/Newlywed Couple – New York City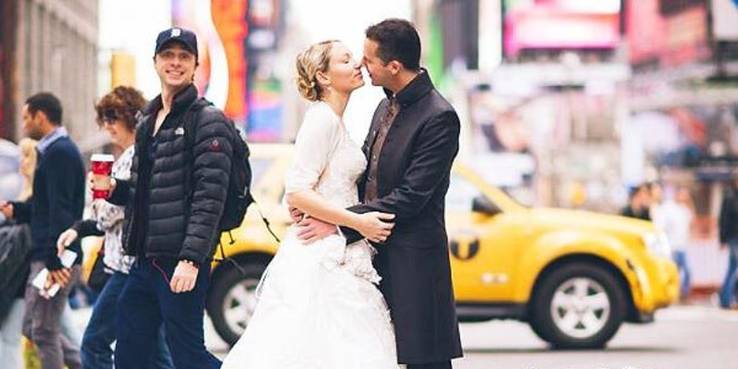 If there's anything funnier than celebrities photobombing other celebrities, it's celebs photobombing normal civilians who just happened to be in the right place at the right time. When a German couple got married in New York City, they decided to take their wedding pictures in Times Square. Among all the hustle and bustle of the city, actor Zach Braff managed to stand out from the crowd and pose for a photo. What are the odds? Neither the couple or the photographer noticed until looking back at the pictures! Zach later confirmed via Twitter that it was indeed him.
1

Amy Schumer/Engaged Couple – New Orleans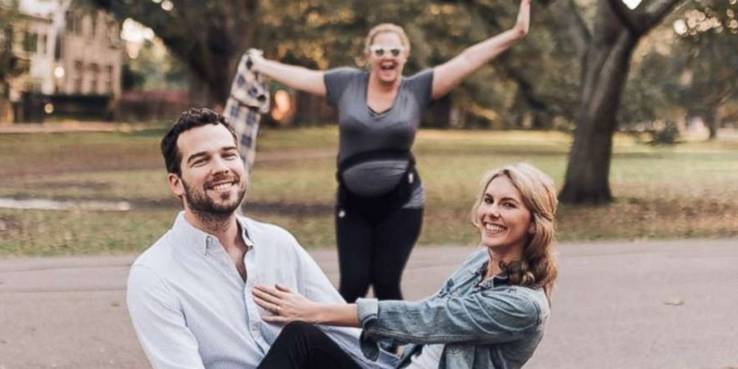 Amy Schumer loves photobombing, having crashed three photoshoots in the past! Her latest instance was in February 2019, when she walked past an engagement shoot in New Orleans. Technically it might not be a real photobomb, as they usually occur with at least one party unaware of the prank. Amy, on the other hand, straight-up asked the couple "Can I photobomb?" before jumping into a picture. The couple agreed and, funnily enough, didn't even recognize who the comedian was! Amy's adorable puppy Tati also got to make an appearance in the engagement shoot.
NEXT: 15 Of The Creepiest Ghost Photobombs Of All Time
Source: Read Full Article