We are still reeling from the breakup between Chris Pratt and Anna Faris. It's still hard to believe that they broke up. Faris these days is dating another man and we are super surprised that Pratt has not started seeing anyone, not even Jennifer Lawrence. He has been incredibly busy these days with Avengers: Infinity War and Jurassic World: Fallen Kingdom. After that, he had two huge press tours to complete for the movies. Currently, he is on the press tour for the new Jurassic World movie. He's been a busy guy, there's no doubt about that.
But he's also mentioned how his divorce has sucked so is there a chance that he misses Anna Faris and wished that he didn't get divorced. He has a child that he shares with her, so being apart from his son can't be easy. Anna Faris has talked about the divorce and she hates that it's something that people talk about. "I think that it's a lesson learned in keeping relationships a little more private, potentially, even though I pride myself in being a pretty open person. But, I don't know, it's tough when you're under the scrutiny." So, what has Pratt been up to since the breakup? Is he enjoying the single life or does he miss his ex-wife? Check out these 10 photos of Chris Pratt enjoying the single life and 5 he misses Anna Farris.
15

Living It Up: Some Alone Time To Fish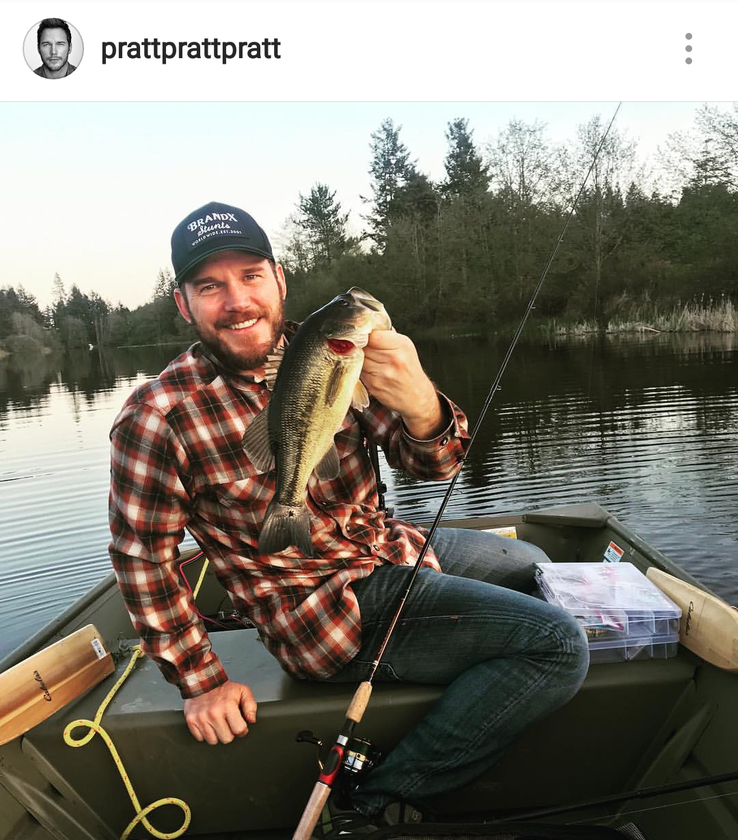 Let's at least hope that he's not using this photo on his Tinder profile because statistically, it's the top photo that a girl is sure to swipe left on. We don't want to see your fish! With the kind of schedule that he has it must be such a relief for him to get out and enjoy some fishing with friends. It's one of the most relaxing things that guys can do. Moments like this is something that he likes to do with his young son as well. He took some time off after making Avengers: Infinity War and captioned this photo with,
"Feeling grateful today! Not just from reading many positive reviews of #AvengersInfinityWar, which is cool, thank you, but also because I'm going after my favorite fish, the largemouth bass."
He doesn't seem to mind living the single life these days, in fact, he's always fooling around doing something on his Instagram page. He's come a long way in his life. He started out with living out of a van and now he's one of the top A-list celebrities in Hollywood right now. The only thing he's lost from it all is his marriage.
14

Living It Up: Having A Moment With His Fans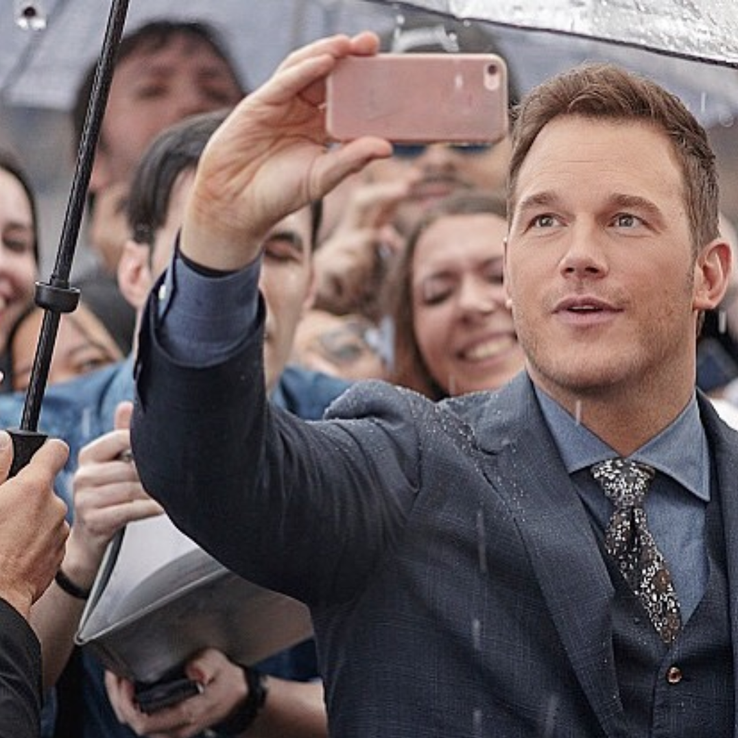 It's pretty clear that Chris Pratt is on top of the world right now and is enjoying every minute of it. We can't blame him either, he is having huge success in his career right now. He was in Madrid for the press tour of Jurassic World: Fallen Kingdom and he looks like he is having a great time. He captioned the photo,
"Right as we arrived to the red carpet a torrential rain/hail storm exploded from the sky. Everyone got soaked! And they still stayed! I'm so grateful. Sorry to anyone I didn't get to take a picture with. I tried to get as many people as possible. It meant the world to us you stayed in the rain to meet us. Lots of love forever!
I'll never forget you #Madrid #JurassicWorld." He loves his fans and he is just as dedicated to being there for his fans as they are to stand in the rain to see him. "My first in, my first break, was I met a director and got to talking with her, and she happened to be casting this movie that she had written. That was ten years ago. That got me to Hollywood. I got paid $700 bucks."
13

Misses Faris: Doing Tours Alone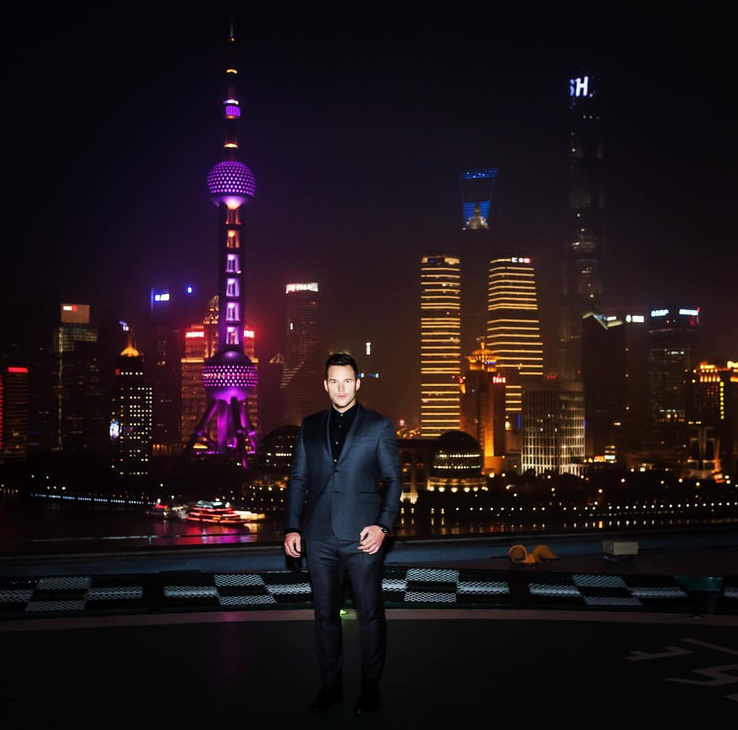 We have seen a lot of press photos like this one where Pratt is enjoying the sights of the cities that he visits, but there is never anyone by his side when he's doing them. It might be causing him to miss his ex especially since he sees her often when he goes to see his son. He had his first interview about Anna Faris post-split recently when he spoke with Entertainment Weekly.
"Divorce sucks, but at the end of the day, we've got a great kid who's got two parents who love him very much. And we're finding a way to navigate this while still remaining friends and still being kind to one another. It's not ideal, but yeah, I think both of us are actually probably doing better."
It doesn't appear that the two are going to be getting back together especially since Faris is dating someon,e but she too has stated that the goal is to remain friends. "What Chris and I try to do is to communicate openly. We reiterate that there aren't rules to this. We have a lot of love and friendship, and our big goal is to protect [our son] Jack."
12

Living It Up: He's Found A Healthy Habit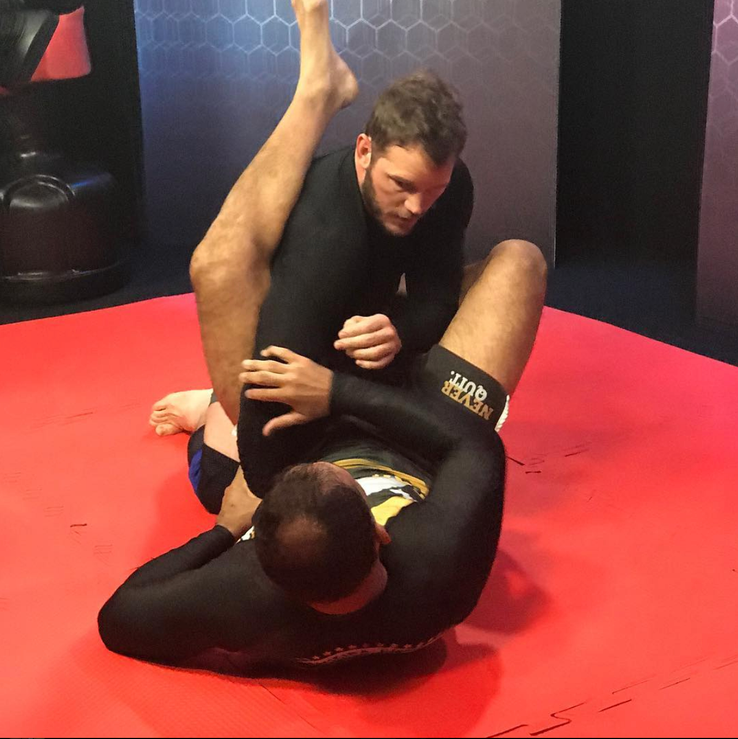 If you have seen any of Chris Pratt's #What'SMySnack videos on Instagram, you will understand that this poor guy is always on a diet. That's how he managed to get in shape. Although, he does post videos of him eating unhealthy snacks, which he doesn't seem too concerned with considering he work it off in the gym and on the matt. He's taken up martial arts and went to Sao, Paulo to train with some training with the Nogueira brothers.
The diet life definitely sucks but it's necessary to have a certain type of figure. One thing is for sure this guy is always smiling and that's a good indication that he's enjoying the single life. How could he not be smiling he has an amazing life right now. He likes being active and likes hanging out with his guys. We have to wonder if they rib him over the light beer.
"I was an athlete growing up and I miss that. I miss hanging out with dudes and making raunchy jokes and telling stories, trading details, you know? There's something I really miss about that."
We can't believe he is still single after so long. He's a gorgeous human being, so it's a wonder that he hasn't started dating anyone by now.
11

Living It Up: He's In The Best Shape Of His Life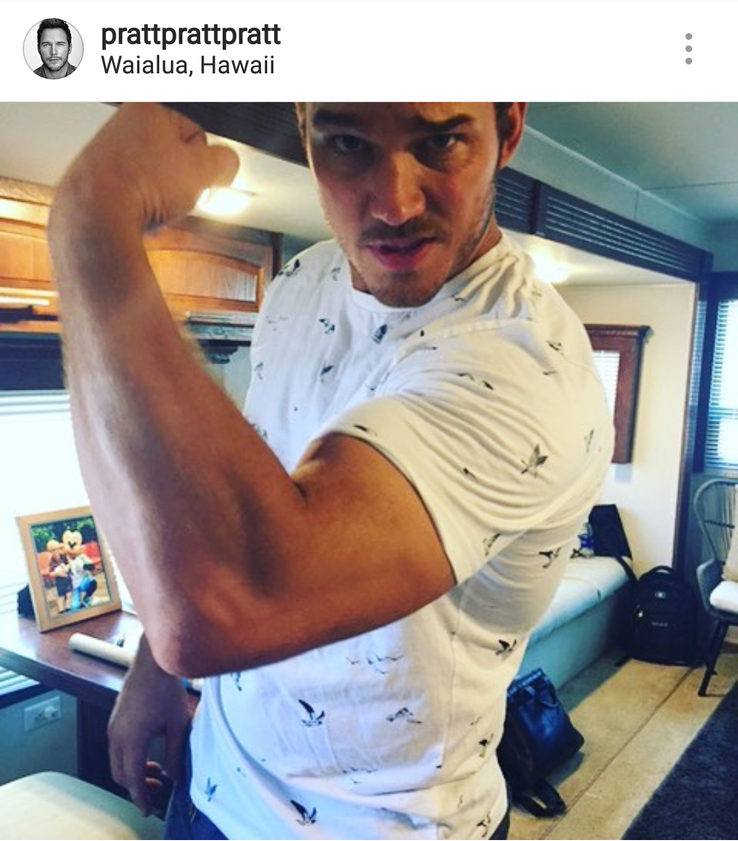 When you're this hot, meeting a new lady should not be difficult. That's going to be one of the best parts of living the single life for Pratt. He's an A-list actor who looks insanely good without a shirt on so he should have the pick of the litter now. We can all appreciate his gun show in this photo and apparently so does The Rock. Pratt captioned this photo with "Thank you to @therock for nominating me for the #flex4forces challenge and introducing me to 'Jack and Sledge Hammer.' The Rock's not the only one who names his guns by the way. Allow me to introduce you to my left arm, Melissa. She's less of a blunt force tool and more of an emotionally supportive friend. Anyways. #flexforforces @theuso now it's my turn to challenge somebody." It's always cool to see how actors interact with each other on Instagram. It's all fun and games until someone throws out their gun show.
10

Misses Faris: Dinners Alone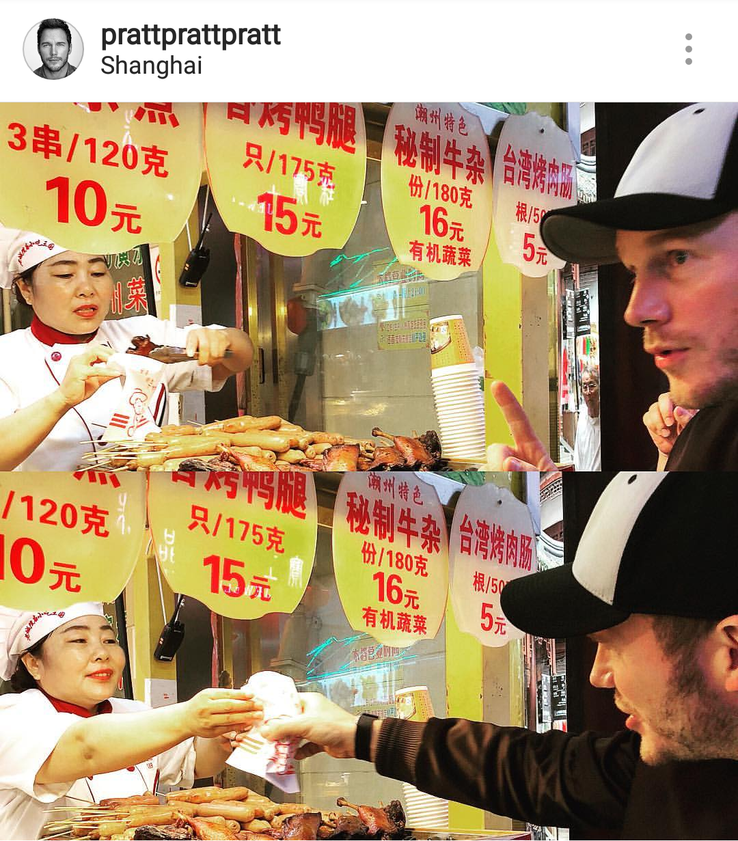 One of the things that you notice the most after a breakup is how one side of the bed is empty and how you now eat your meals alone. It sucks, but it's all part of how things go. We already know that Chris Pratt thinks that divorce sucks. While he was in Shanghai for his press tour, he found himself eating some street food and he may have wished he had some female companionship while he was doing it. He was at the end of the road for the Shanghai tour and this was his last night in the city. He captioned the photo, "Yu Yuan Garden Shanghai. Got to love street food! Flying home tonight. #JurassicWorldFallenKingdom." Pratt may have turned Faris off completely at the idea of marriage and that's the saddest thing ever. She stated recently,
"I need to figure out what the purpose [of marriage] is. Is it safety for your children? Is it convention? Is it so other people respect your relationship more?
For me, I'm just not quite sure where it fits."
9

Living It Up: A Date With A Mystery Woman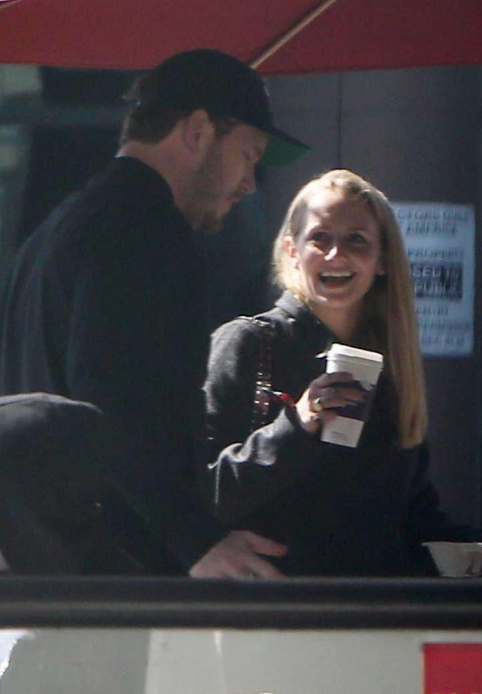 Maybe he isn't missing Faris after all. He's been seen with a mystery woman this year first having a coffee and then in March having a sushi date. Could he have met this girl on Tinder because she's certainly not a Hollywood lady? Where does a famous actor find a regular girl to date? Imagine being a regular girl and you get to go out on a date with a famous actor. It's just something us regular folk think would never happen. He was first spotted with the blonde in LA having coffee. Then he was seen on a Saturday leaving Katsuya with the same woman, so that makes it two dates. Things must be going well. These days things are incredibly busy for Pratt which may be why there was a whole month in between dates and now he's on a press tour for Jurassic World. It can be hard for him to find the time to be dating right now but considering these two have seen each other multiple times, it's likely that he will make the time to see her again. Is he finally moving on from Faris for good?
Featured Today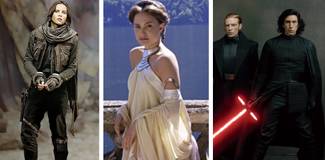 10 Star Wars Actors Perfect For Their Roles (And 10 Who Clearly Are Not)

15 Roles That Meghan Markle Wishes The World Would Forget

10 People Tom Cruise Is Close To (10 Who Can't Be In The Same Room As Him)

8

Living It Up: Hanging out With Friends
He looks like he's having fun hanging out with fans promoting Avengers: Infinity War. He's hanging out with Tom Hiddleston and the two make an eye-catching pair. He captioned the photo: "Hanging on the carpet with the god of mischief himself @twhiddleston heck of a nice guy and great actor." He used to think that Anna Faris was the best thing in his life, so it is saddening to see something so cool die away. He once had this to say about Faris.
"I married way out of my pay grade. I have no idea how that happened."
He started his career off in comedy, but these days he seems to be doing a lot more in the action arena. But he has stated that if he had to, he would go back to comedy. "I primarily have had my career in comedy, and that is something that I have never been too concerned about because I know there is really no room for vanity in comedy. Comedy comes from pain and it is a lot easier to empathize with somebody who is out of shape." We doubt that he's ever going to get out of shape again.
7

Misses Faris: He Heads to Church Alone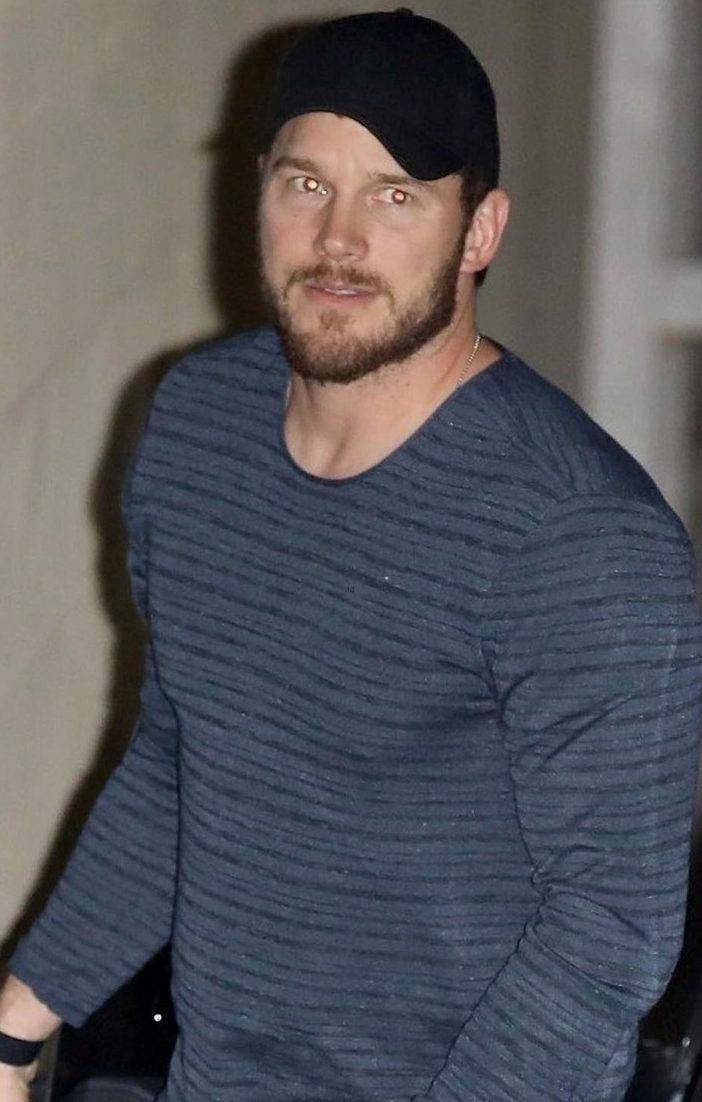 This photo was taken in April of the actor heading into a church with a friend to do some worshipping. It's moments like this that probably make him remember how he used to do these things as a family unit. Many people were concerned for Pratt when he made the "divorce sucks" comment and Faris was quick to say that he wasn't as sad about things as people thought he was. She told Marie Claire that she thought the comment was "more dramatic than it is," she says.
"Chris and I have a great friendship and Jack is so happy and so loved."
Faris has not given up on the idea of romance with someone else. "I do think I'm a romantic because I love the small things in life," she said. "Just like the little pleasures of life that feel like secrets. I still always want to keep that as a part of my life, does that make any sense at all? Maybe. I don't know." We're glad that she hasn't completely given up on love though there was certainly a time when she believed that Pratt was the one.
6

Living It Up: He Loves living On A Farm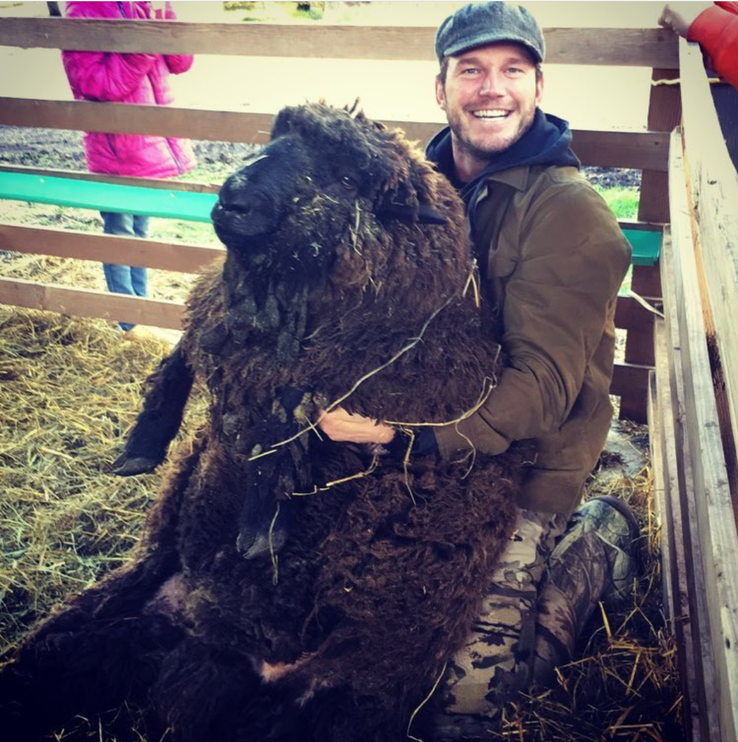 We had no idea that Chris Pratt was all about the farm life. When he talks about missing home, it has more to do with his son and the farm. This hilarious photo was posted on his Instagram page and it's obvious he likes to get down and dirty on the farm. Could Pratt even look happier in this photo? He captioned it, "Meet Prince Rupert. He will kick your butt if you're not careful — straight up. When Rupert is horny and you get in the way, look out! He's a very aggressive ram. The males get that way if they don't become wethers. Prince Rupert will ram the heck out of anyone who gets in his way. Literally RAMS you. Wait! That's where that comes from!? Rams you? Because he's a ram? Get it? Mind blown. I'm learning a lot up here. I wrestled him so we could trim his hooves. Living that #farmlife giving old Prince Rupert a mani-pedi. All good. When you get him on his butt like this and he just chills out and starts to get sleepy. It's the cutest thing. He's so cuddly when he's not trying to wrestle you and smash your knees for stepping up to his ewes."
5

Living It Up: Watching Bellator Fights
Clearly Chris Pratt is a fan of MMA because he went to go check out the Bellator fights and got to meet some of the fighters. He looks just as badass as the fighters do in this photo. He captioned it with, "Thanks @bellatormma for an amazing night. I was honored to meet @michaelvenompage peep the infinity gauntlet! Straight up? This dude is the future. Never seen anything like him before. He moves like Anderson Silva or John Jones and has more swag than Connor McGregor. I've never seen a more mean, dynamic, explosive showman in the ring. He viciously and systematically broke his opponent, a very worthy man by the way. Can not wait to watch him fight again." It's pictures like this that show Pratt as a happy single guy moving on with his life. Faris also seems to be doing the same thing. "We are great and there's so much friendship and love, and we surround Jack with love, and funny, kind, happy people, and as a result, he is really happy." That's the best that two divorced people can do for their child. It seems that Jack is happy and that's all that matters.
4

Misses Faris: It's Only A Party of Two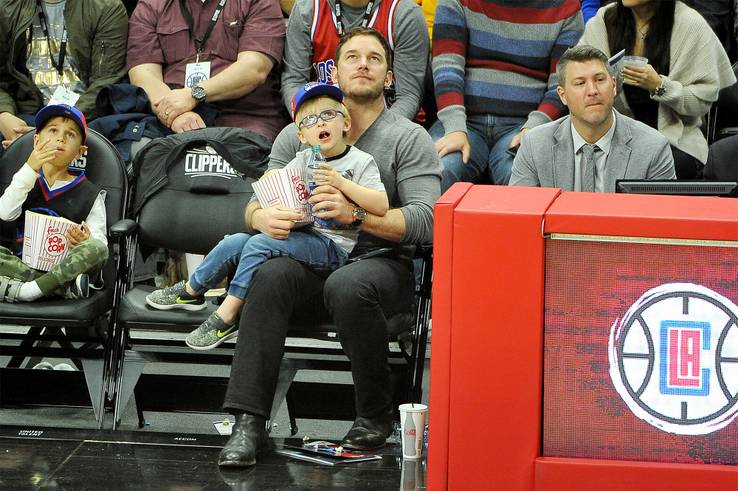 How cute is his son Jack in this photo? Chris Pratt may be there with a friend but how lonesome do these two looks without Anna Faris' mega-watt smile? Faris certainly has a lot of opinions about her marriage breaking up and we can't blame her. "I had a little bit of a childish feeling of 'Oh come on, grow up' — a little bit of anger. But that's not fair either because I cultivated it.
We intentionally cultivated this idea of like, 'Look at this beautiful family.' There were so many moments that were like that but like anything on social media, you don't post [the bad stuff]."
The way she talks about her marriage makes us sad and we wish that the two would have been able to work it out. "We had an unbelievable marriage and we have a great friendship now, we love our son to death. I'm really proud of that." The fact that she calls her marriage unbelievable makes us wonder what went wrong. How do you go from having an "unbelievable marriage" to breaking up completely? Was it him that walked away from it all. They were definitely relationship goals for a long time.
3

Living It Up: He Makes Time For His Fans (Especially The Little Ones)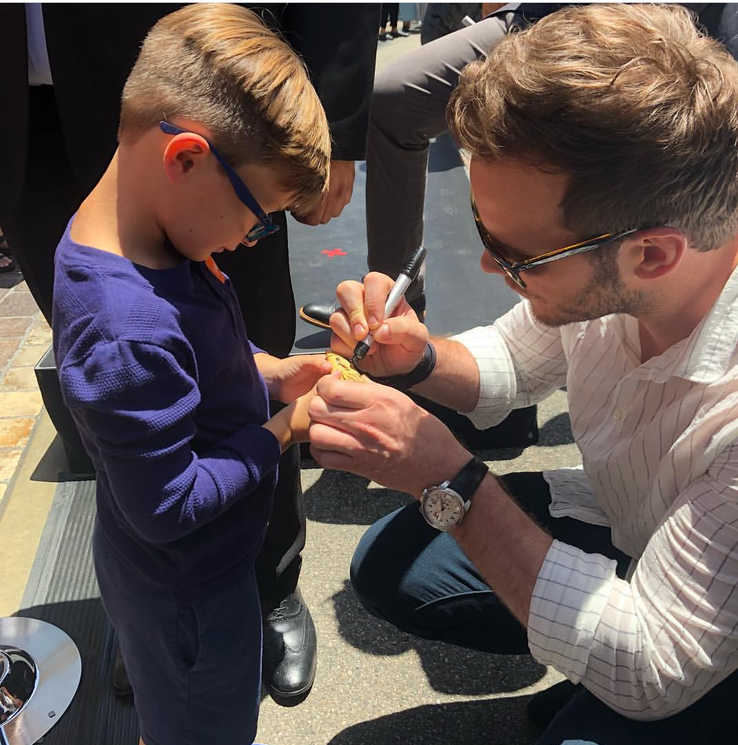 If you follow Chris Pratt's Instagram account, then you know that he has a big heart when it comes to kids. He will sign a million autographs for his little fans and not only that, but he has no problem visiting the Sick Kids hospitals on a regular basis and helping out wherever he can. He captioned this adorable photo with, "Met a ton of awesome folks today while unveiling the T-Rex at the Grove in LA, including this cute kid named Ryder.
To see the look on his face when I signed his dinosaur tooth, that's what it's all about. I remember where I was when I saw #JurassicPark for the first time. It's such an honor to help usher in a new generation of Jurassic fans!"
He's someone who really appreciates how far he has come and never acts like he's better than anyone else. He and Faris are determined to stay friends and she said that he can still make her laugh. "There is still so much laughter in our lives together, and he is so proud of me, still. We watched each other grow, and he still cracks me up all the time. And I think I crack him up — unless he's a really good actor and great at faking laughter."
2

Living It Up: He's Back With Bryce Howard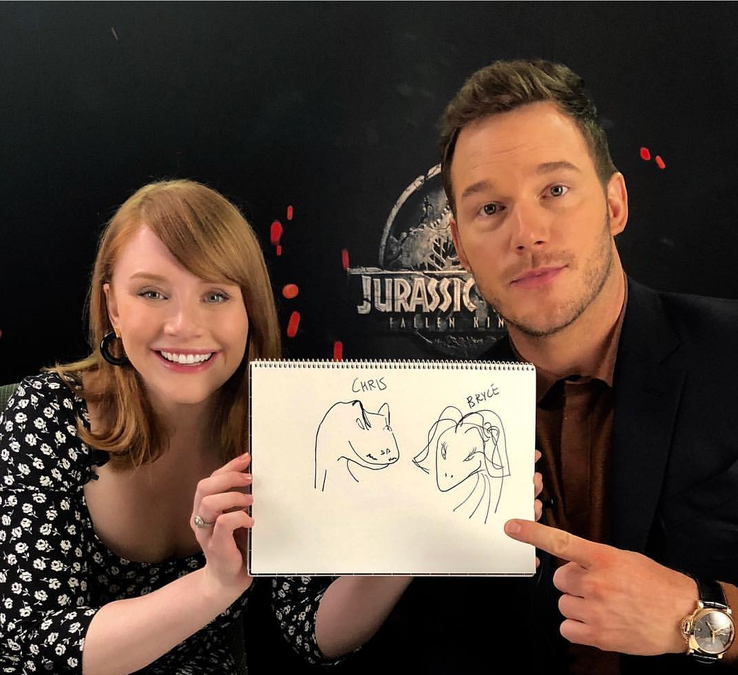 The two just finished making Jurassic World: Fallen Kingdom and now they are doing the press tour for it. As much as we would love these two to get together, Howard is happily married. Judging by Faris' take on the divorce, it's unlikely that we will ever see them back together.
"Life is too short to be in relationships where you feel this isn't fully right or somebody doesn't have your back, or somebody doesn't fully value you. Don't be afraid to feel your independence if things aren't right. I made that mistake, I think, a little bit, like 'I'm checking my relationship off the list' and if that would be the final piece of advice I could give you, that would be to know your worth, know your independence."
Bryce and Chris have been working together for a while now and although there were a lot of rumors, they are just friends. But wouldn't they make an amazing couple? The two recently delivered a huge T-rex top The Grove shopping center which now features a giant dinosaur. What more could you want when you go shopping? "These creatures were here before us, and if we're not careful, they're gonna be here after," he counsels. "Welcome to Jurassic World." Chris said of the film to Entertainment Weekly, "At the end of the day, we're all trying to make something that will be part of the Jurassic empire and tonally match the previous movies, but we're going off in a new direction."
1

Misses Faris: When He's Around His Son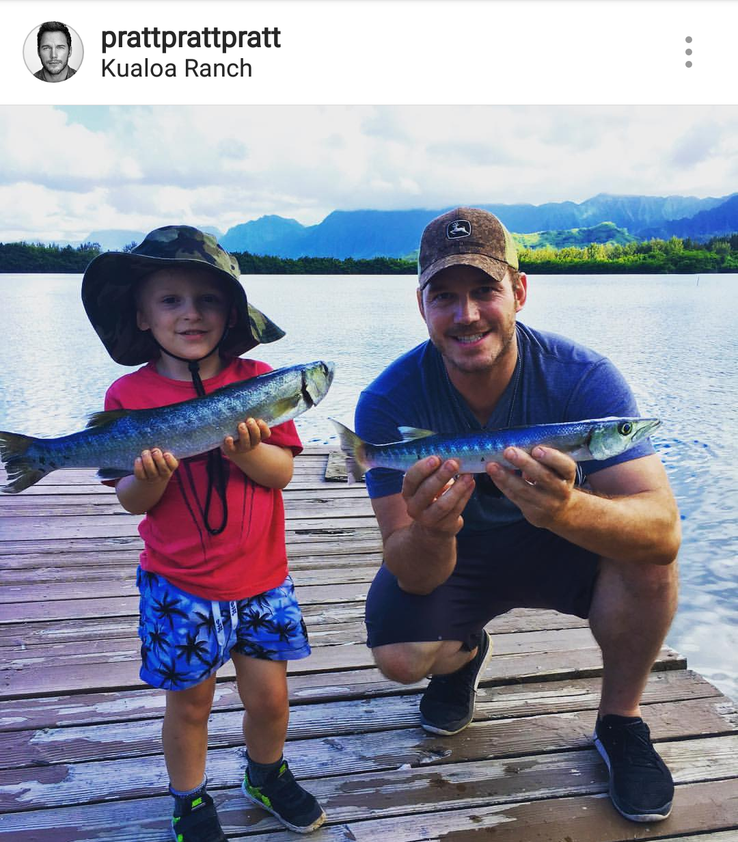 He had such a great relationship with Faris once upon a time and there has to be some aspect of that which he misses. Especially when it comes to spending time with his son. This is a cute photo of him with his son Jack and the two looks like they are having a ball together. He captioned the photo,
"Not sure what made me more proud: When Jack insisted on holding this barracuda himself or when he tried it raw (Barracuda sashimi is amazing by the way)! Four-year-olds will try anything! Get out and fish! No better way to share God's bounty with your babies and make lifelong memories than fishing! Get out on the water!"
He stated how he missed spending time with his son on the farm and how important it was to be grateful for the things that you have. "Living that #FarmLife. Missing home, missing the farm, missing the boy, missing the island," Pratt captioned. "So I'm sharing this video as a way to express my gratitude for all the blessings in my life and to entice any of you watching this who may feel unease or anxiety with the state of our world to just breathe, slow down, go outside, find something not man-made and give it a good look," he added. "A leaf. A bug. A cloud. A sheep."
References: huffingtonpost.ca, laineygossip.com, people.com, people.com, dailymail.co.uk
Source: Read Full Article