Being an actor is a difficult job, despite all the luxuries and comforts of a celebrity life. But what's more difficult are celebrity relationships. There are so many things going on in a star's life that it usually ends up affecting their personal lives as well. Despite all the difficulties, there are celebrity couples who not only worked together in television shows or movies but also ended up together in real life and have amazing— almost perfect— relationships that we all dream of having. But not everyone has it easy, as there are those on-screen couples as well who can't even stand the sight of each other in real life and it happens more often than you might think. Imagine working with the person whose presence can cause frustration for you, it's pretty difficult, right? Quite a few of them include actors from famous movies such as The Notebook where Ryan Gosling and Rachel McAdams shared a lot of time on screen yet they both completely hated each other on the set.
So, we set out to do our research and came up with a list of on-screen couples who are dating happily in real life, and also those who can't stand each other. Continue reading to find out the ups and downs of the love lives of your most favorite on-screen romantic couples.
19

In Love: Kit Harrington And Rose Leslie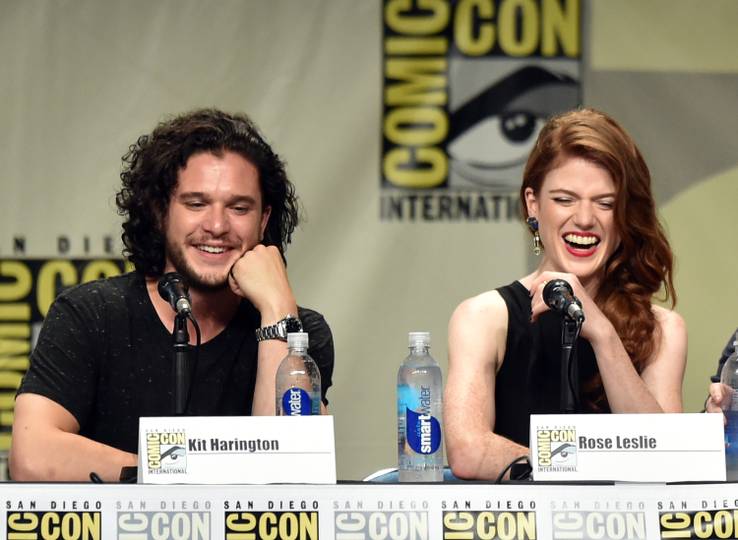 Kit and Leslie's love story is the one unpredictable relationship. They originally met on the set of Game of Thrones, and they play enemies and lovers on screen but are engaged in real life. Kit says in an interview that he popped the question earlier than he originally had planned. He said that he wanted to string up some lights and make a whole thing but he proposed early because he said that it just felt right. They were in the woods, under the starry sky, burning wood and having red wine.
Well, we agree, that does sound absolutely perfect. The couple moved in together rather quickly and Kit proved to be the absolute best fiancé. Regarding the moving in part, he recently said in an interview, "I've moved in with my other best friend, Rose. So, I'm very, very happy, and it's going well. She has all sorts of ideas for the house. I said to her because she moved into my house, 'Look, darling, this is important that it's our space, that it feels like our space and that you haven't just moved into mine. Move anything you want around — change anything or chuck anything out.'" Well, we must say that Leslie is one lucky girl.
18

Can't Stand Each Other: Jamie Dornan and Dakota Johnson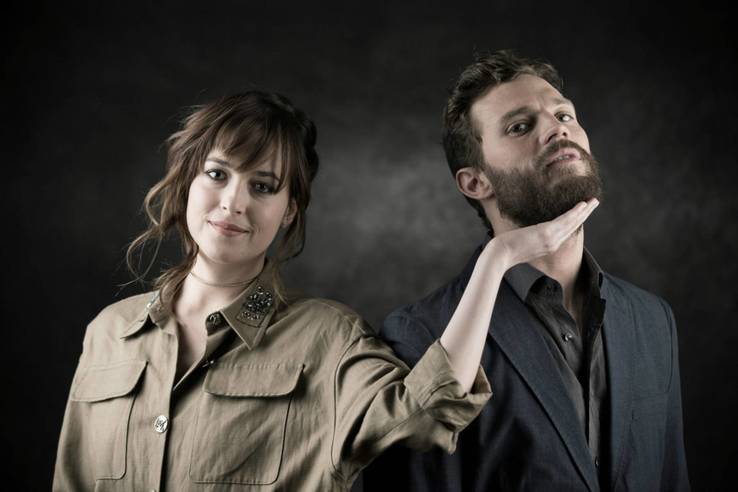 When we watch a romantic movie, we think about the couple's real-life chemistry. It's natural to imagine them getting along really well and having an amazing romantic relationship. Well, sorry to disappoint, but Jamie Dornan and Dakota Johnson hated each other off-screen. They did not like working with each other and even spending time together was difficult for them.
We can only imagine how hard it must have been to shoot all those scenes during the 50 Shades of Grey movies. He said in an interview that they have an okay-ish relationship. In another interview, he once stated, "This is going to sound bad, but it's almost like brother, sister," while making an appearance on Jimmy Kimmel Live!
"Because I am married [to wife Amelia], and she's had a lot of relationships in the time that we've known each other. You just have this sort of mutual love and respect for each other, and I feel like we know each other so well, and intimately." This really explains why they can't get along or have that sort of a strong bond that we expect of them. But no matter what, we do love their on-screen performance together and that's what counts.
17

In Love: Ashton Kutcher and Mila Kunis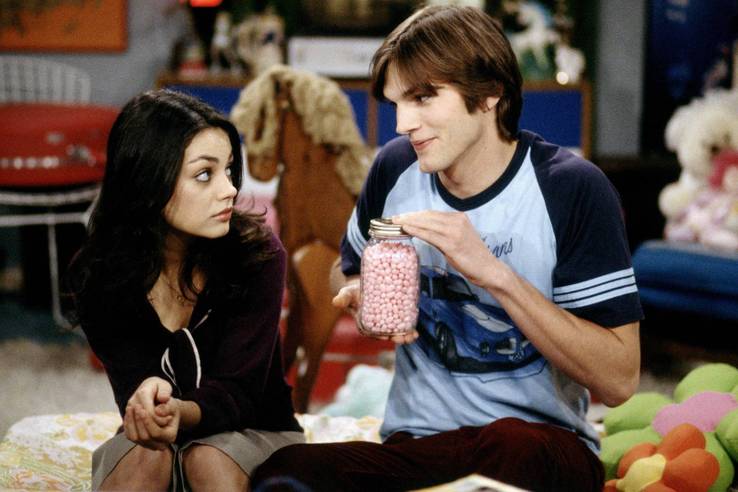 Everybody knows the adorable story of Mila and Ashton. They met while filming for That '70s Show. They played each other's love interests on screen, but it was 10 years later that they started dating and eventually got married. Mila says in an interview that she never thought that Ashton would be the "one." She also shared details about how Ashton was her first kiss. Isn't that absolutely adorable?!
Mila and Ashton are very private individuals when it comes to their family and their relationship but they do occasionally spill some tea. They very close to each other and are very open and honest. She said in an interview, "There's nothing we don't know about each other because we've known each other for so long: the ugly, the bad, the good. We went through a period where I thought he was crazy. At the height of his career, I was like, Ugh, I don't like you. I don't even know you anymore. You think you're such hot […]."
She also said that they can never lie to each other because the other one will always call him/her out. She said "We can't bull[…] each other. I literally can't lie to him. He can call me out on everything, and I can do the same, because there's nothing about the other person's face that we don't know. We know when they're acting, thus we know when they're lying. Sometimes he'll look at me, be like, 'Really?'"
16

Can't Stand Each Other: Ryan Gosling and Rachel McAdams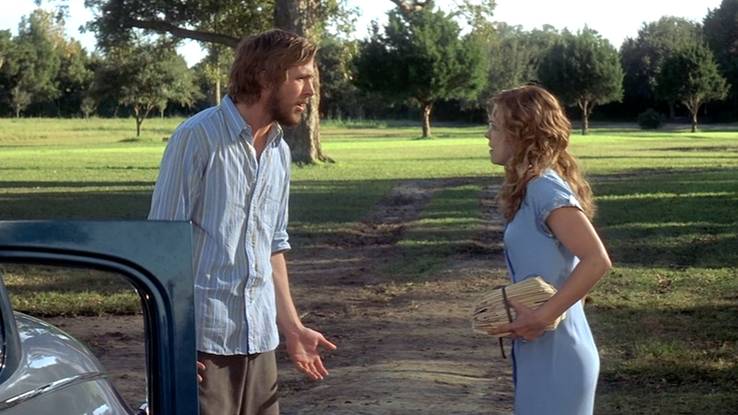 Well, it really is true when people say that all good things must come to an end. These two were in one of the most amazing romantic movies of all time—The Notebook. It has to be on the top 10 list of every girl's favorite movies. Rachel and Ryan started dating in real life, too. After some time, things started getting bad, and they got to a point where their actions were translating into the movie.
Rachel did not give a statement about their breakup, but Ryan said in an interview, "God bless The Notebook. It introduced me to one of the great loves of my life. But people do Rachel and me a disservice by assuming we were anything like the people in that movie. Rachel and my love story is a hell of a lot more romantic than that. . . The only thing I remember is we both went down swingin' and we called it a draw." He also said "Show business is the bad guy. When both people are in show business it's too much show business. It takes all of the light, so nothing else can grow."
15

In Love: Evan Peters and Emma Roberts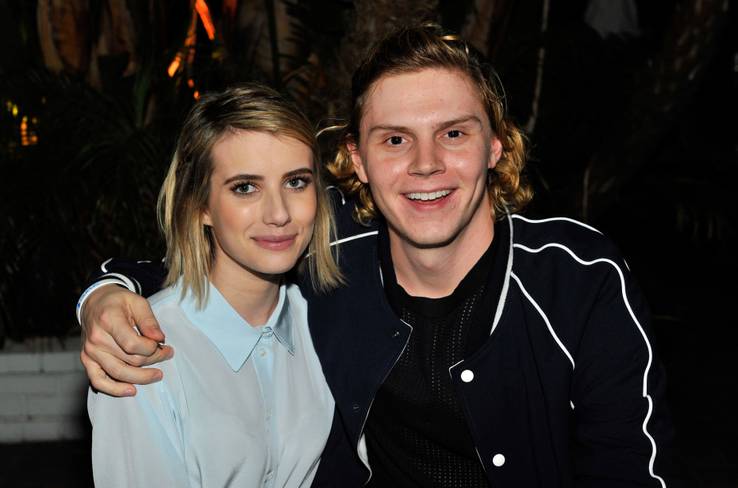 Evan and Emma have a rocky relationship. They were always the couple that were always in the news. There was this one instance when Emma was reportedly arrested because she threw punches at Evan. But all lovers find their way back to each other right?! Well, in their case, they did find their way back. They shortly got engaged and all was well in the fantasy land. Emma never skips a chance to talk about her amazing fiancé and we must say it makes us pretty jealous.
She recently joined the American Horror Show clan and worked alongside her fiancé, and all she had to say about the experience were good and amazing things. She is a simple girl at heart. She says that love does not need to be about grand gestures. Love, according to her, is someone picking your favorite food for you or bringing you flowers or even a cup of coffee on a busy day. Love is not necessarily about grand gestures. It can be the little things, like someone knows you like a certain food so they pick it up for you. Stuff like that is sweet. It's little things that are nice and thoughtful that you can do every day.
14

Can't Stand Each Other: Claire Danes and Leonardo DiCaprio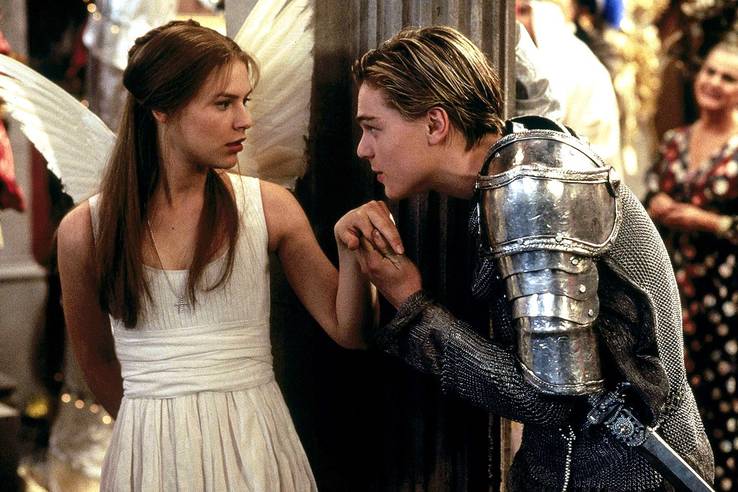 These two worked together in the amazing movie, Romeo and Juliet, filmed in 1996. Claire was only 16 when she filmed Romeo and Juliet with her 22-year-old co-star, Leonardo. Claire was mature for her age and did not like Leo and his prankster personality. She used to get very flustered and irritated with his pranks. Leo who is now known for his dedication and hard work was quite a prankster back when he was younger.
According to a rumor, the couple did not talk to each other when the cameras were not rolling. Claire made it a point not to talk to her co-star outside of work because she just did not want to put up with his pranks and all. Leo used to prank the cast and crew all the time and this put her off big time. No matter how hot and romantic the couple was on-screen, the difference in their personalities could not even let them be friends off-screen. Most of the times, a clash of personality is the reason that's behind most star-wars in real life. Seems like Leo did learn a lesson after all and became the amazing and dedicated actor that we all know and love now.
13

In Love: Ben McKenzie and Morena Baccarin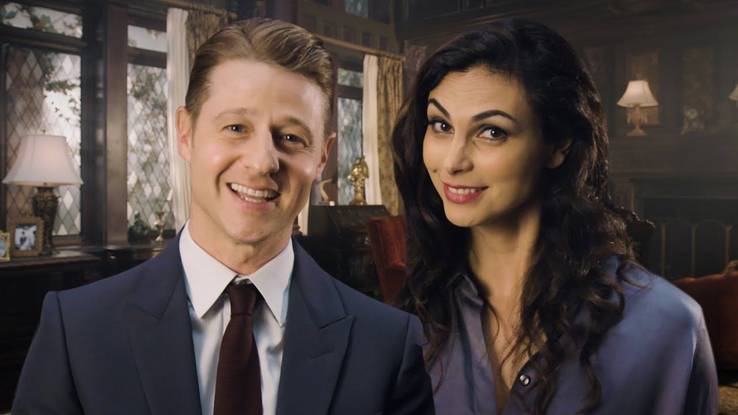 Anybody who is a Gotham fan will scream while reading this. Ben and Morena are on and off screen lovers. They play such a dynamic couple in the season. If we look at Ben alone in the season, he is what every girl's dream man looks and acts like. He's such a man of principle in the show that it baffles the viewers, considering how Gotham city really is. Ben and Morena recently tied the knot after dating for 16 months.
They married rather quickly, as opposed to how long Hollywood actors take to get married. They got married after the birth of their daughter, Frances. It must have felt right to be married after her birth. When the new couple met on screen, Morena was married at the time with a young son, but they fell in love and it happened very quickly.
Morena recently said: "I understand people are curious, but it doesn't matter. My personal life is my personal life. All I think about is my son, my family and my future family. He's going to be of an age where he can go online and look at everything that's been said and done. What I say is the only thing I can control. I just want him to know that he's loved and there's the story that people tell and the story that mom tells, and he'll know what's true. That's all that matters." Morena recently asked a judge to allow her to stop paying her ex-husband up to $20,000 a month.
Featured Today
20 Rare Images Of Kate Middleton And Prince William The World Forgot About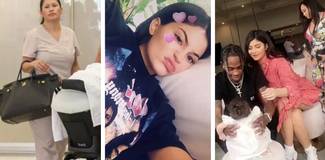 18 Bizzarre Rules Kylie Jenner Makes Her Nanny Follow With Baby Stormi

20 Pics Of Keanu Reeves Vs The Paparazzi

12

Can't Stand Each Other: Anne Hathaway and James Franco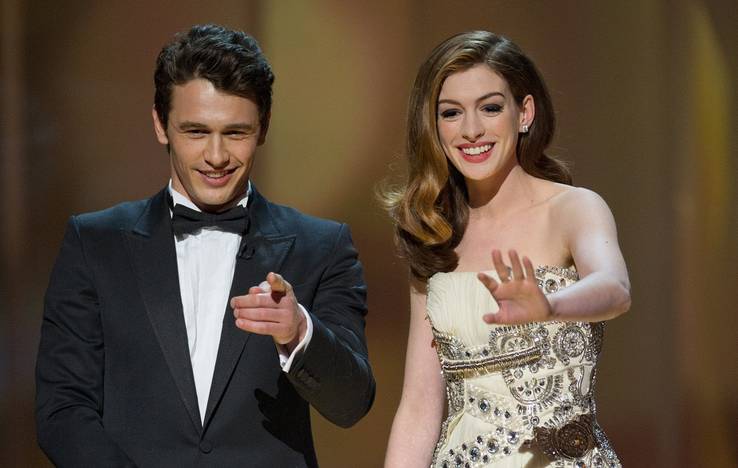 Well, when it comes to James and Anna, it looks like James does not have a single good word to say about the actress. He did nothing but criticize the actress in an interview. They hosted The Oscars together, after which they faced backlash for their poor hosting skills. They have been on a rocky road ever since. He said in an interview, "I'm happy to revisit this, but you're going to have to take the lead. If you're going to talk about it, you're going to have to give your opinions… She does not want me talking about this, but okay." Stern went to on list the reasons why he dislikes Anne and said: "Everyone sort of hates Anne Hathaway, and I've explained that I do too and I don't know even know why sometimes."
"She's just so affected actress-y that even when she wins an award, she's out of breath, and then she has the standard joke that sounds like it's written. And it all seems so scripted and acted." He also said "She comes off like the goody two-shoes actress and it's just fun to sort of hate her. Hate is a strong word . . . but dislike her, even though she is a great actress. Is that accurate?" James replied: "I'm not an expert on— I guess they're called 'Hatha-haters'— but I think that's what maybe triggers it." Howard then went on to ask James if he was still 'friendly' with the Oscar-winning star. He replied: "We haven't talked in a while."
11

In Love: Vincent Kartheiser and Alexis Bledel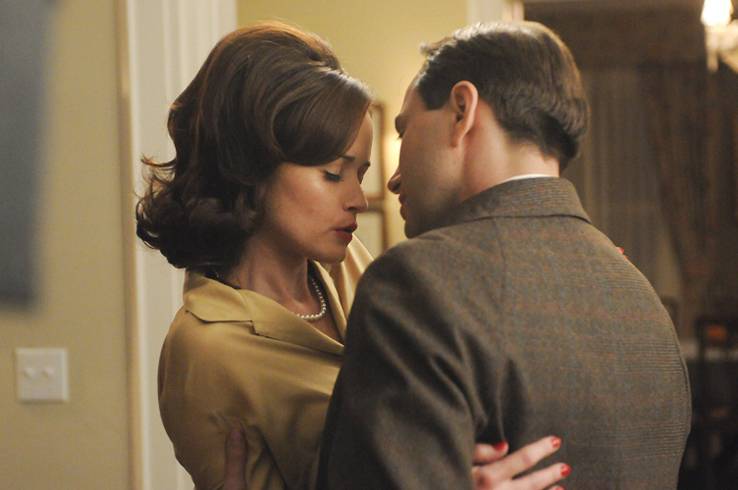 As TV stars their relationship started in a very appropriate way. They first met on the set of Mad Men where Bledel guest starred. They are the couple who keep their lives extremely private, and there is not much they give away. Alexis will always be Rory Gilmore for us but in reality, she is her own person. She is the exact opposite of what her character was on Gilmore Girls.
The couple leads a very minimalistic lifestyle. They live in a one bedroom apartment. They might not be the wealthiest couple in Hollywood, but they sure can get a bigger place. Vincent and Alexis are now married and are very very happy, too. The two kept their wedding a very private and intimate affair. Only a few people were invited. They flew out Vincent's family for the wedding. Later down the line, they welcomed a baby boy. Talk about a perfect fairytale story. Alexis also said in an interview that she feels like she's an old soul. All she does for fun is read and go to the movies and that's about it. She also said in an interview that she's an old soul trapped in a young body.
10

Can't Stand Each Other: Will Smith and Janet Hubert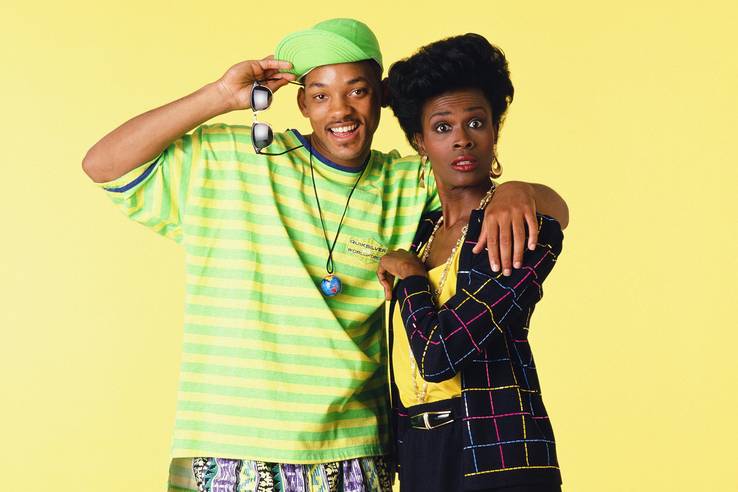 Janet is the actress who plays the original Aunt Vivian on the show, Fresh Prince of Bel-air. It is one of our personal favorite shows. It's got some really light and amazing humor and its got Will Smith. That should be reason enough for you guys to binge watch this show. The both of them had some really interesting things to say about one another. They said the bad blood resulted in Hubert leaving the show in 1993, after three seasons, and the aftermath of her departure was anything but amicable.
In a radio show interview the year of she left the show, Smith made some pointed remarks about their feud. "I can say straight up that Janet Hubert wanted the show to be The Aunt Viv of Bel-Air Show, because I know she is going to dog me in the press," the actor said at the time. "She has basically gone from a quarter of a million dollars a year to nothing. She's mad now but she's been mad all along. She said once, 'I've been in the business for 10 years and this snotty-nosed punk comes along and gets a show.'" On Thursday, she clarified her remarks to the ladies of The Real. "Janet Hubert was never difficult on that set. Janet Hubert was so professional, it wasn't even funny," the actress, 60, said. "I think Will simply needed to win, and I think sometimes when you get caught up in a lie and those things never happened. She never left the set. I never left the set. We got along great."
9

In Love: Dylan McDermott and Maggie Q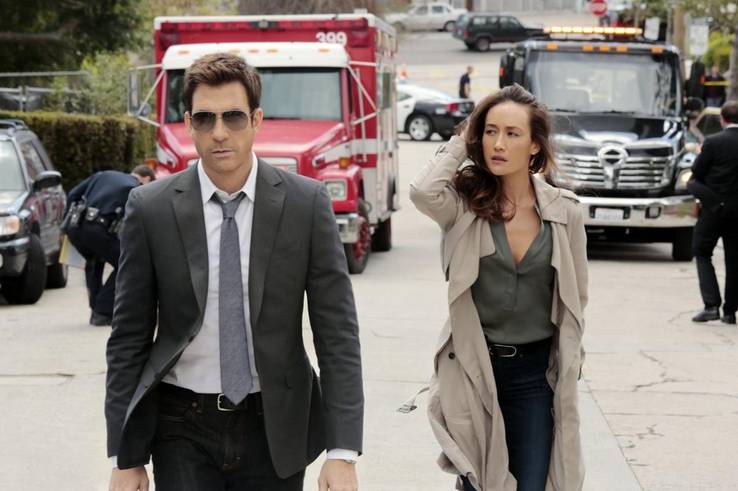 Dylan was married before getting engaged to Maggie. He has a 21-year-old and an 11-year-old with his former wife. Dylan and Maggie met at the set of their show, Stalker. They are co-stars. Dylan said in an interview that he got a second chance at love with Maggie. They kept their relationship and their engagement very private. They confirmed their engagement when Maggie was seen wearing a huge sparkler at the Golden Globes.
They are so cute together and Dylan does not let any chance pass without mentioning his love for Maggie. He was recently asked in an interview that what was the best part of his show, Stalker, and he said Maggie Q. That is so adorable right?! When asked about his relationship with Maggie he said: "When you know, you know!" McDermott added. "She's an incredible person. I know her heart, so it was easy to say, 'Yes, I want to be with this person. There is always another chance in life. That is what's so great about it! A lot of people get disheartened, and I can relate to that. But I tell my kids: You can always start again." McDermott stressed his fresh start at love was with Q.
8

Can't Stand Each Other: Patrick Swayze and Jennifer Grey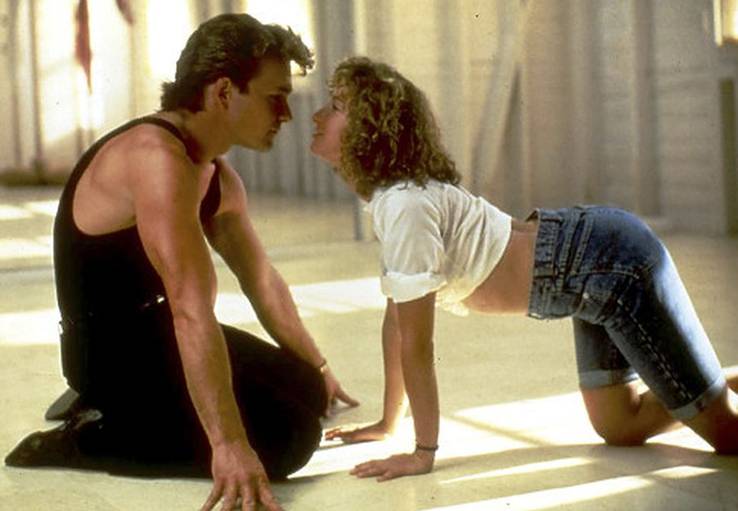 Dirty Dancing was and still is one of the best romantic movies ever. It leaves us overwhelmed with the great story and superb performances. However, These two did not have the best time working together in Dirty Dancing, despite having some seriously steamy scenes to film together. They just could not get along and had quite a few problems on set. The couple couldn't even talk to one another outside of the set. They wouldn't talk to each other after they had shot their scenes together. But later, when she was asked about their relationship, she had nothing but good things to say about him.
This is what she had to say about the two of them working together: "His fearlessness with my fearfulness…together was like a marriage where you have two opposites" she mused. "He'd do anything and I'd be scared to do anything." She also went to say, "It was our second movie we'd done together within a short time," the actress explained. "We did Red Dawn first and then Dirty Dancing. He was a great dancer and he was fearless." After starring in two movies, you'd think they would have gotten along better. But looking at her comments about him, maybe they weren't as dysfunctional as everybody was painting it out to be.
7

In Love: Josh Dallas and Ginnifer Goodwin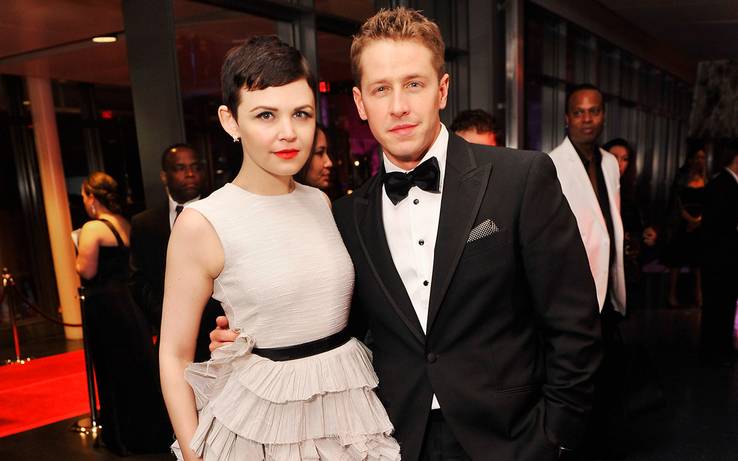 This couple is one of our personal favorites. Dallas and Goodwin did not meet under the best circumstances. They both recently had gotten out of long-term relationships. They met when they were filming for Once Upon a Time in Canada. Both of them were away from home so it was inevitable that they started socializing. They started hanging out and became very close in a matter of a few months.
Later, their friendship turned into love. They denied dating for a few months but they couldn't deny what was so clear to see. He's a really kind man," the source says of Dallas, "quite a gentleman at heart, and I think she really appreciated that he was more considerate than some of the other men in Hollywood. They have been very serious since the moment they got together, and their romance has been intensified because of the show. It all means they get to spend a lot of time together.
"The relationship has been full-on since the moment it turned romantic," the source added, "and they spend every moment together. There was no reason to wait and take it slow—they fell in love, and it feels right." We hope their relationship does not face any pitfalls like the ones in Once Upon a Time.
6

Can't Stand Each Other: Julia Roberts and Nick Nolte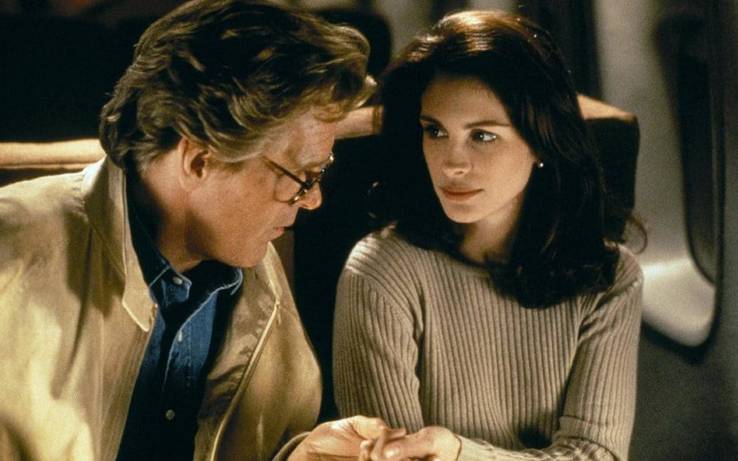 Julia and Nick's feud lasted longer than many relationships in the industry. They were shooting for the movie, I Love Trouble, and they were so over each other that they lacked chemistry and had to reshoot scenes with body doubles. They couldn't stand the sight of one another. Later, when the filming had finished, Julia did an impression of a co-star throwing a tantrum, and it was none other than Nick.
Roberts described Nick as totally disgusting and Nick said that she is not a very nice person and everybody knows that. Julia and Nick couldn't wait to finish filming so that they wouldn't have to see each other's faces ever again. Their lack of chemistry translated into the movie, too, which was such a shame. As we can see, personal clashes and disagreements can have a bad effect on one's professional lives and career as well. The movie they filmed together did not turn out to be a hit or even a very successful one just because they could not bear the sight of each other which affected their working together on-screen. That's why they always say, never let personal grudges and problems get in touch with your professional lives.
5

In Love: Kym and Robert Herjavec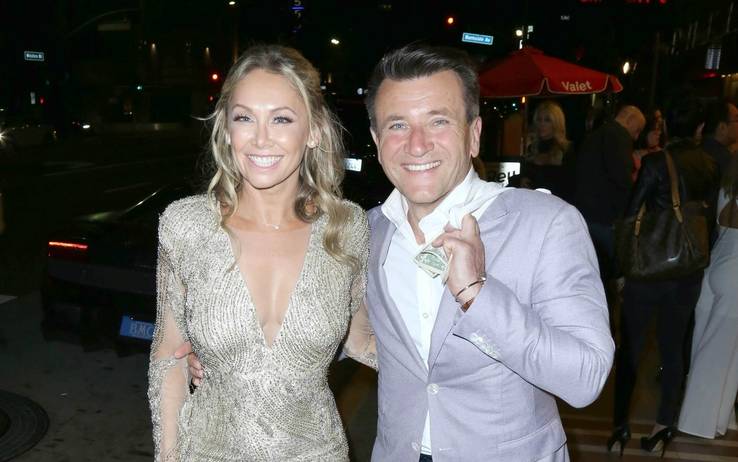 These two met on the set of Dancing With The Stars. They were partners on the show and after elimination, the two started dating. They had a whirlwind romance, which, obviously, led to marriage and babies. The two got married in the presence of friends and family. During one interview one of the friends said that Robert is so kind and so sweet with Kim and that looking at them like this makes everybody very happy.
After the wedding, Robert couldn't stop gushing about his wife he said "I'm learning something new about her every day," he told PEOPLE. "She's starting a business right now, and I can't believe how committed she is and how hard working she is. I always knew she was, but it's scary to go into a different field you haven't gone before. She's approaching it with the same level of enthusiasm and courage that she's done her whole life. I find that very motivating. I find that so impressive about her."
They are now parents to twins. The twins are Kim's only kids, but Robert had 3 children from a previous marriage. Kim mentioned, "It feels like we've known each other forever. It's been almost three years since we met. He's just amazing. We're best friends, and it's just easy."
4

Can't Stand Each Other: Charlie Sheen and Selma Blair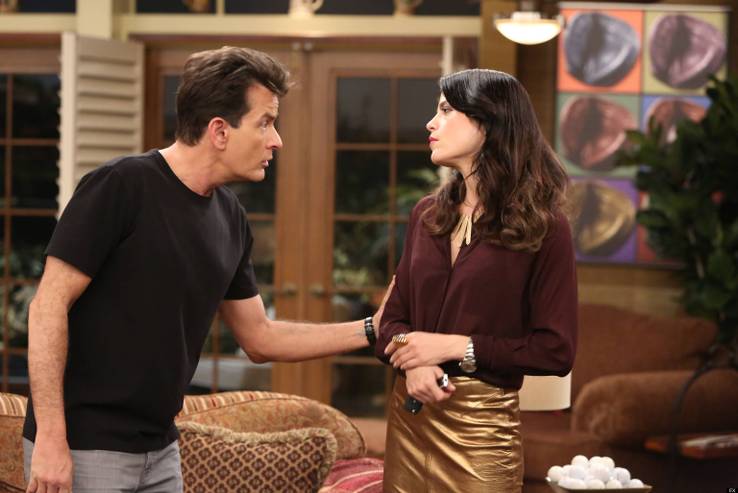 The two worked together on the show, Anger Management. The couple hit rock bottom when Charlie fired Selma via text. And that was because Selma questioned Charlie's work ethic. They had a very rough relationship. Selma was quite vocal about the issue but Charlie decided to say mum about the matter. He completely denied what happened between the two and said in an interview, "One of our primary characters, Selma Blair, who played Kate, was written out because [the show] was not about our relationship, and the problem was too many people were still excited about the Two and a Half [Men] character and thought the Anger Management character was a little dull," said Sheen.
This is what she had to say about the whole issue Charlie was furious when it got back to him," the source told Radar. "It didn't happen all at once. When he first heard about it, things changed on the show. Suddenly, his character was no longer sleeping with her character." Sheen's character is an anger management therapist and Blair played his therapist and friends with benefits girlfriend. This season the couple no longer had a romance. "That wasn't an accident," the source said. "Charlie was hearing things." As Blair continued complaining privately, Sheen erupted. He demanded that she had to go. "Selma didn't trash Charlie on the set," the source said. "Everyone on the show was ticked off at his behavior but no one complained to the producers because they knew he would fire them. But her private comments got back to him and he went off. He demanded she be fired. It's his show and she was let go."
3

In Love: Tea Leoni and Tim Daly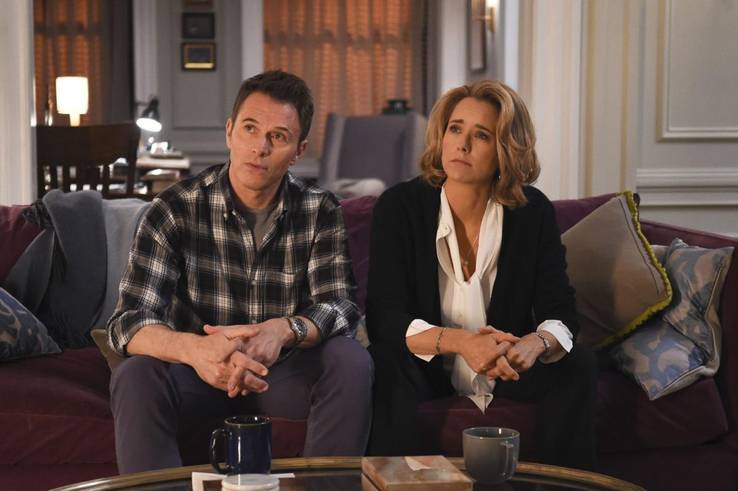 Tea and Tim were co-stars on Madam Secretary. Their romance was very unexpected, several of their co-stars said this during interviews. They said that since Tim was their boss, they couldn't go up to him and ask, "Hey, who are you dating?" When they started hearing rumors, they couldn't believe it, but all their co-stars were very supportive and very happy for them. They said that they are so much fun as a couple.
"Tea and I approach work in a very similar way. We both take it very seriously. We work really hard. And we both want to have a lot of fun," Daly said during an interview. "One of the things that attracted both of us to this show is the family element. Seeing behind the curtain into the family was really important to everybody there, and especially Tea and me. So we worked really hard on making this aspirational relationship have some truth to it. And I think that once we found that common ground and worked so hard and had so much fun, that I don't think anything can get in the way of that. We're both professional actors and I don't think we're going to let our private stuff get in the way of our work."
2

Can't Stand Each Other: Chad Michael Murray and Sophia Bush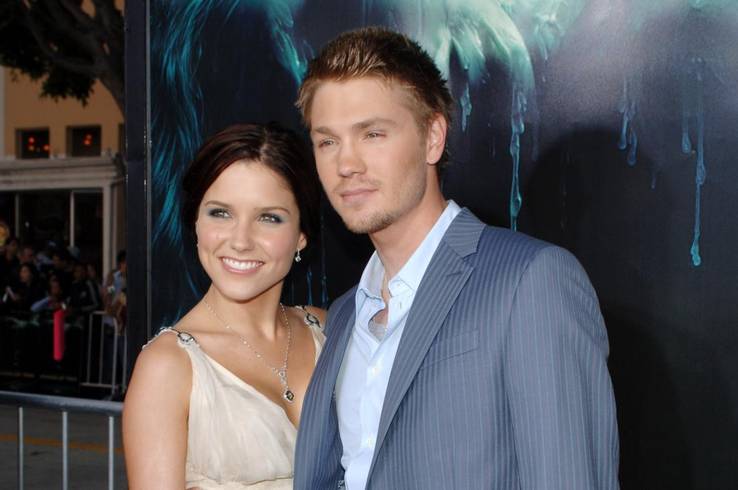 Chad and Sophia were our favorite couple on One Tree Hill. They had such an interesting storyline in the season. Sophia plays a cheerleader and Murray a jock. They date in the initial seasons but break it off, remaining friends. So these two got married in real life too. They got married but divorced each other after 5 months. When Bush was asked about her relationship and if they keep in touch she had some choice words to say.
"We were two stupid kids who had no business being in a relationship in the first place," Bush, 31, admitted. "To all the other costars who've worked it out, more power to you?" At the end of the day, we're grownups, and I actually think it's interesting that when people split in a way that's unpleasant, they usually just go on quite literally hating each other—or the person in my situation hates the other person, whatever—but when you have to work with somebody for another half a decade, you kind of have to deal with it. Because for me, at the end of the day, my job is my priority," Bush explained. "And so I think at the end of it, it really let me just let go of it."
1

In Love: Stephen Moyer and Anna Paquin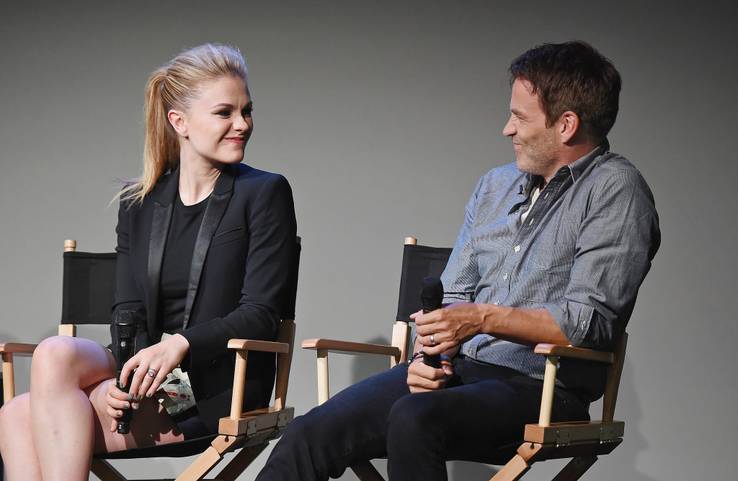 These True Blood stars started dating way before they started working together on the show. They said that they actually met when they had to film the pilot together. So they were almost forced to be with one another. They were checked into the same hotel and both were away from home. So they started hanging out and became very close in a matter of a few months, and when both of them returned home, they realized that they missed each other.
Well, we'd feel the same way if it were us. Over the course of working together, they got very close. Anna says in an interview that they are best friends. This is what she had to say about their relationship and working together. "If you're going to spend the rest of your life with someone, you want it to be the person you want to hang out with all the time," she says. "We have a lot in common but, when it comes down to it, if that person isn't really your buddy as well, for me, I don't think that would work."
"We spend all our time together. A lot of people say, 'Oh, I could never work with my significant other,' but I love getting to go to work with the person I want to spend all my time with," Anna spills, but adds that they aren't always actually working together. "Sometimes we go to work and we're not actually in any scenes together," she says. "But it's really nice. It's like working in the same office building."
References: She Knows, Ranker
Source: Read Full Article