When it comes to getting married, celebrities are known for doing it big. They spend an obscene amount of money on their weddings, which is their right. If you have it, spend it, right? The only thing is some of these weddings are pushing the boundaries when it comes to expenses. There is no way that if celebs weren't famous and rich they would spend anything over $10,000 on a wedding. It could be because a majority of them live in LA and expenses are significantly higher. However, a lot of them end up having their weddings in places that not even non-famous millionaires would get married at. Castles and ships are just some of the locations that these celebrities have chosen to celebrate their nuptials. Which is great but, come on, is it necessary? And, if we are keeping it 100, half of the couples on this list are no longer together. This means they have blown millions of dollars celebrating something that has ultimately crumbled to bits as if their fans didn't see it coming already. Regardless, we are nosey and want to know everything down to the last detail. Who wore what? What did it cost? Was it worth the cost? What did they eat? What were the parting gifts? Most of all, we want to know the total amount of the wedding, you know just in case we decide to have a million dollar wedding someday.
15

Brad Pitt & Jennifer Aniston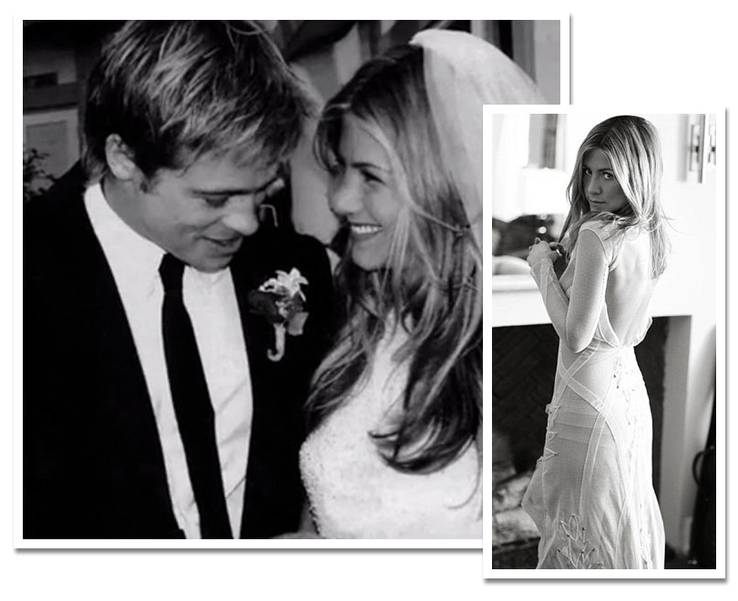 When Brad Pitt and Jennifer Aniston tied the knot, it was a huge deal. The couple had been America's favorite couple for years prior, and now, they were finally making it official. They got married in July of 2000 on a Malibu bluff. Their guests raved about their sentimental vows, which included things like promising to always make Pitt's favorite banana milkshake and Pitt pledging to always "split the difference on the thermostat." Their wedding had 200 guests, 50,000 flowers, and four separate bands— the music genres included a gospel choice— and they even had fireworks. We all know that fireworks can get a bit pricey. At the time, Pitt was making $40 million a year and Aniston was bringing in $750,000 per episode on Friends, so clearly, they could afford to spend just over $1 million on a wedding. Here is a breakdown of where some of that money went— $100,000 on security, those flowers we mentioned earlier cost $75,000, the fireworks were $20,000. Can you see how the dollar figure could rack up so quickly? We didn't even mention Aniston's dress— a custom-made silk gown by Lawrence Steele, and of course, Manolo Blahnik heels.
14

David & Victoria Beckham
500 guests gathered together to celebrate the marriage of Victoria and David Beckham. Fans crowded as close as they could to the Dublin castle where the wedding was held. The wedding cost just about $34 million and here is why. They had an 18-piece orchestra and a fireworks display and it was reported that $32 million of their not-so-modest budget was spent on security. They must have wanted to keep it as under wraps as possible. However, don't fear, they also did a few reckless things that cost them an arm and a leg. The couple sat on golden thrones at the altar and their wedding cake was reportedly quite lavish, with at least six full tiers. The couple, however, played it quite smart, they sold the exclusive rights to their wedding photos to OK magazine. They received $2.2 million for the coverage, so at least the got something out of that lavish get-together. Another way that the couple racked up a high bill was by flying their friends and family into the Dublin town where their ceremony was held. Their friends are not poor people and we are sure they didn't pay for everyone but paying for one ticket to Dublin can be astronomical so imagine more than a handful of people. It's a wonder how they aren't broke.
13

Christina Aguilera & Jordan Bratman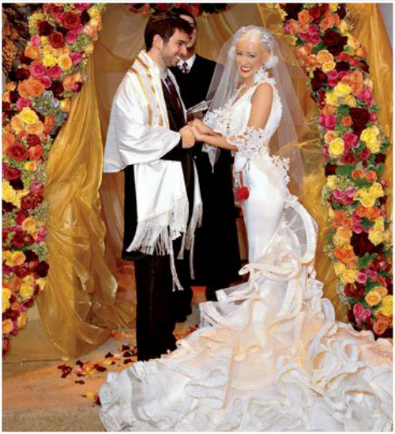 Christina Aguilera's marriage to Jordan Bratman cost a shocking $2 million. It took place in Napa Valley (how original) in the month of December. The singer met Bratman while he was working for her management company, and the two were almost immediately inseparable. She spoke exclusively to People magazine about her engagement and how it all went down. He proposed in a hotel room, which was adorned with rose petals, red and pink balloons, and gift boxes. Each box had a hand-written poem in it. "When I got to the last box, there was a ring in it, He got down on one knee and said, 'Will you do me the honor of being my wife?' I've been floating ever since." That's a cute love story, unfortunately, the couple is now divorced and have been for years. At least their wedding sounded great. It had a winter landscape, DJ AM was in control of the music, and there were "hundreds of birch trees," along with white hydrangeas, roses, amaryllis, and branches. We don't know if you guys know, but flowers are normally the most expensive thing at a wedding. It sounds like they had a bunch. So, we now know where that money went.
12

Kim Kardashian & Kanye West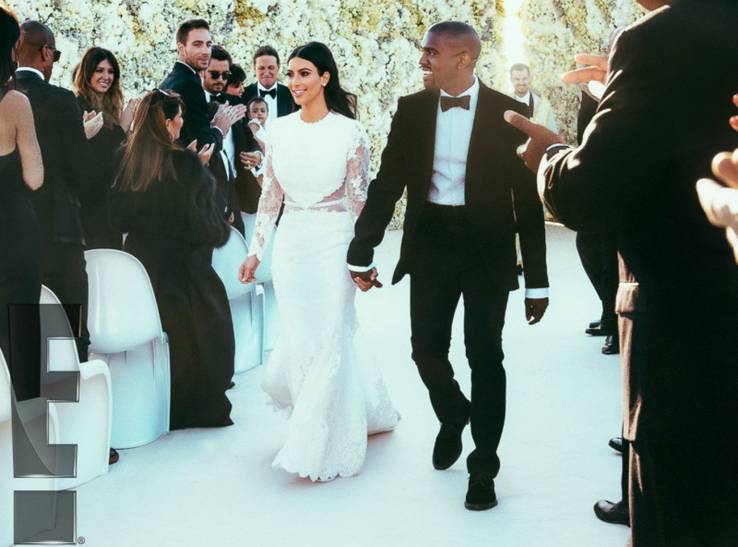 The world's most-hated couple got married in Paris in 2014 to the tune of $2.8 million. It was broadcasted on Kim's show, Keeping Up With The Kardashians, but of course, we had to do our own research to see where all that money went. The couple kept it lavish with a beautiful sit-down dinner, having Andrea Bocelli perform, renting a historic venue, jets, hotels, jewelry—you name it— this wedding had it all. Bocelli typically charges anywhere between 100,000 euros to 1 million euros, depending on how far the event is from his home. Kim rented out the Forte di Belvedere, a historical venue for their ceremony this cost upwards of $400,000. They had 200 guests at their wedding and it costs 300-400 euros PER HEAD to feed them. The entire wedding party, including the jewelry that Kim wore by Lorraine Schwartz, estimated at millions of dollars. They had jets that were flying guests back and forth between Florence and Paris, which reportedly cost between $37,000 to $60,000. Really the list is endless, this doesn't even include the week they spent in Paris before the wedding or the hotel costs for all the guests and bridal party. All expenses included were rumored to cost $12 million.
11

George Clooney & Amal Alamuddin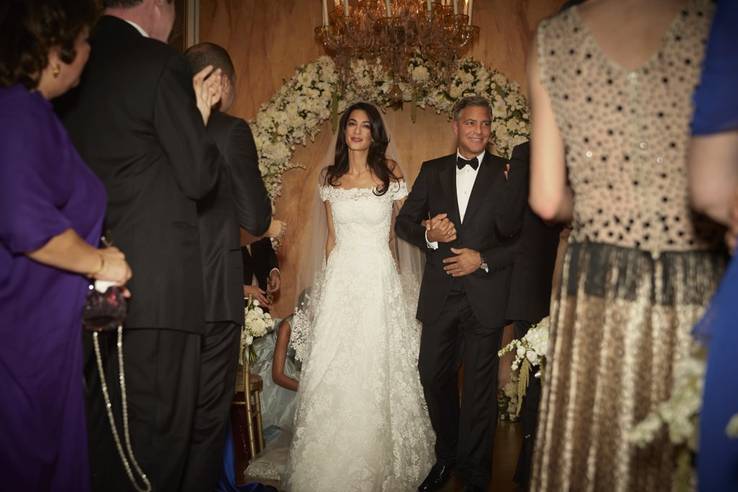 No one thought they would see the day, but there it was, in the flesh, George Clooney, the indefinite bachelor, was actually getting married. The event that took place in 2014 cost $4.6 million for one simple fact— the couple PAID FOR EVERYONE. The wedding took place in Venice, Italy. The couple footed the bill for their friends and family, which meant hotel rooms, food, and travel accommodations in addition to paying for the actual wedding. Most of the guests stayed at the Cipriani Hotel they rented out 95 rooms (basically the entire hotel) at almost $3 million for a total of 3 days. When those rooms were booked, they had alternate rooms at The Aman Hotel, costing $4,650 a night PER SUITE. Water transportation around Venice was paid for to the tune of $36,000. Party set-up cost $300,000. Their 100 guests had a 5-course dinner that was $30,000, and they spent well over $100,000 on alcohol and high- end alcohol— not cheap stuff. Amal's beautiful gown was designed by Oscar de la Renta and cost over $350,000. Even when the wedding was over, the next morning the couple paid for a Sunday post-wedding lunch. Come on, the numbers are just racking up. It's giving us a headache seeing all the money that was spent.
10

Justin Timberlake & Jessica Biel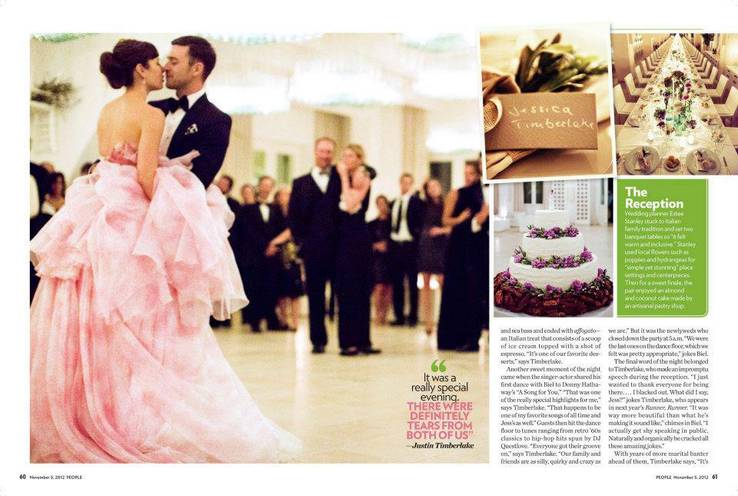 Justin Timberlake and Jessica Biel almost didn't make it down the aisle. They had broken up a few times, and it didn't look good for the couple. When they did make it, it was like go big or go home so, they went big. Their entire wedding supposedly cost $6.5 million, you know, no big deal. They too tied the knot in Italy at the Borgo Egnazia resort. The couple is notorious for being private, but they were too excited about getting married in such a beautiful place that they confirmed it to People magazine. "It's great to be married, the ceremony was beautiful and it was so special to be surrounded by our family and friends." They were still pretty vague about what went down on their wedding day but a few things have leaked here and there and Biel eventually did a photo shoot in her pink wedding dress to prove how non-traditional and not boring she is. Even though their wedding cost a pretty penny, they still found time to do some super chill stuff with their wedding party and friends, like hanging out at the beach with open fires, live music, and fireworks, casually dining on olives, cheese, and wine.
9

Michael Jordan & Yvette Prieto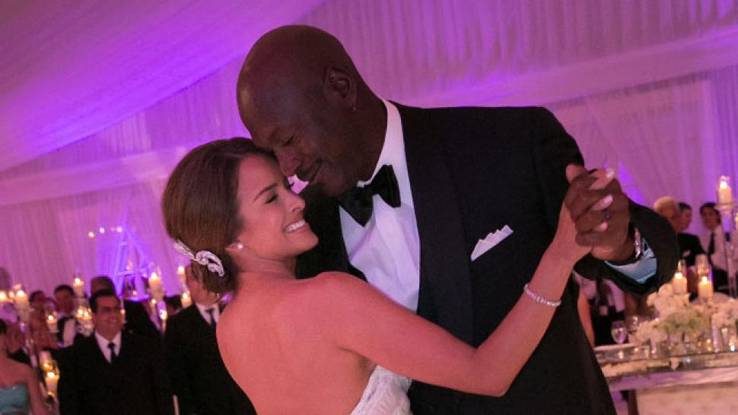 Michael Jordan is rich. There is no question this man has money. After years of playing ball, all the endorsements, creating his own line of shoes, and his jerseys constantly selling out, if he was broke, we would be shocked. In 2013, he decided to get married to his longtime love, Yvette Prieto, and money was no object. He wouldn't say how much he spent on the wedding exactly but he eluded to about $10 million. The thing is, we aren't sure how this wedding ended up costing so much because it was a destination wedding, and it doesn't sound that lavish to us. They said "I do" at Episcopal Church of Bethesda-by-the-Sea. The reception, which was reported as being quite lavish, was held in a large tent at Bear's Club in Jupiter, Florida. Here's where it gets crazy, they had over 300 guests, including a bunch of athletes, and these guys can eat. We are assuming that a lot of money was spent on food, there was also a few special appearances including a serenade by K'Jon. Yvette's gown was a French silk couture gown with Swarovski crystals. A guest said, it was a wonderful day and will be a wonderful marriage!"
Featured Today
20 Grey's Anatomy Actors Shonda Rhimes Dropped: Where Are They Now?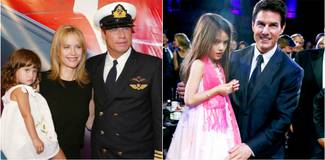 15 Surprising Celeb Kids Born Into Scientology Because Of Their Parents

20 Images Of Sasha And Malia Obama That Would Surprise Barack

8

Prince William & Kate Middleton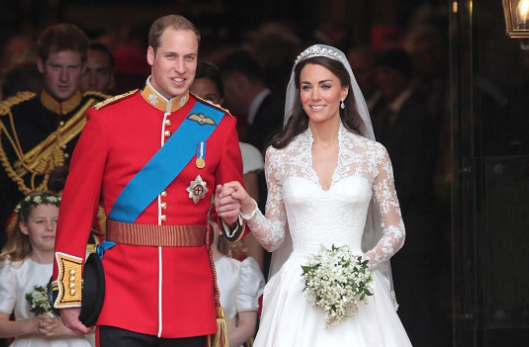 There isn't a definite answer about how much the Royal wedding between Kate Middleton and Prince William cost but let's be real we all know it was a butt load of money. Apparently, a bulk of that money was spent on security, which makes sense because this isn't just two normal people getting married. They aren't even classified as celebrities, they are royalty. Kate had three dresses that day; one for the actual wedding, then the reception, then, another evening reception. The two receptions cost about $600,000 including two wedding cakes (traditional wedding cake and a grooms cake) that was a total of $80,000 yes, for some cake. Not to forget, there are 600 guests to feed and entertain. Luckily, the couple was able to cut costs because they don't have to pay for Buckingham Palace and most likely didn't have to pay for the use of Westminster Abbey either. Fans of the couple will probably never know how much this lavish wedding costs. We can only guess by the size of it and all the lavish things they had, that it cost a pretty penny. But, is it rude for us to assume that they didn't pay for much because they are the royal couple and people want to give things to them for free just for the publicity?
7

Khloe Kardashian & Lamar Odom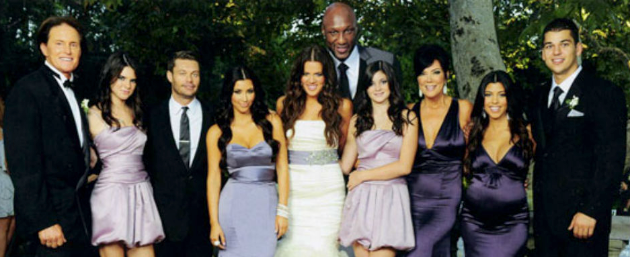 Even though Khloe Kardashian has a horrible track record with men, she did manage to make it down the aisle once. Her highly publicized marriage to Lamar Odom is now over but the wedding day and the mess of a marriage played out on TV for the world to see. While she is way more simple than her sister, Kim, she still went a little above and beyond for her wedding, thanks to mom Kris Jenner. She wore a beautiful custom-made Vera Wang gown (dollar signs anyone?), she walked down the aisle to a 10-piece orchestra, and her cake was a custom 5-tiered cake (it was huge). She even had custom-made velour tracksuits for her bridal party that read, "Mr. & Mrs. Odom" on the back with the date of the wedding. Momager, Kris, made sure that her daughter was getting paid to get married because the couple sold the exclusive rights to their wedding to OK magazine. They dined on a four-course meal that included a salad of melons, filet mignon, and grilled wild salmon. It was a reality TV star-studded event, with guests like Kelly Osbourne, Adrienne Bailon, and Brittney Gastineau. The couple is now divorced, so what a waste of a million dollars.
6

Kim Kardashian & Kris Humphries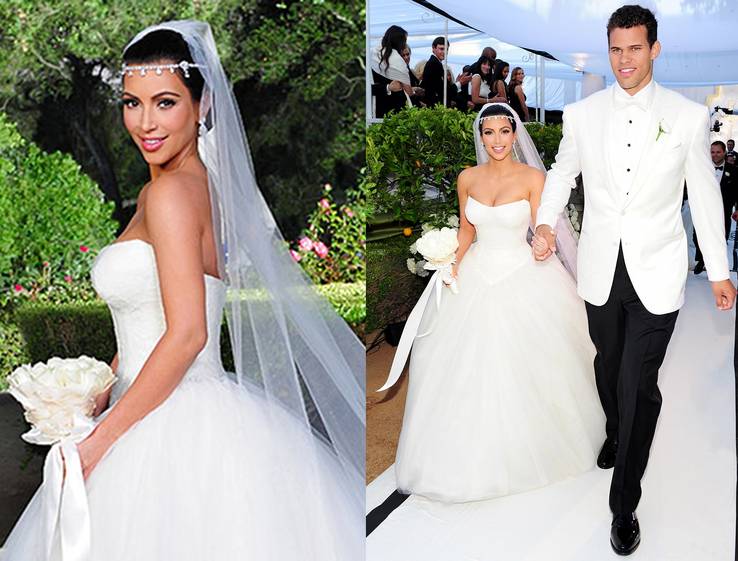 Kim's second wedding in life and on this list is to Kris Humphries. We know she likes to do everything big, so a $6 million price tag isn't one that surprises us. Her wedding planner for this wedding was Sharon Sacks, she admitted to E! The price tag was $6 million, but she had received a lot of discounts for promoting companies on her Twitter and on TV. So if her wedding is still $6 million after discounts, what was it before them? Some news organizations even called Kim and Kris' wedding the "most expensive wedding of all time." We know this is a bit of an exaggeration, but it's not even that far off. The 72-day marriage had a cake that costs $20,000 and was 6 feet tall. It took place at a private estate in Montecito, California. There were over 400 guests, including some that would have never been invited to her wedding with Kanye West, like Lindsay Lohan and Demi Lovato. She had 3 custom-made Vera Wang gowns, almost a million dollars was spent on flowers, and they had Robin Thicke serenade them for their first dance. Of course, like Khloe's wedding, custom-made juicy couture jumpsuits were provided to the wedding party that read "Team Hump" on the back.
5

Salma Hayek & Francois-Henri Pinault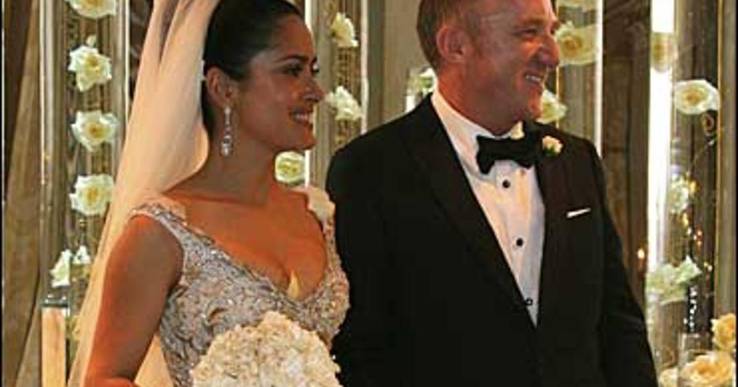 Salma Hayek got married to Francois-Henri Pinault in 2009 and it looked to be a grand affair. The wedding took place in Venice and Hayek wore Balenciaga, but what else would the bride of a billionaire wear? The couple initially got married a few weeks before this wedding took place so really this ceremony was only to appease friends and family. The reception seemed to be a masquerade party because Charlize Theron and her then-boyfriend, Stuart Townsend, showed up in Christian Dior with masks on. The party was held at the 18th century La Fenice Opera House, you know this place is fancy because we've never heard of it. The guest had to get to the wedding by boat because of where it was located. Hayek and her man even coughed up a farewell brunch the following day for their guests. The ceremony has 150 guests, and overall, the cost was $3.5 million. Valentina, their adorable daughter, was the flower girl. Hayek doesn't speak about her wedding often but she did tell People, "I think a wedding is about love, friends, family and fun," which is what she had at her wedding, with most of her guests feeling like extended family members.
4

Blake Lively & Ryan Reynolds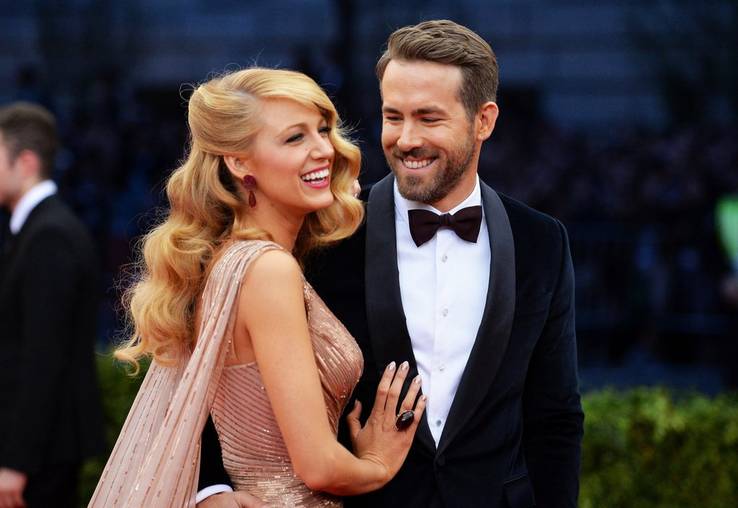 Blake Lively and Ryan Reynolds had a star-studded affair for their wedding. It was so exclusive that instead of giving a random tabloid-like magazine (People, In Touch) the rights to their pictures, they went exclusively with Martha Stewart Weddings. While they still restricted the publication from posting particular pictures, they let them have the exclusive rights to elements that they created together and even gave a sneak peek of Lively's dress. The wedding was rumored to have cost well over a million dollars, with a custom Marchesa gown, and renting out an entire plantation in Charleston, South Carolina The Boone Hall Plantation. Lively's bouquet was of pink jasmine, Andromeda, dusty miller, and blushing bride hydrangea. The creator of the design, Kate Berry, dipped select petals in subtle rose-gold glitter, which was meant to match her dress. For entertainment, Florence Welch of Florence and the Machine performed a few songs at the reception, which we assume was a wedding gift because she and Lively are friends. Bette Midler also performed, and she doesn't come cheap. The ceremony and reception only had 70 guests and they were all ordered to check their phones at the door, including the couple's parents. The cake alone cost $3,000. Couple that with the custom attire, including the men's suits (all Burberry), and this wedding was expensive.
3

John Legend & Chrissy Teigen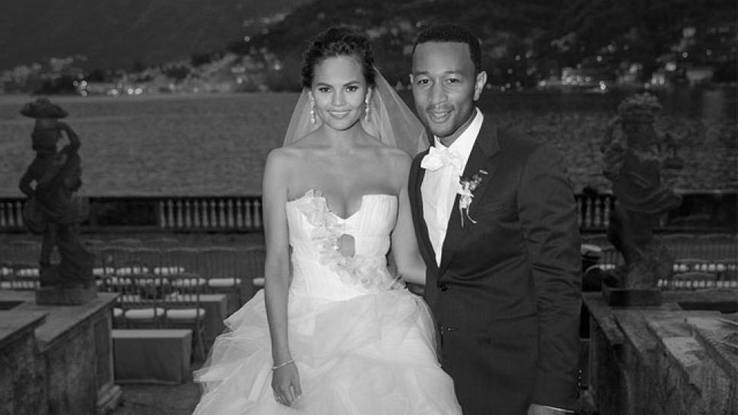 Like most of the celebrities on this list, Chrissy Teigen and John Legend got married in Italy (so original), Lake Como to be exact. The couple first tied the knot in a New York courthouse because that is the only legal way to get married in some overseas countries. "We are dumb and didn't realize that our Italian wedding would not be recognized unless we had a real ceremony in New York City," said Teigen to People. Entertainment was mostly taken care of because Legend serenaded his wife with the song he wrote for her, "All Of Me," Stevie Wonder surprised them with "Ribbon in the Sky." But they kept it simple afterward and had a DJ. However, here is where the cost starts to rise— Teigen had 3 Vera Wang gowns with a few customizations and guest received gifts on ARRIVAL to the wedding; a box that included a bottle of prosecco in linen bags with the inscription "Cin Cin." The couples wedding cake was a 4-tiered carrot cake with of course cream cheese frosting. The ceremony was held at Villa Pizzo, which boasts historical architecture and beautiful gardens.
2

Sofia Vergara & Joe Manganiello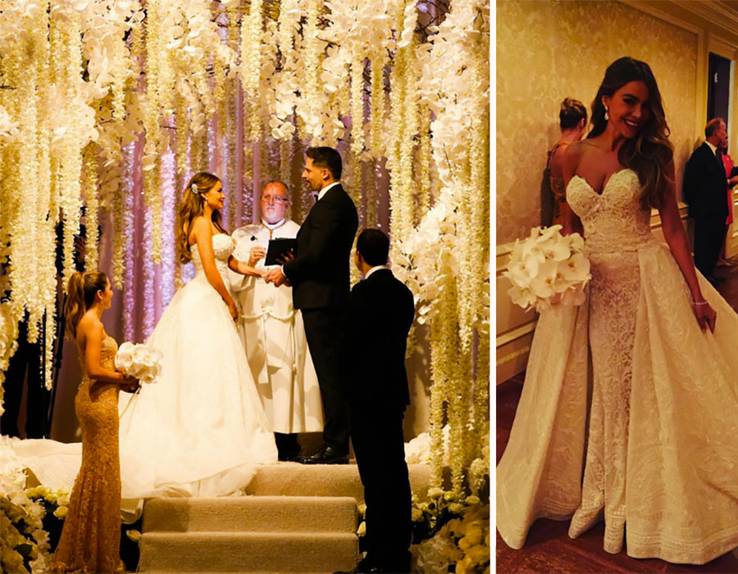 Sofia Vergara and Joe Manganiello seem like the most perfect, cutest couple in Hollywood. Their union had been pretty private for the most part until they decided that they wanted to share their love with their fans. Most of their wedding was caught on tape and some of the videos were shared with their fans, like their first dance and a surprise performance by Pitbull. Their reception was adorned with flowers, red roses, and orchids, to be exact. So how much did a wedding like this cost? Let's see. It was held at Breakers Resort in Palm Beach (very upscale). Some of the food that was served was caviar, crab, and lamb. Sofia's jewelry was made by Lorraine Schwartz and she had a custom-made Zuhair Murad couture wedding gown. The couple had about 400 guests at their wedding, including her Modern Family castmates and some of his cast mates from Magic Mike. The entire wedding has been estimated at $4 million, with $1 million alone going to decor, including a celebrity florist and Ritz-Carlton Paris designer, Jeff Leatham. Besides the dollar amount, her wedding was rich in sentiment, as her son walked her down the aisle and her family members played key roles in her ceremony.
1

Michael Douglas & Catherine Zeta-Jones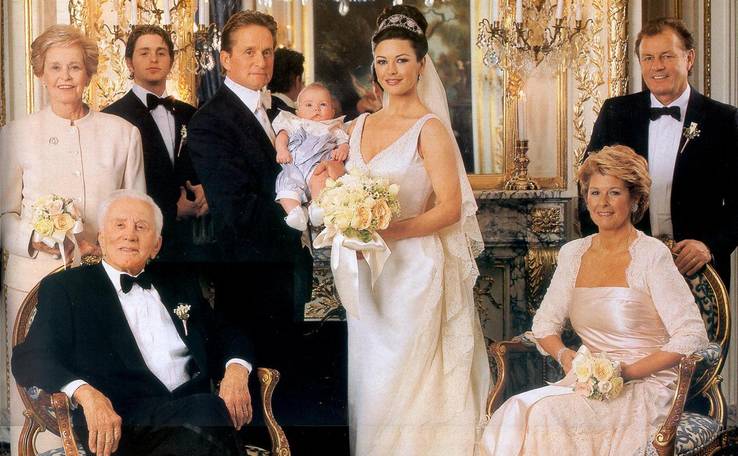 This couple's wedding cost approximately $1.5 million dollars. It was extravagant, their cake alone cost $7,000. It was 10 tiers and 6 feet tall. But what do you expect when you have to impress friends like Jack Nicholson and Goldie Hawn? There were about 350 guests who were treated to a Welsh choir and performances by Jimmy Buffett and Art Garfunkel. Catherine's dress was made by Christian Lacroix and cost $140,000. With all that lace, we couldn't imagine it would cost less. The actress also had a tiara that cost $300,000. Who buys a tiara that is more money than their wedding gown? Rich people, that's who. To top it off, the ceremony took place at the luxurious Plaza Hotel in New York. The couple even had to defend the cost of their wedding after rumors leaked that they only spent $1.5 million on their wedding because they sold their pictures for $1.4 million. But, Douglas clapped back, "Whatever Catherine wants, that's what she'll get. We discuss things, but nothing's come up that's totally insane. She's not an outrageous spender." When you have that much money who cares what people think, right? They aren't the first couple to sell their wedding story to a magazine and they certainly won't be the last.
References: abcnews.go.com, msn.com, livingly.com, cbsnews.com, foodnetwork.ca, people.com, dailymail.co.uk, accessonline.com, vogue.com, marthastewartweddings.com, instyle.com, popsugar.com, eonline.com, news.bbc.co.uk
Source: Read Full Article