Even people who don't like children can't resist those big puffy cheeks and adorable eyes. We look into those big baby eyes and forget about all the bills that are waiting for us at home. These babies shine a light of joy and ray of sunshine. Mostly. When bringing in a child into this world, you are not only drastically changing your life, but also the life of your partner. There are diapers to be changed, a feeding schedule to be kept, and clothes and bottles to be washed. Plus, it's also important for the parents to take time to themselves for their own health and sanity. Many celebrities have noted how much being a parent changes your life, but that doesn't necessarily mean in a good way. In the past, Chrissy Teigan was known for crying while working during her first pregnancy. Jenna Dewan confessed to Twitter about having hormonal dreams about flying on a magic carpet while presenting at the Golden Globes. While having a baby can mean crazy cravings, dreams, and mood swings, we can't help but fall in love with an adorable baby, and that also include celeb babies. We all have our favorite celebrities — the ones we follow on social media and become totally obsessed with. So it comes as no surprise that when a celeb, especially an A-list celeb gets pregnant, their baby bump breaks the Internet!
15

Eva Longoria tried to keep it under wraps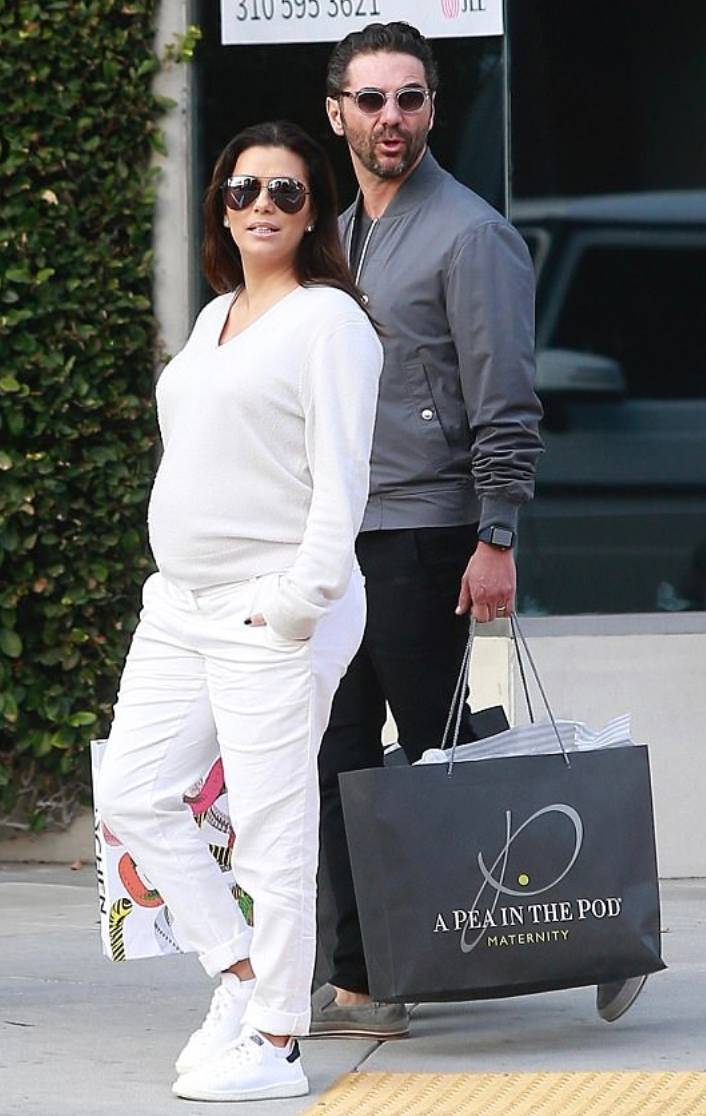 After months of shutting down pregnancy rumors, Desperate Housewives star Eva Longoria and husband Jose Baston are officially expecting their first child together. The news came as a surprise when the 43-year-old actress confirmed the rumors. Their baby boy is set to arrive next month. The Golden Globe nominee wed the Televisa president in a ceremony in Mexico in 2016. Although this is their first child together, Baston brings three children, Natalia, Mariana, and Sebastian, to their relationship. When asked how her stepchildren have made an impact on her life, she said,
"They've been such a gift in my life."
Longoria is not a newbie when it comes to motherhood since she has been co-parenting her step-kids with her husband. The couple recently had a baby shower to celebrate their blooming bundle of joy and the theme was teddy bears. Prior to finding out about her pregnancy, an interview with People, she said, "I don't feel like we are lacking because we don't have a baby. We are fulfilled. If there is anything else to come, it would be icing on the cake." Despite her current discomfort with a new bundle of joy on the way, she and Baston are pleased to be welcoming a new addition.
14

Lauren Hashian couldn't be happier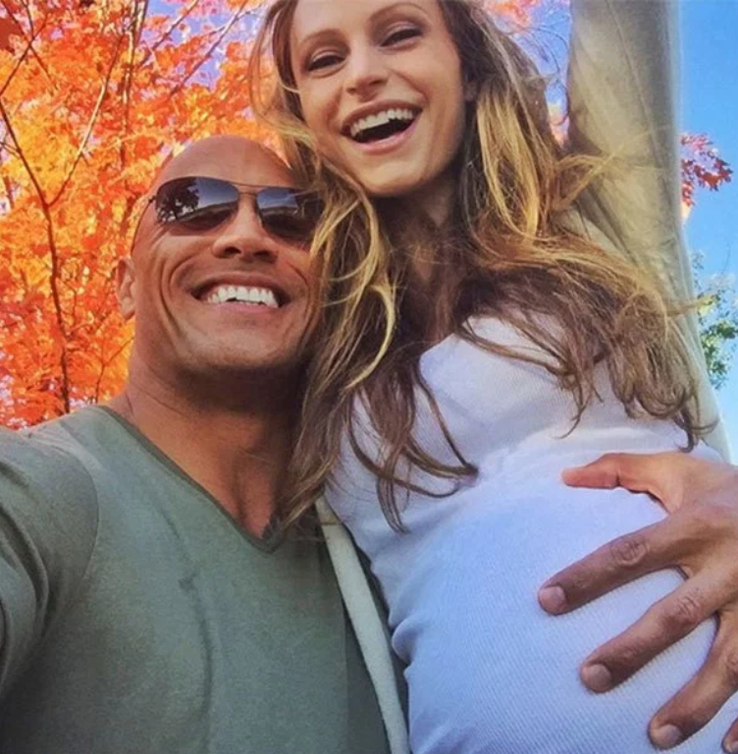 Everyone loves a hero and there is no exception when it comes to singer/songwriter Lauren Hashian and longtime boyfriend Dwayne "The Rock" Johnson. The pair have been dating for over a decade but have been very private and subtle about their relationship. The singer took to Instagram to share her feelings on new daughter, Tiana Gia Johnson, gushing,
"It's so incredible to finally meet you our sweet little baby Tia. You are the most peaceful peanut, our little angel and wow, are we luck."
In 2015, the couple had their first child, a little girl, Jasmine Johnson. Johnson is no newbie when it comes to fatherhood — this will be his third daughter. His first, Simone Johnson, came from his previous marriage to producer Dany Garcia. The new home now consists of the baby girls and two French bulldogs, Brutus and Hobbs. Hashian gave birth to their most recent bundle of joy earlier this year in April. Johnson confessed on The Ellen Show that during the pregnancy, Jasmine admitted to not wanting to have a baby sister and joked about handing the baby over to Ellen and wife Portia de Rossi. Johnson also shared an intimate photo of him and the infant still in the hospital, bonding right after the birth. Under that photo on Instagram, he gushed on about Tiana's birth saying, "Your crazy dad has many responsibilities and wears many hats in this big old world, but being your dad will always be the one I'm most proud to wear." The WWE wrestler has a ton of new projects coming up including his new film Skyscraper set to come out in July.
13

Hilarie Burton met her soulmate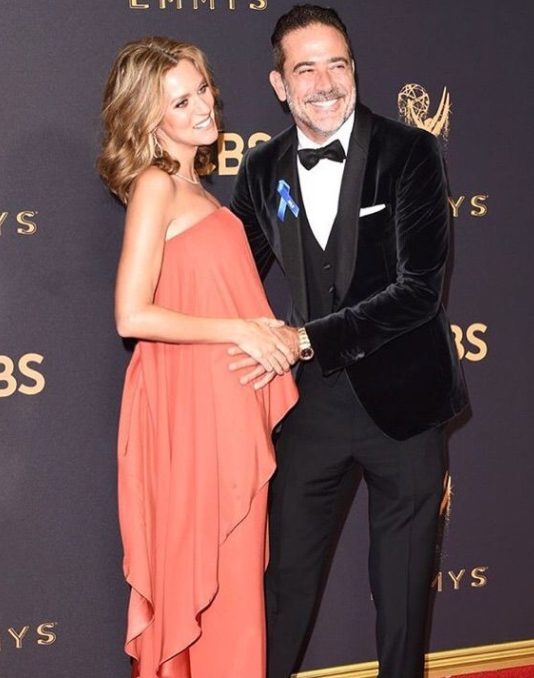 One Tree Hill actress Hilarie Burton and husband Jeffrey Dean Morgan welcomed their second child, a daughter, late February. The couple debuted their bump at the 2017 Emmy Awards in Los Angeles on the red carpet. Burton and The Walking Dead actor met on a blind date with friends Jensen and Danneel Ackles in 2009 and tied the knot in 2012. They privately welcomed their first child, a son named Augustus Morgan, in 2010. After the birth of their son, the actress went on record to say, "[We're] really happy, and we're a very good team. And we got very lucky that our family is what it is." Hollywood critics were surprised and suspicious of the relationship when they made their initial red-carpet debut in 2010. In a post on Instagram, Burton confessed the couple had been trying for several years to have another baby and suffered multiple miscarriages before being able to conceive miracle baby George. The Supernatural actor helped deliver both children with the assistance of a midwife. Although both Burton and Morgan were in previous marriages, they did not have any children before being together. In an interview with Howard Stern, Morgan said, "We're tapping out. Oh, dude I'm 52. Two's perfect: boy and a girl."
12

Khloe Kardashian had a lot to deal with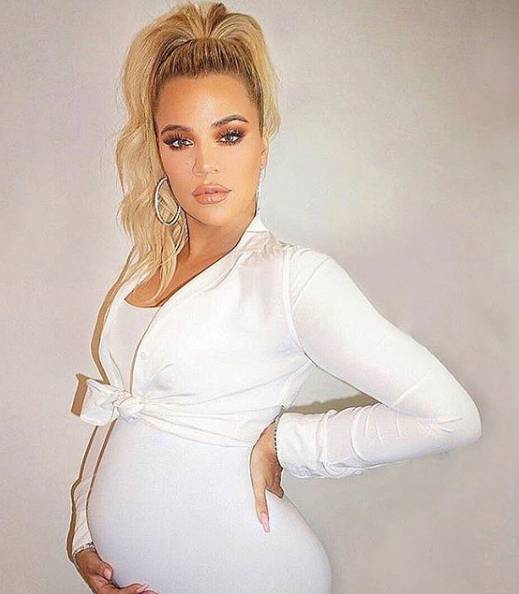 Socialite Khloe Kardashian and boyfriend Tristan Thompson announced their pregnancy and drove the Internet wild. The socialite was previously married to former NBA star Lamar Odom before divorcing officially in 2016. Kardashian and Thompson met on a blind date set up by mutual friend NBA player Brandon Jennings. We have seen the Kardashian sister be a mother hen to her nieces and nephews and now her time has come to be a mother. The pair welcomed a daughter, True Thompson, on April 12 in Cleveland. During her pregnancy, she confessed in an interview on ITV,
"The very beginning is challenging because you feel so out-of-place and I think you're the most sick and no one knows you're pregnant. I'm not sure what the end is going to be like, but for right now, I'm doing pretty well."
True is the first child for the reality star, but the second for the NBA star, who has a son with ex-girlfriend Jordan Craig. Kardashian has gushed about becoming a mother on her family's hit TV show Keeping Up with the Kardashians. On a recent podcast, Thompson confessed the difference between having a baby girl and a baby boy. "I think with a girl, you're just so much more emotionally like, 'True, it's going to be okay. You know, we're right here. Daddy's here to feed you. It's me! Look, yeah!' It's way different, but it's fun, though. It changes you."
11

Cardi B is taking time off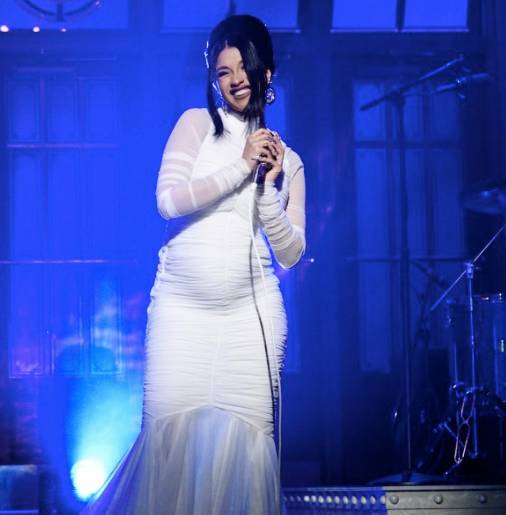 Quickly becoming one of Hollywood's hottest and favorite female rappers, Cardi B and rapper fiancé Offset, of the group Migos, are expecting a ray of sunshine this July. This will be the first child for the female rapper and the fourth for her fiancé. The rapper made the announcement with her musical performance on Saturday Night Live, confirming the suspicions. They have not given any hints to the sex or the name of the upcoming baby, only that a named has been picked out by Offset. Much of the personal details around their relationship have been kept pretty under wraps. Cardi B did let it slip that they met at an "industry event" and he was the one who pursued her. The duo have a joint song called "Lick," which basically confirmed their relationship. The Billboard Award winner has kept herself busy throughout her pregnancy — she only recently stopped performing in April.
Cardi B took to social media to let her fans know that she would be putting her performances on hold because she could "barely breathe."
She may be taking a break now, but she has expressed that she has every intention on being back in action for the Bruno Mars 24K Tour this September. Fiancé Offset has found success with his group Migos and they were recently nominated for 5 Billboard Music Awards. The two have not set a date for their wedding but it will be much anticipated once Cardi B has given birth.
10

Kat Von D has a great husband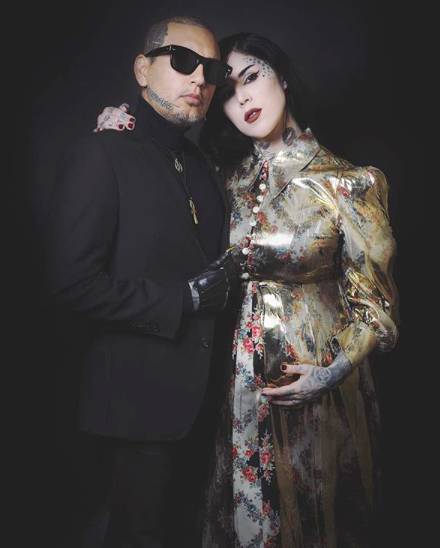 Tattoo artist Kat Von D and singer husband Rafael Reyes are expecting a baby boy this Fall. The make-up guru has been full of surprises all year. The second surprise announcement was about her marriage to longtime singer boyfriend. The two flaunted their matching rings and fingernails in a video on social media. Although there was much speculation about their relationship to the public eye, tying the knot was not something the couple hinted toward. Reyes has constantly put his wife on a throne, saying,
"She's my life, my love, my reason for being! She's my queen and I'm her knight. I'm her devoted husband and she's my loving wife."
The couple turned to Instagram to announce the pregnancy of their upcoming baby boy fashionable post with Von D. In previous interviews the artist was pretty certain that she did not want children in the past saying, "No children for me. The funny thing is that I've known since I was 7 years old that I was never going to have kids." With new baby on the way she has a complete change of heart and gushes "When I thought I had it all. Life gifts me with the greatest of joys!" This will be the first child for the artistic couple.
9

Joanna Gaines' priority is her family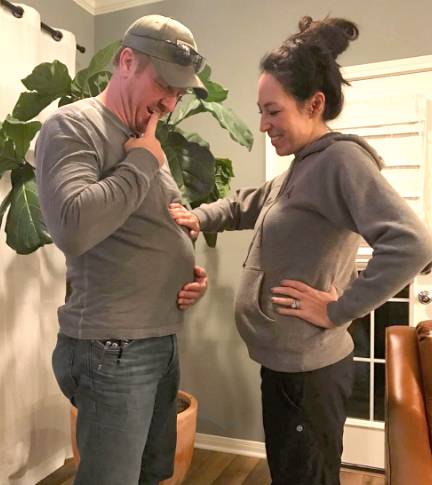 Our favorite renovation duo Chip and Joanna Gaines are expecting their fifth child together. This announcement came shortly after another big announcement of them ending the run of their popular HGTV show Fixer Upper. The couple got hitched in 2003, celebrating their 15th anniversary this year. Before the announcement of their new baby boy, the shock of the their ending their show sparked rumors about the couple being in marital troubles. In a joint interview, the 43-year-old spoke about having a successful marriage, stating, "Jo and I have struggles and fighting and arguments just like anybody else. This isn't like we got lucky and hit the lottery and the two perfect people fell in love." The couple already have four children, Drake, Ella, Duke, and Emmie Kay. When it came to spilling the beans to the other children about the new baby, they said it was very exciting. They gave each child a big brother or big sister onesie and once the children figured out what the onesies actually meant, they were extremely excited.
"I think that's what makes me the most excited — that they're celebrating with us,"
Gaines admitted to Countryliving.com. Although this will be their fifth ray of sunshine, they still admitted spending time with their family is still their first priority which played a part in their decision to end their hit show in the fifth season.
Featured Today
20 Pics Of Keanu Reeves Vs The Paparazzi

15 Surprising Protocols Meghan And Harry Broke During The Royal Wedding

15 Things About Avengers 4 That The Cast Is Trying To Keep Secret

8

Caitlin McHugh loves how fatherly John is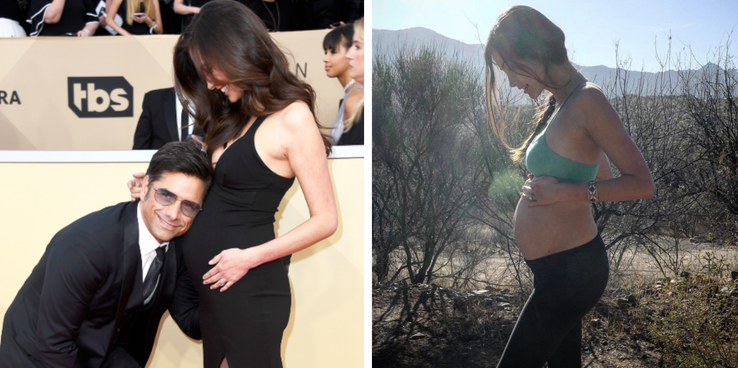 Full House actor John Stamos and wife Caitlin McHugh have welcomed their first bundle of joy last month. This will be the first baby for the both of them. They had a baby boy whom they named Billy after Stamos' father. The couple was rumored to have started dating in 2016 before making it legal earlier this year. Stamos and McHugh announced their pregnancy in a typical fashion — through a social media post. During the pregnancy, Stamos said that he was a servant to his wife so she could rest. Stamos noted to Us Weekly, "I wake up and I'm a servant to her basically." She couldn't help but beam about the role her husband has taken on with their newborn.
"He comes so naturally to fatherhood and I love watching it. I stare at the both of them all the time beaming. He's perfect, he's a perfect father. I can't wait to give him more [kids],"
she dished to Entertainment Tonight. Although this is the first child for the couple they are already planning for more kids in the future. McHugh was quick to respond, "He needs [siblings] to keep him grounded. If he's the only one, he'll get way too much love because there hasn't been a child on either side of our family in quite some time." Stamos agrees with the notion of having more children as soon as possible. So be on the lookout for announcement of baby number two.
7

Chrissy Teigen had a hard time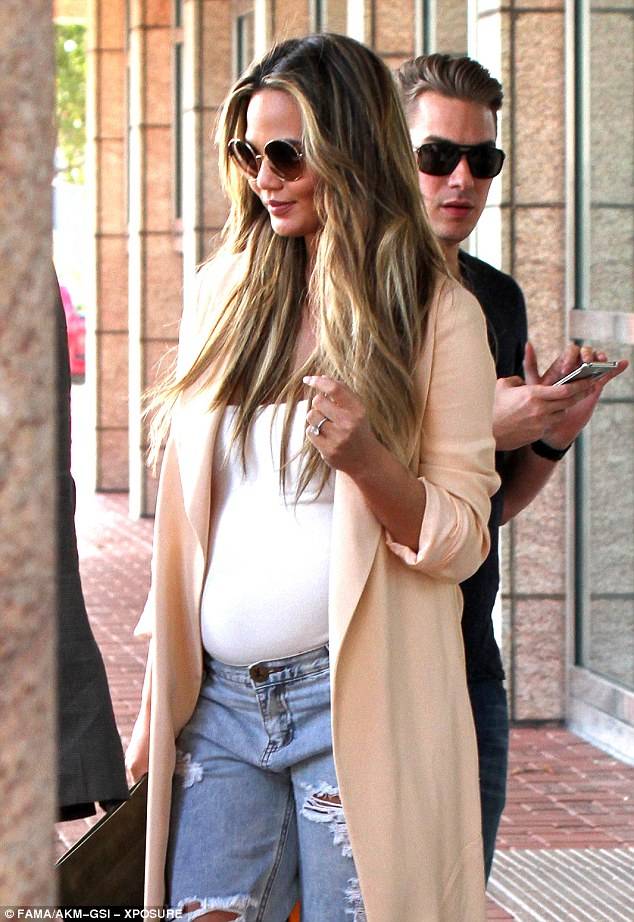 Our favorite clapback queen Chrissy Teigan and superstar husband John Legend have welcomed home their son Miles Stephens. The loving couple have been together since 2007 when they casually hooked up after she was a model in one of his music videos. The rest is history and we have loved watching them grow as a couple since they wed in Italy in 2013. This will be the second child for the couple, they had daughter, Luna, in April 2016. The model has opened up about the fertility issues that she faced while trying to have a second child. She underwent IVF treatments that were unsuccessful the first time around, which is common in many cases, but they did find success with son Miles. The Grammy Award winner opened up about their conception problems with Cosomo by saying,
"I think it's especially difficult when you can't conceive naturally. You want to feel like everything's working properly and want everything to be perfect, but sometimes it's not."
The model went on to talk about how her second pregnancy was harder than her first one. "You have to divide your energy between raising a kid and carrying one as well." Although it was difficult she praised her husband on how supportive he was throughout that time. The singer has taken to social media to show how attached he is to his family. The author has let all of social media know that despite her regime, her latest pregnancy gave her stretch marks. Just one more thing to love about the model.
6

Kylie Jenner kept it a secret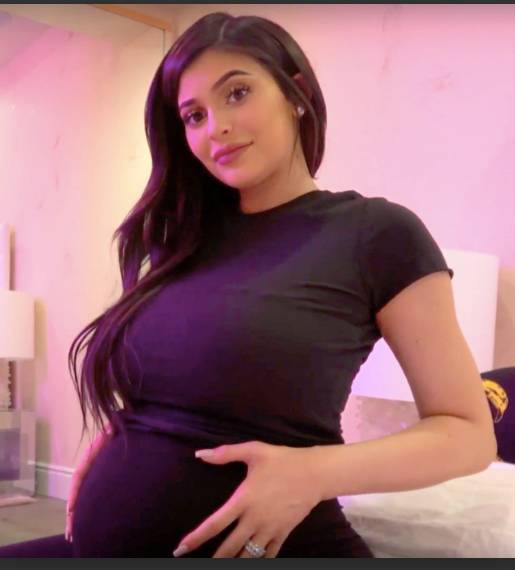 Socialite Kylie Jenner and boyfriend Travis Scott have welcomed home a baby girl, Stormi Webster. The couple has been dating since August 2017. They met through sister Kendall Jenner. Big sister Jenner has been friends with the rapper for a while before they were finally introduced at Jenner's 21st birthday where Scott performed. The BET Hip Hop Award winner has been "really, really great, really attentive, and couldn't be cuter with Kylie," according to grandmother Kris Jenner. This will be the first child for both Jenner and Scott and they are excited to have new bundle Stormi. Jenner kept the pregnancy a secret until after she gave birth to her daughter. Although there were no confirmations on either side there were plenty of rumors and speculation around the pregnancy. The socialite shared her pregnancy with big-sister Khloe Kardashian. When she finally made the announcement of baby Stormi, she shared videos and photos on social media. In the post, she gave her reasons for keeping her pregnancy secret stating,
"I knew for myself I needed to prepare for this role of a lifetime in the most positive, stress free, and healthy way I knew how."
Since the birth of her daughter, the reality star has taken the opportunity to open up the doors to her life and sharing several photos of a growing Stormi.
5

Behati Prinsloo is totally in love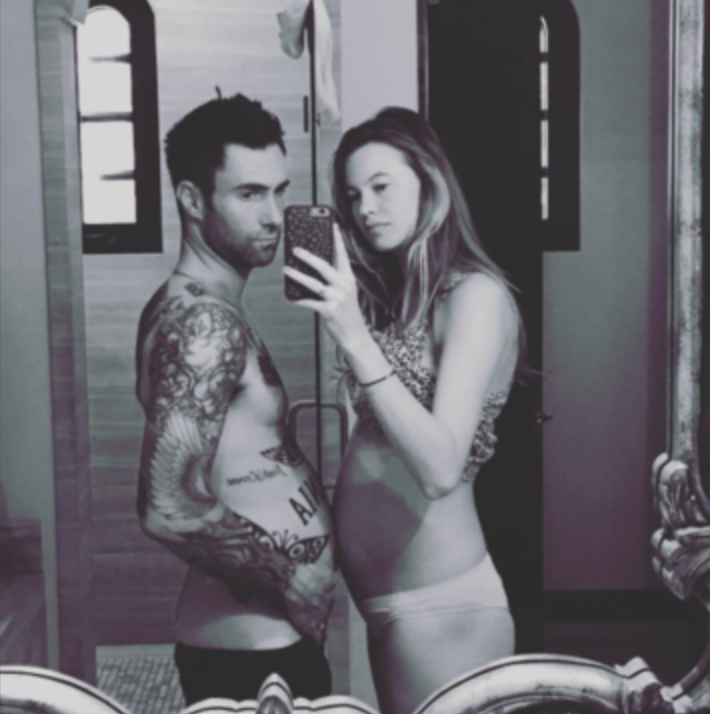 Victoria Secret model Behati Prinsloo and Maroon 5 singer Adam Levine shocked and mad all of us smile with the announcement of pregnancy number two. The couple wed in 2014 after meeting at the Victoria Secret Fashion Show in 2011 where the singer was performing. The couple had their first daughter, Dusty Rose Levine, in 2016 and recently gave birth to daughter Gio Grace Levine in February. In an interview with People the model opened up about motherhood saying "I think what surprised me most is how intense that love is, and also how hard, at times, it is." As expected, the model did incur some weird pregnancy cravings including apples and Tajin spice. Singer and model have both expressed they want to have a lot of kids so this is only beginning for this cute family of four. Levine's prior reservations to being married are now over as he now gleams about his family of women. Despite them both wanting more children Prinsloo has taken to Instagram to say that she was ready to see her toes again after having back-to-back pregnancies. Prinsloo had a confession to make when asked about Levine's newfound fatherhood, "I think for both of us, we're just so obsessed with being a family and having a family — seeing this next step in our life. He's such an incredible dad, and so excited to see her grow up. It's so awesome."
4

Kate Middleton has a third child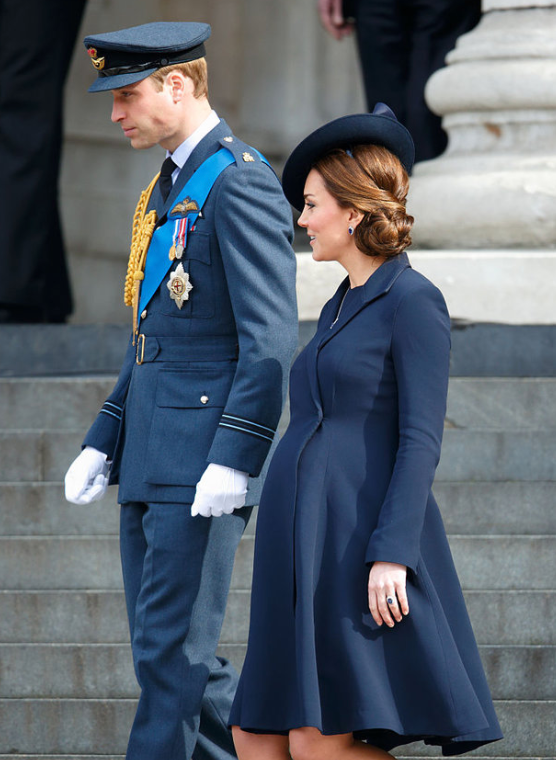 Prince William and Duchess Kate Middleton are on royal baby number three. The royal couple have added another prince to their family tree. They currently have Princess Charlotte, Prince George and newborn Prince Louis. The Duchess made her royal bump debut at an event marking the death of Princess Diana. Even though this was her third pregnancy the morning sickness was not any easier. It was reported by several media outlets that the Duchess was confined to their home because she had severe morning sickness, Hypermesis Gravidarum. Hollywood was excited there was another royal bun in the oven but after the announcement and she was actually spotted her bump was underwhelming. Despite the size of her bump she gave birth to a beautiful, healthy Prince Louis in April. The public has always praised the Duchess for her hands-on parenting style and it seems there has been no change since the arrival of their third addition. The Duchess is set to be on maternity leave until this fall so she can focus on the young children. I don't think there is anything people love more than a royal wedding than a royal baby and with Prince Louis we now have an adorable subject to point the Hollywood camera at.
3

Jinger Duggar Vuolo is joining her sisters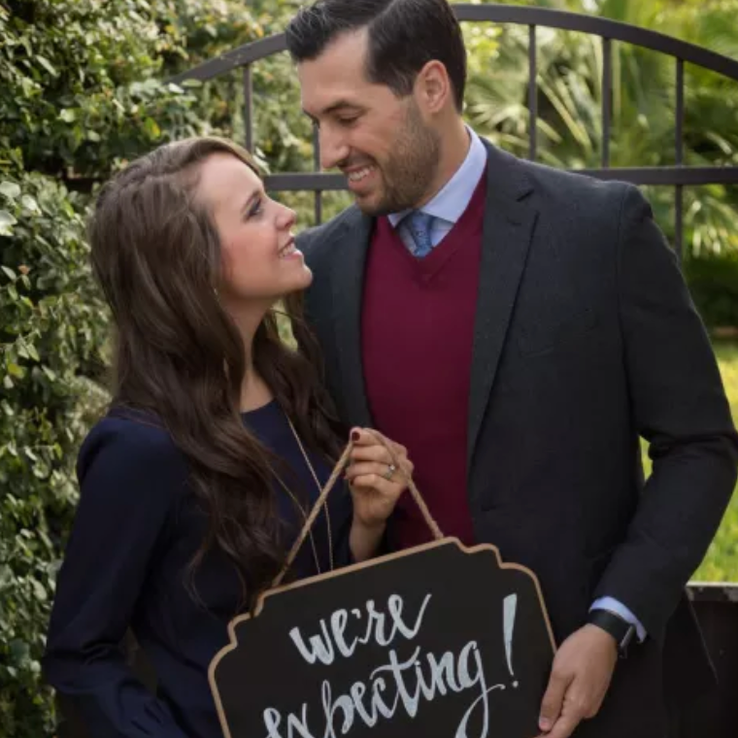 TLC's newly married couple Jeremy and Jinger Vuolo is expecting a baby girl this July. The newlywed couple got married at the end of 2016 in Siloam Springs a year and a half after they met. This will be the first child for the Counting On stars and they could not be more excited. In an interview with People, the couple confessed,
"Now, the journey has taken an exciting turn: we are expecting our first child! We are praising God for this beautiful gift and ask that you join us in praying for a safe and heal."
The couple found out the sex of their baby during a cute relay race. TLC star confessed an unknown symptom of pregnancy: "I do think probably what surprised me most is just being so tired all the time. I was never a napper, like having to take a nap, and now it's like, 'Ooh! I think I want to nap every day!'" The 30-year-old has been on food duty for his pregnant wife grabbing her all food she needed because the smell of the kitchen made her nauseous. The mother-to-be was able to share a few pregnant moments with sister Joy-Ann and Kendra Duggar. The TLC star met her husband through her brother-in-law Ben Seewald and sister Jessa Duggar. Seewald and Vuolo became friends through a church fellowship and he introduced the two after a visit to San Antonio. And some of you saw the rest of it play out on national TV on the Duggar family show 19 Kids & Counting.
2

Jordin Sparks finally got her family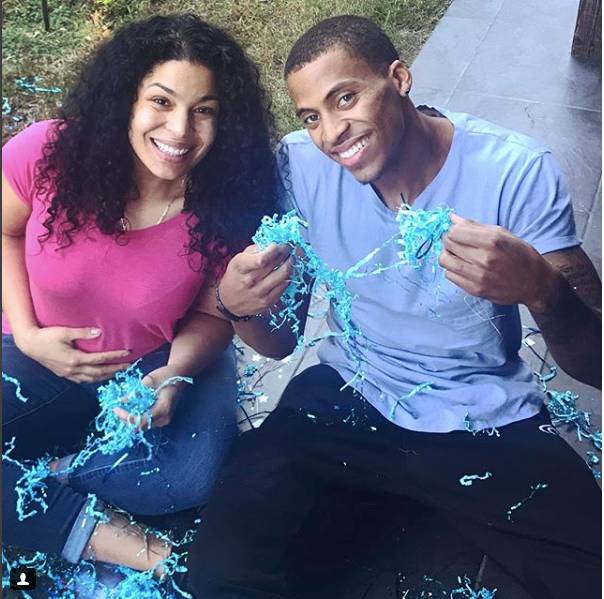 Newlyweds Jordin Sparks and Dana Isaiah not only tied the knot in the last year, but they also welcomed a new bundle of joy, a son Dana Isaiah Jr. in May. Sparks was in a longtime relationship with fellow singer Jason DeRulo for three years before calling it quits. The American Idol winner wed Isaiah in a quiet ceremony in Hawaii with a small group of friends and six weeks later found out about the pregnancy. After finding out the singer told People,
"I'm extremely grateful because life is nuts. This is the best part so far because I have [Dana] and I have this little one and I have a new family."
The couple took a baby moon in Cancun to celebrate not only their new marriage but also the news of their baby boy. The model and Sparks have both expressed their happiness is starting their own family and the importance of family. As we watched her journey through American Idol we have come to learn that family is something the singer has always wanted and valued. The singer expressed her excitement in an interview with People:"The joy, laughter, scrapes and bruises. I can't wait for it all!"
1

America Ferrera has a great support system
As long-time fans of The Sisterhood of the Travelling Pants, we couldn't be more thrilled for America. She announced her pregnancy no New Year's Eve with her husband, Ryan Piers, the devoted fans couldn't be happier for the adorable couples. She's been documenting her pregnancy, showing it off it here alongside her best friends during a girls weekend at the spa with the caption, "Pregnancy wish come true: Spa weekend with the besties and the bump. #spahair #spasmiles." We have no doubt that gorgeous gal will be an amazing mom. A couple of days after announcing her pregnancy, she even posted a photo with her Sisterhood ladies Blake Lively, Amber Tamblyn, and Alexis Bledel with their hands on her baby bump. Talk about sisterly love!
References: usmagazine.com, people.com, romper.com, harpersbazaar.com
Source: Read Full Article